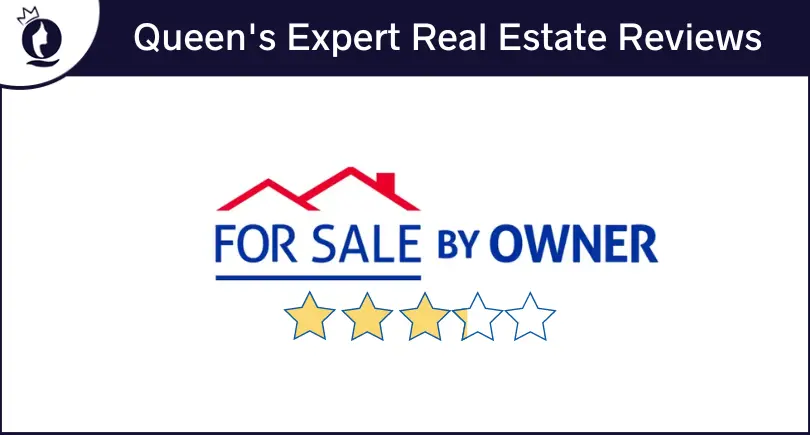 ForSaleByOwner.com is one of the oldest for-sale-by-owner listing websites in America. Moreover, after its takeover by Rocket Homes in 2018, ForSaleByOwner.com has become a lead marketing engine.
ForSaleByOwner.com's paid listing is expensive compared to other FSBO websites. If you're looking for more affordable alternatives, you can try Houzeo. Not only is listing on Houzeo quick and easy, but they have near-nationwide coverage.
Key Takeaways
Pros: ForSaleByOwner.com offers listing on their website for free.
Cons: They do not provide listing on the MLS.
Bottomline:Getting listed on the MLS with a company like Houzeo.com will bring you closer to potential buyers, which ForSaleByOwner.com fails to do.
What is ForSaleByOwner.com?
ForSaleByOwner.com is an online platform to sell properties on a for-sale-by-owner basis. Additionally, the company offers free listing on the website and you connect directly to the buyers.
Moreover, ForSaleByOwner.com links you with a local expert from a nationwide network of proven agents.
What Does ForSaleByOwner.com Offer?
ForSaleByOwner.com offers two home-selling packages for you after listing your property with them.
1. Do It Yourself (DIY) Package: Free Listing
ForSaleByOwner.com lets you list your house on their website for free. The listing is visible to anyone who visits their website. Moreover, they will assist you with your home selling requirements in the DIY package.
The package also includes Personal Selling Dashboard, Simple Pricing Tool, Live Support, and more.
2. Closing Assistance Package: $495 for Selling Your Home
If you find a potential buyer, you can consider ForSaleByOwner.com's Closing Assistance package. Moreover, the package introduces a real estate professional to your FSBO sale.
The package includes everything from title, inspections, appraisals, contracts, and closing, is provided. You will also communicate with the associates of Rocket Homes and Rocket Mortgage.
» Closing Cost Calculator: Check out how Houzeo can help you calculate the closing cost for buyers and sellers.
❌ The Cons of Listing With ForSaleByOwner.com
No MLS Exposure: Your ForSaleByOwner.com listing will not receive exposure as any local MLS can offer, which they do not offer.
Limited Reach: In comparison to a property listed on the MLS, your listing with ForSaleByOwner.com has fewer chances of selling your house.
Lead for Rocket Homes: Significantly more in commissions if you need MLS exposure. As you will sign up as a lead for Rocket Homes, and pay a price, to sell your home with ForSaleByOwner.com.
Amrock Title: You have no choice in the matter but to use the title Rocket Homes will provide you!
Closing Assistance is a free choice after you list with Houzeo.com. Choose wisely!

ForSaleByOwner.com Reviews
For sale by owner reviews online are positive with few negative. According to BestCompany, the average customer rating of the company is 3.1 stars.
✔️ ForSaleByOwner.com Positive Customer Reviews
1. Rebekah mentioned in her for sale by owner review how they helped her find the best fit for listing her house for free.
2. Heather found the perfect fit, but instead of buying, they ended up renting a place.
⛔ ForSaleByOwner.com Negative Customer Reviews
1. TTeep does not recommend ForSaleByOwner.com. He also adds, "Not many people use this as I would hope." in his for sale by owner service review.
2. Barbara talks about listing with other MLS companies.
ForSaleByOwner.com Alternatives
Here are two alternatives for ForSaleByOwner if its barebones services are not enough for you:
1. Houzeo.com
Houzeo offers affordable Flat Fee MLS Listings starting from $329. The company advertises nationwide coverage, cutting-edge technology, and excellent customer rating. Read Houzeo reviews to know if it is the best Flat Fee MLS company for you.

Queen
2. Beycome Real Estate
Based in Miami, Florida, Beycome is a technologically-advanced real estate company. They make it easy for home sellers to list on the MLS. Through their seller dashboard, you get to access advanced features like managing your listing, organizing offers, and showing schedules.

Queen
Beycome offers 3 FSBO packages. Prices may vary state-wise.
Basic Package – $99: This is a basic listing service for experienced sellers. You get services like a local MLS listing, unlimited updates, an open house scheduler, etc.
Enhanced Package – $399: This plan includes everything from the basic package plus added features like professional photography, promotional items, yard signs, etc.
Concierge Service – $599+ 1%: This plan is essentially a full-service virtual package. Services include negotiation and paperwork assistance and full marketing support.
👑 The Queen's Take: Beycome has a user-friendly interface and cost-saving potential. However, their customer reviews paint a mixed picture, with both positive and negative experiences.
👉 Beycome Pros and Cons: Beycome's pros and cons unveiled!
Beycome has a few drawbacks that you should be aware of.
Expensive Add-Ons: A $99 listing is almost always too good to be true. Many costs add up during the closing stage which can completely derail a successful sale.
Spam: Beycome is known to spam customers to upsell their Title service.
Limited Coverage: Beycome does not offer nationwide coverage. Currently, Beycome is available only in 10 states.
Why is Houzeo Better than ForSaleByOwner.com?
Houzeo.com significantly increases your exposure by listing your home on the MLS. Moreover, you will get unmatched options for selling your house. Houzeo's advanced technology makes the FSBO paperwork and listing management make the process quick and efficient.
The company offers the best combination of maximum savings, no hidden fees, and 5-star customer support. Houzeo.com offers you 4 listing packages to list your property on the MLS.
Other Options You Should Consider
1. Sell to iBuyers
iBuyers make an offer on your property within 24-48 hours and can close within 7 days or more. Most iBuyers like Opendoor and Offerpad are also known to offer a fair market value (FMV) for your property.
Selling to an iBuyer has certain significant drawbacks. These include:
Limited coverage, restricted to metro and urban areas
Strict eligibility criteria without exceptions
Non-negotiable offers
5% service fee
2% – 8% repair costs
👉 Our Take: We recommend iBuyers if your house meets the iBuyer company's eligibility criteria.
» iBuyer Reviews: Check out rankings, pros, cons & alternatives of top iBuyers in America
2. Sell to "We Buy Homes for Cash" Companies
Unlike iBuyers, "We buy homes for cash" companies help you sell your house as-is fast. They can even close within 7 days or any date you choose. "We buy homes for cash" companies also make cash offers for homes outside metro areas or in difficult-to-sell locations.
Here's why traditional cash home buyers could be a bad option for you than an iBuyer:
They make lowball offers and offer only 50% – 70% of market value.
Their offers are non-negotiable
👉 Our Take: We recommend selling to a cash home buyer if you are selling a distressed house "as-is" without looking for the best price.
» "We Buy Homes for Cash" Companies: Check out America's biggest cash home buyer companies in 2023
3. Sell With Flat Fee MLS Services
The most effective method for customers to buy or sell a house is through MLS listing websites. 95% of homebuyers use online tools to find their dream homes. Lastly, 89% of home sellers chose the Multiple Listing Service (MLS) to sell their homes quickly.
Listing with a Flat Fee MLS service gets your house on the market within just 24-48 hours. Additionally, flat fee MLS is one of the best ways to sell your house fast, and it has 4 major benefits:
MLS is the fastest way to hit the market, plus your listing is syndicated to Zillow, Realtor.com, etc.
Your listing gets maximum exposure.
You can negotiate all offers.
You skip paying commission or service fees.
👉 Our Take: We recommend Flat Fee MLS companies for most home sellers. They are fast, and you will save thousands in commissions.
Should You List Your Home on ForSaleByOwner.com?
Listing with Forsalebyowner.com is not a great deal as they do not help with listing on the MLS. If you want to list on the MLS, you can use yard signs, social media marketing, and websites like Facebook Marketplace and Craigslist.
To get the best deals, list your property with MLS listing companies like Houzeo.com. With Houzeo, you have the choice to list your property as an owner and enable a smooth closing procedure. You do not have to stress about complexity as the platform is 100% online. Houzeo can help list your property on the MLS at a Flat Fee.
Frequently Asked Questions
1. Can I list my house on ForSaleByOwner.com?
Yes. you can list your house on their website and for free.
2. Who are the top competitors of ForSaleByOwner.com?
1. Houzeo
2. Zillow
3. Beycome
4. Fizber
These are some of the competitors for ForSaleByOwner.com.
3. Is listing with ForSaleByOwner worth it?
No, after 30 days you need to pay $19.95 per month if wish to continue listing your home with forsalebyowner.com. PS: They provide No MLS options.
4. Who owns ForSaleByOwner.com ?
ForSaleByOwner is owned by Damon Giglio, Founder.
5. What is for sale by owner reviews rating?
There are no ratings as per Google or Yelp. As per bestcompany.com, the current rating of ForSaleByOwner.com is 2.9/5
Related: forsalebyowner.com, for sale by owner websites, for sale by owner services, for sale by owner reviews, forsalebyowner.com reviews, forsalebyowner com reviews, www.forsalebyowner.com, www forsalebyowner com reviews, www.forsalebyowner.com reviews, forsalebyowner.com listing, forsalebyowner com reviews complaints, fsbo com vs forsalebyowner com, forsalebyowner com real estate, forsalebyowner.com reviews, www.forsalebyowner.com reviews, forsalebyowner.com reviews complaints, houzeo reviews, forsalebyowner reviews, byowner.com reviews, forsalebyowner com reviews, forsalebyowner review, is forsalebyowner com legitimate, buyowner.com reviews, rocket homes reviews, we buy homes for cash