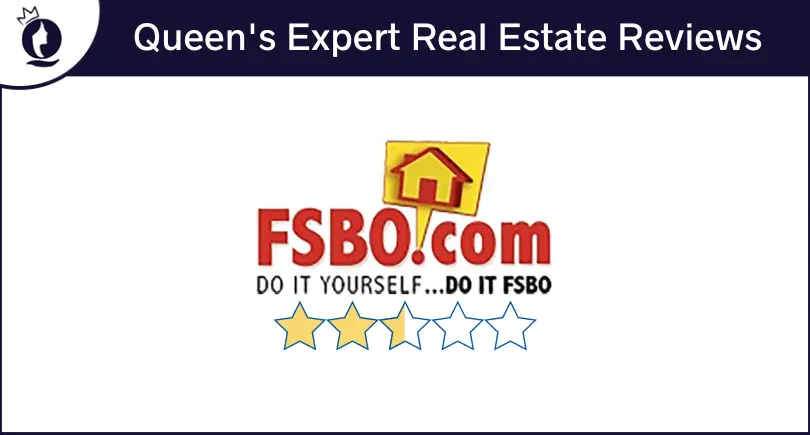 FSBO.com provides services for home sellers who want to list their properties without involving real estate agents. However, some reviews of FSBO.com express concerns about the absence of an MLS listing in their FSBO package.
Despite FSBO.com's assertion of empowering sellers by eliminating high commissions, the experience seems to differ. Users have reported difficulties with their user interface, finding it cumbersome and challenging to navigate. Additionally, FSBO.com's marketing tools are reportedly below industry standards.
There are concerns about the effectiveness and reach of their advertising campaigns. It has led many sellers to face difficulties in attracting genuine prospects. As a result, sellers should explore alternative solutions such as Houzeo.
You will receive optimal exposure to buyers and buyer agents when you use Houzeo's local MLS. Moreover, your listing gets featured on major platforms such as Zillow, Redfin, Realtor.com, and Trulia.
What is FSBO.com?
FSBO.com is one of the oldest For Sale By Owner (FSBO) websites for selling properties in the United States. FSBO.com sources their information from HUD, VA, Fannie Mae, and other government agencies alongside 100 corporate sellers.
This property database is updated regularly to represent the most current information. In comparison, the key differentiating factor between ForSaleByOwner.com is that FSBO.com lists the properties on the MLS. Compared to the newest entrant Houzeo.com, FSBO.com lacks robust technology features.
» 12 Best For Sale By Owner Websites: Learn why Houzeo.com is the best For Sale By Owner website
Does For Sale By Owner (FSBO) Work?
Before reviewing FSBO.com, let's discuss what For Sale By Owner (FSBO) is and if it even works. This is how you can ensure that selling by yourself, i.e. FSBO is the right option.
The National Association of Realtors defines the term For Sale By Owner (FSBO) as a homeowner selling without an agent. Sellers choose the FSBO path primarily to avoid the 6% Realtor commissions.
In 2020, FSBOs accounted for 7% of home sales. For marketing homes, homeowners used conventional marketing techniques like flyers, newspaper advertisements, yard signs, and communication in the neighborhood.
Listing for-sale-by-owner websites like FSBO.com increases the property listing's reach, albeit most FSBO websites don't have significant buyer traffic. FSBO isn't like selling fruits— it requires effort, just like a full-time job.
Getting your house on the market, ensuring the paperwork is correct, attracting and connecting with buyers, finalizing the contract and sale, all the way to closing day: everything takes effort. FSBO works when you are willing to invest your time and save on commission fees. Going FSBO with Houzeo will increase your chances of saving money while enjoying a seamless home-selling experience.

» Low Commission Real Estate Agents: Check out America's Top Low Commission Real Estate Agents and Companies
About FSBO.com
Based out of Atlanta, FSBO.com claims to be the "premier" For Sale By Owner website. Since 1997, they have enabled sellers to advertise their properties online, find a viable buyer, and save on commissions.
An MLS (Multiple Listing Service) is a local directory of homes. Listing on the MLS gives exposure to homes on sale. According to the National Association of Realtors (NAR), 91% of home sellers list on the MLS.
Every state has its own local MLS, and websites like Redfin and Zillow populate their listings from these directories. Only licensed brokers and realtors access the MLS and check out properties.
FFMLS (Flat fee MLS) companies like Houzeo and FSBO.com have democratized home selling by providing listing services on the MLS. Homeowners can save 5 to 6% commission fees through a Flat Fee MLS because listing no longer requires an agent.
Is FSBO.com Legit?
Yes. FSBO.com is a legitimate business that has been around for 20+ years.
How does FSBO.com Work?
| # | Step | Description |
| --- | --- | --- |
| 1. | Select a Package | Choose between FSBO.com and MLS package. MLS will expose you to more buyers if you want a quick sale. |
| 2. | List Your Home | Upload photographs, describe your listing, and add videos to create an aesthetically pleasing tour of your home. |
| 3. | Receive Offers | Potential buyers will find your home on FSBO.com or other listing sites and will contact you for showings and inquiries. |
| 4. | Sell Your Home | When you decide to move on with one of the offers, contact an attorney, and get the paperwork started. |
What are the Fees Of FSBO.com?
FSBO.com offers two programs. At $99.95, you can market your house on FSBO.com for six months. Unlimited photos and one video can be uploaded against a property, and this listing can be edited or canceled anytime. Moreover, the company will syndicate this listing in select markets on Redfin.com — one of the most popular home search tools. FSBO.com and Fizber are the only websites that do this for free.
» Redfin Reviews: Between Houzeo and Redfin, which is better?
However, this package does not put your house on your local multiple listing service (MLS). So, if Redfin syndication is unavailable in your area, buyers will only see your listing on the FSBO.com website.
FSBO.com's MLS package starts at $399.95 and puts your home on the MLS. Home search engines like Zillow, Trulia, and Realtor.com instantly pick it up. Your listing is on par with agent-assisted listings, which is crucial in FSBO sales.
This syndication isn't delivered by FSBO.com. It transmits the information you submit to a third-party broker, MLSmart Realty LLC. The company states that you will be responsible for additional fees if the buyer is unrepresented.
For additional items like a yard sign or mandatory legal forms, FSBO.com has an online store. Sellers can order a variety of yard signs from an a la carte menu. There is no portal for downloading required legal forms, though. This process is still manual when you choose FSBO.com.
FSBO.com Reviews
FSBO.com has an aggregate rating of 2.7 out of 5 stars online, and past sellers have varying opinions in FSBO.com reviews. This could be because the company works with dozens of independent realtors and brokers.
When you register your home via the FSBO.com MLS package, a local broker is assigned to you. This broker is responsible for your listing and all the changes you wish to make during the FSBO process.
Furthermore, your yard signs and listing would have this broker's contact information, keeping you out of the buyer-seller loop. The service delivered is either exceptional or awfully poor. We think the mixed reviews about FSBO.com are the culmination of the different service quality of these brokers.
FSBO.com Pros and Cons
✅ Saving Money
Selling via FSBO.com promotes cost savings because the Listing Agent's Commission(3% of the sale price) goes out of the picture. Say you sold your home at $500,000 and saved $15,000.
If the buyer doesn't have an agent representing them, the full 6% ($30,000) goes into your pocket! Many FSBO.com reviews mention saving money in commissions.
» Discount Real Estate Brokers: Check out America's Top Discount Real Estate Brokers
✅ Simple UI
FSBO.com has a simple, easy-to-use platform that lets sellers navigate conveniently. Creating a home listing and adding relevant information is non-clunky, considering the platform is nearly 20 years old. Home sellers have stated how clunky the UX feels in several FSBO.com reviews.
Why complicate home selling or buying by adding a super technical user interface on the FSBO platforms? Houzeo has used modern design systems to ensure the user experience on the platform is effortless.
⚠️ Limited Automation
With nearly zero automation, FSBO.com will take your information and have you running around to get the paperwork done. Because of its offline broker management and lack of downloadable resources, the home-selling experience of a first-time seller can be painful.
Our team at Houzeo has digitized forms and maximized efficiency by auto-filling your information spending less time on paperwork and more time on things that need your attention, like depersonalizing the property.
⚠️ Limited Self-help Resources
The company's ignorance of self-help resources defeats the purpose of being a DIY FSBO website. This is a red flag for first-time sellers considering they might have valid queries about real estate.
When you register with Houzeo, you are guided through each step of the home-selling or home-buying journey so that you aren't confused at any stage. In Houzeo, each aspect is digitized as a milestone for the user to accomplish.
For example, filing the state disclosure forms for inspectors to verify your home sale is created as a task in the user's dashboard.
❌ Unpredictable Broker Quality
As FSBO.com outsources MLS listing, the sellers deal with an external party, not FSBO.com staff. This broker handles the MLS listing and yard signs and is the primary point of contact throughout the sale process.
If the broker has malicious intent, you might be a victim of endless commissions and last-minute closing fees.
Like Ruddy had an abysmal experience with FSBO.com's Partner Package, many past sellers mention the unpredictable broker quality in their FSBO.com reviews.
FSBO.com doesn't have a mobile app either, where update notifications can be pushed, and a lack of timely communication is a deal-breaker in real estate.
Along with affordable full-service packages, Houzeo has a fully-automated mobile app that keeps all the information about home selling at your fingertips.
Introducing the Houzeo Mobile App!
View your listing
Review and compare offers
Counter an offer
NEW! Buyers can now search your property and save it in "Favorites"
❌ Limited Visibility
The $99.95 package lists the home only on the FSBO.com website, not on any MLS. This limits the house's exposure when local MLS services are used directly.
This package is non-refundable and unlikely to create value for home sellers.
Will FSBO.com Work for me?
Although convenient, FSBO.com has an outdated platform and offers limited value with its base package. It essentially markets your property to a narrow audience. It is ideal for people who know what they want, those who don't require hand-holding and have plenty of time.
FSBO.com reviews state that FSBO works differently for every seller. FSBO.com's MLS package doesn't create a case for itself.
With independent brokers scattered across the country, ' the company can't ensure a winning experience for each of its sellers. Other deal-making services like contract reviews, planning showings, and hosting open houses aren't offered by FSBO.com, making it an additional expense for the homeowner.
Fortunately, FSBO.com isn't the only Flat-Fee MLS service to save money when selling your property as an owner.
Houzeo: An Alternative to FSBO.com
Houzeo has harnessed technology and innovation to build an intuitive platform and offers listing services at a flat fee. The motivation behind Houzeo has been reducing significant efforts, time, and fees so that homeowners experience a seamless home-selling journey.
If you're budget-conscious and tech-savvy, you will have an unparalleled advantage in home selling with Houzeo and save thousands in the whole process.
100% automation, most of the procedure is done on the Houzeo website; this saves you a great deal of time and helps you find the best deals for your house.
IntelliList Listing Management System auto-fills your listing details
Multiple services are available on an a-la-carte basis
Lists your home on many other websites like Zillow, Trulia, Redfin, Realtor.com, and others.
Excellent customer support; you can verify their ratings and reviews on Trustpilot
Houzeo has launched its mobile app that facilitates you to browse homes and list, review, and compare offers.
» Houzeo Reviews: You NEED to Read these Reviews!
Other Options You Should Consider
1. Sell to iBuyers
iBuyers make an offer on your property within 24-48 hours and can close within 7 days or more. Most iBuyers like Opendoor and Offerpad are also known to offer the Fair Market Value (FMV) for your property.
Selling to an iBuyer has certain significant drawbacks. These include:
Limited coverage, restricted to metro and urban areas
Strict eligibility criteria without exceptions
Non-negotiable offers
5% service fee
2% – 8% repair costs
👉 Our Take: We recommend iBuyers if your house meets the iBuyer company's eligibility criteria.
» iBuyer Reviews: Check out rankings, pros, cons & alternatives of top iBuyers in America
2. Sell to "We Buy Homes for Cash" Companies
Unlike iBuyers, "We buy homes for cash" companies help you sell your house as-is fast. They can even close within 7 days or any date you choose. "We buy homes for cash" companies also make cash offers for homes outside metro areas or in difficult-to-sell locations.
Here's why traditional cash home buyers could be a bad option for you than an iBuyer:
They make lowball offers and offer only 50% – 70% of market value.
Their offers are non-negotiable
👉 Our Take: We recommend selling to a cash home buyer if you are selling a distressed house "as-is" without looking for the best price.
» "We Buy Homes for Cash" Companies: Check out America's biggest cash home buyer companies in 2023
3. Sell With Flat Fee MLS Services
The most effective method for customers to buy or sell a house is through MLS listing websites. 95% of homebuyers use online tools to find their dream homes. And 89% of home sellers chose the Multiple Listing Service (MLS) to sell their homes quickly.
List on MLS with a Flat Fee MLS service to get your house on the market within 24-48 hours. Flat Fee MLS is one of the best ways to sell your house fast, and has 4 main benefits:
MLS is the fastest way to hit the market, plus your listing is syndicated to Zillow, Realtor.com, etc.
Your listing gets maximum exposure.
You can negotiate all offers.
You skip paying commission or service fees.
👉 Our Take: We recommend Flat Fee MLS companies for most home sellers. They are fast, and you will save thousands in commissions.
Should I Sell For Sale By Owner with FSBO.com?
FSBO.com is also a good choice for low-cost brokerage services, but you should expect an unpredictable home-selling experience. Although it is one of the oldest FSBO players, as per many reviews, FSBO.com offers a limited edge to home sellers amidst the complexities of real estate.
You could save on commissions if all the balls in the court align. That's a huge "if" because of all the external variables. As an FSBO, you have zero control over your home-selling experience.
Choosing a bit dated platform like FSBO.com sounds absurd in a world of ever-evolving technology. With Houzeo, your home selling experience becomes instant and efficient while ensuring you don't spend any more money or time than required.
Frequently Asked Questions
1. Which For Sale By Owner (FSBO) Website is the best?
These are the best FSBO websites based on reliability and credibility:
FSBO.com
Fizber
Zillow & Trulia
For Sale By Owner
Craigslist
Facebook Marketplace
Homefinder
Beycome
2. How Do I Evaluate Which One is the Best For Sale By Owner Website?
We've done it for you! We've evaluated different websites based on the following dimensions:
Which website provides the most exposure to your property listing
Which website allows you to offer a Buyer's Agent Commission
Which website offers the most control over your MLS listing
When you request changes, which site gets them done the fastest – because as they say, time is money!
Which website provides the best value in terms of fees. Read the blog for a detailed comparison!
Related: we buy homes for cash