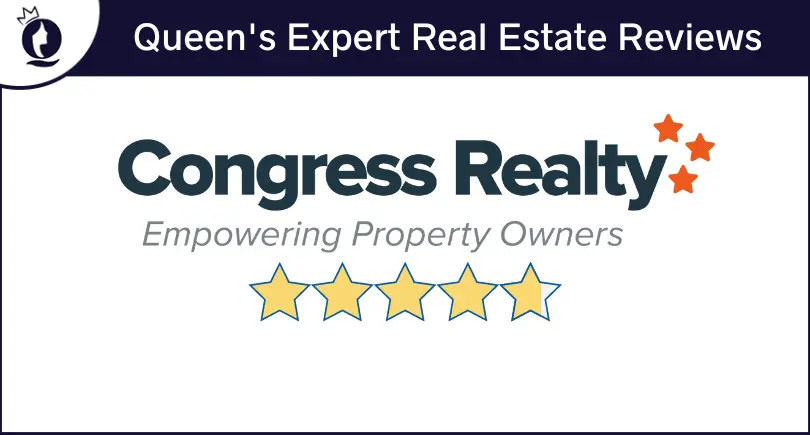 Congress Realty reviews speak volumes about this innovative real estate company. Additionally, they have an excellent rating of 4.8 out of 5 from 49 reviews on Google.
Moreover, Congress Realty has garnered attention in the industry for its unique approach to buying and selling properties.
Congress Realty operates exclusively in 12 states. If their services are unavailable in your state, consider listing your home with other flat fee companies like Houzeo.
Houzeo will automatically assign your local MLS giving you maximum exposure to buyers and buyer agents. Your listing will also be on all major platforms, including Zillow, Redfin, Realtor.com, and Trulia.
Let's delve into Congress Realty reviews and their pros and cons to see if they are the ideal choice for you.
Key Takeaways
Pros: Congress Realty offers a cost-effective solution for homeowners looking to buy or sell properties.
Cons: One potential drawback of working with Congress Realty is the limited personal support compared to traditional real estate agents.
Our Take: Congress Realty's cost-effective approach and user-friendly platform make it a viable option for homeowners seeking control over their real estate transactions.
What is Congress Realty?
Congress Realty is a Flat Fee MLS real estate company. They have carved a niche by offering a cost-effective and streamlined approach to buying and selling properties.
Moreover, by leveraging technology and expertise, Congress Realty aims to empower homeowners to take control of their real estate transactions.
Additionally, what sets Congress Realty apart is its Managing Broker – Jared Andrew English. Jared Andrew English is an experienced Flat Fee MLS broker representing thousands of home sellers.
How Does Congress Realty Work?
Congress Realty simplifies the buying and selling process with an FFM platform that connects buyers and sellers directly. They allow homeowners to list their properties, saving on hefty commissions.
Additionally, through their user-friendly website, homeowners can upload property details, photos, and pricing information for potential buyers.
Services/Packages
Congress Realty Offers three Flat Fee MLS packages and one full-service Package.
Basic Package – $299: Includes a listing term of 6 months and 4 photos with access to all state forms & disclosures. Additionally, the package also has the showing appointment tool and up to 5 free listing changes.
Plus Package – $399: The services offered are similar to the Basic Package. You can make up to 10 free listing changes. Additionally, automated phone leads are forwarded to you.
Premium Package – $499: You get all the services of the Plus Package. Additionally, the package also includes unlimited open house postings, social media featured listing, and unlimited free listing changes.
Full-Service Package – $399+0.5% Commission: This Package comes with the assistance of an agent to help you with negotiations. They also offer contract review and closing services.
Listing Upgrades
In the cheaper plans, you have to purchase upgrades separately. We've summarized all upgrades below.
Call Forwarding: $50
Max Photos (if more than 25): $50
Open House Advertisement: $50
Listing Renewal: $175
Pro Photographed Virtual Tour: $350 (could be more. If so, you will be notified)
Congress Realty Yard Sign: $150
eLockbox Rental: $295 (includes $125 refundable deposit)
Combo Lockbox (basic): $50
Congress Realty Reviews

✅ Daniel had an excellent encounter with Congress Realty, and he was thrilled with the personalized support provided by J. Andrew English.
✅ Debra expressed her satisfaction with Congress Realty services. She particularly praised J. Andrew English for his prompt responses throughout the process.
❌ Hatch was dissatisfied with his purchase from Congress Realty's seller. However, the company clarified that he had waived his pre-closing walkthrough, which could have prevented this situation.
❌ Marcia, a competitor of Congress Realty, has criticized their quality control. However, she has not provided a reason behind her perception.
👍 Pros of Congress Realty
Congress Realty is an excellent Flat Fee MLS option for sellers looking to sell their homes fast. Here are some advantages of working with Congress Realty:
Very Experienced & Highly Rated Broker: There are very few brokers as capable as Jared Andrew English. Moreover, Andrew provides excellent representation and works hard for your interests.
Excellent Customer Service: Andrew and his team at Congress Realty are fast and reachable.
Cost-Effective: Congress Realty's model allows homeowners to save on traditional agent commissions. Therefore, making it an attractive option for those on a tight budget.
Control Over the Process: By directly listing their properties, homeowners have more control over the sale process, pricing, and negotiations.
Wide Reach: Congress Realty's online platform provides exposure to a large pool of potential buyers.
Transparent Fees: The company clearly outlines its fees, ensuring homeowners know what to expect upfront.
👎 Cons of Congress Realty
In our research, we found certain deal-breakers with Congress Realty, which are:
Limited Coverage: Congress Realty extends their services in only 12 states. So, Americans from other parts of the country can not avail of their services.
Expensive Add-ons: Home sellers on a budget may find their a la carte services expensive.
Alternatives to Congress Realty
Houzeo.com: Houzeo offers a compelling combination of significant savings, advanced technology, top-notch customer support, and extensive listing exposure. As a fully online MLS listing website, Houzeo has garnered thousands of customer reviews. It provides coverage in 47 states across the US, offering a near-nationwide reach.
Homecoin: Homecoin is a technology-focused, Flat-Fee MLS platform based in San Diego, California. They attract home sellers with their "affordable" FSBO listing option. However, some users have found their online dashboard to be cumbersome. This may make handling complex FSBO listing paperwork more challenging.
Conclusion
In our research, we found no big red flags with Congress Realty. Jared Andrew English has a stellar reputation within the broker community. However, buyers may not approach listings that are not represented by real estate agents.
This can also lead to fewer inquiries for homeowners. Moreover, they have a significant number of upgrades. They can add up quickly, so if you're opting for a cheaper plan, we recommend you budget for these.
Furthermore, exploring Congress Realty reviews can serve as a valuable tool. It can also help you understand the reputation and quality of services offered by the company.
Related: congress realty, jared english congress realty, congress realty jared english, andrew english congress realty, congress realty reviews, congress realty andrew english, congress realty Arizona, congress realty az, congress realty Idaho, congress realty inc, congress realty inc jared english, congress realty las vegas, congress realty texas, congress realty tucson, donald plunkett congress realty, jared andrew english congress realty, jared english congress realty Arizona, jared english congress realty inc, jared english congress realty phone number, congress realty austin, congress realty Missoula, congress realty arizona reviews, congress realty louisiana reviews, congress realty a broker, congress realty agents tucson, congress realty alaska, congress realty Albuquerque, congress realty arroyo grande ca, congress realty austin texas, congress realty austin tx