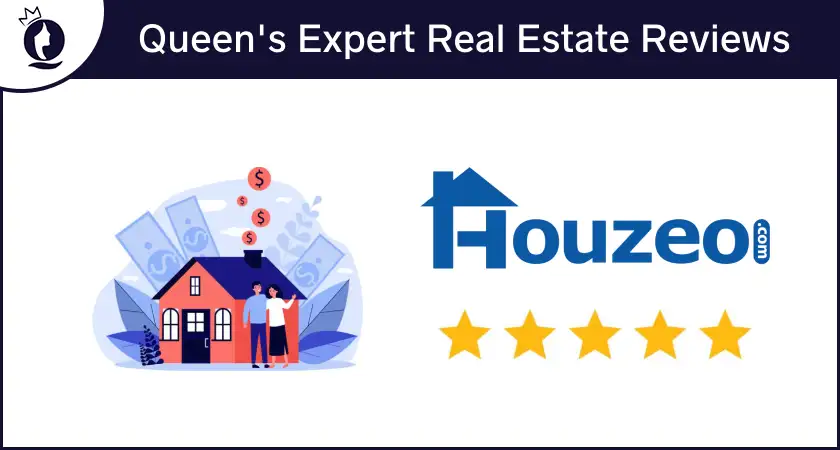 Houzeo is a FSBO website that lists your property on the MLS for a flat fee. They offer affordable packages, 100% online tech and 5-star customer support.
(21 Reviews)
Write a review
Pros
Houzeo's web technology offers a seamless selling experience.
They offer maximum exposure through Zillow, Trulia, and Realtor.com.
Houzeo's dashboard and mobile app are user friendly.
Houzeo offers services in 47 states + DC.
Cons
Houzeo offers limited services in the state of South Dakota, West Virginia, and Wyoming.
You can't list rental properties with Houzeo.
Houzeo is a For Sale By Owner website that has gained a reputation in the real estate industry for their innovative approach. Houzeo stands out from other popular Flat Fee MLS companies is its near nationwide coverage.
This real estate tech company offers four affordable Flat Fee MLS packages. The cost of their plans vary in different states, but you will pay around $329 to $399. Their Gold and Platinum packages, however, also have a fee at closing.
Houzeo provides a 100% online dashboard to manage everything from list to close. Moreover, Houzeo is the only Flat Fee MLS company that allows you to list a property through their mobile app.
✍️ Queen's Take: We recommend listing with Houzeo to most home sellers. Their packages are comprehensive and offer everything you may need to sell a home. See Queen's Analysis to learn more.
Queen's Scorecard
Here's my verdict on 5 core parameters that I deem most crucial when you want to sell your house.
| Parameters | Rating out of 5 |
| --- | --- |
| Technology | 5 |
| User Experience | 5 |
| Customer Reviews | 4.9 |
| Coverage | 4.5 |
| Price | 4.5 |
| Overall Score | 4.8 |
Technology: 5/5
Houzeo boasts an impressive tech stack in comparison to other traditional real estate companies. Their user-friendly dashboard allows you to effortlessly manage listings, showings, offers, and more.
User Experience: 5/5
Houzeo streamlines the entire list to close process. You get all your MLS input forms, seller disclosures, federal and state disclosures on a single dashboard.
Customer Reviews: 4.9/5
Houzeo has received an impressive rating on websites such as Google and Trustpilot. The Queen has been privy to several commendations about Houzeo's exceptional customer support team for their assistance.
Coverage: 4.5/5
Houzeo covers 47 states and Washington DC. They offer limited services in Wyoming, South Dakota, and West Virginia.
Price: 4.5/5
Houzeo offers 4 Flat Fee MLS packages starting at $329 that varies by state. Even though Houzeo is slightly expensive compared to some companies. Their excellent services justify the higher cost.
Houzeo Pros and Cons
Let's evaluate the advantages and disadvantages of Houzeo to determine if it's the right choice for you.
✅ Pros
100% Online: Houzeo offers a complete online listing experience.
Max Exposure: Your property gets syndicated to popular real estate websites like Zillow, Trulia, Realtor.com, Redfin, and more.
Mobile App: You can list your property, manage showings, compare offers on the go with Houzeo's mobile app.
Nationwide Coverage: Houzeo is available in 47 states and Washington DC.
Flexible Cancellation: You can cancel your listing anytime.
❌ Cons
Limited Service in 3 States: Houzeo offers limited services in South Dakota, West Virginia, and Wyoming.
Not for Rental Properties: You cannot rent out your property with Houzeo.
How Does Houzeo Work?
Begin your home selling journey on Houzeo.com. You can list your property in 4 easy steps.
1. Create an Account: Register with Houzeo.com by providing your details. You will get a verification link in your inbox that will redirect you to Houzeo's login page.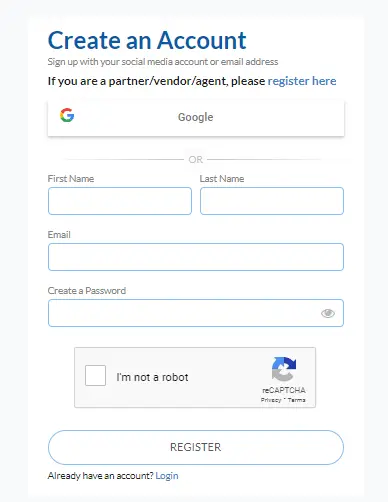 2. Provide Property Info: Click on "Sell a Property" to start the listing process. Then provide the address and features of your property.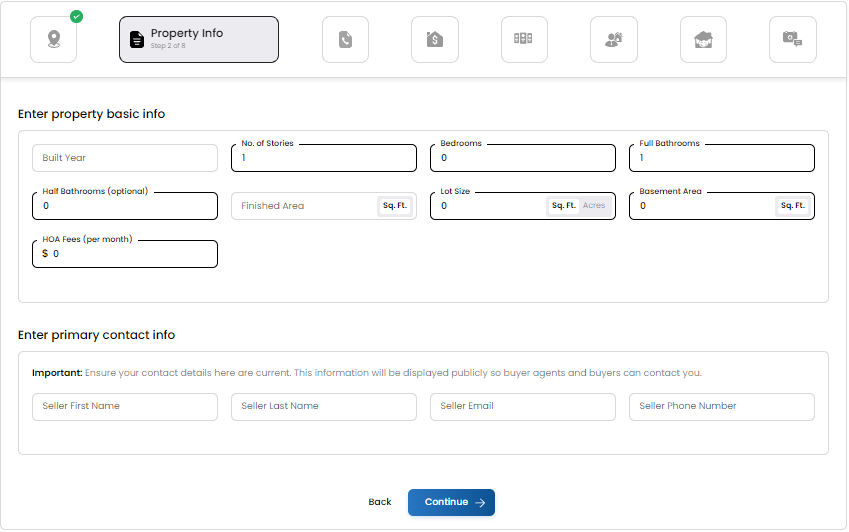 3. Set Price: You need to set the asking price and the buyer agent's commission. Make sure to perform a comparative market analysis for your property before coming up with the asking price.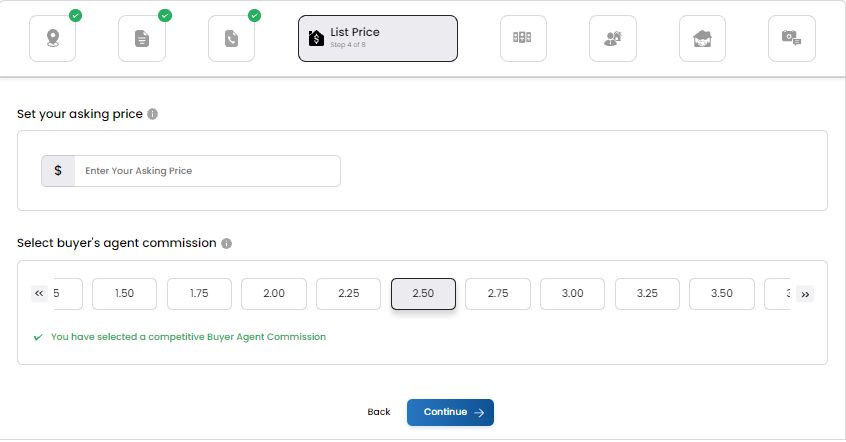 4. Select a Plan and Pay: Choose a plan that aligns with your specific needs and proceed with the payment.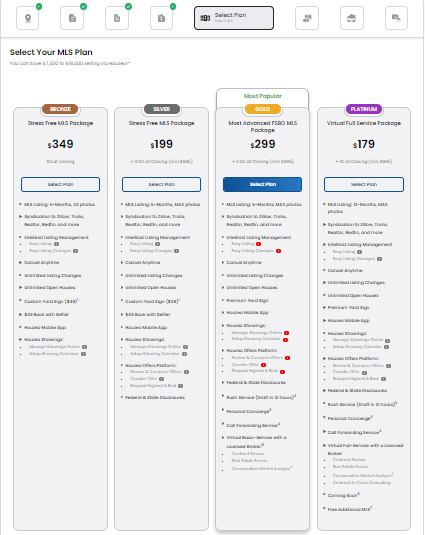 After you complete these steps, Houzeo's dashboard automatically generates the required MLS paperwork. Houzeo lists your property within 24 hours after the paperwork submission.
👉 You Should Know: Houzeo's dashboard helps you write attractive AI generated property descriptions.
How Much Does Houzeo Cost?
Houzeo offers 4 packages which range from $329 to $399.
1. Bronze Package: $329
The Bronze package provides a 3-month listing term with 6 photos. However, you don't unlock all tech services with this package. This package is suitable for land or lot sellers.
2. Silver Package: $399 + 0.5% at closing
The Silver package cost varies regionally. The Silver package offers a 6-month listing term and maximum photos on the MLS. In addition, you get Houzeo's listing, showing management platform, Intellilist, and access to their mobile app.
3. Gold Package: $379 + 0.5% at closing
Houzeo's Gold package stands out as their top-selling For Sale By Owner (FSBO) listing plan. This grants you full access to Houzeo's comprehensive suite of technological tools.
4. Platinum Package: $349 + 1% at closing
The Platinum package is the virtual full-service plan that has an upfront $349 fee and has 1% due at closing. It includes everything offered in the Gold Package, with a listing duration of 12 months.
Additionally, the Platinum Package offers a virtual broker that helps you with pricing and contracts to close consultations.
Queen's Take
| 👍 What I Like | 👎 What I Don't Like |
| --- | --- |
| ✅ Comprehensive packages | ❌ Basic package is slightly overpriced |
| ✅ State-of-the-art technology | ❌ Platinum package is not available in 3 states |
| ✅ Free yard sign for Silver, Gold and Platinum packages | |
| ✅ Exposure on websites like Zillow, Trulia and Realtor.com | |
| ✅ Virtual broker's assistance in Gold and Silver package | |
| ✅ Easy-to-navigate dashboard | |
| ✅ Listing on Houzeo.com with over 190k monthly traffic | |
Usually, MLS listing service providers have hidden fees. However, we could not find any hidden fees associated with Houzeo. They list their price upfront on the website.
Houzeo.com Customer Reviews
Houzeo has a very impressive customer rating of 4.9 out of 5 stars on both Google and Trustpilot based on 3,000+ reviews. Let's see what their customers have to say about the company.
Houzeo Reviews: Commendations
✅ Ralph was very satisfied with the services offered by Houzeo's team.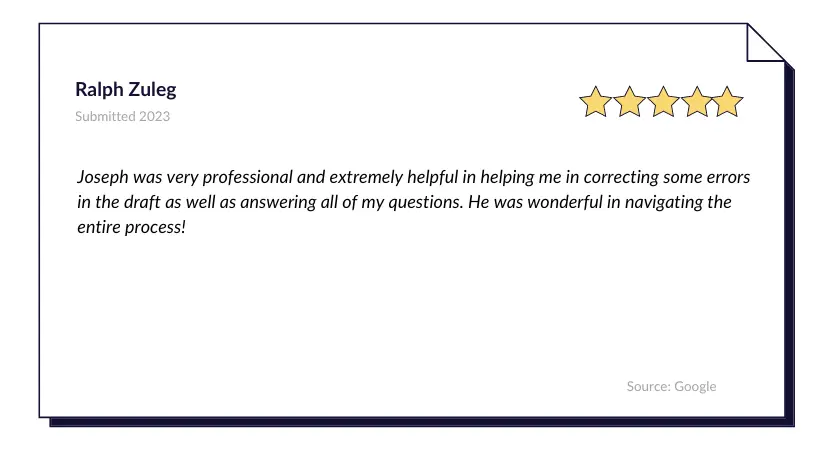 ✅ Steve praised his Houzeo agent, who made the overall process easy for him.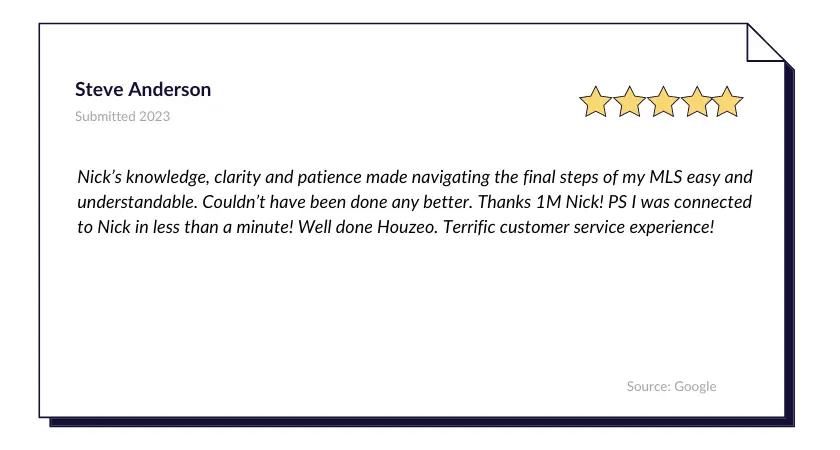 Houzeo Reviews: Complaints
❌ James complained about Houzeo's strict cancelation and refund policy.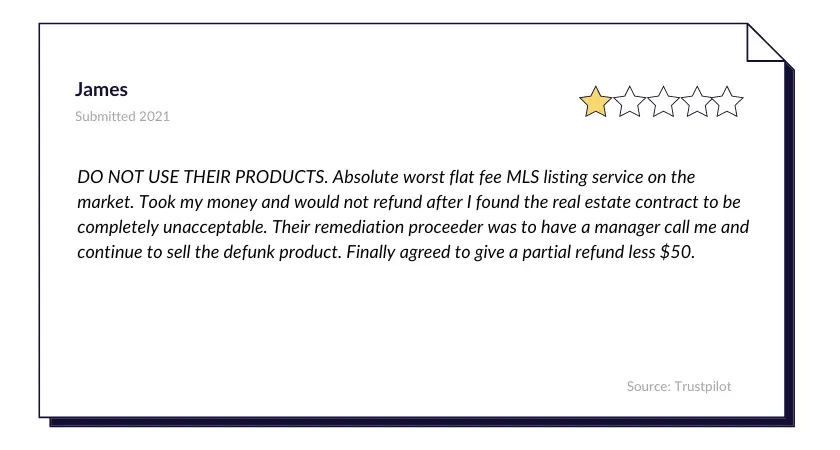 ❌ Kim felt that the paperwork was too lengthy. It took him 4 days to gather the necessary information required by his local MLS.
Alternatives of Houzeo
It is important to compare and research multiple services before listing your home. Here's how Houzeo compares with other listing options:
1. Homecoin
Homecoin's key attraction is its $95 listing plan. This plan provides you with a clumsy interface for the online listing, substantially degrading your user experience. Also, you have to pay $450 to $2,999 for several a la carte services.
2. Beycome
Beycome offers 3 packages, with the cheapest one costing $99 and the highest one costing $599 + 1% at closing. They also promote their online listing process. However, their platform lacks the ability to manage offers effectively.
3. Flat Fee Group
Flat Fee Group is a network of licensed brokers that have collaborated to offer MLS services nationwide. They offer 3-4 packages in every state. However, Flat Fee Group doesn't have customer reviews on any credible websites to vouch for their services.
Other Flat Fee MLS Companies Near You
Is Houzeo Worth It?
During our research, we did not find any major red flags with Houzeo.com. The company has the best technological features we have seen in the industry. Houzeo also offers a mobile application, so you can manage the sale on the go.
Although the cost of their packages varies from state to state, the quality of services offered remains the same. This leads to a consistent user experience.
Houzeo provides an excellent combination of comprehensive services, stellar technology, and 5-star customer support. Overall, we recommend listing with Houzeo to most home sellers.
Frequently Asked Questions about Houzeo Reviews
1. What is Houzeo?
2. Is Houzeo legit?
3. How much is the Houzeo's success fee?
4. Does Houzeo has any hidden fees?
Related: houzeo corp, houzeo real estate, houzeo phone number, houzeo coupon code, houzeo google reviews, houzeo better business bureau, houzeo reviews reddit, houzeo reviews yelp, houzeo bbb, amit dhameja houzeo, houzeo blogs, houzeo company, houzeo crunchbase, houzeo customer service phone number, houzeo flat fee mls reviews, houzeo refund policy, houzeo team, houzeo.com customer service number, www.houzeo.com
Kevin Maag

Kevin.Maag@google.com

Kate Diaz

kate.diaz@gmail.com

Gary G was awesome! Gary G was so patient and responsive to my (many) questions. He was extremely knowledgeable and helpful in my journey on choosing the best plan for my situation.

Davis

Davis@gmail.com

Stacy Is Batting 1000!!!….Stacy returned my call very promptly… Stacy returned my call very promptly and she was able to answer my questions fully! I\'ve spoken with Stacy before and my experience has been the same…fully satisfied! Davis Bernstein

Ray King

ray.king@gmail.com

Jeff was professional and helped me to… Jeff was professional and helped me to get our listing live. He is excellent and i recommend him to all who use Houzeo. Thank you, Ray

Carolyn

Carolyn@gmail.com

To be truthful To be truthful, I was beginning to feel overwhelmed by all the forms and such…couldn\'t reach my listing agent and needed to correct something. I used the "Chat" function and the gentleman that helped me truly HELPED me! His name is Vic K and he answered all the questions I had as well as helped me see how to move on to a completion of this FSBO process my siblings and I are on. Thank you for employing people like Vic K!

Edna Case

Edna.Case@gmail.com

You can call Houzeo at any time for help The best experience is being able to call Houzeo for help and if I couldn\'t contact them they would call you back always. They\'re always there to answer your questions. Thank you Sharon

Sherry Little

Sherry.Little@gmail.com

She was very patient with me and good… She was very patient with me and good at explaining different items. She made it a calming experience for a stressful time listing my house. Two thumbs up on her customer service!!

Bret K

Bret.K@gmail.com

Melvin was very quick Melvin was very quick, and thorough. The chat feature is great. I appreciate the assistance!

Eileen Hines

Eileen.Hines@gmail.com

Very helpful with excellent info Very helpful with excellent information. Just need to speak a little slower to hear and understand words. Thank you! Eileen

Jackie

Jackie@gmail.com

Great discussion with Jeff this… Great discussion with Jeff this evening. He patiently answered all my questions and provided sound input on information and tasks related to the MLS listing. He was incredibly helpful and personable!

JT

JT@gmail.com

Live Listing Draft review call The call was set up to review the live listing draft but the listing went live before our scheduled call (which was not a huge deal since we had two prior drafts.) Jeff promptly called at the scheduled time and helped me better understand the general process. He specifically gave me some clarification on the integration between Showing Time and Houzeo and what is being done to activate and associate my listing with Showing Time which was a significant question I had.

Mary Sandry

JT@gmail.com

Alls well that ends well! All in all I was left with a positive feeling about this company. Their customer service is persistent and does everything they can to make sure customers are happy. Always read your paperwork before you sign it. I did make a mistake there but they were able to work with me to resolve the issue.

Holly Morrissey

Holly.Morrissey@gmail.com

Understood my questions and gave clear… Understood my questions and gave clear instructions on how to accomplish what I wanted to do:)

Steve Koch

Steve.Koch@gmail.com

Houzeo first impression. This is my first experience with Houzeo. I was getting pretty frustrated with the process and had invested a lot of time learning the Houzeo process when Pat called me to intervene. He has promised me to get the answers I needed while helping to get my posting completed. He has redeployed me and I am now much more aligned with the process. Pats help was significant in the overall process.

West family

West.family@gmail.com

Awesome customer support This company makes sure they are helping any way they can, each step of the way, especially during the first part of getting your property listed and live! Very affordable for the offerings! They also save you money and who doesn\'t like saving a few dollars?

Tara Klamm

Tara.Klamm@gmail.com

Overall Good Experience Overall, things have gone well, but there have been hiccups here and there being the first time we have tried to sell our home without a traditional agent. Houzeo has tried their best to address concerns, etc.

Arnold Heckman

Arnold.Heckman@gmail.com

Listed my home and got it sold in a day The portal is reasonably easy to navigate and the online/phone help is there if you need assistance. When I finally closed out the listing by uploading the required docs, I did have some questions and used the online chat where Ken L\'Silva was very helpful in getting my file closed out

Klare Heston

Klare.Heston@gmail.com

I love the prompt responses to my… I love the prompt responses to my calls– get a return call within minutes even if I don\'t leave a message. Garry was very knowledgeable and patient and courteous. The technology is very user-friendly as well. I would highly recommend Houzeo. We just went live

Ken Baxter

Ken.Baxter@gmail.com

The person was just what i needed which… The person was just what i needed which was a lot. I am a disabled veteran and have a traumatic brain injury. She was so kind and patient Thanks so much

Julie Wittus

Julie.Wittus@gmail.com

Gary went above and beyond for me… Garry G went above and beyond for me today! I believe I called him 3+ times today and he was so incredibly patient and helpful!!! 5 stars for Gary and his amazing service at Houzeo!!!

Kelly Larrow

Kelly.Larrow@gmail.com

Rated 5 out of 5 stars Jun 8, 2023 I\'m extremely impressed with your technical support, especially Vic K. I\'m extremely impressed with your services, site and technical support. I\'m a pretty savvy person owning multiple properties and know what I\'m doing for the most part even then, the details matter. Vic K. absolutely mastered about 7 technical needs all via chat, promptly, with confirmations. I am VERY pleased with choosing Houzeo for my needs. This kind of chat/support is RARE to find. The site is well laid out too! It\'s got everything I know I need and what I need is my property on the MLS! Thank you!