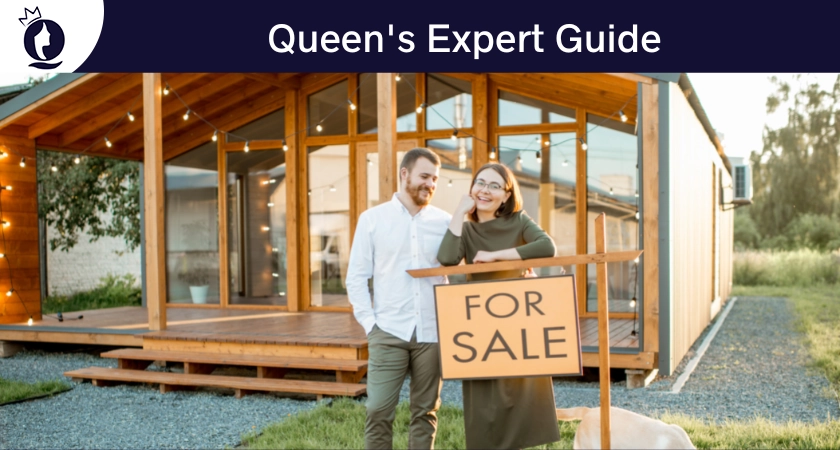 After registering record levels in May 2022, the real estate market has started showing signs of cooling. An increasing number of days on the market combined with repairs will further delay the home-selling process. To sell quickly, sell your house as is asap.
👉 Get Maximum Cash Offers for Your As Is Property: Major cash buyers, including Opendoor and Homevestors, have submitted offers on Houzeo properties. An MLS listing via Houzeo.com gives you maximum exposure. List NOW!
1. What Does Selling a House As Is Mean?
Selling "as is" means putting your house for sale in its existing condition, without any upgrades or improvements. "As is" home buyers know you will not make any repairs, even based on the home inspection report.
Say, a defect is found in the property's HVAC system during the inspection which would cost $3,000 to fix. In a regular real estate transaction, the seller would either fix the defect or waive off $3,000 from the final sale price. But as an as-is home seller, you won't indulge in any repairs. The buyer has to accept the property as it is.

What Selling As Is Does Not Mean?
Selling a house as is does not mean you simply list your house, sell it, and walk away with the profit. As a seller or a Realtor, you should be transparent about the property's condition. You must disclose every fact that may affect the buyer's decision.
As is home sellers are not abstained from furnishing the seller's disclosures. Honestly, disclose the property condition in your local property disclosure statement. For example, truthfully disclose damages present in the ceiling, or termite infestation, if any.
2. Can I Sell My House As Is?
Yes, you can sell your house as is. Most real estate contracts are by default "as is" contracts. This enables both parties involved in the transaction to make an as-is home sale.
Some states like Florida have special "as is" sale contracts. Refer to our state-specific blogs to know more about your state requirements.
Can You Sell a House As Is Without Inspection?
It is up to the buyers if they want to conduct a home inspection or not. Just because you are selling real estate as is, buyers are not prevented from inspecting the property. However, you won't be liable for any damages or defects found on the property during the inspection.
3. Why are Houses Sold As Is?
People under the following circumstances sell their homes as-is:
You Cannot Afford to Make Any Repairs
You may not have enough dollars to finance the repairs. Selling a home in itself is an expensive affair. Several costs like real estate agent commissions, settlement agent fees, notary fees, etc. are part of home selling fees. Repairs combined with staging homes would only burden sellers further.
For example, it costs about $25,000 on average for kitchen remodeling. By listing your house as is, you skip such expensive upgrades.
You Want to Relocate ASAP
You may be looking to sell your house and move for a job. Home sellers spend 2 weeks to a month marking repairs, which can delay your relocation. In such a scenario you can save about a month by skipping repairs and selling as is.
» How to Sell My House Fast: Find out the easiest way to sell your home quickly
You are in a Financially Difficult Situation
People go through tough times and are in urgent need of cash. By selling homes as is it is very likely they will attract cash home buyers like We Buy Ugly Houses. Though cash buyers give 50%-70% of the property's market value, they offer cash right away.
You Want to Avoid the Stress of an Inherited Property
You and your siblings have inherited a property, but it is in torn-down condition and you stay too far to monitor repairs. To avoid future tussles and headaches, you may choose to sell the property as is and book your profits.
» Selling Inherited Property: Everything you need to know.
4. How Much Do You Lose Selling a House As Is?
The amount of money you lose selling "as is" also depends on the property's location, and condition.
For instance, fixer-uppers in Austin's hot seller's market sell for $600,000, $60,000 less than the median sale price. This means even without making repairs, you will get $60,000 less than a move-in-ready Austin house. Whereas the real estate market in Macon, GA happens to be one of the cheapest fixer-upper markets.
If your house is in an extremely distressed condition, you may attract offers as low as 30%-50%. So, a house worth $650,000 might sell as is only for $325,000.
✍️ Pro Tip: If your house is not in worn-out condition, opt for iBuyers. iBuyers are companies that will make instant cash offers and close the deal within 24 hours.
Why Houses Sold in As Is Condition Sell for Less?
Houses sold "as is" sell for less due to two reasons:
Home sellers do not invest in repairs and
As is Homes mostly sell to cash buyers.
Say, you are selling a house as-is that requires a roof replacement worth $9,000. The potential home buyer has to bear $9,000 out of their pocket. Thus, an as-is home buyer would deduct this amount before making an offer.
Homeowners selling as is usually are in desperate situations and attract lowball offers from cash buyers and investors. Cash house buyers are known to make cash offers as low as 30% of the home's fair market value.
5. What are the Pros and Cons of Selling a House As Is?
✅ Key Benefits of Selling a Home As Is:
You do not Deal With Repairs: Water-damaged kitchen countertops, dripping faucets, or broken roofs – repairs are not your concern. The flipper or investor buying your house as-is will spend their time and expertise making the repairs.
Inspection Bargaining is Easier: Home sellers on average have to let go of $14,000 in inspection bargains. In an "as is" sale, you can set an appropriate discount beforehand and communicate to the buyers you are not willing to negotiate further.
You Reach the Closing Stage Quickly: Saving your time in repairs, you can list your property for sale directly. Assuming you find a buyer who has access to a lender for a distressed property, you can reach the closing even earlier.
❌ Key Drawbacks of Selling Your Home As Is:
You get Lesser than the Fair Market Value: As stated earlier, you will likely sell to a cash buyer. Cash home buyers will not offer more than 50%-70% of the fair market value, or even lesser.
Buyers make Negative Assumptions About "as is" Property: Buyers assume your property has some serious defects, which may not always be true. This in turn affects the offers your house attracts.
Buyers may Face Challenges in Securing Mortgages: Lenders usually withhold from financing properties having structural or safety issues. If you are in luck you might find a buyer using an FHA loan.
💡 Fact: The FHA 203(k) loan enables home buyers to finance a house in a need of repairs. For the FHA loan approval, the property should meet a minimum set of requirements.
6. Should I Sell My House As Is?
We do not recommend selling your house as is because fixer-upper homes sell for 45% less than turnkey homes. However, if you are in a situation where selling "as is" is the only option, you have the following alternatives based on your situation:
Sell to Companies that Buy Houses for Cash
Cash home buyers are real estate buyers who make direct cash offers on homes. They help home sellers skip the hassle of listing on the MLS, marketing, etc.
✅ Key Benefits of Selling a House As Is for Cash
Fast Sale: The MLS listing process is eliminated with cash home buyers. After submitting details on their website, you get an instant offer and closing can happen as quickly as two weeks.
Flexible Closing: Many cash home-buying real estate companies provide a one-month closing guarantee or even go up to two weeks. The speed of the sale makes these cash house buyers appealing to home sellers in desperate need of liquidity.
❌ Key Downsides of Selling Your House As Is for Cash
Non-negotiable Cash Offers: The deal offered by cash home buyers is usually take-it-or-leave-it. Although there may be room for negotiations, you can't expect more than 70% of the market value of your home.
Lowball Offers: We buy houses for cash companies generally pay 50% to 70% of the home's fair market value, deducting all repair, utility, and re-selling expenses.
» Companies that Buy Houses for Cash: Checkout our Rankings for Top Cash Buyers
Sell Your Home With a Traditional Full-Service Agent
From listing to closing, a full-service agent will help you with everything. But you'll be paying a full 2.5% to 3% listing agent commission. And even if you find an unrepresented buyer, you're still on the hook for the full commission.
✅ Key Benefits of Selling With a Traditional Full-Service Agent
Pricing Assistance: Realtors have years of experience and knowledge of the historic sales in the neighborhood and can conduct a Comparative Market Analysis (CMA) for you.
Help in Negotiations: Real estate agents master negotiation tactics. They can help you secure the best possible price for your home.
Easy Paperwork: Real estate transactions involve extensive paperwork. A realtor can ensure all the documents and paperwork are submitted on time.
❌ Key Downsides of Selling With a Traditional Full-Service Agent
Hefty Commissions: Real estate agent commissions in the US are 5.5% to 6%. That's thousands of dollars of fees in commissions.
Limited Control Over Your Sale: Everything will go through an agent. That reduces the risk that you will do something wrong, but will also limit the control you have over your transaction.
Slow & Manual Process: Agents do things manually. A simple price change is several steps – the agent has to talk to you over the phone, create a price amendment, get you to sign it, then sign it, and only then can they update the price on the MLS.
» How to List on MLS: Discover ways of listing on the MLS without an agent.
Sell Your House As Is For Sale By Owner
Selling a house as is by owner is a DIY approach with no listing agent involved. Sellers have maximum control over the entire process but have to handle all the paperwork with no oversight.
✅ Key Benefits of Selling Your Home As Is by Owner:
Savings on Commission: American home sellers spend around $25,700 on real estate commissions (based on the median home values). Selling your house as-is on your own can help you save around $12,850 in listing agent fees.
Speed to Market: You can set out to sell your house whenever you are ready. You need not hunt for a real estate agent to begin the selling process. FSBO websites like Houzeo can get you listed within 24-48 hours, or faster!
Control Over Transaction: You interact directly with buyers or buyer agents. This reduces the intermediaries involved in the transaction.
❌ Key Downsides of Selling Your House in As-Is Condition by Owner:
No MLS Exposure: Homes on the MLS sold for 17% more than not on the MLS. Selling FSBO will restrict your exposure, so there will be less competition for your property. That will likely reduce the selling price.
No Help If You Need It: If you need help with paperwork, FSBO contract, inspection, negotiation, or closing, you're on your own.
Sell by Owner With a Flat Fee MLS Listing Company
If you want to sell your house on your own without compromising on the marketing opt for a Flat Fee MLS company. A Flat Fee MLS listing service will get you on the MLS for a small flat fee. Homes listed on the MLS sell faster and for 17% more.
✅ Key Benefits of Listing with a Flat Fee MLS Company:
Save Thousands in Commission: Instead of paying a 5% to 6% listing agent commission, you pay a listing fee.
Maximum Exposure: You get full exposure to the MLS, Zillow, Realtor.com, Redfin, and hundreds of other real estate websites.
Full Control Over Your Sale: You retain full control over when to sell and whom to sell a home as is.
A-la-carte Options: Most Flat Fee MLS companies offer services/supplies like yard signs, lock boxes, Showing Features, etc. on an a la carte basis.
❌ Key Downsides of Listing with a Flat Fee MLS Company:
Potential Hidden Fees: Some Flat Fee MLS companies have very high hidden fees. They disclose their hidden charges generally at closing when it is already too late to back out.
Limited Coverage: Most Flat Fee MLS companies have coverage in a few states. So you might have to hunt for a company that covers your local MLS.
That being said, Flat Fee MLS pros outweigh the cons. Opt for Flat Fee MLS companies like Houzeo that have nationwide coverage and disclose all costs upfront. Unlike other MLS listing services, Houzeo offers additional features like Houzeo Showings, Houzeo Offers, etc. that help you in your as-is home-selling journey.
Another alternative to consider is working with discount real estate brokers. These professionals offer their services at a reduced commission rate, providing sellers with cost savings during their real estate transaction. It's a viable option for those seeking affordability without compromising on the quality of service.
» Discount Real Estate Agents: Affordable commission rates, quality service – choose discount agents today.
7. Who is Most Likely to Buy Your House As Is?
Depending on the condition of your property it will most likely be bought by a cash buyer. This may include traditional cash home-buying companies or technologically advanced iBuyers.
By listing on MLS you can attract regular home buyers as well. For instance, you find a home buyer looking to buy in a particular location and doesn't mind spending on repairs.
That being said, do not restrict yourself to cash buyers and regular home buyers only. Some Millennials have started buying old cheap homes via Instagram during and after the pandemic. So to attract Millenials, which form 43% of the population, you should market your as-is home on social media platforms.
8. How to Sell a House As Is?
Selling a home as-is is more or less similar to selling a house. However, here are a few additional tips for selling a house that needs work:
1. Understand the Prevailing Market Conditions
US home prices skyrocketed in 2021, but are cooling down in 2022. Increasing DOM, decreasing home sale growth and rising inventory indicate a downward in 2023 as well.
| | | |
| --- | --- | --- |
| Parameters | July 2021 | July 2022 |
| Median Sale Price | $383,000 | $413,000 |
| Average Days on Market (DOM) | 15 | 21 |
| Home Sales | 686,890 | 526,945 |
| House Inventory | 982,598 | 1,132,745 |
| Home Sale Growth (YoY) | 22.7% | -23.3% |
Source: Redfin Data Centre
Median home values reached an all-time high in May 2022, post which we have only observed a downward trend, with a slight increase in March 2022. Due to rising mortgage rates home values are slowing down. It is best to sell your home as is asap to attract buyers with zero to minimum repairs.
2. Make Minor Repairs, If You Can
Make a high return on investment repairs to enhance the look of your as-is property. This may include fixing a squeaky doorknob, replacing a leaky washbasin pipe, etc. To ready your house for sale deep clean, declutter, and add a fresh layer of paint.
3. Conduct a Pre-listing Inspection
To ensure you do not get slapped by the state seller disclosure laws, get a home inspection done before listing. Hire a professional home inspector to determine the unknown defects present in your house. Put the identified defects in the seller disclosures.
4. Price Your Home Realistically
While pricing, consider both the positives as well as the negatives of your house. For instance, you may set a lower price considering the repair estimates. But, if your home is located near a school, it might work in your favor.
» How to Price Your Home for Sale: Learn to Price Your Home Competitively
5. Know how Selling As Is Works in Your State
The process of selling houses "as is" differs across states. You need to know the exact paperwork, contracts, and beware status of your state. Click on your state or city to know how selling as-is works in your area.
6. Fill out the Seller Disclosure Honestly
By selling your house as-is, you cannot skip your disclosure obligations. Fill out the seller's disclosure notice before listing your property.
The disclosure document walks through various sections, asking you questions about various features of your house. Disclose all the known problems in your house upfront. You have to fill out designated sections on smoke detectors, the flooding history of the property, and termite inspections.
Apart from the state-specific seller disclosure, fill out the federal lead-based paint disclosure if your house was built before 1978.
» Seller's Disclosure: Real Estate Disclosure Laws, how to fill out disclosure forms, and more
7. Be Thorough with the Real Estate Contracts
Most real estate purchase contracts are by default as-is home sale contracts. For instance, in states like Texas and Utah, the stand real estate contracts are as-is contracts. These contracts contain the provision wherein the buyer accepts the property as it is unless the home seller agrees to make the repairs.
Whereas in some states like Florida, there is a separate contract to sell a house as is. These contracts contain provisions related to an as-is home sale. Do thorough research on your state real estate laws to understand various contingencies involved in an as-is home sale.
Remember, just because you are selling a property as is, buyers are not precluded from inspecting the property, negotiating repairs or treatments in future amendments, or terminating the contract during the option period.
What if You as the Seller Want to Back Out of an "As Is" Offer?
Most "as-is" real estate contracts stipulate the conditions for termination. They also mention the provisions for refunding earnest money and option fees. Always consult a real estate attorney and a licensed real estate broker before deciding to not perform on a contract.
What if Contracts do Not Contain Provisions for an "As Is" Sale?
Even though some contracts do not contain the provision of buyers "accepting the house as-is", a seller can negotiate to waive any inspections, appraisal, and survey requirements.
In addition, you can ask for a significant deposit (Earnest money and Option Fee). So, if the buyer does back out, they have a significant amount at stake.
8. Get on the MLS
Homes listed on the MLS sell faster and for 17% more. MLS will market your as-is home to a wide pool of buyers, including cash home buyers. Label your listing "as-is" to distinguish it from regular home sales as this will save you time and effort in dealing with non-genuine buyers.
List with Houzeo.com
Houzeo gets you on the MLS within 2 business days or even faster. Houzeo is 100% online, so you can make fast listing changes. Here's how to list a property on MLS and manage your as-is home sale with Houzeo in 4 simple steps:
List your property on the MLS with Houzeo.com within 2 business days
Manage Showings effectively with Houzeo Showings
Review, Compare, and Negotiate Cash Offers with Houzeo Offers
Opt for "Contract to Close Coaching Package" and get a licensed broker to assist you during the closing
🏡 List Your Home As Is Only For $349
Houzeo is the fastest way to list on the MLS and market your home to a wide pool of As Is home buyers
START YOUR MLS LISTING NOW
Selling a House As Is Near You
| Region | State/City | Selling a House As Is Near Me |
| --- | --- | --- |
| Northeast | States | Selling a House As Is in Connecticut | Selling a House As Is in Massachusetts | Selling a House As Is in New Hampshire | Selling a House As Is in New Jersey | Selling a House As Is in New York | Selling a House As Is in Pennsylvania | Selling a House As Is in Rhode Island | Selling a House As Is in Vermont |
| Northeast | Cities | Selling a House As Is in Plymouth, MA | Selling a House As Is in Princeton, NJ | Selling a House As Is in Pittsburgh, PA | Selling a House As Is in York, PA |
| Midwest | States | Selling a House As Is in Illinois | Selling a House As Is in Indiana | Selling a House As Is in Iowa | Selling a House As Is in Kansas | Selling a House As Is in Michigan | Selling a House As Is in Minnesota | Selling a House As Is in Missouri | Selling a House As Is in Nebraska | Selling a House As Is in North Dakota | Selling a House As Is in Ohio | Selling a House As Is in South Dakota | Selling a House As Is in Wisconsin |
| Midwest | Cities | Selling a House As Is in Omaha, NE | Selling a House As Is in Ellisville, MO | Selling a House As Is in St. Louis, MO | Selling a House As Is in Appleton, WI | Selling a House As Is in Green Bay, WI | Selling a House As Is in Milwaukee, WI | Selling a House As Is in Lake County, IL | Selling a House As Is in Naperville, IL | Selling a House As Is in Chicago, IL | Selling a House As Is in Schaumburg, IL | Selling a House As Is in Minneapolis, MN |
| South | States | Selling a House As Is in Alabama | Selling a House As Is in Arkansas | Selling a House As Is in Delaware | Selling a House As Is in Florida | Selling a House As Is in Georgia | Selling a House As Is in Kentucky | Selling a House As Is in Louisiana | Selling a House As Is in Maryland | Selling a House As Is in Mississippi | Selling a House As Is in North Carolina | Selling a House As Is in Oklahoma | Selling a House As Is in South Carolina | Selling a House As Is in Tennessee | Selling a House As Is in Texas | Selling a House As Is in Virginia | Selling a House As Is in Washington, D.C. | Selling a House As Is in West Virginia |
| South | Cities | Selling a House As Is in Atlanta, GA | Selling a House As Is in Augusta, GA | Selling a House As Is in Lawrenceville, GA | Selling a House As Is in Valdosta, GA | Selling a House As Is in Charlotte, NC | Selling a House As Is in Dallas, TX | Selling a House As Is in McAllen, TX | Selling a House As Is in Irving, TX | Selling a House As Is in Richmond, VA| Selling a House As Is in Fort Worth, TX | Selling a House As Is in Montgomery, TX | Selling a House As Is in San Antonio, TX | Selling a House As Is in Houston, TX | Selling a House As Is in Sarasota, FL | Selling a House As Is in Bartlett, TN | Selling a House As Is in Chattanooga, TN | Selling a House As Is in Orlando, FL | Selling a House As Is in Baltimore, MD | Selling a House As Is in Tulsa, OK | Selling a House As Is in Jacksonville, FL | Selling a House As Is in Port Saint Lucie, FL | Selling a House As Is in St. Petersburg, FL | Selling a House As Is in Katy, TX | Selling a House As is in Longview, TX |
| West | States | Selling a House As Is in Alaska | Selling a House As Is in Arizona | Selling a House As Is in California | Selling a House As Is in Colorado | Selling a House As Is in Hawaii | Selling a House As Is in Idaho | Selling a House As Is in Montana | Selling a House As Is in Nevada | Selling a House As Is in New Mexico | Selling a House As Is in Oregon | Selling a House As Is in Utah | Selling a House As Is in Washington | Selling a House As Is in Wyoming |
| West | Cities | Selling a House As Is in Antioch, CA | Selling a House As is in Bakersfield, CA | Selling a House As Is in Chino, CA | Selling a House As Is in Casitas Springs, CA | Selling a House As Is in Fountain Valley, CA | Selling a House As Is in Concord, CA | Selling a House As Is in Hayward, CA | | Selling a House As Is in Lake Forest, CA | Selling a House As Is in Lakewood, CA | Selling a House As Is in Newport Beach, CA | Selling a House As Is in Oak View, CA | Selling a House As Is in Santa Barbara, CA | Selling a House As Is in Oxnard, CA | Selling a House As Is in Ventura, CA | Selling a House As Is in Denver, CO | Selling a House As Is in Fresno, CA | Selling a House As Is in Citrus Heights, CA | Selling a House As Is in Las Vegas, NV | Selling a House As Is in Los Angeles, CA | Selling a House As Is in Phoenix, AZ | Selling a House As Is in Portland, OR | Selling a House As Is in Sacramento, CA | Selling a House As Is in San Diego, CA | Selling a House As Is in San Francisco, CA | Selling a House As Is in Santa Maria, CA | Selling a House As Is in Olympia, WA | Selling a House As Is in Seattle, WA | Selling a House As Is in Wenatchee, WA | Selling a House As Is in Blaine, WA | Selling a House As Is in Tacoma, WA | Selling a House As Is in Salt Lake City, UT | Selling a House As Is in Riverside, CA |
Related:
can you sell a house with mold, how to sell your house as is, sell house as is no inspection, selling house as is laws, selling house as is condition, best way to sell your house as is, how to sell a house in as is condition, how do i sell my house as is, best way to sell house as is, how does selling a house as is work, i want to sell my home as is, i need to sell my house as is, when selling house as is what does that mean, Houzeo, Houzeo review
why sell a house as is, if a seller insists on selling a home as is, selling property as is agreement, sell house as is contract, when selling a house as is, as-is properties ltd, home for sale as is, homes for sale as is, how to sell house as is by owner, home sale as is, home sold as is, house for sale as is, as is property sale, as is real estate, what does as is mean house sold as is meaning, as is home sales, property sold as is, houses for sale as is, as is houses for sale, what is as-is, sale home as is, as is house sale, as is homes for sale, Houzeo reviews, websites for sale by owner, website for sale by owner, real estate websites