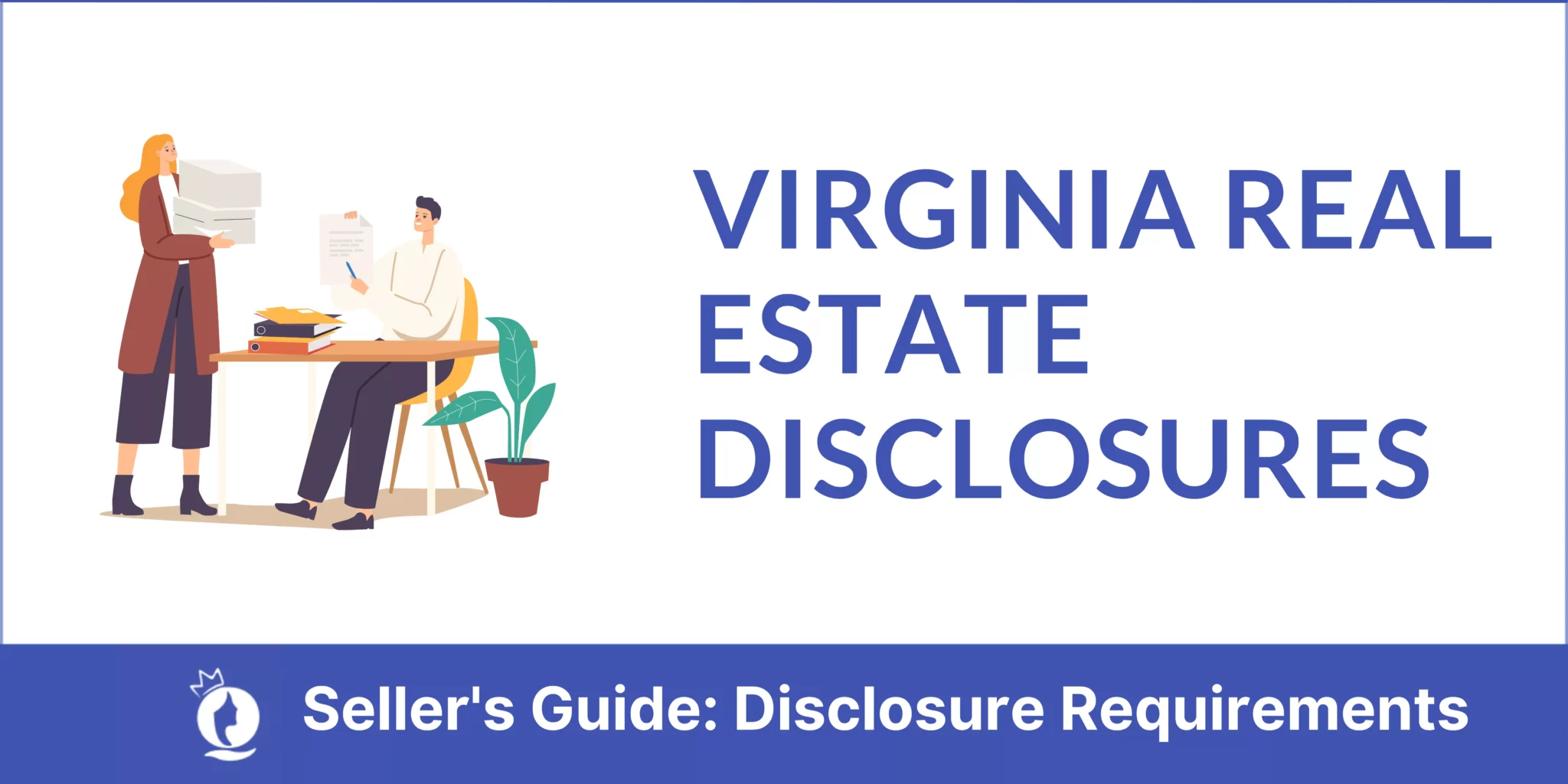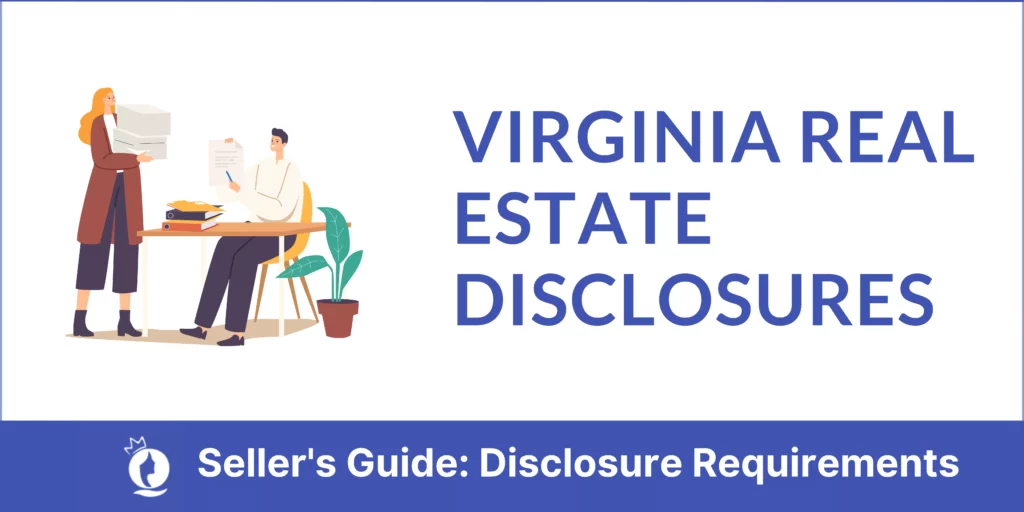 Note: Real Estate Queen is not a brokerage or a licensed agent. It is an informational platform and as such the tips presented here should not be construed as any advice for which a real estate or attorney license is required.
In every real estate transaction, a disclosure statement is an essential requirement to complete the sale. Although this can be frustrating—and as well as expensive—you can get ahead of the curve if you know the nitty-gritty of the process. So, when complied properly, you'll avoid lawsuits and other issues. Most states, like Virginia, also need sellers to notify the buyer of any known property defects. Read further to know about Virginia Real Estate Disclosures in detail.
Here are the Virginia real estate disclosures requirements you need to know if you are selling a property in Virginia:
Federal Disclosure of Information on Lead-Based Paint and/or Lead-Based Paint Hazards
Seller's Property Disclosure Form
Residential Lead-Based Paint Hazard Reduction Act
The Residential Lead-Based Paint Hazard Reduction Act passed in 1992 requires the disclosure of any lead-based paint or chipped paint in any housing built before 1978.
To protect occupants from harmful effects of lead-paint t—exposure to lead from lead-contaminated dust, soil, or paint—, Virginia properties built before the year 1978 are required to complete the lead-paint disclosure form. Before signing contracts or leases, home sellers are obliged to disclose information about whether the lead is present in the home. Under Virginia law, the homeowner and agent should comply with the residential lead-based paint notification and provide an EPA-approved lead hazard information pamphlet to the buyer.
The home seller is given 10 days to perform a risk assessment for lead-based paint or any related hazards. To get a lead hazard inspection certified (EPA administers) firm, you can visit this site here.

Virginia Real Estate Disclosure Statement
As per the Virginia Residential Property Disclosure Act (Title 55, Chapter 27 7of the Code of Virginia), the seller's crucial requirement is to provide the new homeowner with a completed Virginia Real Estate Agency Disclosure Form. Also, you can view here the following excluded residential property transfers from the said provisions or requirements (see § 55.1-702).
Unlike any other state disclosure form, Virginia's real estate disclosure statement only provides notice to the buyer. Essentially, the disclosure form notifies that it's solely the buyer's responsibility to inspect the property to investigate the defects. In the disclosure statement, there's a notice given (Code of Virginia §55-519) to the homeowner that he/she makes no representation concerning:
The condition of the real property or any improvements makes no representations regarding adjacent parcels …
Any matters that may pertain to parcels adjacent to the subject parcel, including zoning classification or permitted uses of adjacent parcels …
To any matters that pertain to whether the provisions of any historic district ordinance affect the property …
Whether the property contains any resource protection areas established in an ordinance implementing the Chesapeake Bay Preservation Act …
If the property is within a dam break inundation zone …
The presence of any wastewater system …
Any right to install or use solar energy collection devices on the property …
Concerning whether the property is located in one or more special flood hazard areas …
To whether the property is subject to a community development authority approved by a local governing body according to Article 6 (§ 15.2-5152 et seq.) of Chapter 51 of Title 15.2 …
One or more requirement forms that home sellers may need to comply with:
Military Air Installation Disclosure Form
Defective Drywall Disclosure Form
Property Previously Used for Methamphetamine Manufacture Disclosure Form
Building Code Enforcement Action/Zoning Ordinance Violation Disclosure Form
Disclosure Statement for Certain New Dwellings
Note: Read and review the Virginia Real Estate disclosure form carefully before marking yes, no, or no representation. Answer each aspect of the property defect to the best of your knowledge. If in doubt, you can contact your real estate agent or lawyer for a bit of advice or opinion.
What if the seller fails to disclose any of this information to the buyer?
Unless you have solid evidence of the seller's act of misleading, suing for misrepresentation might be too difficult. If the evidence is clear that the seller is lying intentionally, he/she could face litigation. And this legal procedure against the seller could be expensive and exhausting. Most importantly, this act could void the home-selling transaction.
In Virginia, only limited disclosures are required, unlike in other states. That's the more reason why a court couldn't find a seller liable for any misrepresentation or failure to disclose certain defects before the sale. Virginia is a "Buyer Beware" state which means it's fully the buyer's responsibility to re-examine the property and inspect any defects themselves to verify the information stated.
As a seller, disclose when in doubt. It's wiser to notify the buyer of any defects you may know. Never trick the buyer for a larger profit. It would only do no good. This could put you in a bad reputation and may result in costing you more and more. Keep it honest and professional.
Handle Virginia Real Estate Disclosures Like A Pro
One of the ways to skip the costs of a real estate professional is to opt for companies like Houzeo, that provide you with cutting-edge tech solutions. They make sure that you are supplied with all the required disclosure documents in e-form.
If you choose the "Close to Contract Package" then you will also get a licensed real estate professional to take care of all the paperwork involved in the transaction.
Read Houzeo Reviews to know more about their services.
---
Related Keywords: seller obligation to disclose, disclosure laws in Virginia, disclosure of stigmatized property in Virginia, expert disclosure in Virginia, HOA disclosure requirements in Virginia, home purchase disclosure laws in Virginia, mold disclosure laws in Virginia, seller disclosure obligation, real estate seller disclosure law, Virginia real estate agency disclosure form
Related: virginia asbestos disclosure, Virginia real estate disclosures, lead based paint disclosure Virginia, Virginia lead based paint disclosure, lead based paint disclosure VA, residential property disclosure form Virginia, VA disclosure form, Virginia real estate disclosure laws, Virginia real estate disclosure requirements, Virginia residential property disclosure statement, what is the Virginia residential property disclosure act, lead paint disclosure Virginia, VA lead based paint disclosure form, Virginia mold disclosure form, Virginia real estate disclosure, Houzeo Virginia residential property disclosure, Virginia residential property disclosure act exemptions, Virginia seller disclosure form, residential property disclosure Virginia, VA radon gas disclosure form, Virginia disclosure laws real estate, Houzeo review, Virginia lead paint disclosure form, Virginia property disclosure, Houzeo Reviews,Virginia property disclosure form, Virginia property disclosure statement, Virginia real estate disclosure form, Virginia residential property disclosure form, Virginia residential property disclosure statement form, free for sale by owner sites, best for sale by owner site