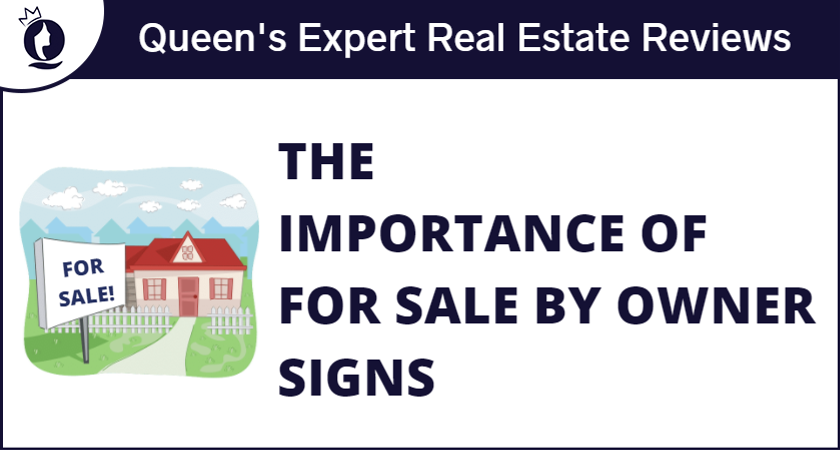 Most buyers often browse homes for sale on real estate websites like Zillow, Realtor, or Trulia. Or other times, buyers tour those local neighborhoods and look for "house for sale" yard signs. Note that not all of your potential clients are listed in the MLS for sale by owner via an entry on the MLS listing. Some of these clients even haven't heard of or tried selling on the internet. That's why putting a for sale sign in your front yard isn't a lost cause. Even better, these yard signs can garner potential clients who are more willing to buy and see the actual house—not just in the online portal.
In fact, attention-grabbing, professionally designed yard signs can compete with an expert licensed agent. The same with appealing real estate-designed flyers for showings, you can accrue potential clients in no time with the right medium.

---
🔍 Explore More: Check out these stellar Houzeo reviews to learn why it is one of the best For Sale By Owner websites.
How Important is a Professional Yard Sign?
Although the internet is the new king today, setting up a yard sign is still as important as listing your property on the web. A for sale sign is still considered as a great marketing tool to attract potential buyers' attention, especially from your neighborhood. In most cases, interested buyers will usually look for a home by driving around near their location. Once they found one, they'll call the number to inquire about the details and other important info they want to know.
On a busy or crowded street, a yard sign can either drive more potential buyers or deter clients to contact you further. Even so, a decent yard sign can help spread via word-of-mouth from your passersby or neighbors who may have seen it. It's also best if your yard sign contains three important things: For sale by owner, by appointment, and your phone number.
Why Should You Include a Brochure Box?
It's also necessary to set up a brochure holder in case an interested buyer wants to get quick detailed information about your home. So, other than the visible contact info, you're your yard sign should have a brochure dispenser for buyers who are in a hurry. In such cases, there are only three reasons why people would stop by at your sign and grab a brochure. (1) They're ready to buy or still looking for a new home. (2) Obviously, they're interested and may possibly want to buy your property immediately. (3) Since your brochure has an asking price, they certainly want to be pre-qualified. (4) And lastly, they like your home's feature. After all, they don't need to do much trouble if they're not interested in the first place.
Your For Sale By Owner Sign's Wording
For the buyer's convenience, you should include the "By Appointment" and "Your contact number" wording on your yard signs. Interested buyers are most likely to save your number, call your agent, and then arrange for a showing. Basically, there are eight reasons why this is a big help for your sign.
You're in control of your showing that is more convenient for you. Not that you have to adjust your schedule to show up, but whenever you're ready.
You have reservations for the showing. And that means, no time is wasted upon meeting.
You'll have the buyer's number, address, and name for safety measures.
You can set an appointment without distractions, e.g. children. Yes, kids can be tough to handle, especially you're in the middle of showing your house. At best, make a call and prefer to show your property without kids running on the stairs or whatnot.
You'll get to negotiate with the agent ahead of time. If someone wants to view your home, a representative agent will likely to call you­­—and that's the moment you can deal with the terms on the commission.
You can set an appointment one at a time Avoid unscheduled showings, or meeting people without prior notice. When you schedule your appointments and organize the time of showings, you can sell your house efficiently.
Your time and efforts are not wasted. Putting "by appointment only" wordings on your sign can make a huge difference. Setting an appointment is not easy. Your buyer has also things to attend to, so make use of the time properly.
You can also prioritize important day to day matters. You can't handle and manage your showings full time. That's why a yard sign can help you sort out things.
Yard signs give you the complete control and freedom to sell your home as for sale by owner. Other than the sign is consists of components like the frame, printed panel, and an additional brochure dispenser.
What Are the Important Features Your Yard Sign Should Have?
To make it more appealing and professional, here are the important things you have to consider when making a for sale by owner yard sign.
Is it durable enough to withstand harsh weather conditions? A steel frame with a powder-coated finish is strong enough to last several months—or even a year. Ensure that your sign panels are composed of coroplast. Signs should be sturdy enough so you don't have to replace it every month.
Are the details legible and clear? Another important element to note is the placing and relevancy of your wordings. Be sure there are no typos and non-relevant information that could confuse any buyer.
Is it visible and can be viewed by many? Try setting up the sign to different angles and make sure it's the best possible position. Are there view obstructions? Keep a clear view so buyers can easily see your yard sign immediately.
For Sale By Owner Signs: What You Need to Know(Infographics)
Even of the technology's advent, for sale by owner signs still play a vital role in home selling. For instance, buyers can spot your professionally-made sign and read more details about your property including your contact info. The crucial part here is to make sure your yard sign is appealing and informative enough so buyers can continue with the transaction.
Did you know Houzeo's Gold Plan provides relevant Federal and State Seller Disclosures?
Related keywords: sell your home, open house signs, lawn signs, custom yard signs,Houzeo, realtor signs, potential buyers, estate for sale signs, real estate sign, fsbo signs, business days, brochure boxes, sell your house, real estate for sale, vinyl banner, custom real estate signs, real estate agents, open house, yard signs, for sale sign, for sale by owner signs, for sale by owner signage, for sale sign real estate, house for sale sign, Houzeo review, home sale by owner websites, for sale by owner free listing sites, real estate websites