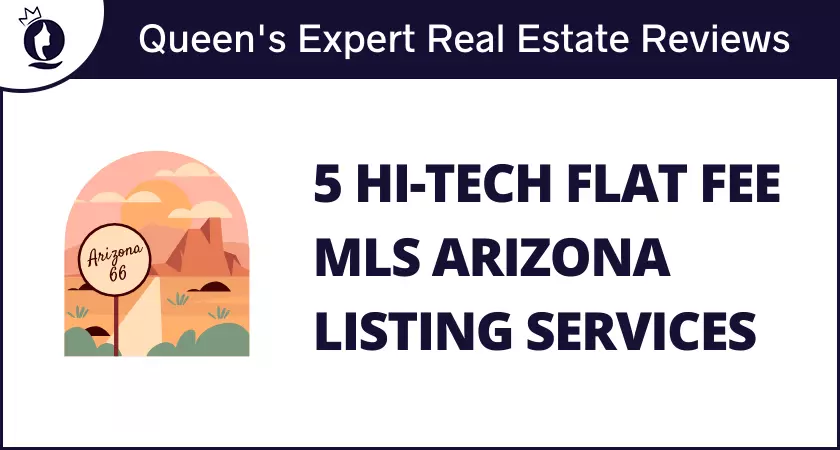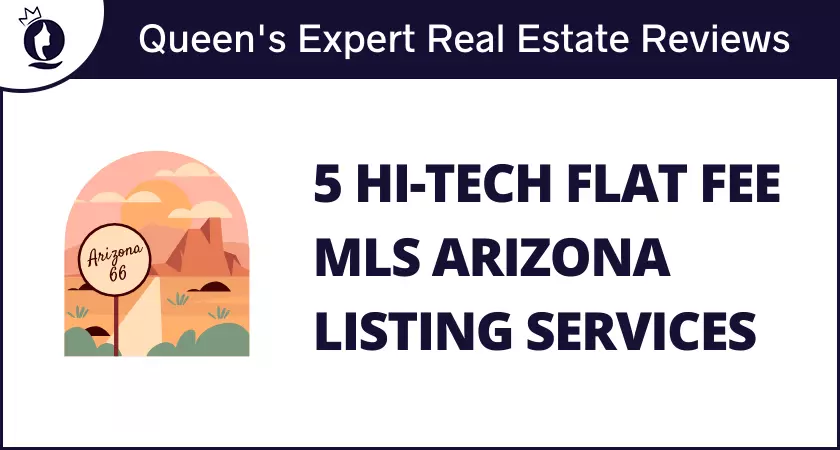 Arizona had a population of 7.28 million people in 2021. This was a modest increase from the previous year when the state's population was estimated to be at 7.18 million. In 1960, the population of Arizona was estimated to be around 1.3 million people. Arizona is among the most expensive states in the country to live in. One always needs to be updated for the best option for Flat Fee MLS Arizona.
We have ranked and reviewed the top 5 Flat Fee MLS Arizona companies, to help you make an informed decision.
» In this guide, we'll cover:
Ranking of Arizona Flat Fee MLS Listing Services
» Queen Advises: What is Flat Fee MLS?
How Much Does Flat Fee MLS Listing Cost?
There are 2 types of costs related to a Flat Fee MLS listing
Initial Flat Fee: You'll have to pay an upfront fee to list your home on MLS. Usually, the initial fee ranges between $300 and $500.
Closing cost: Once a home seller strikes a deal and closes it, they have to pay a part of their equity on home inspection fee, title and home insurance fees, seller and buyer agent commissions, and home warranty as a closing cost of their property.
» Pro Tip: To know the most accurate closing cost estimate of your state or city, check out Houzeo's Closing Cost Calculator.
Reviews: 5 Flat Fee MLS Arizona Companies
1. Houzeo
Houzeo is a real estate technology company that provides affordable services and is 100% online.
💼 Packages: They provide packages in Arizona that range from $229 – $399. They list quickly within 48 hrs. The basic package includes 6 photos for 3 months, including listing management.
Their premium service includes unlimited changes, custom yard sign, federal and state disclosures, showing management, pricing assistance, contract review, and closing assistance. They even compare and counter offers for you in their premium package.
📢 Exposure: They provide syndicate listings on major platforms like Zillow, Trulia, Realtor, Redfin, and more.
📱Technology: They provide high technology services like IntelliList Listing Management System, Houzeo Showings, Offers, Buyer Search Best Overall: Houzeo is our best pick with great tech features and affordable pricing.
💡 Queens Advice: Register with Houzeo today!
100% online
Available nationwide
Syndication to major listing platforms like Zillow, Trulia, Redfin, Realtor, etc.
Mobile App available
Quick listing within 24hrs
Save on commission
Houzeo is available nationwide.
2. Flat List
🧰 Packages: FlatList.com offers only a single flat fee MLS Arizona plan worth $299. You can upload up to 25 property photos to this plan.
It also has one special full-service package under which you have to pay $950 while closing the deal.
📢 Syndication: It helps you syndicate your property listings to big real-estate websites like Zillow, Redfin, Remax, Trulia, Realtor.com, and more which gives you maximum exposure.
It helps you list the property on MLS and the above-mentioned real-estate websites for one year.
🎯 Customization: It offers some customized features like signposts and electronic lockboxes if you choose to include these in the purchase.
✋ Beware: You need to pay an extra $100 to get the customized features. Also, if there is no buyer agent involved, you would have to pay extra at closing. The cost will be 1% of the sales price of the property.
👑 Queen's Counsel: How to Price Your Home For Sale in 6 Steps
Initial package is affordable
Customization available
Additional payments required to access customized features
No pricing assistance
Limited reach
It has coverage in only Oregon, Hawaii, Arizona, and, Washington state.
3. Sell By Owner Arizona
SellByOwner Arizona.com offers 3 Flat Fee MLS Packages.
Good Package – $299:

 The package includes 6 photos, a 3-month listing term, a printable color flyer template, disclosures, and real estate contracts.

Better Package – $399:

 These services are identical to those in the Good Package. However, there is a 6-months listing term with 12 photos

Best Package – $499:

The package includes a listing term of one year with 25 digital photos.
👉 In the world of real estate, nothing is free. You may need to add additional services to sell your house, which can affect your final package price.
SellByOwnerArizona.com has assembled an array of services that harness and optimize the internet's marketing power. These are a few benefits of listing with them.
Custom Web Address:

 With their top package, you can give prospective buyers access to a unique web address for your listing.

Transaction Assistance Service:

 If you have a buyer but wish to have a Realtor handle the transaction, For Sell by Owner Arizona can assist you. 

A REALTOR.com® Showcase Listing:

 The top package from SellByOwnerAZ.com improves your listing on REALTOR.com®. Personalized headline banners and a comprehensive property description are included.
SellByOwnerArizona has a few disadvantages based on our study.
No changes to the description or photos once the listing goes live:

 Once your property is listed on SellByOwner Arizona.com, you cannot make any changes. Several other companies offer a free version of this service.

No à la carte services are available:

 There are no customization options available with SellByOwner Arizona.
👑 We recommend the Better Package for your MLS listing. The package includes 12 digital photos and lists your house on websites like Redfin, Re/Max, Keller Williams, etc. It includes everything a home seller could possibly need.
4. Congress Realty
💼 Packages: Packages start from $299-$499. Their all-inclusive package is $399+ 0.5% commission. They list for 6 months and allow a minimum of 5 photos to be uploaded in their basic package.
📢 Exposure: Listing on major MLSs and Realtor.com. They also post on Congress Realty website and social media in their premium packages.
⚙️ Customization: It has MLS extension, eLockbox, Yard Signs, Virtual Tour, Key Lockbox as add-on services. They also provide professional assistance on documents for an additional $500
📱 Technology: They do offer DocuSign documents and offer online support in their premium packages.
⚠️ Caution: Although Congress Realty has a-la-carte menu, the add-on services can add up to a significant amount. So one needs to keep these factors in mind.
💡Queen's Counsel: Top Discount Real Estate Brokers & Companies
Affordable option for basic package
Good exposure
A la carte option
Features like Document assistance, unlimited listing changes, etc. at an additional cost
They also charge an additional 0.5% commission in their full-service package
Congress Realty is available all over Arizona state.
5. Flat Fee Group
Flat Fee Group offers MLS listing services to home sellers across Arizona.
👉 Packages: Their packages range from $99-$1,499. Their $99 package will cost you 1% of the sale price at closing.
📱 Technology: They are low on technology and that's why some of your work might be done manually and would take a lot of time.
📞 Additional Support: Pricing assistance requires you to sign up first which opens the doors to the listed agents calling you at any time.
👑 Queens Counsel: Top Discount Real Estate Brokers and Companies
Listing syndicated to other real estate websites like Zillow, Trulia, Realtor.com
Contracts, addendums and disclosures are provided with the packages
No telephonic sessions with the agent which makes it difficult for sellers to clear their queries
Low on technology
No reviews or ratings were found on credible website pages. However, the Flat Fee Group's real estate agents have received a lot of positive reviews on platforms like Google.
Available in most areas in Arizona.
Some Flat Fee MLS companies are not upfront about their fees. These hidden costs could go up to thousands of dollars and have a significant impact on your savings. They might say that they take a flat fee but might charge you a percentage of commission at the time of closing.
We have compiled a list of the average hidden fees that may be charged by some Flat Fee MLS listing services.
Types of Hidden Fees
Cost
Description
1. Cancellation Fees
$50-$200
If you need to cancel your listing, you need to pay cancellation charges. However, some companies do allow free cancellation, if you cancel before your listing goes live.

Example: Flat Fee Group charges $25 for cancellation.
2. Listing Changes Charge
$25-$50
If you need to make any changes to your listing, companies charge extra for that.

Example: Flat Fee Multiple Listing Access charges $10 for listing updates.
3. Expensive Listing Upgrades
$50-$100
If you need to add more photos to your listing, post an open house or avail a showing management tool, you will be charged extra for these upgrades by some Flat Fee MLS service providers.

Example: Congress Realty charges $50 for listing extension; whereas List With Freedom charges $25 for Open House postings and $59 for Showing Scheduler.
4. Additional Upgrades
$50-$200
Any service that is not part of the package you sign up for. These are additional services that you need to pay for separately, i.e, Photography, Market Research, Contract Review, etc.

Example: Flat Fee Group which offers pro photography at $290.
5. Expensive Yard Signs
$100-$150+ $120 (deposit)
Expensive charge for yard signs, even though these yard signs are given on a rental basis.

Example: Homecoin charges $99 for a rental yard sign.
6. Lockbox Charges
$100-$200
Lockboxes are given on rental for a small charge. However, some Flat Fee MLS companies charge a huge sum as lockbox rental fees.

Example: Homecoin charges $125 for lockbox even though it is on a rental basis.
7. Commission at Closing
0.1-0.5%
Some Flat Fee MLS companies charge a commission at the time of closing, as a hidden seller agent fee. This fee is often undisclosed and charged to the seller once they close a deal. Sometimes this fee is also masked as a compliance fee.

Example: Flat Fee Realty which charges 0.1%- 0.25% at closing in some states.
8. Flat Fee at Closing
$750
Fixed Fee companies charge an additional flat fee at closing which is not mentioned upfront.

Example: FlatFeeMLSRealty which charges a flat fee at closing ($350 + $400)
9. Escrow Charges
$1K-$2K
Some Flat Rate companies charge for escrow at the time of closing.

Example: Vegas Flat Fee charges $995 compliance fees at closing
10. Seller Disclosures
$100-$200
State-required seller disclosures are unavoidable. Few companies charge for this service as well.

Example: Yager Realty has seller disclosure feature only in their premium packages. Since seller disclosures are imperative to listing, you need to only go for their premium packages!
11. Application Fees
$50-$100
Few companies charge non-refundable application fees.

Example: List with Freedom charges $50 as application fee.
Note: This table is a generic list of all the hidden charges that various Flat Fee MLS companies charge. It will vary depending on the company you choose.
While some of these services are mentioned in their a-la-carte services, if you still need a lot of support for selling your house, you might need to consider going with a realtor.
Arizona Housing Market Trends
Currently, Arizona Housing market is one of the most competitive and hot housing markets within the United States.
The year 2022 will be the sellers' market completely. The market is hot and competitive in the state. The median home values in Arizona are $454,100 The percentage of properties for sale in Arizona is 80.2 which is huge.
Final Note
Among all five MLS listing companies in Arizona, we have ranked Houzeo as the best because it fulfills all your requirements to make your home selling process smooth and hassle free.
As per this blog, you will have package options ranging from $299- $1,499 through different fixed fee MLS services. Every platform has its specialty. Now, it is up to you to decide what suits you the best, as per your requirements.
» Want to know more? Check out these stellar Houzeo reviews to learn why it is one of the best For Sale By Owner websites.
Frequently Asked Questions
What is a Flat Fee MLS?
Flat-fee MLS refers to the practice in the real estate industry of a seller entering into an "à la carte service agreement" with a real estate broker who accepts a flat fee rather than a percentage of the sale price for the listing side of the transaction.
Is Flat Fee MLS Legal?
Flat Fee MLS is legal all over the United States, including in Arizona. In fact, the US DOJ just updated their bulletin highlighting the benefits of Flat Fee MLS for For Sale By Owner home sellers.
What is the difference between Flat Fee MLS and Traditional Agent?
A traditional broker commission model is usually 6% on closing, which is going to cost more for you as home seller. A Flat Fee MLS on the other hand, asks you a flat fee instead.
Which is the best Flat Fee MLS in Arizona?
The best Flat Fee MLS in Arizona is:
1) Houzeo
2) Flat List
3) Sell By Owner Arizona
4) Congress Realty
5) Flat Fee Group
How much do Flat Fee services cost in Arizona?
Flat Fee services in Arizona could cost you around $299-$1,499.
Related Keywords: flat fee mls Arizona, arizona flat fee MLS, mls flat fee arizona, arizona mls flat fee, flat fee listing Arizona, arizona flat fee, az flat fee, fsbo Arizona, arizona multiple listing service, flat fee brokers near me, fsbo az, arizona for sale by owner, arizona mls listings, free for sale by owner sites, best for sale by owner site, real estate websites