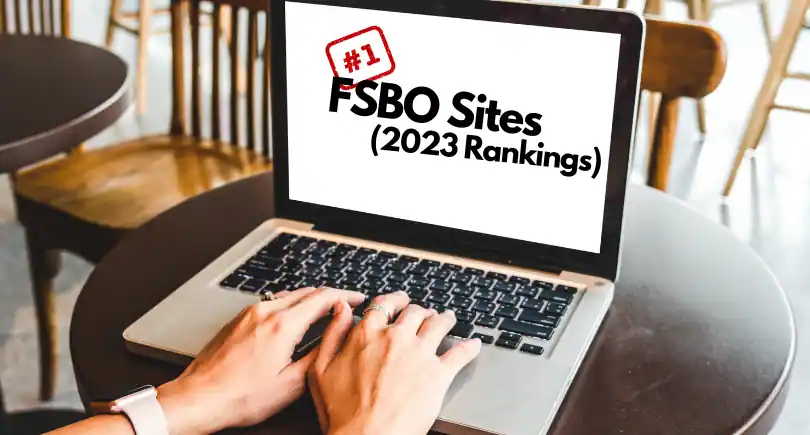 From Seattle, WA to Washington D.C., home sellers across America hate paying the 6% real estate commission. But high-tech For Sale By Owner (FSBO) websites are helping home sellers save thousands in agent commissions.
America's best FSBO sites are 100% online and will get you listed on the MLS for a flat fee. Because they are high on tech, the best FSBO sites will also get you listed in hours and not weeks. And they offer 5-star customer service and tools to manage offers, showings, inspections, and closings.
For Sale By Owner means you sell your house yourself, without any agent assistance. You manage everything – from listing to closing – on your own. There are two types of FSBO sites that help you list your home FSBO, without an agent:
Paid For Sale By Owner Websites: Paid FSBO websites list your home on MLS, the most powerful tool to market your home. Homes listed on the MLS get syndicated to 100+ real estate websites. These include Zillow, Realtor, Trulia, Redfin, and more. 
Free For Sale By Owner Websites: Free or unpaid For Sale By Owner listing sites list your property only on their websites. Your property gets exposure only from the buyers that visit their websites. So, your home gets less exposure which translates to lesser competition and lower sale price.
Niche For Sale By Owner Websites: Niche or specialty FSBO listing sites cater only to a particular property type. This may include commercial properties, lands, ranches, etc. Specialty For Sale By Owner sites help you market your property to niche buyers hunting for a particular type of real estate.
Here's an overview of the best For Sale By Owner sites as per our research:
Overview: 14 Best For Sale By Owner (FSBO) Websites
8 Best Paid For Sale By Owner Websites
Here are the top For Sale By Owner sites that offer paid listings.
1. Houzeo.com: America's Most Advanced FSBO Site
2. FSBO.com: Oldest FSBO Site
3. Fizber.com: Agent Referal Company
4. List With Freedom: For Experienced Home Sellers
5. Beycome Real Estate: Limited Coverage
6. Flat Fee Realty: Only One Listing Plan
7. Homecoin: Click Bait Listing Package
8. ISoldMyHouse: Low on Tech
4 Best For Sale By Owner Sites for Free Listings
Here are the top 3 free websites to list homes For Sale By Owner:
9. Zillow & Trulia: Biggest Real Estate Website
10. Craigslist: Biggest Classifieds
11. Facebook Marketplace: Social Media Platform
12. ForSaleByOwner.com: Free FSBO Listing
2 Best FSBO Sites for Niche Listings
Here are the top FSBO sites to sell properties other than condos, townhouses, and single-family homes.
13. LoopNet: Commercial Real Estate Listing Website
14. LandFlip: FSBO Listing Site for Land Sellers
How to Choose a For Sale By Owner Site?
Here are the questions you should ask before choosing where to list your home For Sale By Owner:
Does the FSBO listing site offer an MLS listing?
How much is the cost to list your house?
What types of properties does the particular FSBO site list?
Will your listing be syndicated to other real estate websites?
Does the FSBO site offer additional listing features? These may include lead forwarding, unlimited listing changes, etc.
Alternatives to For Sale By Owner Websites
Most FSBO websites offer property listings only on their websites and not on the MLS. This limits the exposure your house receives significantly.
Here are some For Sale By Owner website alternatives that offer MLS exposure without burning a hole in your pocket:
Flat Fee MLS Listing Companies: A Flat Fee MLS company lists your property on the MLS for a small flat fee. Thus, saving you thousands in listing agent commissions. Most Flat Fee MLS companies get you listed within 2-3 business days.
Discount Real Estate Brokers: Discount real estate brokers offer services similar to traditional Realtors but at discounted rates. They charge a four-digit fixed fee and help you with everything, from listing to closing.
Low Commission Real Estate Brokers: A low-commission real estate broker offers full service for less than 3% commission. Low-commission real estate brokers typically charge 1.5% to 2% commission.
What is the Best FSBO Website?
The best For Sale By Owner websites offer:
maximum exposure to your house at an affordable price, and
provide prompt customer support whenever you need it.
Houzeo offers both of these. Houzeo's Flat Fee MLS listing service gets you listed on the MLS – the most powerful platform to market your home. Homes listed on the MLS sell faster and for up to 17% more. Additionally, your FSBO listing gets syndicated to 100+ real estate websites. Houzeo has a 4.9-star rating across major review sites.
Houzeo also offers various FSBO tools like Houzeo Offers, Houzeo Mobile App, and Houzeo Showings to manage your home selling journey yourself. Read Houzeo reviews to know more about Houzeo and why it's the best FSBO website in the US.
Frequently Asked Questions About the Best Websites for FSBO
Best FSBO Sites Near You
Related: for sale by owner listing on the mls, for sale by owner home listings, for sale by owner website reviews, forsalebyowner reviews, forsalebyowner.com reviews, for sale by owner property listings, for sale by owner free listing, homes for sale by owner websites,
Related: for sale by owner house websites, where to advertise house for sale by owner, free home listing, best place to list your home for sale by owner, sell your home yourself websites, for sale by owner home listings, listing a house for sale by owner, list my house for sale for free, best place to sell house online, where can i list my house for sale, sites to list house for sale by owner, websites for sale by owner, website for sale by owner, real estate websites