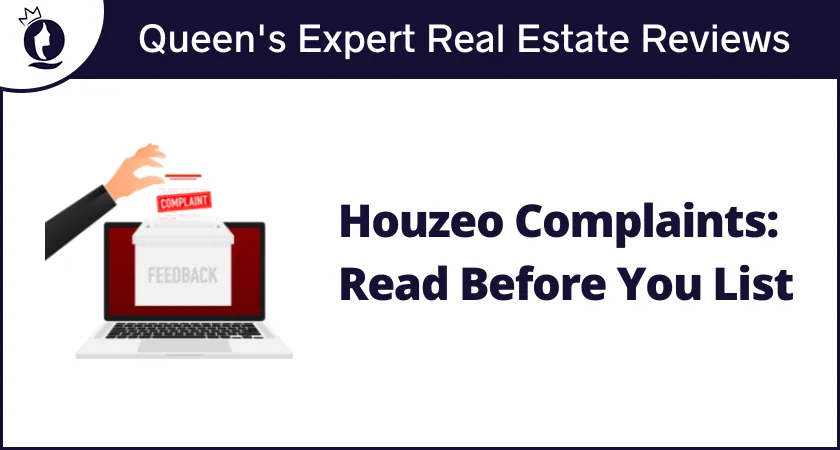 Houzeo is a popular For Sale By Owner website. Houzeo gets you listed on the MLS fast, and has stellar customer service with thousands of 5-star reviews. Its advanced technology helps you manage offers, showings, inspections, and closing, all online.
(10 Reviews)
Write a review
Pros
You save thousands in agent commissions
100% online high-tech platform
Lists on MLS, Zillow, Trulia, Redfin, Realtor.com
Nationwide coverage
Cons
Not available in South Dakota and West Virginia
Houzeo is a popular choice amongst FSBO home sellers. Over 3,000 users have rated this flat fee company 4.9 stars across major review sites since 2017. This makes Houzeo the #1 FSBO site in the US.
Houzeo is 100% online. It has built solid tech products to help users carry out transactions without hiring a Realtor. This helps sellers save thousands of dollars in listing commission.
Despite the remarkable feat achieved by the company, there are a few Houzeo complaints. We've spent several hours researching negative Houzeo Google and Trustpilot reviews, and this is what we discovered:
There are No Major Houzeo Complaints: Very few customers have complained about the services offered by Houzeo. Most complaints are related to listing brokers.
Houzeo Responds Promptly to Complaints: Houzeo has promptly replied to all customer complaints. In some cases, the Customer Success Manager stepped in to handle the complaint.
What is Houzeo?
Houzeo.com is a tech-centric For Sale By Owner (FSBO) website that works on the Flat Fee MLS listing model. It lets home sellers list their properties on the MLS for a fee as low as $379+.
When you opt for Houzeo, you can access tools available only to real estate agents. You can accept or reject showing requests, review and compare offers, call for the Highest and Best offer, and much more.
One of the advantages of working with this company is that you aren't surprised by any Houzeo hidden fees during your transaction. So, you can sell your home yourself without worrying about getting duped by Houzeo.
Is Houzeo Legit?
Yes, Houzeo is a legitimate real estate technology company headquartered in New York. It has empowered home sellers to list their properties on the MLS themselves since 2017.
The company has more than 2,000 reviews combined on Google and Trustpilot. Home sellers appreciate Houzeo for its technology, customer service, and affordability.
Apart from its official website, we analyzed two other parameters to determine its legitimacy:
Company Reviews: Houzeo is known for its prompt response. It responds to all comments and feedback on online review sites.
Address and Locations: Houzeo mentions its address and all the areas it covers on its website. It also mentions its contact number to allow people to contact the company easily.
» Is Houzeo Legit: Wondering if Houzeo is a legitimate company? Read further to know more.

How Does Houzeo Work?
Houzeo gets your home on the MLS for a small flat fee instead of a 3% listing agent commission. What distinguishes this real estate platform from other Flat Fee MLS companies is its technology.
Houzeo provides home sellers with a powerful dashboard. Through this dashboard, home sellers manage listings, showings, offers, and more.
If you get stuck at any point, you can reach out to Houzeo's customer service. Based on many Houzeo Google reviews, you are sure to get a prompt response to your query.
» How Houzeo Works: Here's everything you need to know about the Houzeo process.
Houzeo Products
To maximize the seller's control over the transaction, Houzeo has built several products. This includes:
Houzeo Fees and Packages
Houzeo offers 4 listing packages to home sellers.
Bronze – $329+: In this basic plan, you get a 3-month MLS listing term with a maximum of up to 6 photos on the MLS.
Silver – $399+: In this plan, you can list your home for 6 months with maximum photos. Additionally, you can make unlimited listing changes, get a custom yard sign, and access Houzeo Showings and Houzeo Offers.
Gold – $379+ 0.5% at Closing: It is Houzeo's most advanced package. This plan includes everything offered in the Silver Plan. Additionally, you get state disclosures, a personal concierge, forms help, call forwarding, and more.
Platinum – $349+ 1% at Closing: This is the ultimate plan with a 1-year listing term and virtual full-service from a licensed broker who'll help you until closing.
Note: These are generic prices mentioned on Houzeo's pricing page. Check out your state's pricing page to know the exact Houzeo fees.
Houzeo's Refund Policy
Houzeo's refund policy is straightforward and hassle-free. Sellers can request a refund if they are unsatisfied with Houzeo's services. The company offers a complete refund after deducting a $50 non-refundable deposit.
To qualify for a refund, home sellers must meet the following criteria:
It has been less than 14 days since you placed an order.
You haven't signed the listing agreement.
Your listing isn't live on the MLS.
No draft listing has been assigned to you.
Remember, a refund is not available for any additional upgrades. This includes a yard sign, lockbox, ShowingTime, and Contract to Close Assistance Package.
Houzeo Complaints
As mentioned earlier, there are more than 2,000 Houzeo reviews online, and most of them are positive. The company only has 9 negative reviews.
We have listed some of the most common Houzeo complaints below.
❌ Houzeo Complaints Related to Listing Brokers
One user appreciated Houzeo's task manager and document uploader but complained about the listing agent's inconsistent availability during the process.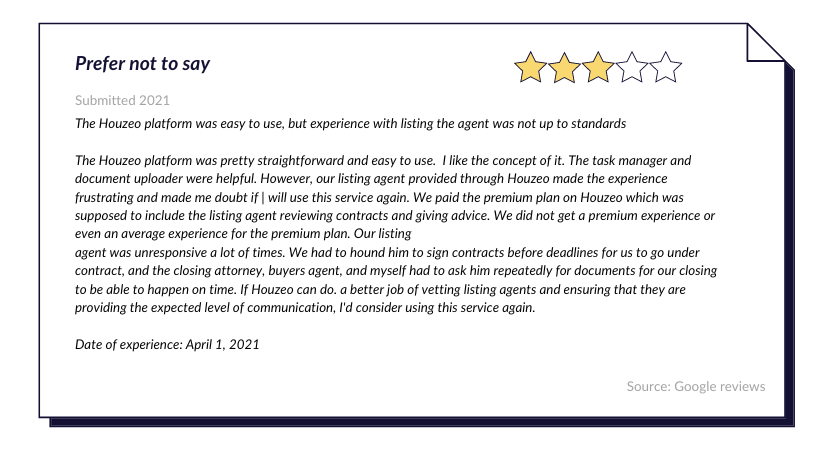 ✅ Houzeo's Reply
The company replied promptly on the same day. The company's customer support team diligently escalated the matter to the Customer Success Manager.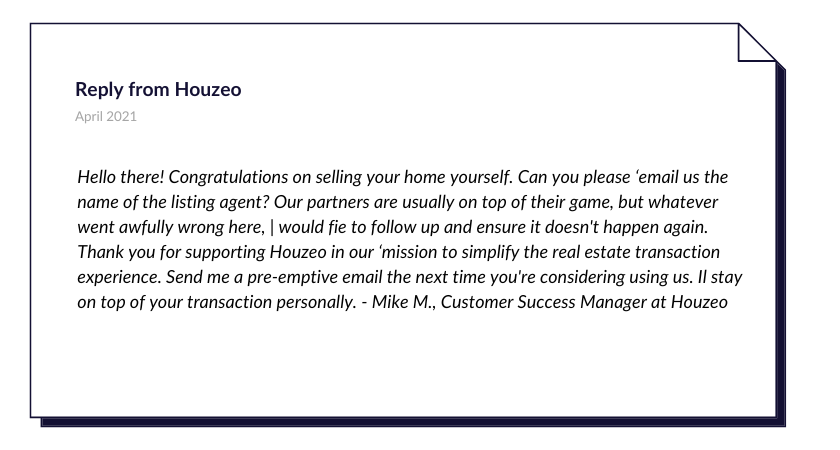 The Customer Success Manager replied to the above Houzeo complaint to ensure such an experience is not repeated. A prompt reply asking for a follow-up shows the company's commitment to improving the user experience.
❌ Slow to Respond
During our research, we came across a customer review that went against popular observations.
According to a home seller, Houzeo's support team responds quickly "initially," but is extremely slow when reviewing contracts and offers.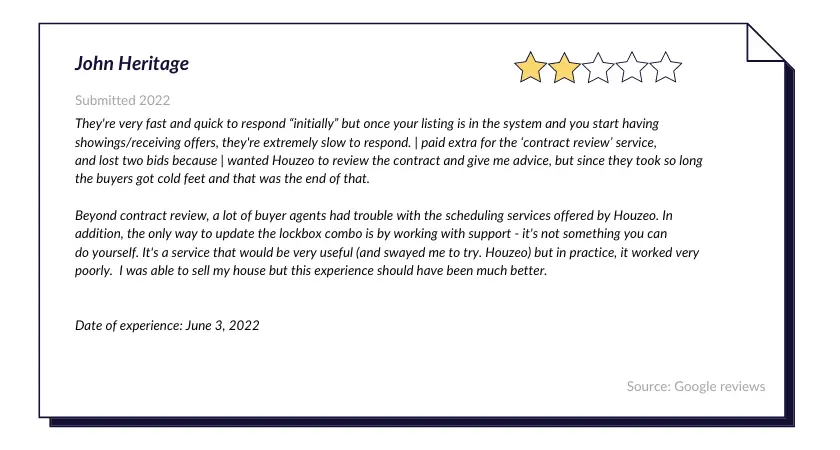 As per the above Houzeo complaint, the home seller had paid extra for the "Contract Review" service. But the company took a long time to review and advise him on the same. This led to a significant delay, turning away two potential buyers.
However, in our experience, Houzeo's customer support team responds quickly. Also, the company itself doesn't review the contract but assigns it to a licensed real estate broker. So, the delay was probably from the broker's end and not from Houzeo.
The home seller also complained about Houzeo's scheduling services. The fact that the company did not respond to this particular complaint leaves us a little skeptical about their scheduled service feature.
Houzeo Reviews
Houzeo is rated "Excellent" with a 4.9 out of 5-star rating by 4,521 home sellers on Google Reviews and Trustpilot!
Most home sellers have talked about Houzeo's 5-star customer support team and have appreciated the company's technology.
✅ Quick Listing and Prompt Customer Service
Houzeo has a fully staffed customer service desk available 6 days a week. Chats and emails are open 7 days a week. This is rare in today's world.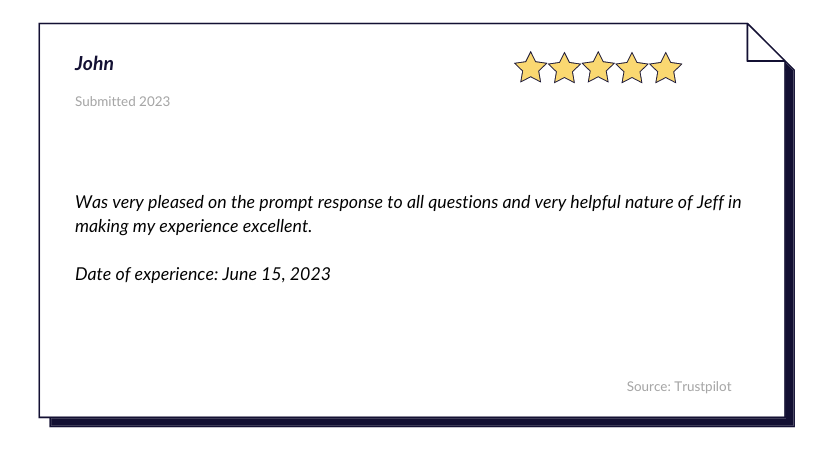 You can call their representatives directly through the Houzeo customer service phone number. You can also chat online through the website chat box.
To chat online, we had to provide some basic information such as name, phone number, address, email address, etc. At no point did their representatives force us to buy their services.
This shows Houzeo's genuine commitment to solving a user's problems.
✅ User-Friendly System Interface
Several customers choose Houzeo because of its user-friendly and powerful seller dashboard. Here is one such customer who discovered how Houzeo's dashboard and interface make getting on the MLS easy.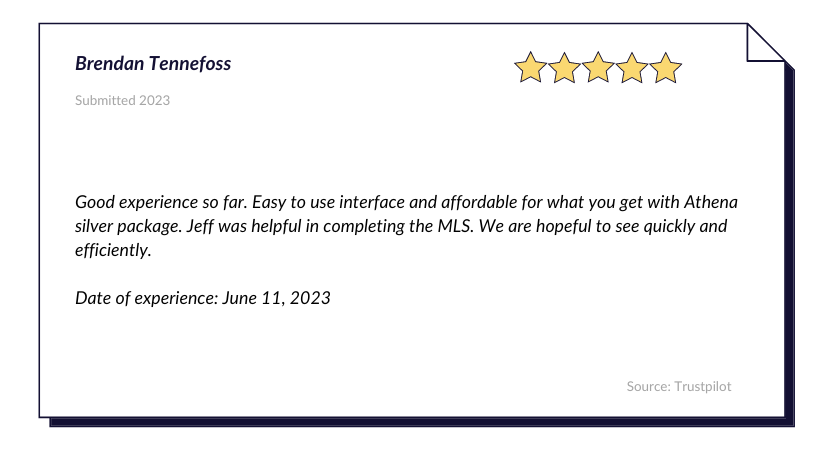 Houzeo's interface and listing system are accessible and easy to use. Houzeo fills out as much of your listing as possible. The dashboard gives a Zillow estimate of the property.
After selecting an MLS plan, Houzeo assigns tasks that home sellers have to complete. This includes filling out MLS contracts, forms, and disclosures. On completing the assigned tasks, your home is listed within 24 hours.
Should I Sell My Home With Houzeo?
Yes, we recommend Houzeo for home sellers who want to sell FSBO. With Houzeo, you can save thousands in real estate agent commissions and get on the MLS quickly.
Given Houzeo's excellent rating of 4.9 out of 5, we cannot think of any reason not to use it. Moreover, virtually all of the reviews on Houzeo.com are positive, and there are few negative reviews.
The company covers 47 states and Washington D.C., something that only a handful of other services can claim. Houzeo's listings also get syndicated to Zillow, Realtor.com, Trulia, Redfin, and 100s of other real estate sites.
» Want to Learn More? Read this exclusive Houzeo review to find out why it is one of the best For Sale By Owner Websites in America.
Frequently Asked Questions
1. Is Houzeo free?
No, Houzeo is not free. Houzeo does provide a free Houzeo listing, but you only get listed on Houzeo.com. To get listed on the MLS, you have to purchase one of Houzeo's listing packages.
2. Is Houzeo a good Flat Fee MLS option?
Yes, Houzeo is a good Flat Fee MLS option. Houzeo offers home sellers a combination of affordable MLS listing packages, advanced technology, 5-star customer support, and maximum exposure.
3. Is Houzeo available nationwide?
Yes, with over 200+ markets, Houzeo offers near nationwide coverage to home sellers.
Is Houzeo legit?
Yes, Houzeo is a legitimate real estate technology company headquartered in New York. Houzeo has helped home sellers list their properties on the MLS for a flat fee since 2017.
5. How much is Houzeo's success fee?
As of 2023, Houzeo doesn't charge a success fee.
Audra Merrell

happyhomesbyaudra@gmail.com

Mario Eusebio

publicme1@me.com

Got to work right away on my issue and called me back withon 15mins just like he said he would with a resolution. He waited on the line with me to make sure everything was taken care of.

Caren Zahn

czahn@agostinolaw.com

This is the 2nd property I am listing a properry on Houzeo. With the first property, Sharon was the only person to assist me with issues and expedite the listing. I had similar issues for the 2nd property with information and documentation and Sharon contacted me to expedite the process. Without Sharon's assistance I would not have been able to complete everything. She is an asset to Houzeo.

Holly Morrissey

hollymorrissey55@gmail.com

Garry understood my situation and frustration and escalated my concern and got my home Active today! Not all companies give their reps the ability to make decisions so I\'m happy, that especially on a weekend he was able to make it happen especially after I had two interactions yesterday on the same issue. Thankful for Garry

Kevin Maag

kjmaag6@gmail.com

I sold two gulf front condos via Houzeo, saving listing fees on total selling price exceeding $3M. One of the units had multiple offers within 48 hours! Loved representing myself as I know all the improvements and enjoyed meeting the buyer agents and so informed in the selling process.

Klare Heston

klare.heston@gmail.com

I love the prompt responses to my calls– get a return call within minutes even if I don\'t leave a message. Garry was very knowledgeable and patient and courteous. The technology is very user-friendly as well. I would highly recommend Houzeo. We just went live

Edna Case

nyfeliciano60@gmail.com

Tony is so wonderful, he has a calm and friendly voice. He was able to guide me and help reassure me that they are no fees at closing. Thank you so much Tony

Jay Velastegui

107timothyplace@gmail.com

Houzeo is a great platform if you are willing to put in the work to sell your house on your own. Even if you\'ve never gone through the process before, their technology is very user-friendly and you\'ll get ample support to answer your questions along the way. We listed our home with Houzeo and had our listing visible on the MLS, Zillow, Realtor, etc. the following day. The best part of course is that we saved a lot of money by not working with a listing agent and being able to keep more of our money. We had one open house, received 11 offers, and closed in 2 months! Again, there is a learning curve if you\'ve never done this on your own but it is definitely worth the effort! Great product!

Dania Pfeiffer

10stephanieln@gmail.com

Very prompt customer service and Sharon was very helpful.

Dennis Perreault

1109palmertondr@gmail.com

Very easy to navigate so far