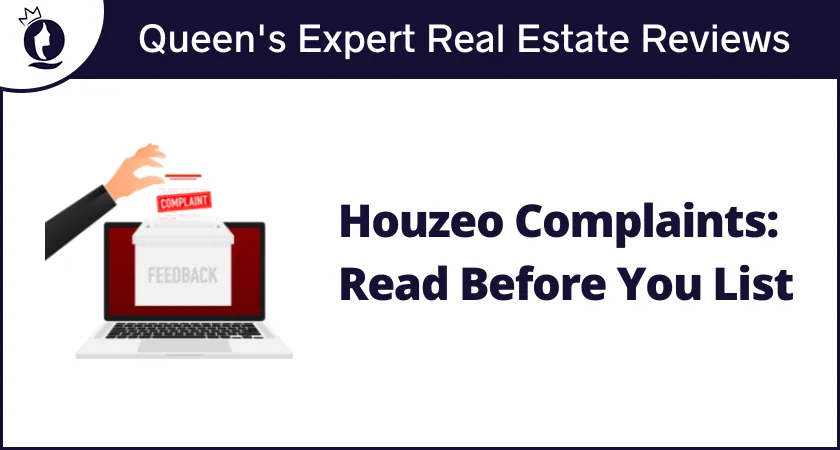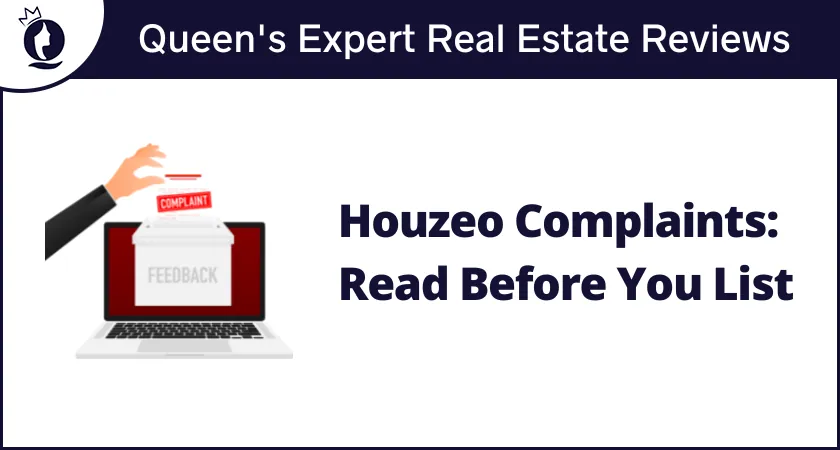 » Jump To: What is Houzeo? | How Does Houzeo Work? | Houzeo Complaints | Houzeo Reviews | Conclusion | FAQs
Houzeo has a very impressive customer rating of 4.9 stars on Trustpilot and 5 stars on Google reviews. Most home sellers have talked positively about the company. However, there are some Houzeo complaints you should know before you sell FSBO with Houzeo.
What is Houzeo?
Houzeo.com is a tech-centric For Sale By Owner (FSBO) website and real estate platform. The company gives home sellers access to tools that generally agents have access to. Houzeo works on the Flat Fee MLS listing model. This means Houzeo helps home sellers list properties on the MLS for a flat fee.
Is Houzeo Legit?
Yes, Houzeo is a legitimate company. It was established in 2017 and its head office is in New York. The company has more than 2,000 reviews combined on Google and Trustpilot. Home sellers appreciate Houzeo for its technology, customer service, and affordability.
» Is Houzeo Legit: Read Our Complete Analysis
How Does Houzeo Work?
Houzeo works on the Flat Fee MLS listing model. The company gets you on the MLS for a small flat fee, instead of a 3% listing agent commission.
What distinguishes Houzeo from other Flat Fee MLS companies is their technology. Houzeo provides home sellers with a powerful dashboard. Through the seller dashboard, home sellers manage listings, showings, offers, and more. If you get stuck at any point, you can reach out to Houzeo's customer support.
» How Houzeo Works: Everything You Need to Know
Houzeo Products
To maximize the seller's control over the transaction, Houzeo has built several products. This includes:
IntelliList Listing Management
Houzeo's IntelliList Listing Management guides home sellers with setting buyer agent commissions, uploading property photos, etc. The IntelliList Management system also assigns the necessary paperwork based on your location.
Houzeo Showings
With Houzeo Showings home sellers set up their showing calendars and accept or reject showing requests. Through Houzeo Showings, buyers directly request showings and provide feedback.
Houzeo Lead Management
Unlike other real estate platforms, Houzeo does not sell leads. Houzeo's Lead Management collects and presents all lead to the home seller.
Houzeo Mobile App
To ensure home sellers manage everything on the go, Houzeo has built a mobile app. Through Houzeo mobile app, home sellers list properties, manage showings, review & compare offers, etc.
Houzeo Complaints
As mentioned earlier, there are more than 2,000 Houzeo reviews online, and the majority of them are positive. However, we did come across some Houzeo complaints. The company has only 9 negative reviews out of 2,000 reviews. We have shortlisted the two most relevant Houzeo complaints below.
❌ Houzeo Complaints Related to Listing Brokers
We came across two Houzeo complaints, where users had a good experience with Houzeo but were unhappy with the listing agent. One such user appreciated Houzeo's task manager and document uploader but complained about the listing agent's inconsistent availability during the process.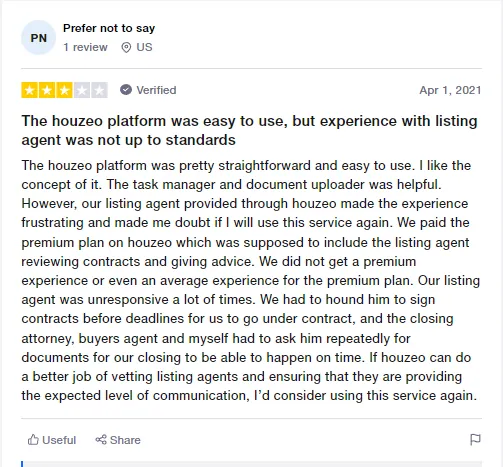 ✅ Houzeo's Reply
The company replied promptly on the same day. The company's customer support team diligently escalated the matter to the Customer Success Manager.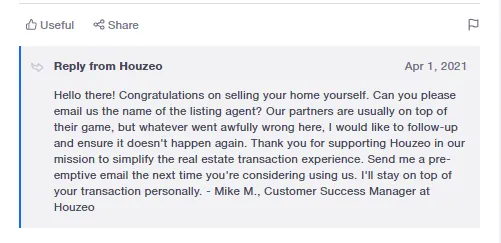 The Customer Success Manager replied to the above Houzeo complaint to ensure such an experience is not repeated. A prompt reply asking for a follow-up shows the company's commitment to improving the user experience.
❌ Slow to Respond
During our research, we came across a customer review that went against popular observation. According to a home seller, Houzeo's support team responds quickly "initially" but during the contract review and reviewing offers, they are extremely slow.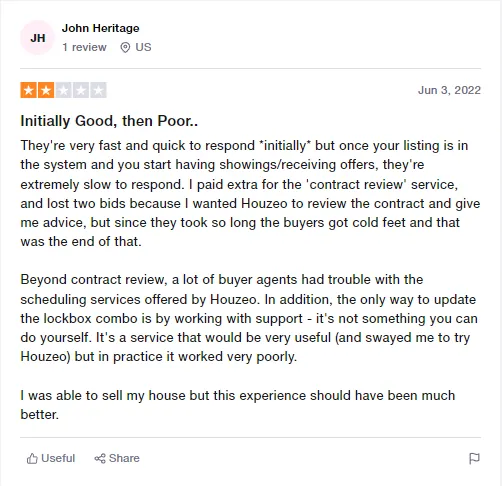 As per the above Houzeo complaint, the home seller had paid extra for the "Contract Review" service. According to him, Houzeo took a long time in reviewing and advising. This led to a significant delay, turning away two potential buyers.
However, in our experience, Houzeo's customer support team responds quickly. Also, the company itself doesn't review the contract. They assign a licensed real estate broker for contract review. So, the delay was probably from the broker's end and not from Houzeo.
The home seller has complained about Houzeo's scheduling services. The fact that the company did not respond to this particular complaint, leaves us a little skeptical about their schedule service feature.
Houzeo Reviews
Customers across major review sites have positive things to say about Houzeo. Most home sellers have talked about Houzeo's 5-star customer support team and have appreciated the company's technology.
Houzeo Google Reviews
Out of 625 reviews, Houzeo has a 5-star rating on Google reviews.
✅ Home Sellers Listed with Houzeo More than Once
The easy listing process encourages home sellers to list with Houzeo multiple times. Also, customer support's quick response ensures all questions get answered whenever needed.

You can call their representatives directly through the Houzeo customer service phone number. Or chat online through the website chat box. In our experience, the representatives respond immediately.
To chat online we had to provide some basic information—this included name, phone number, address, email address, etc. The company did not bombard us with newsletters, PR emails, or phone calls. At no point did their representatives force us to buy their services. This shows Houzeo's genuine commitment to solving user problems.
✅ Home Sellers Saved Thousands in Commission
With Houzeo, home sellers only have to pay the buyer agent commission. This means they save 50% of the real estate commissions. Here is a customer review we came across where the seller saved $13,000+.

Due to Houzeo's affordable Flat Fee MLS listing packages, home sellers across the states have saved thousands in commissions. You only have to pay a small flat fee instead of a 3% listing agent commission.
Say you sell your home for $900,000 in Florida. You would spend $27,000 in listing commission. However, with Houzeo you get on the MLS for $349 only! Even if you opt for their most expensive Flat Fee MLS Florida package, you would still save $25,800!
» Customer Stories: See What Home Sellers Have to Say
Houzeo Trustpilot Reviews
Houzeo Corp has a 4.9-star rating on Trustpilot, out of 1,474 reviews.
✅ User-Friendly System Interface
Several customers choose Houzeo because of its user-friendly and powerful seller dashboard. Here is one such customer who discovered how Houzeo's dashboard and interface make getting on the MLS easy.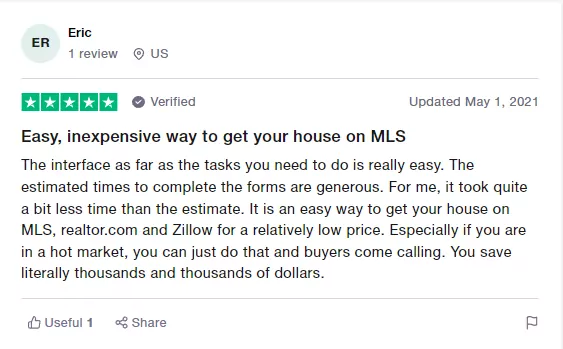 Houzeo's interface and listing system are accessible and easy to use. Houzeo fills out as much of your listing as possible. The dashboard gives a Zillow estimate of the property. After selecting an MLS plan, Houzeo assigns tasks that home sellers have to complete. This includes filling out MLS contracts & forms, and disclosures. On completing the assigned tasks, your home is listed within 24 hours.
From customer stories, we found Gen Xers and Boomers are listed with Houzeo. We also came across home sellers who sold their houses using an online service for the first time. And they found Houzeo easy and convenient. One of the reasons is the user-friendly interface and easy-to-navigate website.
✅ Quick Listing Changes
Apart from quick listing, Houzeo allows home sellers to make listing changes easily. Here is a customer review of a seller who decided to drop the price and modify the property description. He was able to update his listing within an hour.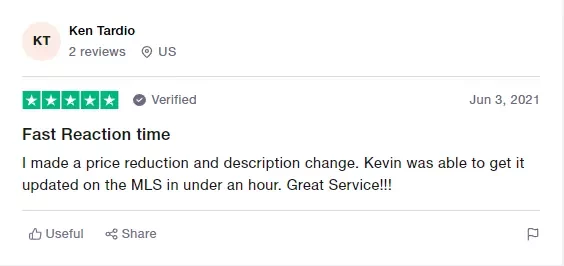 With Houzeo home sellers can make several changes to their listings. This includes changing the listing price, photos, MLS listing status, etc. Home sellers have to raise a change request on the dashboard. Houzeo automatically generates an amendment contract to make MLS listing changes. Upon signing the contract, your change request is submitted. Your listing gets updated within 1-2 business days.
Houzeo also provides 'expedited listing,' in some locations. Through expedited listing, your listing goes live within a few hours. It is available with Houzeo's Gold and Platinum Packages.
Houzeo Better Business Bureau Reviews
Houzeo has no reviews on Better Business Bureau (BBB).
Is Houzeo Worth it?
Yes, Houzeo is worth it. With Houzeo, home sellers save thousands in real estate agent commissions and get on the MLS quickly.
Real estate commissions surpassed $100 billion in 2021. As per Zillow, 36% of Millennials, 26% of Gen Xers, 22% of Boomers, and 19% of Silent Gen are selling by owner. Also, 77% of the FSBO homes sell in less than two weeks.
However, FSBO sellers cannot get on the MLS on their own. Homes listed on the MLS sell faster and for 17% more. Houzeo will list your home on the MLS for a flat fee and set you up for an FSBO sale.
» Want to learn more? Read this exclusive Houzeo review to find out why it is one of the best For Sale By Owner Websites in America.
Frequently Asked Questions (FAQs)
1. Is Houzeo free?
No, Houzeo is not free. Houzeo does provide a free Houzeo listing, but you only get listed on Houzeo.com. To get listed on the MLS, you have to purchase one of Houzeo's listing packages.
2. Is Houzeo a good Flat Fee MLS option?
Yes, Houzeo is a good Flat Fee MLS option. Houzeo offers home sellers a combination of affordable MLS listing packages, advanced technology, 5-star customer support, and maximum exposure.
3. Is Houzeo available nationwide?
Yes, with over 200+ markets, Houzeo offers near nationwide coverage to home sellers.
Related: benefits of for sale by owner, homes for sale by owner websites, real estate websites
Related articles