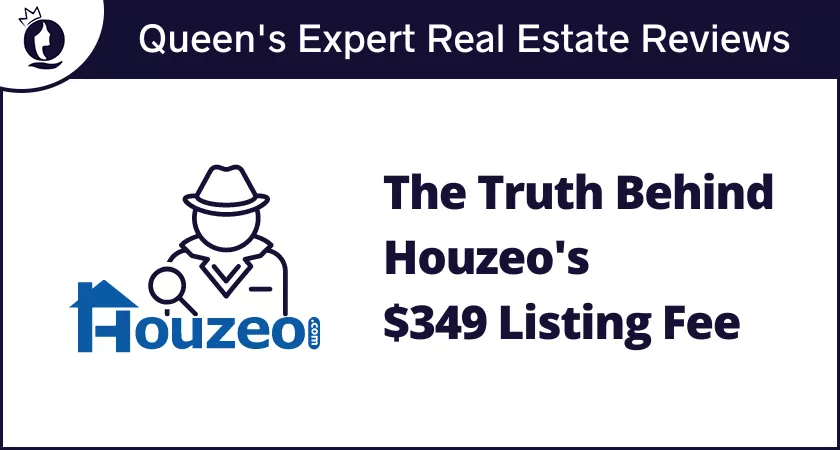 Houzeo is a popular For Sale By Owner website. Houzeo gets you listed on the MLS fast, and has stellar customer service with thousands of 5-star reviews. Its advanced technology helps you manage offers, showings, inspections, and closing, all online.
(5 Reviews)
Write a review
Pros
You save thousands in agent commissions
100% online high-tech platform
Lists on MLS, Zillow, Trulia, Redfin, Realtor.com
Nationwide coverage
Cons
Not available in South Dakota and West Virginia
Houzeo.com is a real estate tech platform that empowers homeowners to sell their properties themselves. They cut out the listing agent and save sellers 3% of their home sale value. Houzeo does this without charging sellers a single dollar in hidden fees.
Sellers can take advantage of unlimited listing changes, yard signs, professional photography, and much more for a flat fee disclosed upfront on their pricing page. By eliminating hidden fees and prioritizing openness, Houzeo redefines the flat fee model.
Does Houzeo Have Hidden Fees?
No, Houzeo has no hidden fees. They disclose all their charges upfront on their pricing page.
Customer testimonials on major review sites also do not show any Houzeo hidden fees.
Houzeo's refund and cancellation policies are transparent about any and all cancellation charges and non-refundable deposits.
What is Houzeo?
Houzeo is a Flat Fee MLS company that helps sellers navigate the complexities of selling their properties independently. Instead of shelling out thousands of dollars in commissions, have your home listed on your local MLS for a small flat fee.
Houzeo's FSBO platform is 100% online. The company's tech platform allows you to bypass real estate agents by providing you access to crucial tools they possess. Moreover, these tools let you manage your real estate transaction – from listing to closing – all online.
» How to List on MLS: Here's everything you need to know about listing your home For Sale By Owner.
Is Houzeo Good?
Houzeo is helpful to all types of home sellers. When you opt for Houzeo, you get the following benefits:
Affordable Listing: Houzeo provides home sellers access to the MLS for a small flat fee ranging from $329+ to $399+. On the other hand, a Realtor charges a 3% commission for the same.
Advanced Technology: Houzeo has several in-built tools like Houzeo Showings, Houzeo Lead Management, and Houzeo Offers. These tools simplify real estate transactions as they're entirely online.
Excellent Customer Service: Houzeo's Google reviews give the company a 4.9-star rating based on 1,279 reviews. This is rarely seen for a Flat Fee MLS service.
Maximum Exposure: Houzeo listings get syndicated across 100+ real estate websites like Zillow, Trulia, and Redfin.
Near-Nationwide Coverage: Houzeo.com offers Flat Fee MLS services in 47 states and Washington D.C.
Transparency and Credibility: Houzeo discloses all prices upfront on their website. This makes the platform transparent and trustworthy for home sellers.
Houzeo's intuitive and user-friendly dashboard can guide you through your home-selling journey. So you don't have to worry about missing the guidance of a Realtor.
» Is Houzeo Legit: Read this to decide if you can trust Houzeo Real Estate.

Houzeo Fees and Packages
Houzeo offers 5 flat fee listing packages:
| Packages | Listing Fee | Best For |
| --- | --- | --- |
| Bronze | $329+ | Selling a land/lot |
| Silver | $399+ | Sellers who only want an MLS listing |
| Gold | $379 + 0.5% | Pro FSBO Sellers |
| Platinum | $349 + 1% | Sellers who need broker assistance |
*96% of the buyers search for properties online.
These are generic prices mentioned on Houzeo's pricing page. Check out your state's pricing page to know the exact Houzeo fees.
Bronze Package
Priced at $329+, the Bronze Package is ideal for those wanting to sell a lot or a plot of land. Compared to the company's other packages, this is the cheapest plan with the least amount of photos.
A standout feature of this plan is that you get access to Houzeo's online dashboard. This lets you make changes to your listing easily. However, keep in mind that you are charged $25 for every change you make.
What You Get:
3-month MLS listing with 6 photos

Syndication to Zillow, Trulia, Realtor.com, Redfin, and more
Custom yard sign for $49
👉 Our Take: If you want to sell your land, then you can opt for Houzeo's Bronze Package. You avoid any additional costs at closing and can save money otherwise spent on features like showings.
Silver Package
Houzeo's Silver Package lets you get on the MLS with several tools to set you up for success. The extended duration of the MLS listing and the added photos ensure that your property gets maximum exposure.
If that's not enough, you get unlimited listing changes at no additional cost. This allows you to price your home just right based on market conditions. All of this for just $399+.
What You Get:
6-month MLS listing with 24 photos

Syndication to Zillow, Trulia, Realtor.com, Redfin, and more
Unlimited listing changes
Custom yard sign for $49
👉 Our Take: We recommend Silver Package for FSBO home sellers who want an affordable MLS listing and online exposure.
Gold Package
If this isn't your first rodeo, Houzeo's Gold Package may appeal to you the most. For $379+, you get access to the MLS with the maximum number of photos allowed. You can manage showings, counteroffers, and request the Highest and Best Offer.
You also receive all the necessary federal and state disclosure forms to ensure that there aren't any roadblocks in your home-selling journey.
When you opt for this package, you must also pay a 0.5% fee or a minimum of $999 at closing.
What You Get:
6-month MLS listing with maximum photos

Syndication to Zillow, Trulia, Realtor.com, Redfin, and more
Unlimited listing changes
Unlimited open houses
Custom yard sign
Federal and State disclosures
Personal Concierge
Access to Houzeo Showings and Houzeo Offers
👉 Our Take: Houzeo's Gold Package is ideal for DIY home sellers who can manage most aspects of the real estate transaction themselves.
Platinum Package
Houzeo's Platinum Package is tailor-made for first-time home sellers who want to go the FSBO route. For $349+, the virtual full-service broker can help you throughout your home-selling journey. They can help with contract review, pricing assistance, real estate forms, etc.
This package requires you to pay a 1% fee or a minimum of $999 at closing.
What You Get:
12-month MLS listing with maximum photos

Syndication to Zillow, Trulia, Realtor.com, Redfin, and more
Unlimited listing changes
Unlimited open houses
Custom yard sign
Federal and State disclosures
Access to Houzeo Showings and Houzeo Offers
Call forwarding service
Personal Concierge
Virtual broker assistance
👉 Our Take: We recommend Houzeo's Platinum Package for new sellers or those who would like the assistance of a broker.
Houzeo Coupon Code
Houzeo offers coupons to attract sellers.
With Houzeo coupons, you can get $20 off on your listing package.
You can claim your coupon from Houzeo's website.
Are There Any Houzeo Hidden Fees?
No, Houzeo doesn't have any hidden fees. They disclose all costs upfront on their state-specific Flat Fee MLS pages. During our research, we came across some Houzeo complaints. However, none of them mentioned the company having hidden fees.
The prices of Houzeo Corp's listing packages vary by state. In some areas, the company charges an additional fee at closing to meet the minimum service requirements. These costs are mentioned on the individual state pages on Houzeo.com. You can visit them to find the actual prices applicable in your state.
» Houzeo.com Reviews: Here's what other review sites say about Houzeo.
What is Houzeo's Refund Policy?
Houzeo's refund policy is straightforward and hassle-free. Sellers don't pay for a full-service agent but simply for access to the MLS and top-notch tools and technology.
If unsatisfied with Houzeo's services, the company offers a complete refund after deducting a $50 non-refundable deposit. However, you can claim this refund only if all of the following criteria are met:
It has been less than 14 days since you placed an order
You haven't signed the listing agreement
Your listing isn't live on the MLS
No draft listing has been assigned to you
If you have opted for any additional upgrades to your package, those costs won't be included in the refund. This includes the yard sign, lockbox, ShowingTime, Contract to Close Assistance Package, etc.
Many Houzeo reviews show that their refund policy is liberal.
Houzeo's Refund Policy is Hasslefree
As discovered by a user, their refund request was processed promptly and in a hassle-free manner.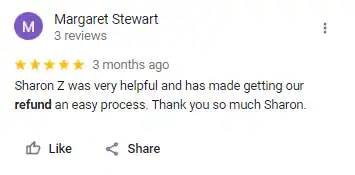 Houzeo Handles Refund Requests Professionally
Users appreciate Houzeo's customer service for handling refund and cancellation requests professionally.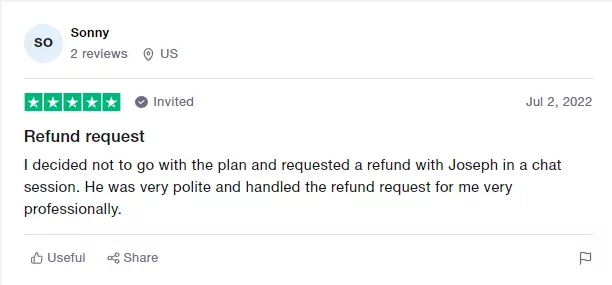 » Houzeo's Refund Policy: Understand Houzeo's refund policy in detail.
What is Houzeo's Cancellation Policy?
As per Houzeo's cancellation policy, the company doesn't charge a termination fee. You can cancel your listing for free, even before the expiration date. However, for homes listed on the Georgia MLS (GAMLS), sellers have to pay a $25 termination fee.
Houzeo's cancellation policy allows you to reinstate your canceled MLS listing within the duration of the agreement. But you will have to pay a reinstatement fee.
Should I Sell My Home with Houzeo?
We highly recommend Houzeo for home sellers who want to sell FSBO.
Selling a house by owner can get frustrating if you don't get help when needed. But Houzeo's affordable listing packages and 5-star customer support make selling FSBO easy.
Houzeo has gone the extra mile to provide home sellers with state-of-the-art real estate technology. Their seller dashboard and in-built tools allow you to control your home selling process. Moreover, their mobile app even lets you manage offers and showings on the go.
Unlike other Flat Fee MLS companies, there are no Houzeo hidden fees. This demonstrates the company's transparent policies and credibility.
Frequently Asked Questions About Houzeo
1. Is Houzeo free?
2. Is Houzeo legit?
Yes, Houzeo is a legitimate real estate technology company headquartered in New York. Houzeo has helped home sellers list their properties on the MLS for a flat fee since 2017.
3. Is Houzeo a good Flat Fee MLS option?
Yes, Houzeo is a good Flat Fee MLS option. Houzeo offers home sellers a combination of affordable MLS listing packages, advanced technology, 5-star customer support, and maximum exposure.
4. Is Houzeo available nationwide?
Yes, with over 200+ markets, Houzeo offers near-nationwide coverage to home sellers.
5. How much is Houzeo's success fee?
As of 2022, Houzeo doesn't charge a success fee.
Jay Velastegui

107timothyplace@gmail.com

Michael Orozco

1184Stephanieway@gmail.com

It took a minute or two to familiarize myself with the mobile app. The customer care team walked me through each step.

Audra Merrell

happyhomesbyaudra@gmail.com

I was apprehensive at first, but was pleasantly surprised at how easy Houzeo is to use!

Holly Morrissey

hollymorrissey55@gmail.com

Responsive customer service and agent is quick with turnaround time.

Karin O\'Laughlin

karinolaughlin1@gmail.com

This is the 3rd house I\'ve sold with Houzeo. The first two were great, but there were a lot of data entry errors on this one. Helpful representatives got them fixed, but we lost all day on Saturday for showings. Still, the best way to sell a house.