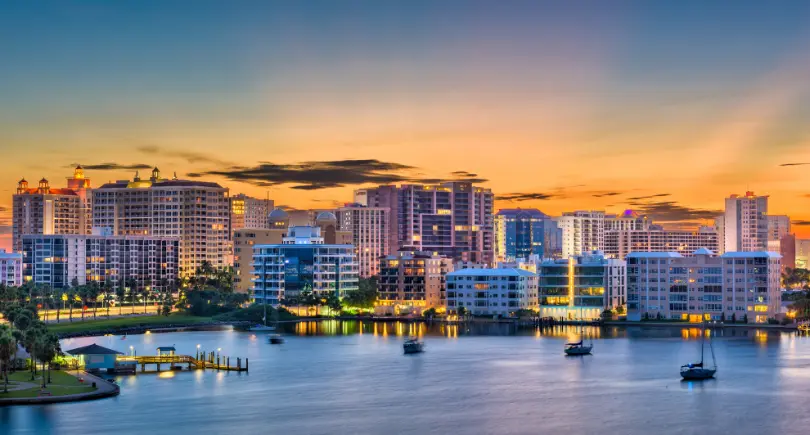 Florida's real estate market holds incredible potential, but timing is everything. The best time to buy a house in Florida is not as straightforward as a simple yes or no. Buying a home depends on various factors, some of which are within your control.
Florida's growing economy and long-term investment potential make it an ideal choice. Don't miss out on this opportunity. This blog will guide you toward the perfect moment to secure your dream home in the Sunshine State.
Should I Buy a House in Florida?
It depends. Buying a home is highly personal and depends on various factors. Real estate market conditions can differ significantly from one region to another. For example, In May 2023, home prices in Miami saw a 1.8% increase compared to the previous year, resulting in a median price of $560,000.
This information can give you a general idea of the current pricing landscape in the area. On the other hand, Tampa and Orlando are considered more affordable markets within the state.
Over the past few years, Florida home prices have increased, and mortgage rates have reached their highest levels in 14 years. Consequently, it is difficult for prospective buyers to determine what action to take.
It is crucial to closely examine current industry trends before committing your funds. Make your purchase based on your specific requirements and budget. You can likely find a property you love in your desired location that fits your price range.
Not buying? Want to sell your home?
When is the Best Time to Buy a House in Florida?
Determining the best time to buy a house in Florida is crucial for potential homebuyers. While finding your dream home can happen anytime, certain months can offer cost-saving advantages.
For Florida home buyers, Christmas Day and Easter Sunday are not the ideal days to buy a house. Here, the general rule of thumb is to buy early in the year. The period from April to June typically sees a higher inventory of properties available for sale in the state. 

During this time, more homes may be available to you. The Florida housing market is highly dynamic, so working with an experienced real estate agent who understands the local market dynamics is a good idea.
Analyzing the current real estate market, a qualified Florida realtor can provide valuable advice on when and where to buy. A trusted real estate professional can help you stay informed about the market conditions and make well-informed decisions.
Best Time to Buy a House in Florida
The prime months to consider when buying a house in Florida are April, May, and June. These months offer a higher inventory and better opportunities for negotiation.
During this period, you can benefit from a larger selection of homes on the market, potentially securing a discount and avoiding intense competition. In contrast, if you're not in a rush or have not found your ideal home during spring, the winter months are ideal for negotiating prices.
Fewer homes are for sale in winter, including For Sale By Owner listings. However, the pricing trends can vary between cities and even within specific communities.
Therefore, it's advisable to consult with a local realtor who can provide guidance tailored to your chosen market. They will help you navigate the complexities of the local market and determine the best time to buy a house in Florida.
Florida Housing Market
For potential buyers in Florida, the housing market in May 2023 presented some key insights. Home prices experienced a slight 0.4% decrease compared to the previous year, resulting in a median price of $407,200. Furthermore, the number of homes sold decreased by 11.6% (you).
Additionally, the median days on the market increased by 20, reaching 42 days. These figures indicate a slightly more favorable market for buyers. It will allow buyers to consider available options with a bit more time and possibly more negotiating power.
Considering these market conditions, buyers need to stay informed. You can work closely with a knowledgeable real estate agent and carefully assess your options.
With a thorough understanding of the current market dynamics, buyers can make informed decisions. Moreover, you can potentially find opportunities that align with your preferences and budget.
Things to Know Before Buying a House in Florida
Here are five essential tips to consider when buying a house in Florida, including important factors like mortgage rates and credit scores:
1. Florida Mortgage Rates
Working with top mortgage lenders in Florida, you can secure a long-term real estate investment without upfront payments. However, As of June 2023, the current interest rates for mortgages in Florida are 7.04% for a 30-year fixed mortgage and 6.41% for a 15-year fixed mortgage.
With the steady increase in interest rates over the past two decades, affordability becomes a major consideration in Florida's high-priced real estate market. Therefore, conducting thorough research and obtaining mortgage preapproval are essential steps before purchasing a property.
2. Your Credit Score
Your credit score plays a crucial role in mortgage applications, as it determines the interest rate you can qualify for. Mortgage lenders assess your credit history, including overall debt and payment punctuality, to evaluate your creditworthiness.
Higher credit scores inspire confidence in lenders and may even reduce the required down payment. Credit scores range from 300 (lowest) to 850, and a score of 670 or higher is generally considered good by lenders.
👉 How to Buy a House With Bad Credit in Florida: If you are facing challenges with your credit score, continue reading to discover effective strategies for handling bad credit in Florida.
3. Know Your Affordability
Different mortgage brokers may provide varying estimates for the mortgage amount you qualify for. Some brokers suggest that your mortgage payments should amount to approximately one-third of your gross income.
Your credit score plays a vital role in determining the interest rate you can secure, along with factors like your overall debt and credit history. Additionally, other factors such as mortgage type, market conditions, and interest rates are also vital to consider.
If you need to help understanding the intricacies and potential implications, reaching out to a mortgage broker in Florida can provide valuable assistance.
4. Home Buying Services
With expert help, buying a house in Florida can be delightful. There are numerous steps to buy your home in Florida.
1. Use FSBO Websites
Make sure you look at multiple houses before deciding on one. List your top priorities by the type of Florida home you desire. The internet is an ideal tool for finding properties for sale in the areas and price ranges that interest you.
It provides an excellent opportunity to evaluate properties in your desired neighborhood. Your real estate agent can assist by searching the Multiple Listing Service (MLS) and exploring reputable real estate websites in Florida.
Houzeo, known as America's #1 For Sale By Owner and MLS Flat Fee listing service in Florida, offers a wide selection of For Sale By Owner homes, allowing buyers to find houses that meet their specific needs.
2. Hire a Real Estate Agent
The expertise of top real estate agents in Florida can greatly aid you in finding your perfect home. They possess the skills to negotiate on your behalf with sellers, ultimately saving you valuable time and money.
When choosing a real estate agent, ensure they have a proven track record and a deep understanding of the community you intend to live in. Avoid working with agents who are too busy to give you the attention you deserve.
Furthermore, these agents can also provide recommendations for Florida home inspectors, contractors, appraisers, and title insurance companies, streamlining the process for you.
5. Down Payments and Closing Costs
The down payment for your home purchase is a significant upfront investment. While a 20% down payment was previously the norm, many homeowners now opt for a lower amount.
However, choosing a lower down payment entails paying for mortgage insurance, which increases your monthly mortgage cost. The required minimum down payment varies depending on the type of mortgage.
However, a higher down payment generally offers more mortgage options, lower monthly payments, and a reduced interest rate. Additionally, to budget for closing costs, which typically range from 3% to 6% of your home value.
Closing costs in Florida can vary based on factors such as the loan type, lender, and location, with homeowners typically responsible for expenses like title insurance and home appraisals.
👉 Title Policy Cost in Florida: Floridians pay millions on title insurance. Learn how much title insurance costs in Florida.
Best Cities in Florida to Buy a House
When buying a house in the Sunshine State, Florida, several cities stand out as prime choices. Each city offers unique advantages and a high quality of life.
Let's explore the best cities in Florida to buy a house and discover why they are famous and what living benefits they have to offer:
1. Miami – The Magic City
Miami is famous for its vibrant nightlife, beautiful beaches, and diverse culture. Additionally, you can enjoy a year-round tropical climate and a bustling international atmosphere.
Buying a home in Miami will give you an experience of rich culinary scenes, art galleries, and world-class entertainment options. Moreover, you get excellent career opportunities in finance, tourism, and international trade.
2. Orlando – The Theme Park Capital
Orlando is home to world-renowned theme parks such as Walt Disney World, Universal Orlando Resort, and SeaWorld. Here, you can enjoy a family-friendly environment with countless entertainment options for all ages.
Buying a home in Orlando gives you several benefits in the job market, hospitality, and tourism industries. Moreover, here you can enjoy a lower cost of living compared to other major cities in Florida.
3. Tampa – The Cigar City
Tampa is famous for its historic Ybor City district, known for its rich cigar-making heritage. Additionally, you can enjoy a vibrant waterfront area with stunning views and a lively downtown scene.
Buying a home in Tampa benefits you with a growing job market and thriving art and culture. Moreover, you get a relatively affordable cost of living and several housing options.
Is Now the Best Time to Buy a House in Florida?
Determining the best time to buy a house in Florida requires careful evaluation of various factors. There may not be a definitive answer to whether now is the best time to buy a home.
However, with relatively low mortgage interest rates currently available in Florida, you can secure favorable financing terms. Additionally, the Florida housing market has shown resilience and steady growth.
Ultimately, the best time to buy a house in Florida will depend on your circumstances, priorities, and long-term goals. Whether you are a first-time homebuyer or looking to upgrade your current property, now may present a favorable opportunity to enter the market.
Frequently Asked Questions
1. How difficult is it to buy a home in Florida?
A Florida home purchase will require you to save money. It's the state with the highest median home value, and many homes sell for much more than expected.
2. Which month is the cheapest for buying a house?
Winter
The best time to buy a home is usually during the winter. Your advantage comes from motivated sellers. Holidays are times when most people suspend their listings since they assume buyers will be hard to come by.
Also Read
Recommended for Sellers
Related: is it good time to buy house in usa, when is the best time to purchase a home, when is best time to buy a house, best time to buy a house for tax purposes, best time to buy home, best time to buy a house 2022, best time of year to buy house, best time to buy house, best time of the year to buy a house, buy a house in 2022, when should i buy a house, when is the best time to buy a house, is now a good time to buy a house