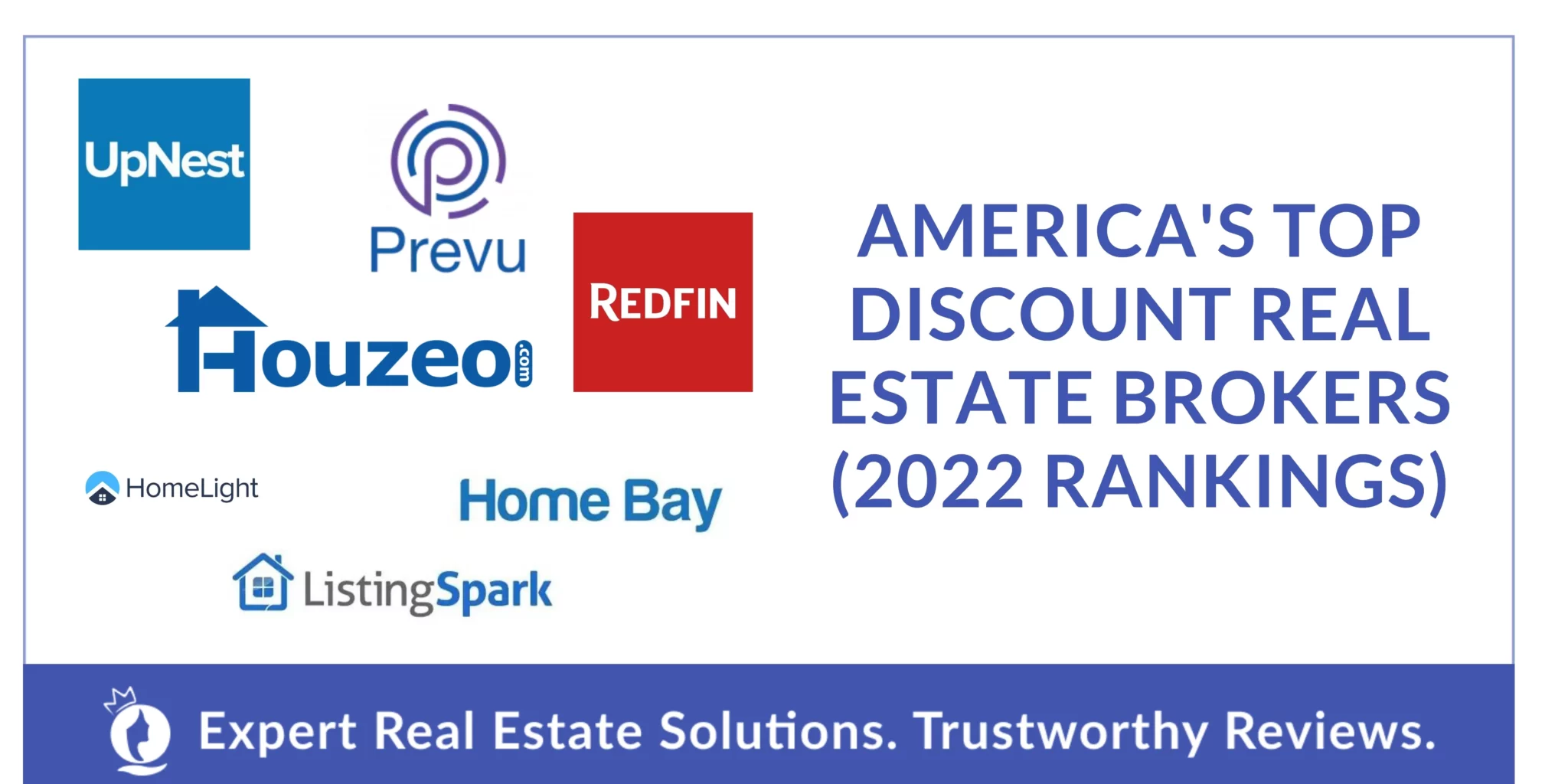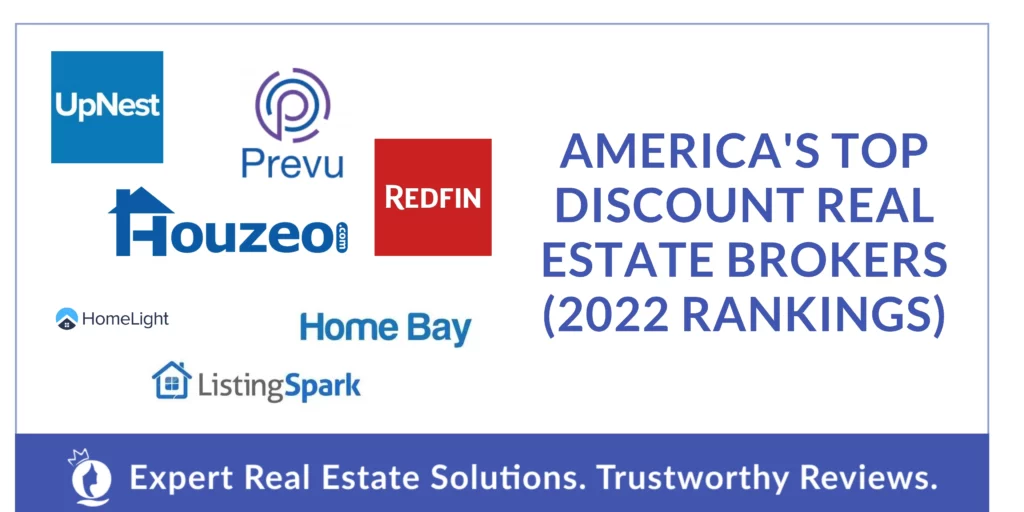 From Seattle to Miami, home sellers nationwide fear the 6% real estate commission. Traditional realtors charge 3% of your final sales prices as a commission. However, you can skip the traditional rates by working with discount real estate brokers. This helps you save thousands without compromising on the services provided.
Our list of the best discount real estate brokers will help you find the right one for your next real estate transaction.
Rankings: Best Discount Real Estate Brokers & Companies in the US
* Houzeo is not a broker. It is a technologically advanced real estate selling platform that collaborates with real estate brokers and provides services to homeowners at reduced prices.
Reviews: America's Top Discount Real Estate Brokers & Companies
1. Houzeo

Queen

2. Redfin

Queen
Redfin is America's #1 discount real estate brokerage. They offer a 1% listing fee when you buy and sell. If you only sell they charge a 1.5% commission.
Redfin Full-Service Agent

: This includes premium placement on Redfin, professional photos, and a 3D walkthrough.

Redfin Premier Agent

: This package is exclusively for luxury properties and includes coordinated e-mail campaigns, luxe mailers, and brochures.
👑 The Queen's Take: Redfin gives your property exposure and provides other services. But you can only enjoy these benefits if you use Redfin to buy and sell.
» Redfin Reviews: The reality of 1% fees, pros, cons, & alternatives.
Here are some advantages of choosing Redfin:
Nationwide Coverage: Redfin covers 80+ markets in the US.
Advanced Technology: They have a user-friendly website and provide a mobile app.
Full-Service Agents at Low Commission: Redfin's full-service package is priced at 1.5%. It saves you thousands compared to the traditional 3% listing commission.
Detailed Marketing Plan: Redfin provides the necessary paperwork and a marketing plan.
Buyer Rebate: If you sell with Redfin for 1.5% commission, you get 0.5% rebate for buying another home within 365 days.
In our research, we found some disadvantages of Redfin.
No Dedicated Service: Customers have often complained that Redfin agents are not able to give personalized service.
Mixed Customer Reviews: Customers have complained that agents are often unreachable and unprofessional.
Slow Listing Process: According to Redfin's listing agreement, a Redfin property takes 18 days to list on MLS.
Limited Agent Selection: Based on customer reviews, Redfin has a limited selection of agents. This results in giving you fewer options to choose an agent.
Redfin has an average rating of 3.4 out of 5 stars from 100+ reviews on Yelp.
» Reviews of Redfin: Read our blog to know more about them.
3. Ideal Agent

Queen
Ideal Agent is an agent matching service. They work with a large network of brokers for a 2% commission.
Full Service – 2% Commission

: The package includes professional photos, negotiation, and closing assistance.
👑 The Queen's Take: Ideal Agent's referral fee is higher than the other agent matching services. If you choose them, you will pay a 25% referral fee to the broker, which will be deducted from your agent commission at closing.
» Ideal Agent Reviews: Read reviews of Ideal Agent to make an informed decision.
Here are some advantages of Ideal Agent:
Pre-Negotiated Commission: Ideal Agent negotiates the commission with their agents in advance. This enables you to concentrate on the other aspects of the transaction.
Agent Matching: They help you match with the top 1% of local agents in your area.
Dedicated Concierge: Their agents actively guide you through every step of the transaction. While providing assistance with marketing, negotiation, and closing.
Ideal Agent has some disadvantages we came across in our research.
Additional Referral Fees: They charge agents 25% of their commission after a successful sale, which will be deducted from your commission at closing.
One Agent Only: Ideal Agent offers the service of matching agents. However, you are only matched with one agent at a time.
Only Agent Matching Service: They are not a listing website. You will only be matched with a local agent.
4. ListingSpark

Queen
ListingSpark is a real estate brokerage and a For Sale By Owner platform. They provide 2 plans.
Spark Plan – $1,499

: This plan includes MLS Listing, professional HD photography, a "for sale" sign, a Supra® digital lockbox, and required forms and disclosures. Your listing gets syndicated to all major real estate websites.

Premium Plan – $2,999

: It includes all the services of the Spark Plan plus premium photography service, open house signage, E-flyer blast, and pricing assistance & review.
👉 Our Take: Listing Spark packages are not cheaper but other companies include these services in their standard packages.
» How Does Listing Spark Work? Read this review to learn more about them.
Here are some advantages of ListingSpark that you should consider before choosing them.
Agent on Demand: You can hire one of their agents for $975. The agent will help you with negotiations, pricing reviews, and contract compliance.
Title Features: Spark Title, a service offered by ListingSpark, provides title insurance and escrow services.
Property Search Feature: Home buyers can search for properties based on price range, and type, along with other filters.
In our research, we found some disadvantages of ListingSpark.
Limited Coverage: ListingSpark exclusively operates in Texas, serving 9 cities.
No Pricing Assistance: Pricing your home is one of the most challenging aspects of an FSBO sale, and the basic plan does not include coverage for it.
ListingSpark has a rating of 4.6 out of 5 stars from 150+ reviews on Google.
» Listing Spark Reviews: Should you use it for your FSBO sale? Read out to know more.
5. Homie

Queen
Homie offers one flat rate package for home sellers and a few services to home buyers.
List at $3,500: You get agent representation, local MLS listing, exposure on popular real estate websites, contract negotiation, etc.
Buyer Rebate Program: Use Homie Title, Homie Loans, or Homie Insurance to earn a buyer rebate at the time of closing.
Homie Cash™: Make an all-cash offer with this feature and increase the chances of getting offers. You can close the deal in 10 days with Homie Cash™. But it comes with a 1% program fee.
» Homie Reviews: Check out our reviews for Homie.
Homie offers flat rate services to home sellers and rebates to buyers.
Agent Support: Homie provides agent representation services to home sellers. However, they do not provide in-person support and visits. Only an experienced seller can benefit from this.
Homie-to-Homie: Depending on the state, the seller can eliminate the buyer agent commission if they sell to a Homie buyer.
During our research, we found some drawbacks in the services of Homie.
Below-par Agent Service: Many customers revealed that their experience with Homie's agents was sub-par. Customers have accused numerous Homie agents of miscommunication, lack of knowledge, and lack of experience.
No Checks and Balances: Homie has many real estate agents, but fails to offer consistent results. While many customers had successful transactions, quite a few of them had a bad experience as well.
We recommend Homie to experienced sellers and buyers. However, their services cater to home buyers more than sellers.
6. HomeLight

Queen
HomeLight is an agent matching service, free for home sellers. They offer both full and limited service plans.
Free Agent Matching: Your real estate commission varies depending on the agent you are assigned. In some cases, the traditional 5%-6% commission may still apply.
» HomeLight Reviews: Check out the customer reviews for HomeLight on Sitejabber.
HomeLight has a network of the best real estate agents, and brokers. They help to create tailored guides and resources in the process of selling a house.
Good Agent Coverage: They have a good number of agents as per their coverage area.
Estimators and Calculators: HomeLight offers home value estimator, best time to sell calculator, agent commissions calculator, and net proceeds calculator.
In our research, we came across a few red flags of HomeLight.
Inconsistent Agent Quality: The agents you are matched with may not work at your convenience. Even the listing speed will be based on the agent selected.
HomeLight offers decent agent-matching services. However, you may be matched with a listing agent who charges 3% commission, meaning zero savings for you. Their agents handle multiple clients at a time time. This could lead to miscommunication and lack of personalised services.
7. SimpleShowing

Queen
SimpleShowing is a real estate brokerage. It is a tech-powered brokerage with affordable low-cost, hassle-free services to home buyers and sellers.
1% Commission

: It includes home valuation, professional photography, syndicating listings, negotiations, and paperwork.
👑 The Queen's Take: SimpleShowing is not a full-service real estate brokerage. If you choose to list with them you have to pay a minimum commission of $5,000 regardless of your home's valuation.
» SimpleShowing Reviews: Read customer reviews of SimpleShowing.
Here are some advantages of SimpleShowing.
Free Property Reports: These reports provide information about the property's value, recent sales of similar properties, and neighborhood demographics.
User-Friendly Website: Their website is easy to navigate. The process of listing or buying a home is streamlined.
Mobile App: You can schedule showings on their mobile app.
Buyer Refund: SimpleShowing offers buyers up to a 1% refund of the final price.
On-Demand Private Tours: This helps buyers to see homes whenever they want without a real estate agent.
In our research, we found some drawbacks of SimpleShowing.
Minimum Commission: You pay $5,000 as a closing fee regardless of your home's valuation.
Limited Coverage: They only serve in 3 states – Florida, Texas, and Georgia.
No Personalized Support: Due to high customer volume their agents might not give personalized service.
8. UpNest

Queen
UpNest is an agent matching service. It connects you with agents in your area by utilizing technology and market data.
Pricing

: Using UpNest is free of charge. Potential savings are limited since the commission fees are determined by the agents themselves and can vary.
👉 Our Take: UpNest offers marginal savings due to the variation in the commission fees when compared with the traditional realtor rate.
UpNest works similar to HomeLight and finds high-quality agents for the home sellers.
No Obligation Service: UpNest will provide you with several agent options to choose from within 24 hours of signing up. If none of them meet your requirements, you can easily opt-out without any obligation.
High Quality Agent Network: UpNest's high-quality agent network includes top agents from prominent national brokerage firms in the U.S. All matches are unbiased and based on your criteria and preferences.
User-Friendly Dashboard: UpNest's user-friendly dashboard enables effortless comparison of agent matches. It also provides convenient options to contact matched agents or your UpNest Advisor with just one click.
We came across a few red flags with UpNest during our research.
Marginal Savings: The commission rates aren't pre-defined and the negotiation ultimately relies on you. Past customers have claimed that the lowest listing fee is 2%, compared to 2.5% – 3%.
Inconsistent Customer Service: Customers revealed some agents provide below par-service whereas some are very helpful and knowledgeable.
UpNest is a real estate marketplace that links you with local agents, but there's no assurance of savings. Negotiation skills are crucial, as you might pay higher commissions or not receive the desired discounts.
9. Prevu

Queen
Prevu offers a single package with all the start to end services you require during your sale.
Full Service – 1.5% Commission: Prevu charges a low commission rate of 1.5% of the sale price for listing. It includes various features like home valuation, 3D virtual tours, open houses, professional photographs, listing on MLS, and social ad campaigns.
» Prevu Reviews: Find out what customers have to say about Prevu.
Prevu is a full-service low commission brokerage based in New York.
Mortgage & Closing Costs Calculator: You can get an estimate of your mortgage and closing costs by using Prevu's Calculator. The closing cost feature is only for NYC sellers.
Buyer Rebate: Buyers who purchase a house with Prevu get two-thirds of the commission that Prevu receives from the seller.
Smart Buyer Platform: Prevu's technology allows buyers to search for homes, communicate with their agents online, schedule showings, and make an offer.
Here are some red flags of Prevu you should know about.
Inconsistent Agent Quality: Prevu has limited number of agents and an inconsistent agent matching algorithm. This may compromise the quality of customer service you receive.
Variable Listing Fee: The listing fee varies as per your location. Make sure you check the listing fees in your preferred location.
Though Prevu's listing price is lesser than traditional realtor commission, it is still higher than other low commission real estate companies. Prevu agents take on a large volume of clients to compensate for the low commission. This may result in a lack of personalised service.
10. Trelora

Queen
Trelora is a full-service realty that offers services at discounted rates to home sellers. It unites home sellers, agents, and buyers on a single real estate platform.
Trelora offers 2 listing packages for sellers:
Trelora EasySell – $2,500

: This package is available only through Trelora's mobile app where sellers can get virtual full service for a flat fee.

In-Person Full Service – 1% Commission

: This package offers in-person full service for a commission of 1% of the sale price at closing.
👉 Our Take: Trelora charges a 1% commission to sellers at closing. Bear in mind that you basically pay this hefty amount to get an agent's support throughout the selling process.
Here are some advantages of Trelora you should consider before choosing them.
Good Add-On Features: Trelora provides additional services such as listing consultations, professional photography, and help with negotiations.
Good Technology: Their software claims to make the process digital and straightforward. But it lacks detailed information about their tech stack.
» What is Trelora? Read to learn more about them.
Trelora has drawbacks you should know about before you venture with them.
Multiple Agents Assistance: To reduce operating expenses, Trelora agents manage multiple clients, which can result in miscommunication due to different low-cost agents assisting you at various stages of the sale.
Poor Customer Support: Previous customers have criticized their low-quality customer service.
Trelora has an average rating of 4.9 out of 5 stars from 400+ reviews on Zillow.
» Trelora Reviews: Read the in-depth reviews on Trelora and choose accordingly.
What are Discount Real Estate Brokers?
A discount real estate broker will sell your home for a discounted commission. They usually charge charge between 0.5% – 2% or a flat fee to list your home. This is considerably less than the standard rates of 2.5% – 3%.
Discount brokers offer similar services to traditional Realtors, but at a lower cost, helping you save thousands!
🔍 Explore More: America's 11 Best Low Commission Real Estate Companies
Types of Discount Brokers
There are various types of discount brokerages and companies:
Flat Fee MLS Companies: A flat fee brokerage lists your home on the MLS for a small flat fee. Your listings get syndicated to several websites like Zillow, Trulia. Companies like Houzeo can list your home on the MLS within 48 hours, making it one of the best options.
Virtual Full-Service Agents: They provide services similar to traditional brokers but 100% online. Services like price negotiation and contract preparation are offered at no additional cost.
Low Commission Real Estate Agents: Low commission brokers offer full-service packages at 1% – 2% commission. These packages cover all aspects of the process, including pricing, listing and negotiations.
Evaluating Features Of Discount Real Estate Brokers & Companies
| | |
| --- | --- |
| 💰 Listing Fees | One of the deciding factors to choose a discount real estate broker/company is the listing fees. The lower the fees, the better are the chances a seller will select a particular discount realtor. |
| ⏰ Listing Time | Sellers will always go for discount real estate agents that take minimal time to list their property on real estate websites and MLS. |
| 🧳 Services | Though discount realtors/companies provide specific services, sellers will always go for the realtor that provides maximum services at the defined rate. |
| 📲 Technology | Technology makes the job easier for the sellers by saving on money and time. A discount realtor/company with advanced technology to take care of the selling process will always be preferred. |
| ☎️ Customer Service | Good customer service provided by a discount real estate agent will always be welcomed by the home sellers to make their job easier. |
| 📍Coverage | As a discount real estate agent/company, you would want to have the maximum coverage to cater to multiple sellers. |
How to Choose a Discount Realtor?
Choosing the appropriate discount broker or company is crucial when selling your home. To help you make the right selection, here are a few guidelines to consider:
Savings: Choose Realtors that charge less than 2% commission. Compare the agents based on their commission rates and services provided.
Technology: Look for companies that incorporate cutting-edge technology, online paperwork and mobile apps.
Online Reviews: Check customer reviews online. Reviews provide vital feedback and help point out discrepancies. You also get an idea of the type of service you can expect.
How Much Can I Save With Discount Brokers?
While selling your house, traditional re agents might charge heavy commission fees, reducing your savings. Discount Realtors offer similar quality services as traditional realtors at lower fees, helping you save more.
For example, if you are selling a house for $400,000, your savings from choosing a discount real estate broker will be as follows:
Traditional Agent
(2.5% commission)
Discount
(1% commission)
Discount
(1.5% commission)
Discount
(2% commission)
Seller's Agent
$10,000
$4,000
$6,000
$8,000
Buyer's Agent
$10,000
$10,000
$10,000
$10,000
Total
$20,000
$14,000
$16,000
$18,000
Savings
❌ $0
✅ $6,000
✅ $4,000
✅ $2,000
*Calculated using 2.5% buyer agent fees.
Pros and Cons of Discount Brokers
While choosing a discount broker to sell your home, you should consider the following pros and cons:
Pros
Reduced Fees: Listing costs are lower with discount real estate agents. They may charge as little as 0.5% to 1%, compared to standard brokers who typically charge 3% commission.
Technology: Several platforms like Houzeo and Redfin offer advanced technological features like online showings, marketing services, home tours, etc. at no added costs. You receive basic services similar to traditional agents at reduced fees.
Cons
Low Savings: Some discount brokers charge high minimum fees, which may end up costing as much as a traditional agent. This is a disadvantage, especially for low-valued homes as it provides no savings.
Not For Inexperienced Sellers: Discount real estate brokerages are mainly online, meaning limited personal interaction. This may not be helpful for a novice buyer or seller who requires guidance.
Lack of Personalised Service: Discount Realtors juggle several clients to compensate for lower commissions. This may result in less personalized attention for each client.
Alternatives to Discount Realtors
Traditional Realtors: They provide comprehensive assistance from listing to closing, with various services available for an average commission of 3%.
Cash Companies: Cash companies provide fast, upfront payments in 24-48 hours, but usually offer 10% – 30% less than your home's market value.
iBuyers: They are instant buyers that provide full cash offers and technologically advanced platforms. In essence, you can close within a matter of a few days.
FSBO: FSBO means selling a house without a listing agent, saving on agent fees. Homeowners with time and resources on their hands can list their house themselves.
Final Word
Opting for a discount real estate broker has benefits, including significant commission savings, resulting in substantial cost reduction. However, this comes at a cost, as an agent serving multiple sellers may compromise the quality of service.
Numerous discount real estate brokers exist in the market, each with unique advantages. Consider factors like fees, duration, services, customer support, and coverage before selecting one.
Considering all the factors, Houzeo comes out to be the winner amongst all. Using Houzeo, you get multiple benefits and features that are not available with other competitors. Also, Houzeo is 100% online and digitized to aid in the smooth selling process. The platform is the best Flat-Fee MLS provider and best FSBO website in the US market.
🔍 Explore More: Check out these stellar Houzeo reviews to learn why it is one of the best For Sale By Owner websites.
Frequently Asked Questions (FAQs)
How Can I Find the Top Discount Real Estate Brokers Near Me to Sell My Home?
You can check on search engines directly for discount real estate brokers near you. Or, you can go with websites that provide full-service agents at a discounted rate. Or, you can check discount real estate websites like Houzeo that are built for providing such services. Houzeo is a great platform that brings together top local discount and Flat Fee MLS brokers.
What Are The Different Types of Discount Brokers for Home Sellers?
Generally, there are 4 types of discount brokers:

1. Low Commission Brokers: These brokers charge 1-2% commission to list and sell your home.

2. Flat Fee Discount Brokers: They charge a low flat fee.

3. Sell & Buy Combo Discount: These brokers help in selling your home for free and help you in purchasing your next home. They get a commission from the home you purchase.

4. Flat Fee MLS Brokers: These are different from Flat Fee Brokers. They don't provide full service. The service provided is as simple as listing on MLS.

Flat Fee MLS has gained popularity recently and is used heavily by sellers owing to the savings involved.
How Much Do Discount Real Estate Brokers Charge to Sell A Home?
Discount real estate brokers can charge either a flat fee or a reduced commission (when compared with traditional realtor commission) of 1-2%.
Will Discount Brokers Advertise Open Houses For Me?
Most discount brokers help advertise the open house on the MLS for you. Houzeo provides an easy interface to request an open house. Watch this video to see how to manage house showings.
Related: Top best discount real estate brokerages near me, discount broker definition, 1 list, how to know if a real estate broker is legit, what does a discount broker do, real estate broker discount, discount real estate brokers reviews, is discount broker safe, how do discount brokers make money, discount brokerage firms, real estate brokerages with lowest fees, low cost discount real estate agency, discount broker, discount brokers real estate, discount real estate broker, real estate discount brokers, discount real estate brokerages, real estate agents brokers, real estate broker agency, realtors agents near me, discount real estate brokerage, discount broker real estate, discounted real estate agents, real estate agent discounts, best discount real estate broker near me, best broker for part time agent, fsbo listing sites, where to list house for sale by owner, real estate websites
Related
discount brokerage real estate, discount real estate broker, discounted real estate brokers, discounted houses, discounting houses, broker listing, what do real estate brokers do, best real estate broker to work for, broker realtor, brokerage firm real estatetop selling realtor near me, broker for house, brokers for house, best real estate broker, biggest real estate brokerage companies, house broker, houses brokers top selling realtors near me, top selling real estate agents near me, top brokers real estate, brokers listing, real estate broker companies, real estate broker company, sellers broker, discount real estate broker near me, realtor brokers near me, best brokerages to work for, discounted homes, local real estate agents near me, low cost broker, lowest broker fees, real estate broker websites, real estate brokerage firm near me, real estate brokerage firms near me, discount real estate agents