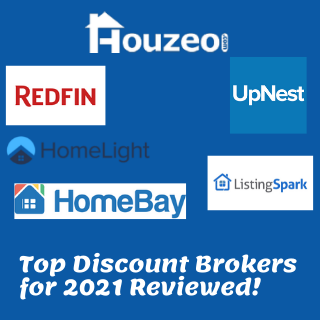 High commission fees can put a damper on the excitement of selling your home, reducing your home's sale proceeds by as much as 6% to 7% in some markets. But there is a way to put some of that cash back in your pocket – discount real estate brokerage platforms. We've spent hundreds of hours researching the best discount real estate brokers across the United States to come up with an authoritative list and ranking of them.
What are Discount Real Estate Brokers?
Discount real estate brokers are real estate agents who work for a discount. Instead of charging you the standard full seller's agent commission of 3% to represent each side, they'll work for less, such as a 2% or 1% commission or a flat fee. This reduced rate can save sellers a bundle.
Homeowners today have more options to sell their homes themselves with several Discount Real Estate Brokers available for them to choose from. But how do you assess all the Discount Real Estate Brokers out there, which one is the best one?
In this article, we're going to review all the different Discount Real Estate Broker Platforms and assess them on what matters most to a home seller.
 What are the Top Discount Brokers in America?
The top discount real estate companies according to our extensive research are as follows: 
Redfin.com
Upnest.com
ListingSpark.com
Homebay.com
And several others, but we'll only be covering the first 6 sites above as these are the most popular ones out there!
🧐 3 METRICS TO COMPARE TOP BROKERS
Low Fees: According to the Zillow Group's Consumer Housing Trends Report

,

getting maximum returns was the most important consideration for over 50% of home sellers when selling their homes.

Superior Technology: Over 40% of younger sellers desire more control over the transaction. Strong technology that allows sellers to make each changes to their listing and review offers online is key.
Strong Customer Support: Time is an important consideration for home sellers. Ability to reach someone during critical stages of their home sale is the difference between a smooth sale and a rocky one.
Detailed Real Estate Discount Broker Reviews
Why It's Our #1 Pick
How Much Can I Save?
Avg. Rating
Locations
Why It's Our #1 Pick
Transparent pricing
Maximum MLS exposure
Maximum savings
100% automated process
Quick listing
Counteroffer feature
Affordable full-service packages
How Much Can I Save?
Houzeo only charges a small flat fee in most regions. So on a home valued at $500,000, you can save up to $15,000 right away in listing agent commission. If you find an unrepresented buyer, then you save another $15,000. That's potentially the entire commission!
Avg. Rating
Houzeo has a 4.9 out of 5 rating (1,458 total reviews) on popular review sites
Locations
Houzeo is available in 80+ U.S. markets, giving it near-nationwide coverage.
If you love technology, high-speed execution, and real savings, Houzeo is the right choice for you. Houzeo is the most advanced for sale by owner platform in the United States and connects home sellers and buyers to brokers.
But then how is Houzeo a low commission real estate company?
Well, Houzeo is a tech platform that allows home sellers to list their home on the MLS for a small flat fee, working with a listing agent who doesn't typically charge a commission. This saves you 50% of agent commissions right away. You can customize the packages as per your requirements as many services like contract review, pricing assistance, professional photography etc. are available on an la carte basis.
This way, Houzeo not only allows you to keep complete control over your home sale but also your expenses.
Houzeo has nationwide coverage in over 80 markets, and a 100% online automated process. Home sellers, after registering, get access to an exclusive seller dashboard where they can receive, review, and compare offers. Houzeo also recently launched a Counteroffer feature wherein the home seller can directly make a counteroffer on the offer received. You can also request changes to your listing online with a few simple clicks. A full-service agent would manually generate amendment contracts. On Houzeo, they are auto-generated, saving you back-and-forth with the listing agent.
Houzeo's average listing live time is 24 to 48 hours from the moment you submit all the details and the paperwork, thus saving you a lot of time and providing the quickest listing services you can get. Houzeo lets you save half the commissions instantly and makes it easy for you to find an unrepresented buyer i.e., the buyer without an agent, to save the other half in commissions by allowing you to share your listing on the social media platforms right from your seller dashboard.
As of this writing, Homebay serves California, Colorado, Florida, Georgia, Illinois, and Texas. Let's review this website on each of the parameters important to assess a discount real estate broker:
That gives Homebay a composite Discount Real Estate Broker Score of 6.25.
Listingspark.com is proud of its dollars a day listing. It claims to be different by not asking for crazy commissions and big upfront flat fees. Let's review this website on each of the parameters above:
That gives Listingspark a composite Discount Real Estate Broker Score of 6.5.
Listwithclever.com partners with top-rated, full-service agents across the country from major brands and/or regional brokerages like Keller Williams, Century 21, RE/MAX, and more. Let's review this website on each of the parameters above:
That gives Listwithcelever a composite Discount Real Estate Broker Score of 6.
Homelight.com works with thousands of successful sellers and top real estate agents to create tailored guides and resources for selling a house in any circumstance. Let's review this website on each of the parameters above:
That gives Homelight a composite Discount Real Estate Broker Score of 5.5.
Upnest.com works just like homelight.com, allowing you to compare agents in your neighborhood and find the best one. It claims to have facilitated billions of dollars in home sales and saved consumers millions of dollars in commissions. Let's review this website on each of the parameters above:
That gives Upnest a composite Discount Real Estate Broker Score of 5.5.
Eager to know how Houzeo works?
Here's a complete guide to getting you started listing your home.
3 min Video: How to List Your Home on the MLS by Owner
5 min Video: How to Select a Settlement Agent – Attorney, Escrow, Title
Are you still looking for a new home? Check out these For Sale By Owner Homes for Sale now.
---
---
Frequently Asked Questions (FAQs)
How Do I Find the Top Discount Broker In My Area To Help Sell My Home?
You could do a Google search, go with an agent from one of the national discount brokers like Redfin, or find the top discount broker via Houzeo.com. Houzeo.com is a technology platform where top local discount and Flat Fee MLS brokers offer their services.
What Are The Different Types of Discount Brokers for Home Sellers?
Generally, there are 4 types of discount brokers: 1. Low Commission Brokers: Brokers who charge 1 to 1.5% commission to list and sell your home; 2. Flat Fee Discount Broker: Brokers who charge a flat fee, like Homebay; 3. Sell & Buy Combo Discount: The broker's sell your home for free if they help you purchase your next home, and get a commission from the seller of the home you purchase; 4. Flat Fee MLS Brokers: These are different than Flat Fee Brokers, wherein they are not full service. The contract is limited to "MLS entry only", and the rest of the sale activities are undertaken directly by the seller. Flat Fee MLS listings have grown significantly in popularity recently, and Houzeo offers plans ideal for you to achieve success in selling your home yourself with Flat Fee MLS.
How Much Do Discount Real Estate Brokers Charge to Sell A Home?
Discount brokers can charge either a flat fee, approximately $3,500 or more, or a smaller commission – between 1.5% and 2%. Houzeo.com has negotiated great rates with top discount brokers, and charges generally are around $295 for a Flat Fee MLS listing, which gives you all the marketing prowess of the MLS!
Will Discount Brokers Advertise Open Houses For Me?
Almost all discount brokers will advertise your open house on the MLS for you. Houzeo.com makes it very easy to request an open house. Watch this video here to see how to request adding an open house – all online!
---
Related keywords: discount brokers, discount real estate brokers, best discount broker, trade fee, online brokerages, real estate brokers, selling your home, free trading, full service, listing agent, interactive brokers, real estate brokerages, online broker, real estate agent
Related articles