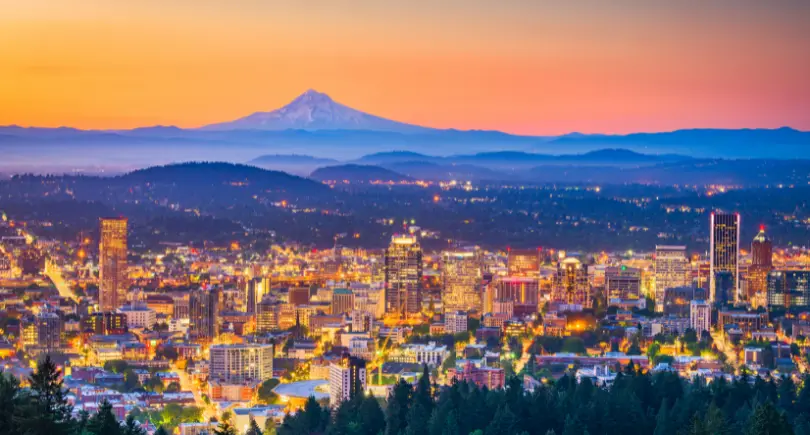 A traditional Realtor charges 5% – 6% commission to sell your home. At that price, you'll pay $25,000 in commissions alone if you're selling your home.
Low-commission agents are a budget-friendly option. They charge lesser than the 6% commission, typically, 1% to 2%. If you want to save half of the commission, you should list on MLS by owner.
List on Houzeo and Save Thousands in Commission!
We've reviewed and ranked Oregon's top 5 best low commission real estate agents in 2023.
Rankings: 5 Best Low Commission Real Estate Agents in Oregon
* Houzeo is not a real estate agent. It is an advanced real estate tech platform that collaborates with brokers to sell properties.
Detailed Reviews: Oregon's 5 Best Low Commission Real Estate Agents & Companies
1. Houzeo

2. By Owner Oregon
ByOwnerOregon.com provides Oregon homeowners with three options Flat Fee MLS listing, agent assistance listing service, and discounted limited full-service listing for listing their homes for sale.
Multiple Packages from $0 to $999

: They offer 1%, 0.75%, and 0.5% full-service discounts. All three packages have the same features. It includes MLS, no expiration of the listing until it is sold, digital photos, a virtual tour, printable flyer templates, and many more.
👉 Our Take: With low commissions, high exposure, photography packages, and great customer reviews, By Owners Oregon is one of the best options if you are looking to sell in Oregon.
Here are some advantages of choosing By Owner Oregon:
Exposure: They list properties on MLS, Trulia, Zillow, Redfin, and Realtors.com, along with marketing them on YouTube, Instagram, Twitter, Pinterest, etc.
MLS Packages: They also offer MLS packages which are priced between $99 to $999 based on counties.
Photography Packages: They offer various photography packages. They include interior/exterior photos, drone photos, and a Zillow 3-D scan of the property.
Statewide Coverage: By Owner Oregon covers the entire state of Oregon.
We could not find any deal breaker associated with them.
By Owner Oregon has an average rating of 4.9 out of 5 stars from 12 reviews on Google Reviews.
3. Redfin
Redfin is America's #1 discount real estate brokerage. They offer a 1% listing fee when you buy and sell. If you only sell they charge a 1.5% commission.
Redfin Full-Service Agent

: This includes premium placement on Redfin, professional photos, and a 3D walkthrough.

Redfin Premier Agent

: This package is exclusively for luxury properties and includes coordinated e-mail campaigns, luxe mailers, and brochures.
👑 The Queen's Take: Redfin gives your property exposure and provides other services. But you can only enjoy these benefits if you use Redfin to buy and sell.
» Redfin Reviews: The reality of 1% fees, pros, cons, & alternatives.
Here are some advantages of choosing Redfin:
Nationwide Coverage: Redfin covers 80+ markets in the US.
Advanced Technology: They have a user-friendly website and provide a mobile app.
Full-Service Agents at Low Commission: Redfin's full-service package is priced at 1.5%. It saves you thousands compared to the traditional 3% listing commission.
Detailed Marketing Plan: Redfin provides the necessary paperwork and a marketing plan.
Buyer Rebate: If you sell with Redfin for 1.5% commission, you get 0.5% rebate for buying another home within 365 days.
In our research, we found some disadvantages of Redfin.
No Dedicated Service: Customers have often complained that Redfin agents are not able to give personalized service.
Mixed Customer Reviews: Customers have complained that agents are often unreachable and unprofessional.
Slow Listing Process: According to Redfin's listing agreement, a Redfin property takes 18 days to list on MLS.
Limited Agent Selection: Based on customer reviews, Redfin has a limited selection of agents. This results in giving you fewer options to choose an agent.
Redfin has an average rating of 3.4 out of 5 stars from 100+ reviews on Yelp.
» Reviews of Redfin: Read our blog to know more about them.
4. Change Realty
Change Realty is a full-service discount real estate brokerage that has been serving for 14 years.
1% Commission

: It includes professional photography, multiple listing services, and a custom video tour.
👉 Our Take: We recommend Change Realty for its local expertise and highly experienced team.
Here are some advantages of choosing Change Realty:
Experienced Team: Their agents have good financial planning experience and will guide you throughout the process.
In-Home Consultation and Valuation: They provide an in-home consultation and comprehensive market analysis for selling your house quickly.
Here are some red flags you should consider before choosing them:
Poor Customer Service: Customers have complained that agents are often unreachable and unprofessional.
No Mobile App: They do not provide any mobile application services to their customers.
Change Realty has a rating of 3.7 out of 5  from 19 reviews on Google.
5. Ideal Agent
Ideal Agent is an agent matching service. They work with a large network of brokers for a 2% commission.
Full Service – 2% Commission

: The package includes professional photos, negotiation, and closing assistance.
👑 The Queen's Take: Ideal Agent's referral fee is higher than the other agent matching services. If you choose them, you will pay a 25% referral fee to the broker, which will be deducted from your agent commission at closing.
» Ideal Agent Reviews: Read reviews of Ideal Agent to make an informed decision.
Here are some advantages of Ideal Agent:
Pre-Negotiated Commission: Ideal Agent negotiates the commission with their agents in advance. This enables you to concentrate on the other aspects of the transaction.
Agent Matching: They help you match with the top 1% of local agents in your area.
Dedicated Concierge: Their agents actively guide you through every step of the transaction. While providing assistance with marketing, negotiation, and closing.
Ideal Agent has some disadvantages we came across in our research.
Additional Referral Fees: They charge agents 25% of their commission after a successful sale, which will be deducted from your commission at closing.
One Agent Only: Ideal Agent offers the service of matching agents. However, you are only matched with one agent at a time.
Only Agent Matching Service: They are not a listing website. You will only be matched with a local agent.
What are Low Commission Real Estate Agents/Companies?
Low commission agents or companies offer services similar to traditional agents at discounted rates. These discounted rates usually range from 1% – 2% as compared to the traditional charges of 2.5% – 3%. You will also have to pay the traditional commission fees of 2.5% – 3% to your buyer's agent.
Your average savings depend on the type of low commission real estate agent or company you select. Potential savings can range from 1% – 1.5%, helping you save thousands!
» Discount Realtors Near Me in Oregon: Discover discount realtors near you and start saving today!
Types of Low Commission Real Estate Agents and Companies?
Based on the level of services they provide, there are various real estate agents and companies:
Flat Fee Real Estate Brokers: Flat fee Realtors charge a flat fee instead of a fixed percentage to list your home. They provide services such as listing across high-traffic websites, professional photography, flyers, and scheduling home tours.
Virtual Full-Service Agents: They offer 100% online services. These include property search, preparing contracts, negotiating offers, home tours, etc. at no additional cost.
Discount Real Estate Brokers: They offer services at commission rates lower than traditional agents. They charge 1% – 2% commission or a pre-defined flat fee.
🤔 What is the Average Realtor's Commission?

The average commission for realtors is roughly 5% – 6% of the final sales price. The ideal commission for the seller's agent typically ranges between 2.5% – 3%. Similarly, the buyer's agent will also charge 2.5% – 3%.
How to Choose a Low Commission Real Estate Agent/Company?
It is necessary to choose the right low-commission real estate agents for a hassle-free house-selling journey. Following are some tips for you to make a wise and quick decision to choose the best low-commission realtor:
Research and Compare: You should look for real estate agents or companies that offer low commission rates. Compare their rates and services to find the best value for your money.
Negotiate: Don't be afraid to negotiate with the agent or company to reduce the commission. Some may be willing to lower their rates depending on the market conditions or the specifics of your transaction.
Consider Package Deals: Some real estate companies offer discounted commission rates if you use their services for both buying and selling a property. Explore these package deals to maximize your savings.
Advanced Technology: Choose real estate companies in Oregon offering innovative technology, online paperwork, and mobile apps.
Online Reviews: Check customer reviews online to get insight into the type of services you can expect to receive.
Key Takeaways
Low commission real estate agents or companies offer cost-effective alternatives to traditional real estate agents.
Low commission realtors typically charge 0.5% to 2.5% commission instead of 3% commission.
Despite lowest realtor fees, they provide you with professional services, including property valuation, marketing, and negotiation.
You can potentially maximize your savings by reducing their commission expenses.
While low commission agents can be a cost-effective option, you should also consider other aspects such as the local market conditions and the property's unique selling points.
How Much Can You Save With a Low Commission Agent/Company?
Traditional real estate agents may charge high commission fees while selling your house in Oregon. This reduces your profits. However, low commission agents provide the same quality services while helping you save more.
For example, if you are selling a house for $400,000, your savings with a low commission real estate agent/company will be as follows:
Traditional Agent
(2.5% commission)
Discount
(1% commission)
Discount
(1.5% commission)
Discount
(2% commission)
Seller's Agent
$10,000
$4,000
$6,000
$8,000
Buyer's Agent
$10,000
$10,000
$10,000
$10,000
Total
$20,000
$14,000
$16,000
$18,000
Savings
❌ $0
✅ $6,000
✅ $4,000
✅ $2,000
Pros and Cons of Low Commission Real Estate Agents & Companies
To decide whether real estate agents with low commission are suitable for selling your home, consider the following pros and cons:
Pros of Using a Low Commission Realtor
Savings: Low commission Realtors can help you save on commission fees while streamlining the entire sales process.
Technology: Platforms like Houzeo and Redfin offer technologically advanced features like online showings, marketing services, virtual home tours, etc. at no added costs.
Cons of using a Low Commission Realtor
Selling for Less Money: You may sell your house for less than what you could have with a full-service Realtor.
Poor Selling Experience: A discount Realtor will handle multiple clients to compensate for the reduced commission fees. This results in a lack of personalised services and post-sale assistance.
Dual Agency: Realtors who represent both buyers and sellers are known as 'dual agents'. The incentive to double-end a deal increases when the agents offer low commission services.
Alternatives to Low Commission Real Estate Agents & Companies
Here are some other options other for you to explore before choosing lost cost realtors:
For Sale By Owner (FSBO): It basically means you sell your house by yourself, completely eliminating listing agent fees. Sellers with the necessary time and resources can list their house FSBO.
We Buy Houses For Cash Companies: Companies that buy houses for cash in Oregon offer upfront payments within 24-48 hours. However, they typically pay 10% – 30% less than the expected home sale price.
iBuyers: iBuyers like Opendoor and Offerpad provide full cash offers and technologically advanced platforms. This is a good option if you want to sell your house fast for cash in Oregon.
Traditional Real Estate Agents: They offer end-to-end support from listing to closing. These agents offer a wide range of services at 3% or higher commission rates.
Final Word
Finding the right balance between price and quality is essential while exploring the real estate market. If you are looking for cost-effective services then working with low-commission real estate agents is the best option.
They offer full-service brokerage at a slightly lower rate (around 2-2.5%). In the end, it depends on your specifics and the plans you select.
Houzeo provides you with flexibility and unique features that no other low-fee Realtor or company offers. It is entirely online and digitised, which streamlines the home selling process. Additionally, Houzeo is widely regarded as the best flat fee MLS platform and FSBO provider in the United States.
» Want to know more? Check out these stellar Houzeo reviews to learn why it is one of the best For Sale By Owner websites.
Frequently Asked Questions (FAQs)
1. What changes have the low commission real estate companies brought in the OR real estate market?
Following are the changes brought by low commission real estate companies brought in the OR real estate market:
1. More control over home sale
2. Affordable packages
3. Expedited home sale process
2. How do I find low commission real estate agents near me?
3. Which low commission real estate agent is the best?
There are multiple factors that need to be considered when you want to find the best low commission real estate brokerage. Real estate brokerages like Houzeo, Redfin, and ListingSpark top our charts based on different features. However, the list may vary based on your requirements.
5. How to get low commission rates?
You can either negotiate with a realtor or opt for a real estate agent/ brokerages with lowest fees.
6. How low commission real estate agents make money?
Low commission real estate agents make money by charging a reduced commission percentage on the final sale price of a property. This means they earn less per transaction but aim to make up for it by handling a higher volume of sales or offering additional services for an additional fee.
Related: low percentage realtors in oregon, discount realtors near me, top realtor near me, best real estate agent near me, lowest real estate commission in oregon, best low commission broker in oregon, low cost real estate broker in oregon, real estate agents low commission in oregon, low fee real estate brokerage firms in oregon, minimum real estate commission in oregon, flat fee listing agent, discount real estate agents in oregon, low cost real estate brokerage in oregon, low fee realtors in oregon, lowest realtor fees in oregon, discount real estate fees in oregon, cheap realtor in oregon, commission fees.