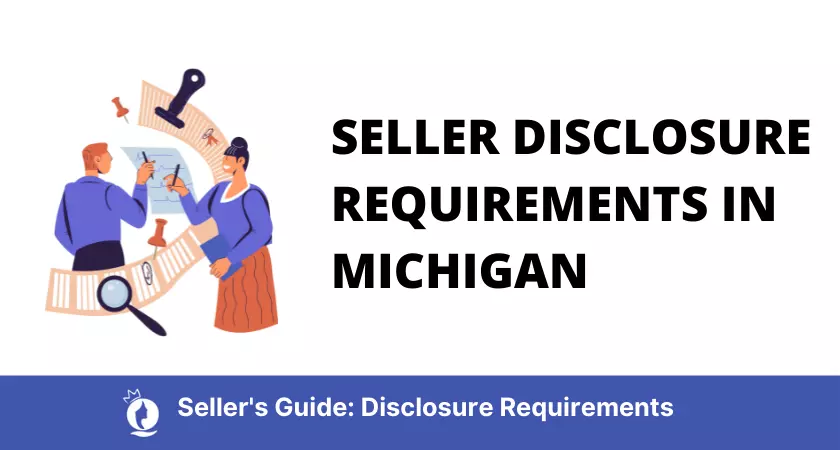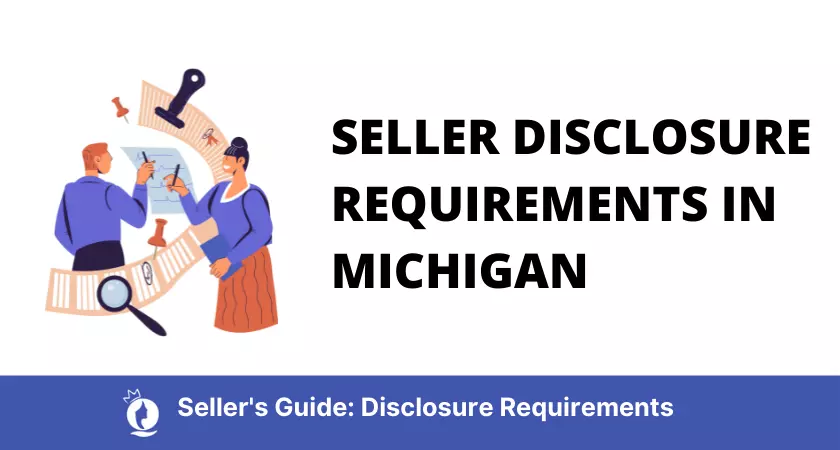 Introduction To Seller's Disclosures In Michigan
The Seller's Disclosure Statement is an essential document that indicates the condition of the property. Sellers must disclose facts, from major defects to different features of the property.
Like any other state, the Michigan disclosure law requires a seller to notify the buyer about any known defects, including hazardous conditions, pest infestations, past repairs, etc.
As a seller, you must disclose any known information or defect by completing a disclosure statement that is reviewed by the buyer. You must comply with these disclosure requirements to avoid legal trouble.
If you are selling a property in Michigan, here are all the seller disclosure requirements you need to know:
Federal Disclosure of Information on Lead-Based Paint and/or Lead-Based Paint Hazards
Seller's Property Disclosure Statement
Residential Lead-Based Paint Hazard Reduction
The Residential Lead-Based Paint Hazard Reduction Act passed in 1992 requires the disclosure of any lead-based paint or chipped paint in any housing built prior to 1978.
The Michigan Lead-Based Paint Disclosure goal is to protect the buyer from any lead paint that could cause lead poisoning. This is a crucial step since approximately 70% of the houses in Michigan were built before 1978, and many children were diagnosed with lead poisoning in 2009. The seller must provide any details on lead-based paint hazards prior to purchase to protect the occupants, especially the children at risk.
The seller can provide 10 days for the buyer to do a risk assessment or paint inspection for lead-based paint or lead-based paint hazards. For safety purposes, the homebuyers may look for a lead hazard inspection firm by following this link.
Seller's Property Disclosure Statement
According to the Michigan Disclosure Act, a home seller is obliged by law to notify the buyer about certain defects. That includes its condition and other issues as well. As a responsible seller, you must fully disclose any known property defects by filling out a written disclosure statement and delivering it to the buyer.
The Michigan Disclosure Form consists of items that must be disclosed in the sale of a property. And sellers are required to disclose honestly—an act that must be made in good faith.
The seller provides a disclosure form when the residential property consists of one to four residential dwelling units. (Mich. Comp. Laws Ann. § 565.952)
The sellers must answer all questions and disclose known conditions or defects affecting the property in the form. You also attach an extra page for signature, complete the form, and to check NOT AVAILABLE if an item does not apply to your home.
Here are disclosure requirements and details you are obliged to state:
Property Address
You provide details about the street, city, village or township of your property.
Appliances/Systems/Services
Oven
TV antenna
Electrical System
Refrigerator
Alarm System
Central vacuum
Attic fan
Pool heater
Wall liner and equipment
Microwave
Trash compactor
Ceiling Fan
Hot Tub
Washer
Water heater
Plumbing System
Water Softener
Septic Tank and Drain field
Sump Pump
Sewer System
Central heating system
Electronic air filter
Woodburning system, etc.
Property Conditions, Improvements and Additional Information
If you responded with yes, then you need to explain.
Basement/Crawlspace
Insulation
Roof leak (age)
Type of Well
Septic Tanks/Drain fields
Heating System
Plumbing System
Electrical System
History of Infestation (termites, carpenter ants, etc.)
Environmental Problems — substance or materials that cause environmental hazards including asbestos, radon, lead-based paint, fuel, or chemical storage tanks.
Flood Insurance
Mineral Rights
Other Items
Walls, fences, roads, and driveways
Encroachments, easements, or zoning violations
Common areas like pools, tennis courts, or walkways
Structural modification, alterations, or repairs
Settling, flooding, drainage, structural, or grading problems
Major damage from fire, wind, floods, or landslides
Underground Storage Tanks
Farm operation in the vicinity
Outstanding Utility or Municipal assessments or fees
Pending litigation
Under a court order
To a default mortgagee by a mortgagor or successor in interest
By a sale under a power of sale or any foreclosure sale
By a nonoccupant fiduciary
From 1 co-tenant to 1 or more other co-tenants
Made to a spouse, parent, grandparent, child, or grandchild
Between spouses resulting from a judgment of divorce or judgment of separate maintenance
Transfers or exchanges to or from any governmental entity.'
By a person licensed under the newly constructed residential property that has not been inhabited.
Although some states disclose information like suicide, murder, or infectious disease, the Michigan law does not force you to expose this type of information to the buyer unless the buyer asks for it. The disclosure form limits disclosures concerning the conditions and features of the property.
The seller must deliver the disclosure statement before signing the sales contract. It's wiser to give the form earlier to interested buyers, like at showing or open houses.
What if the seller fails to disclose any of this information to the buyer?
In Michigan Seller Disclosure Act, failure to disclose something is punishable by law. If the buyer finds out you have not disclosed a known defect before the closing, the transaction could be canceled (Mich. Comp. Laws Ann. § 565.954 (3).
The buyer could also take legal action for fraud and misrepresentation (Mich. Comp. Laws Ann. § 565.961). To resolve the issue, the buyer is given six months from the date of closing.
It's best to be a responsible homeowner than trying to trick and lie about your property's condition. As a seller, answer the form honestly to your best knowledge.
Litigation can be a daunting and costly process. Call your real estate agent when you're in doubt. Also, hire a real estate attorney to manage and take care of your legal forms and documents. Being prepared at closing is better than facing problems later on.
Know More: How To List On MLS For Sale By Owner
Note: All the information mentioned above is a guide for real estate sellers in Michigan. It is advised to seek legal advice from experts if you have any clarifications.
🔍 Explore More: Check out these stellar Houzeo reviews to learn why it is one of the best For Sale By Owner websites.
Related Keywords: seller disclosure in Michigan, Houzeo, seller disclosure statement in Michigan, seller's disclosure form Michigan, seller disclosure Michigan, seller's disclosure statement form Michigan, suing seller for non disclosure in michigan, seller disclosure act michigan, Houzeo review, sell your home yourself websites, best websites for fsbo