10 Top Real Estate Companies 2022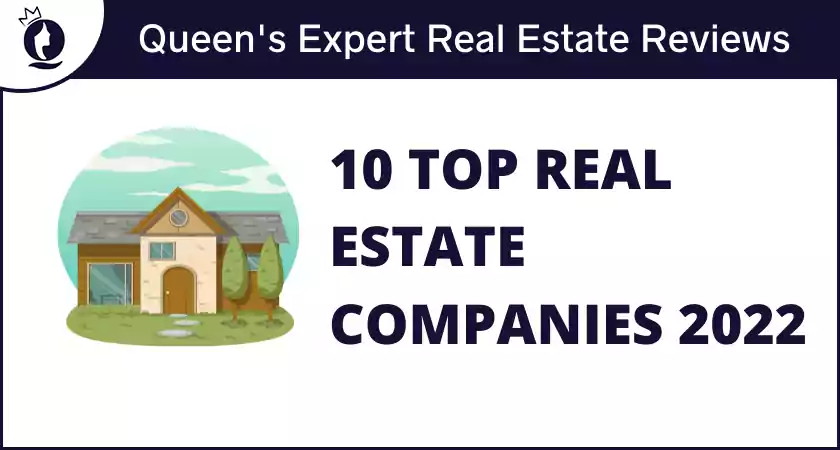 The US real estate industry has been experiencing rapid changes due to technological advancement and capital influx. As such, the real estate companies are engaged in fierce competition to help people buy or sell their properties. The record low interest rates and supply-demand dynamics make it a seller's market.
Here is a list of America's top online real estate companies and real estate companies in general that will help you in your next real estate transaction.
» In this guide, we'll cover:
Rankings: Americas 5 Top Online Real Estate Companies
| Rank | Real Estate Company | Key Features | Customer Reviews | Coverage |
| --- | --- | --- | --- | --- |
| 1. | Houzeo | Advanced Technology | Rated 4.9 / 5 (out of 2,215 reviews) on Google and Trustpilot. | Nationwide |
| 2. | Zillow | Most Visited | Rated 1.6/ 5 (out of 230 reviews) on Trustpilot | Nationwide |
| 3. | Keller Williams | Training and Marketing Tools | Rated 2/ 5 (out of 111 reviews) on TrustPilot. | 50+ countries |
| 4. | Compass | Unmatched Professionalism | Compass Agent is rated 5/5 (out of 166 reviews) on Rate my Agent. | Selected areas |
| 5. | eXp Realty | Cloud Based Brokerage | Rated 3.2/ 5(out of 1 review) on Trustpilot | 80+ countries |
Reviews: 5 Top Online Real Estate Companies
1. Houzeo

Queen's Take
Houzeo is one of most popular online digital platforms for home sellers who are looking for maximum savings. Houzeo is also considered to be the best Flat Fee MLS and FSBO provider in the US real estate market.
💰 Maximum Savings: With Houzeo,  sellers can list their homes on MLS  for a small flat fee that helps you save 50% of the traditional agent's commission.
✂️ Customization: Houzeo's packages can be customized to fit your needs. You can opt for services like contract review, pricing assistance, professional photography and more.
📱 Advanced Technology: Houzeo uses advanced technology to ensure a smooth home selling process. Its exclusive seller dashboard allows the home sellers to receive, review and compare offers. The platform also allows features like contract updates, counteroffer, home showings, lockbox, yard signs, and more.
👑 Queen's Counsel: Start your Free Listing With Houzeo Today!
Nationwide coverage
Listings get syndicated to Zillow, Realtor.com, Trulia, Redfin, and 100s of other sites
Quick listing (within two business days)
Savings on commissions
100% online – easy listing, fast changes, online showings, and online offers
Mobile app availability
Houzeo is available nationwide.

2. Zillow

Queen's Take
With 36 million visitors a month, Zillow is the most visited online real estate platform in America. It has data on approximately 110 million homes in the United States.
🔊 Maximum Exposure: Zillow offers maximum exposure to your home by listing it on its platform which has the highest number of visitors a month.
👉 Selling with Zillow
There are three methods to sell your home with Zillow. You can sell your house with the help of a traditional agent who will guide you through the selling process. You can also opt for a Zillow Premier Agent who is a local area expert. You can also choose the FSBO option where you will have your control over the entire home selling process.
💲 Zestimate: Zillow's home value estimate is the perfect first step for pricing your home. It incorporated data from the MLS, market trends, location etc. to give you an accurate value.
👉 Buying with Zillow
Buyers can expect to find their desired homes on Zillow with the help of their experienced agents and variety of tools and information regarding the same. The Zillow Affordability Calculator can assist you in determining the appropriate price range, taking into account your annual income, monthly bills, and planned down payment amount, among other factors
👑 Queen's Counsel: 12 Best For Sale By Owner Websites (2022 Rankings)
Biggest real estate websites in the US
Free Listings
Different selling Options
Hides FSBO seller listings by default
Solicitation calls from agents
Poor customer service
Zillow has a nationwide reach.
3. Keller Williams

Queen's Take
Keller Williams Realty (commonly referred to as Keller Williams) is an American technology and international real estate franchise with headquarters in Austin, Texas. They have more than 1000 offices and 180,000 associates. Keller Williams topped Fast Company's list of the World's Most Innovative Companies in the real estate and urban development category for 2019.
Experienced Agents: With their team of experienced real estate agents, buying or selling your home can be less complicated than what it normally turns out to be. These agents guide you through the entire process right from listing your home to its closing. If you are a buyer, the agent you select will assist you in choosing a property, loan approvals, negotiations and finally delivery of the deed.
🔊 Marketing: If you are a seller, their potential marketing tools and strategies will help your home get top-tier exposure.
📱 Technology: Their leading-edge tech tools and training help you find the perfect buyer or the perfect home.
🤝 Reliability: If you are selling or buying under Keller Williams, you have the backing of an internationally known and trusted company.
👑 Queen's Counsel: How to Price Your Home For Sale in 6 Steps
Brand Value
Maximum exposure
Good Customer Service
Experienced Agents
Poor ratings on various portals
Many customer complaints
All franchises may not perform equally
Keller Williams is available worldwide.
4. Compass

Queen's Take
Compass, Inc. is an American licensed real estate broker and one of the biggest real estate brokerage companies that utilize the Internet as a marketing medium with the use of real estate technology.
Selling with Compass
🧑‍🤝‍🧑 Agents: Their agents will handle every aspect of your sale, including marketing, holding open houses, fielding offers, negotiating, and finally closing with you.
📱 Technology: Compass Real Estate uses technology to sell homes, which sets it apart. Your agent will benefit from their data-driven strategy and analytical tools. It will sell quickly when combined with your agent's local knowledge.
⏱️ Average Time Spent in Market: Compass listings, on the other hand, spend less time on the market than the industry average, according to their website.
Buying With Compass
Active listings are available to buyers who visit the Compass website. Price, square footage, property type, and other features and amenities can all be used to narrow down your search. By clicking on a listing, you can see pictures and learn about open houses and showing times. There's also a "Contact Agent" button to easily contact the listing agent.
🛎️ Special Feature: Compass is known for its Compass private exclusives section of listings. These are homes that aren't on the open market but are available to buyers who work with a Compass agent. Because they aren't advertised, they are cheaper. Uneven market conditions may favor a private exclusive.
👑 Queen's Counsel: America's 11 Best Low Commission Real Estate Agents & Companies (2022 Rankings)
Traditional real estate agents with sleek branding
Light up for sale signs for your yard
Large, well-funded company
Have attracted some top workers from other companies
Available in selected areas
Might have to pay typical commissions unless going through Houzeo
May not be an innovative technological experience
Available in selected regions.
5. eXp Realty

Queen's Take
eXp Realty is one of the world's fastest-growing real estate brokerages. Founded in 2009, they now operate in 18 countries around the world with a community of over 80,000+ real estate professionals, all connected through their unique cloud-based platform, eXp World. They provide a variety of services to both individuals and businesses.
As of 1988, eXp Realty has sold more than $150 billion worth of homes.
👉 Selling with eXp Realty
🎗️ eXp World Foreclosure Resources: As a seller you can contact a foreclosure specialist and talk about your options like short sales and deeds instead of foreclosures to minimize the damage to your credit score during this time.
🎗️ eXp World Home Inspection Services: They provide an independent home inspection by eXp Realty's Certified Professional Inspector which helps you to decide whether to go on with the sale or not. This service includes thermal imaging scanning for any faulty wiring; infrared scanning for water leaks; video recording for structural issues hidden from the naked eye; mold testing, and remediation consulting services.
👉Buying with eXp Realty
📅 Home-buying Checklist: They provide a home-buying checklist , a handy list of terminologies in plain English so that you prepare yourself with the required amount of expertise for a smooth home-buying process.
🧮 eXp World Lending Guide and Lending Calculator: Their Lending Guide with various tools helps with you with deciding on your finances in a short span of time. Their Lending Calculator helps you figure out how much house payment every person should pay based on age, salary, monthly bills, etc.
📅 Note: eXp Realty also offers independent real estate agents the chance to join its company and earn monthly revenue shares for their work. They even offer training and guidance for real estate agents.
👑 Queen's Counsel: Houzeo Reviews 2022: Is Houzeo's $349 Flat Fee Worth it?
Knowledgeable Agents
Fastest growing independent brokerage in the country
Many agents are making the switch to eXp Realty
All the services are available virtually
Connects you with a local agent
No physical office
Not likely to offer discounted commission unless through Houzeo
Rankings: Americas 5 Top Real Estate Companies
| Rank | Real Estate Company | Key Features | Customer Reviews | Coverage |
| --- | --- | --- | --- | --- |
| 1. | RE/MAX | Best Customer Service | Rated 3.8/ 5 (out of 138 reviews) on Consumer Affairs. | 118+ countries |
| 2. | United Real Estate | Fastest Growing | No reviews were found on credible websites | 27 states |
| 3. | Berkshire Hathaway | Luxury Listings | Rated 3.5/ 5 (out of 12 reviews) on Yelp | 9+ countries |
| 4. | Sotheby's International Realty | High on Technology | Rated 2.9/ 5 (out of 5 reviews) on Trustpilot | 72 countries |
| 5. | Century 21 | Worldwide Standard | Rated 3/ 5 (out of 214 reviews) on Consumer Affairs. | 80+ countries |
Reviews: 5 Top Real Estate Companies
1. RE/MAX

Queen's Take
RE/MAX ( Real Estate Maximums) was founded in January 1973 by Dave Liniger and Gail Main. They operate through a franchise system with 130000 agents in 110 countries.
🧑‍🤝‍🧑 Experienced Agents: Whether it is buying or selling a house, an experienced  RE/MAX agent guides you through the entire process. Correct pricing, marketing and handling of legal documents are done by these agents. They keep you updated on a a regular basis.
🔊 Extensive Marketing: With the right tools and strategies for marketing, RE/MAX helps you to stage your home on a platform that can attract buyers in a short span of time. As sellers, you can definitely benefit from selling under their brand name.
📱 Technology: They list your home online and even have a mobile app that increases the opportunity for your home to be shown to potential buyers.
👑 Queen's Counsel : A Sellers' Guide to Handling Multiple Offers
Advanced Marketing
Experienced Professionals
Good Coverage
Poor customer reviews
Poor Ratings on Websites
Many Customer Complaints
RE/MAX operates in 118+ countries.
2. United Real Estate

Queen's Take
United Real Estate is one of the fastest growing Real Estate Companies in the US. They operate in 27 states with more than 100 offices and 11,400 agents.
Selling with United Real Estate
🧑‍🤝‍🧑 Experienced Agents: Your United agent combines their expertise and knowledge with one of the real estate industry's most powerful technology platforms. They guide you through the entire process of home selling.
🔊Marketing: United Real Estate's platform delivers innovative listing marketing programs, market intelligence, agent listing training and pre- and post-sale seller services, providing you a superior experience.
🔊 Exposure: When you list your home with a United agent, it is automatically syndicated to millions of website visitors on their expansive national network of company and agent websites.
✨ Special Feature: They preach the concept of sustainability and as such they have paperless transactions. They also organize virtual home tours so as to minimize your carbon footprint.
Buying with United Real Estate
🧑‍🤝‍🧑 Professionals Offer Ethics and Expertise: Your United agent is your trusted partner during the buying process, armed with the best technology, market intelligence and training. They do the negotiations and guide you through the deed delivery.
👑 Queen's Counsel: Selling A House Without A Realtor: 9 Simple Steps For Home Sellers
Experienced Agents
Prompt listings and services
Extremely Responsive
Limited coverage
No ratings were found on credible websites.
United Real Estate is available in 27 states.
3. Berkshire Hathaway

Queen's Take
Berkshire Hathaway had previously served as a holding company for Waren Buffett's other investments and businesses. His first HomeServices brand came in 2000, when he bought MidAmerican Energy. If you're thinking of selling your home with Berkshire Hathaway, their website has lots of resources for home sellers and buyers.
Selling with Berkshire Hathaway
🧑‍🤝‍🧑 Experienced Agents: Their agents will help you set the correct market price of your home, do comparable market analysis and will negotiate on your part.
🔊 Marketing Tools and Exposure: They use the perfect marketing tools for the exposure of your home and will list it on different websites.
Buying with Berkshire Hathaway
🔁 Berkshire Hathway Home Services: Berkshire Hathaway HomeServices separates their information for home buyers into two groups –
First-time home buyers
Luxury homes.
👏🏼 They are known for their luxury division where they sell high end properties. Luxury Collection Specialists have a lot of experience and confidence working with wealthy people and selling their possessions. Luxury home sellers can help you get the best price for your home. As a result of this, buyers will also be able to choose a home that meets their long-term needs.
👑 Queen's Counsel: Top Discount Real Estate Brokers & Companies in 2022!
Known for selling luxury properties
Experienced Agents
Free Market Analysis
Delayed process as reviewed by customers
Poor ratings on various portals
No uniformity in agent's service
Available in 9+countries.
4. Sotheby's International Realty

Queen's Take
Sotheby's International Realty is a luxury real estate brand founded in 1976 by Sotheby's fine art dealers. Sotheby's International Realty operates as a franchise focusing on brokering and marketing of residential real estate.
🧑🏽‍🤝‍🧑🏽Best Agents: They claim to have the industry's best agents who will guide you to sell your home at a fast pace.
🔊Unrivaled Marketing: Design Vault is one of a kind of a platform that their agents use to create marketing campaigns for social media, digital and print. They also own a digital magazine called Reside which is another powerful way to attract buyers. Their Social Ad Engine developed exclusively with Facebook produces tailored Facebook and Instagram campaigns with custom copy and photos.
🔥 Brand heritage: Selling under Sotheby's International adds a brand value to your home to make it sell faster.
👑 Queen's Counsel: Everything You Need to Know About Flat Fee MLS
Brand Value
Unmatched Marketing
Experienced Agents
Poor reviews from customers
Delayed service
Available in 72 countries worldwide.
5. Century 21

Queen's Take
Century 21 is an American real estate franchise company founded by  Art Bartlett and Marsh Fisher in 1971. They have approximately 14,000 independently owned and operated franchised broker offices in 86 countries and territories worldwide with over 147,000 sales professionals.
Selling with Century 21
🧑‍🤝‍🧑 Trained Agents: Their trained marketing agents will help you create a marketing plan for a proper exposure of your home. They will list your home and guide you to stage it up for the buyers. They will organize open houses, take care of home inspections, negotiate on your behalf and finally help with your closing.
🔊 Exposure: Once your home is listed , it will quickly enter into the local  Multiple Listing Service (MLS), displayed on century21.com and will be distributed to over 500 national and local real estate websites, where most buyers begin their search for a new home.
Buying with Century 21
Their efficient real estate agents can help improve your overall home buying experience and provide the guidance in choosing the best property. They offer extensive knowledge in neighborhoods, schools and market conditions. Their mortgage professionals can also assist you with your financing.
👑 Queen's Counsel: 7 FSBO Tips For Selling Your Home Fast
Brand Recognition, exposed to lots of marketing ideas
Good coverage
Knowledgeable real estate professionals
Delayed responses as mentioned in the customer reviews
Poor ratings on various portals
Many customer complaints
Available in 80+ countries.
What is a Real Estate Company?
A real estate company can be defined as a corporation or an association which is primarily engaged in the business of buying selling or renting real estate (lands, buildings or housing).
Characteristics of A Good Real Estate Company
The best real estate company is not the one with the most listings or a brand name. Its worth is determined by how it performs for its clients. Here are some of the features of a top real estate company:
Unparalleled Customer Service Skills: One thing that makes a real estate company stand out from others is that they put customer service first. They are always available to answer your queries or offer assistance with whatever you need while buying or selling your property. Also, they continue to support you until everything has been finalized.
Excellent Knowledge About the Neighborhood and Market Trends: Another important feature of a top real estate company is the market knowledge and responsiveness of their agents. These agents should provide you with various tools and resources that help you to study the market trends in the area you are interested in. Also, they have perfect knowledge about the area they operate in.
Truth and Integrity: Many a times home sellers or buyers may not have substantial information and rely on the real estate agents to provide them with the correct data. So, it is of utmost importance that they must be truthful and honest in their dealings.
How to Find A Good Real Estate Company or A Real Estate Agent If You Are
1. A Seller
The role of a real estate agent or a company is crucial when a homeowner decides to sell his property. Their experience about the local market, marketing plan, methods of communication etc. have a great impact on the entire home selling process. Apart from these, there are other a number of other factors to consider when hiring a real estate agent or broker.
Availability: You must hire someone who is readily available at varying hours to hold showings or connect with buyers as per their convenience. Therefore, it is always advisable to go for full time realtors.
Offer Suggestions: An efficient real estate agent will offer best suggestions regarding any desirable feature like a pool or porch that can make your home sell faster. Find someone who can help you improve the desirability of your home even without your input.
Local Expert: Hire or retain a local expert. These agents will also be aware of the typical selling and listing prices in the area.
Other than that, ask a local brokerage or your friends and family if they know anyone who has sold many homes or businesses there. Also, other ideas include looking through local real estate publications to see which agents have the most listings.
2. A Buyer
A real estate agent knows if there's a house out there to fit your needs, and he or she will guide you through the deal. An inexperienced agent might make things difficult for you and you may end up with a poor deal. There are certain things you should keep in mind when you hire an agent before you plan to buy a home.
Good Communication: The home-buying process involves one-on-one effort between the buyer and the agent, and the buyer's agent and the selling agent. So, look for someone who can communicate well and answers all your queries about the home buying process.
Experience: An experienced real estate agent will be a boon in the process of finding your dream house. Be sure to inquire about the length of time they have been in the business of buying and selling homes, and also their specific experience.
Local Market Knowledge: A good real estate agent knows the neighborhood and houses inside out. He knows whether a house is overpriced or underpriced or how well a neighborhood holds its value. So, look for an agent who knows exactly what you are looking for so that you can get maximum benefits as a buyer.
Positive Reviews: Look out for online reviews about the agent you want to hire and if possible try to connect with his past clients. In this way, you can get a first hand knowledge about the way your agent works.
Tackling Paperwork: Taking care of the huge amount of paperwork when you are buying a house can be a Herculean task. Be sure to choose an agent who knows the paperwork inside out. A good agent even goes out of his way to organize and safeguard all the documents for your future reference.
3. A Real Estate Professional
There are certain points you need to keep in mind while choosing the right real estate brokerage for working.
Commission Spilt
Before you start working for a real estate company or brokerage, research needs to be done on the brokerage's commission spilt. Most real estate brokerages operate on a commission basis.(Some brokers do offer salaried positions, but they are rare.) They charge various commissions. When you sell a home you'll split the profits with your broker. Therefore, look for a company or a broker that offers you a good commission spilt.
For Example: Let's say you sell a $300,000 home and the average commission in your area is 6%. And this 6% is split between the buyer and seller's agents. Now you have to 3%, or $9,000. Then you must inform your broker. A 60/40 commission split means you get 60% of $9,000, or $5,400( excluding tax).
Brokerage Culture
Before choosing to work for a real estate broker, consider your workplace environment. A small brokerage will be teamwork oriented whereas if you are looking to work independently, go for the bigger companies. Apart from these, additional research needs to be done to know about their reputation. Working for a brokerage with a positive reputation will make you more trustworthy to clients and help you grow as an agent.
Type of Brokerage you want to work for
When choosing the type of company or brokerage, consider whether you want to work for – A national franchise, a boutique brokerage (owned by single broker or a small company) or for a virtual real estate brokerage. As a new real estate agent, working for a national franchise can add a brand value to your profile. For agents who want experienced mentors and high quality training, working with a boutique brokerage can be rewarding. A virtual brokerage may offer the best of both worlds for agents who want a high commission split and access to technology.
Choosing the right real estate company to work for can have a great impact on your career as a real estate agent. So, before you join one, be sure to think through the pros and cons of each.
Types of Real Estate Companies
The term 'real estate' not just involves the typical scenario of an agent handing over the keys of a home to its young owners. It is only one of the many facets of the real estate business. There are many different types of real estate companies, each with a unique purpose and utility.
Residential
This is the most common type of real estate company people are familiar with. Brokers, agents and realtors work together with home buyers and sellers in the sale and purchase of new and old private homes.
Commercial
This type of real estate company deals with buying or selling properties or land that is used for commercial purposes. This can include offices, retail, restaurant and light industrial properties.
Industrial
This type of real estate company deals with lands and buildings that are used by industrial businesses that are used for activities such as factories, mechanical productions, research and development, construction, transportation, logistics, and warehousing.
Land
These brokers specialize in locating raw land for development by either home builders or commercial clients. As such they must be knowledgeable about government regulations and should be in good terms with municipal authorities.
Top Real Estate Companies to work for
A real estate company employs licensed real estate agents who represent local buyers and sellers. Based on our research we have ranked the 5 top real estate companies to work for
| Rank | Real Estate Company | Best For |
| --- | --- | --- |
| 1. | eXp Realty | Overall best for extensive training, competitive commission spilt, top company culture |
| 2. | RE/MAX | Customizing commission splits and desk fees for established agents |
| 3. | Keller Williams | Several training options for brand new agents, high commission and opportunities for higher education |
| 4. | Berkshire Hathaway | Mentorship Program for new agents, opportunity to work with top realtors, brand recognition |
| 5. | Century 21 | Variety of training formats, live online instruction, best for luxury agents |
Final Note
Real estate companies have now become digitally driven and are growing much faster than the real estate brokerages offering in-person full service in the last few years. It has been speculated how technology will impact transaction times and relationships across the real estate industry.
If you are buying or selling a house, these technology driven platforms will make the process of home selling or buying easier for you. At length, when it comes to the future of real estate, real estate companies have a lot to look forward to.
🔍 Want to learn more? Check out these stellar Houzeo reviews to learn why it is one of the best For Sale By Owner websites.
Frequently Asked Questions
What is the fastest growing real estate company in the US?
United Real Estate is the fastest growing company in the US.
What is the first step of the home buying process?
Getting pre-approved for a mortgage is the first step of the home buying process.
Which real estate firm is best?
Keller Williams has the most agents of any franchise, while Realogy Holdings (which includes Century 21, Coldwell Banker, Sotheby's, ERA, and others) had the most transactions.
Who is the top real estate agent in United States?
Alexa P. Lambert is the top real estate agent in the United States.
Related Keywords: best real estate companies, biggest real estate companies, largest real estate companies, largest real estate companies, largest real estate companies, famous real estate companies, famous real estate companies, top producing real estate companies, top ten real estate agents in us, top ten real estate agents in us, best fsbo site, best for sale by owner websites