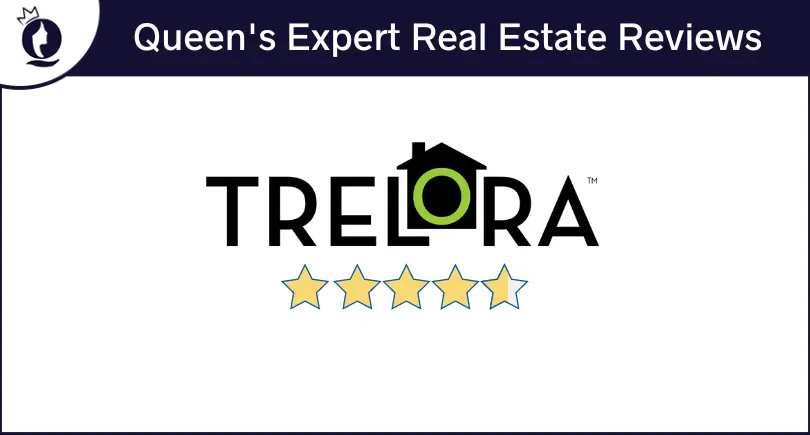 Trelora is a real estate brokerage firm that charges a low commission rate to sellers and offers rebates to buyers in seven US states. It also provides title and escrow services to home sellers. However, it is important to note that these savings may be accompanied by delays, mistakes, and unprofessionalism.
With flat fee companies like Houzeo, you don't face such issues. Houzeo's agents guide you at every step and help you with complex real estate procedures. Their 5-star customer support and stellar technology will make your home-selling experience a breeze!
In this blog, let's look at Trelora reviews and their alternatives to help you get the property value you deserve!
Key Takeaways
Pros: Trelora charges 1% commission to home sellers as opposed to the traditional 3%. They also offer a $2,500 cash rebate to buyers who use their title and mortgage services.
Cons: Trelora agents are salaried and handle 20x more clients than traditional realtors. Lack of incentives and time can lead to less personalized support. Trelora is only available in eight states
Bottomline: Trelora's low commission doesn't lead to max savings. You can instead opt for Houzeo.com, a tech platform that allows home sellers to list their homes on the MLS for a small flat fee and work with a listing agent who doesn't typically charge a commission.
What is Trelora?
Trelora is a full-service discount real estate brokerage with its headquarters in Denver, CO. It assists users in the home buying and selling process.
As a home seller, you will pay Trelora only a 1% commission on your property's sale price to list your home.
As a home buyer, You will get $2,500 as a cash rebate for using their mortgage and title services.
Trelora is able to offer low commissions because they rely heavily on its team to serve a high volume of clients. This leads to less personalized service. The deal might seem promising, but it comes with major drawbacks.
Overview
| | |
| --- | --- |
| Type of Industry | Real estate services (B2C) |
| Type of Company | Full-service low-commission real estate brokerage |
| Ownership | Privately held |
| Founders | Dave Workman, Joshua Hunt |
| Coverage | 8 states (AZ, CO, GA, MO, NC, SC, WA, IL) |
| Caters to | Both home buyers and home sellers |
| Headquarters | Denver, CO |
| Customer Reviews | 4.7 out of 5 stars (Trelora reviews) |
🤔 What is Low Commission Real Estate Agent?




A traditional full-service listing agent in the US charges the seller a 6% commission and then splits it 50/50 with the buyer's agent.

A low commission agent charges an upfront fee or a discounted commission of 1% to 1.5% for similar services.


💰 Low Commission Real Estate Agents: Check Out Our 2023 Rankings!
How Does Trelora Work?
Trelora cuts down on its operating costs and handles 20x more clients than a traditional realtor to offer such discounts.
So, a serious downside of working with Trelora Realty is their inconsistent service quality. Since one agent handles multiple clients, the support and attention you get are limited.
💲 You Don't Need a Brokerage 💲
Get listed on the MLS for $379! Houzeo's cutting-edge tech, max exposure, and flat fee packages can help you save thousands on commission!
START YOUR MLS LISTING NOW
Trelora Coverage
Trelora currently covers only seven US states.
| | |
| --- | --- |
| States | Cities/Towns |
| California | Sacramento, Los Angeles |
| Arizona | Phoenix, Tucson |
| Colorado | Denver, Colorado Springs, Colorado Mountains |
| Georgia | Atlanta |
| Illinois | All areas |
| North Carolina | Raleigh-Durham, Charlotte |
| South Carolina | Charleston |
| Washington | Seattle |
How Much Do You Save with Trelora Real Estate?
As a home seller, you also pay the buyer agent's commission. Typically, it goes up to 2.5% to 3% of the selling price.
A high buyer agent commission could attract more offers for your home. Here's a breakdown of the fees you pay when selling with Trelora:
| | |
| --- | --- |
| Trelora Commission | 1% |
| Buyer's Agent Commission | 2.5% – 3% |
| Total | 3.5% – 4% |
While the reduced commission looks attractive, you can save twice as much with For Sale By Owner websites. Websites like Houzeo charge a low flat fee to list your home on the MLS. It offers unique packages with a la carte services, including the assistance of a licensed broker and more control over the sale.

👉 Average real estate agent commission: Everything You NEED to Know About Real Estate Agent Commissions in the US!
Selling and Buying with Trelora
Selling with Trelora
Trelora provides some standard services to home sellers like:
Property Pricing
MLS Listing
Negotiations with Buyers
Contract Consultation
Marketing
Closing Coordination
As a home seller, you will work with a different agent at every step instead of one dedicated agent who will see you through the entire home-selling process.
Buying with Trelora
The buyer agent's commission is given by the seller. Typically, sellers offer 2.5% to 3% of the property price to your agent. Trelora, as your agent, promises to rebate $2,500 if you use their title and mortgage services.
Trelora Customer Reviews
Trelora has a 4.7 out of 5-star rating on Google based on 493 reviews. While many reviews praise the company for offering substantial savings, some negative Trelora reviews complain about their inexperienced agents.
Selling with Trelora Reviews
Trelora's team-based approach may not be suitable for all sellers. Consider these Trelora real estate reviews before you enlist their services.
Trelora Positive Customer Reviews
✅ Lisa found the "group" approach suitable for her needs since her Trelora licensed realtor did "little work than the rest of the office people".
✅ Nicole praised Trelora's persistence in nailing down a good deal for her property.
Trelora Negative Customer Reviews
❌ Johnny was displeased with his Trelora agent whose poor negotiation skills caused him to undersell his house by $30,000.
❌ Rhianne's inexperienced pricing agent from Trelora undervalued her property by nearly $20,000.
❌ Martin highlighted the bad reputation of Trelora amongst buyer's agents.
👉 Explore more: Best Low Commission Real Estate Companies in the USA!
Buying with Trelora Reviews
The majority of Trelora reviews on the internet show that buying a house with Trelora is a hit-or-miss situation. It mainly depends on whether you get paired with a good agent or an unresponsive one.
Trelora Positive Customer Reviews
✅ Dan praised Trelora's customer service and guidance to secure a house in Denver's competitive market.
✅ Tanya was happy that even in the absence of her field agent, another was always available to attend to her.
Trelora Negative Customer Reviews
❌ As a first-time buyer, Nancy dropped Trelora immediately because she felt like "a product in their factory line" and felt pressured to make a deal.
Trelora Pros and Cons
Trelora offers some advantages over traditional real estate agents. Their low commission rates and buyer rebates are compelling. However, you must evaluate their pros and cons to paint a clear picture.
Trelora Pros
Here are some reasons you might want to consider Trelora as an alternative.
✅ Buyers Get a Rebate at Closing
If buyers use their title and mortgage service along with the buyer agent services, they can get $2,500 at closing.
✅ 1% Listing Commission Leads to Good Savings
Trelora's 1% listing commission naturally saves you a lot of money.
For instance, consider a house with $400,000 as the selling price. If you go for Trelora, you will pay only $4,000 commission as opposed to $12,000 to a traditional agent.
🚩 Don't Pay 1% Agent Commission 🚩
Save the entire Listing Agent commission by selling on Houzeo's high-tech website.
START YOUR MLS LISTING NOW
Trelora Cons
❌ Lack of Personalized Support
Trelora's small team of agents caters to thousands of customers. It is difficult for one agent to work with such a wide clientele and provide personalized support to all.
👉 NOTE: There is no such thing as a free real estate agent, and it's not uncommon for low-commission agents to make their living by selling a large number of homes. In many cases, this means that they have a smaller amount of time to spend on each sale. They may not be able to help you beyond listing and showing the property.
❌ No Dedicated Point of Contact
With Trelora, you work with a team instead of a single, committed agent. So, at every stage of the sale, your point of contact changes.
❌ Risk of Miscommunication
Since the platform does not align you with a single agent but with various real estate agents at different stages, it can easily lead to miscommunication.
For instance, any miscommunication between your pricing agent and the listing agent will put you at a disadvantage when negotiating with buyers.
❌ Limited Availability
Trelora realty serves only a select few cities across eight states in the USA, including AZ, CO, GA, MO, NC, SC, IL, and WA.
🎯 Get Nationwide Coverage with Houzeo.com 🎯
Houzeo's services are available all across America. Sell or buy a home anywhere throughout the USA with Houzeo.
START YOUR MLS LISTING NOW
❌ Bad Reputation Among Buyer's Agents
According to Trelora's founder Joshua Hunt, almost 40% of Dever's buyer agents refused to show Trelora listings in 2017. The controversy dented Trelora's reputation, and Denver agents still have a negative attitude toward the firm.
❌ Salaried Agents Have No Incentives
All of Trelora's agents are salaried employees, and they don't receive the usual commission incentives. This means, Trelora agents still get paid the same if a house gets sold below the market value. In effect, this impacts the agent's performance and commitment to selling your house.
Title Services Through Signloc
Trelora provides title and escrow services under Signloc Title & Escrow.
Trelora Controversy and How it Can Affect You?
The company faced severe backlash in 2017. Its founder Joshua Hunt admitted to disrupting the real estate industry in Denver.
Earlier, Trelora offered a flat fee of $2,500 to home sellers for a full range of real estate services. So, many Denver realtors were infuriated with Trelora's flat fee model and refused to show Trelora properties to their buyers in protest.
Since then, Trelora real estate has changed to a commission-based model, but the murky reputation still seems to follow them as this Trelora review mentions.
If buyer agents refuse to show Trelora properties to their clients, it could affect you directly as a seller.
Best Trelora Alternatives
Houzeo.com: Houzeo offers a compelling combination of significant savings, advanced technology, top-notch customer support, and extensive listing exposure. As a fully online MLS listing website, Houzeo has garnered thousands of customer reviews. It provides coverage in 47 states across the US, offering a near-nationwide reach.
Redfin: Redfin charges a 1% commission and provides better services. However, their reviews raise issues about their agents' lack of direction and support.
Other Options You Should Consider
1. Sell to iBuyers
iBuyers make an offer on your property within 24-48 hours and can close within 7 days or more. Most iBuyers like Opendoor and Offerpad are also known to offer the Fair Market Value (FMV) for your property.
Selling to an iBuyer has certain significant drawbacks. These include:
Limited coverage, restricted to metro and urban areas
Strict eligibility criteria without exceptions
Non-negotiable offers
5% service fee
2% – 8% repair costs
⭐ Our Take: We recommend iBuyers if your house meets the iBuyer company's eligibility criteria.
👉 iBuyer Reviews: Check out rankings, pros, cons & alternatives of top iBuyers in America
2. Sell to "We Buy Homes for Cash" Companies
Unlike iBuyers, "We buy homes for cash" companies help you sell your house as-is fast. They can even close within 7 days or any date you choose. "We buy homes for cash" companies also make cash offers for homes outside metro areas or in difficult-to-sell locations.
Here's why traditional cash home buyers could be a bad option for you than an iBuyer:
They make lowball offers and offer only 50% – 70% of market value.
Their offers are non-negotiable
⭐ Our Take: We recommend selling to a cash home buyer if you are selling a distressed house "as-is" without looking for the best price.
👉 "We Buy Homes for Cash" Companies: Check out America's biggest cash home buyer companies in 2023
3. Sell FSBO With Flat Fee MLS Services
List on MLS with a Flat Fee MLS service to get your house on the market within just 24-48 hours. Selling For Sale By Owner has increased substantially in the past few years, with 77% of FSBO homes being sold in less than 2 weeks.
Flat Fee MLS is one of the best ways to sell your house fast, and it has 4 major benefits:
MLS is the fastest way to hit the market, plus your listing is syndicated to Zillow, Realtor.com, etc.
Your listing gets maximum exposure.
You can negotiate all offers.
You skip paying commission or service fees.
⭐ Our Take: We recommend Flat Fee MLS companies for most home sellers. They are fast, and you will save thousands in commissions.
👉 For Sale By Owner Websites: Check out the rankings for America's best FSBO websites!
Is Trelora Real Estate Worth it?
We do not recommend Trelora to most home sellers and buyers. It operates with a small team that handles over 20x more clients than a traditional real estate agent. Also, you will work with a different person during each stage of your sale. This can lead to costly mistakes and oversights.
FAQs
1. Is Trelora Legit?
Yes, Trelora Realty is a legit registered firm established in 2011. Initially, it charged a flat fee to its customers. Now, it has shifted to a 1% commission-based model. Houwzer, a prominent real estate firm, acquired Trelora in December 2022.
2. Who owns Trelora?
Houwzer, a prominent real estate company, acquired Trelora in December 2022.
Related: trelora bad reviews, trelora denver reviews, trelora realty reviews, trelora com, trelora real estate reviews, joshua hunt trelora, trelora realty, trelora reviews, housezo, houszeo, houzzeo, hozeo, trelora reviews, trelora, trelora real estate, trelora realty, trelora realty agent, trelora.com, trelora bad reviews, trelora real estate reviews, treflora, trelora listings, trulora, Trelora reviews, trelora real estate reviews, trelora realty reviews, trelora bad reviews, google trelora reviews, http www.trelora.com review, trelora real estate reviews, trelora, trelora realty, trelora real estate, trelora listings, trelora realty team, trelora realty inc