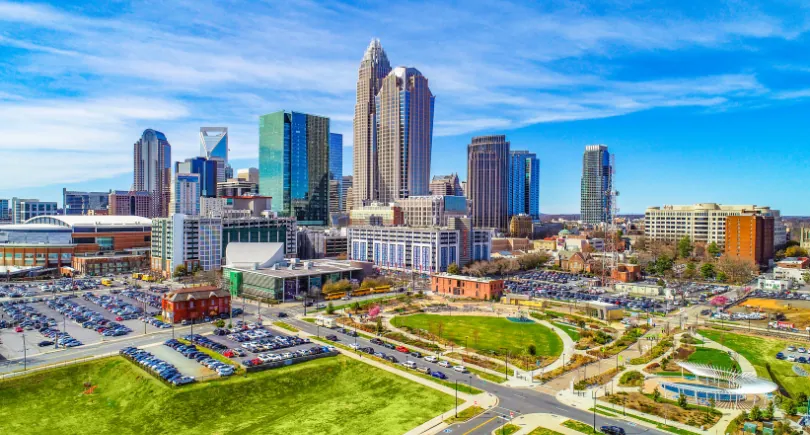 The North Carolina housing market is finally cooling off. Mortgage rates have shot up. They are expected to remain elevated through 2024.
If you're a home seller, you're nervous to sell now with dropping prices. You also don't want to sell your low-interest mortgage home and buy another home at the current interest rates.
Should you sell now before home prices plummet? Or wait for rates to fall? Unless you want to learn how to sell a house by owner in North Carolina, you're looking for a REALTOR to help.
If you're a home buyer, you don't know whether you can even afford a home. Prices are still high. And interest rates have added hundreds of dollars to your mortgage payments. Is now the best time to buy a house in North Carolina? Or wait?
A great REALTOR can help you navigate these choppy waters and make the right decision. And once you decide, they can be the pro you rely on to help you buy or sell.
Some REALTORS will save you thousands with technology. Others will help you sell your luxury property for top dollar, and still, others can show you how to stop foreclosure in North Carolina.
With our rankings of the 7 best REALTORS in North Carolina, you can find the right one for a smooth and hassle-free real estate transaction.
🏅 Rankings: Top 7 North Carolina Realtors
Reviews: 7 Top North Carolina Real Estate Agents
1. Dan Demers, Sell Your Home Services

Queen
Daniel Demers, founder of Sell Your Home Services is licensed in 10 states. He offers 1 FSBO package:
For Sale by Owner MLS Listing – $199: This package allows you to list your house on the MLS and hundreds of other real estate websites. You can add up to 30 photos.
Coverage in 10 States: Dan offers direct services in these 10 states – Alabama, Arizona, Delaware, Georgia, Maine, New York, North Carolina, Pennsylvania, South Carolina, and Tennessee.
» Daniel Demers Realtor: Check out the services offered by Dan Demers via Houzeo.com
Daniel Demers is one of the best Realtors for the 10 states he serves.
Transaction Sides: He has sold 935 properties in the last 12 months.
Experienced Agent: Dan is knowledgeable and willing to go beyond to complete the task. He offers his services in 10 real estate markets.
Easy Listing: You can complete listing formalities in 15-20 minutes. Your listing gets activated in 1 business day.
We discovered no red flags with Sell Your Home Services during our research. Daniel Demers has an excellent reputation among Realtors.
However, Sell Your Home Services offers only one package which limits your selling options.
We recommend Daniel J. Demers for his prompt customer service and knowledge in more than ten real estate markets.
Dan Demers Realtor: Dan Demers has an "Excellent" 4.9 out of 5-star rating from 169 total reviews on Houzeo.com.
Dan offers flat fee broker services in 10 states: Alabama, Arizona, Delaware, Georgia, Maine, New York, North Carolina, Pennsylvania, South Carolina, and Tennessee. He has represented thousands of home sellers.
Dan is great at communicating. He is prompt in responding to queries. Sellers have been able to close fast with Dan.

2. Martha Gentry, The Gentry Team

Queen
Martha Gentry is a REALTOR at RE/MAX Properties Home Selling Team.
With Martha, you can expect the full commission of 5% – 6% if you opt to list or buy with her.
👉 Our Take: We recommend Martha for her professionalism and expertise in the local real estate market. She provides the best combination of experience and knowledge to meet the needs of home buyers and sellers.
Selling or buying with Martha has the following advantages.
Personalized Service: Martha and her team provide excellent guidance in preparing your property for sale.
Extensive Marketing: You get professional photography and 3D tours. Your property is advertised extensively on all leading real estate search engines like Zillow.
Relocation Services: Whenever you buy or sell a home with The Gentry Team, you gain the free use of their moving vans for relocation.
Achievements
Luminary of Distinction Award from Re/Max International in 2018
Lifetime Achievement Award with RE/MAX
Diamond Award
Platinum Award
Member of REMAX CIRCLE OF LEGENDS: Prestigious Circle of Legends that requires a career of at least 10 years with the RE/MAX network and more than $10 million in RE/MAX commissions.
In our research, we found no red flags with Martha Gentry.
Martha Gentry Team has a 4.9 out of 5 stars from 354 reviews on Zillow.
Martha's marketing skills are unmatched. You get a quick listing, fast information, and all the required help.
Buyers speak highly of Martha and her team. They are local experts. The relocation services they offer are an added benefit.
3. Rob Partin, Fonville Morisey & The Long & Foster Companies

Queen
Rob Partin is associated with Fonville Morisey, the nation's No. 1 real estate company, and a member of The Long & Foster Companies.
Selling or buying with Rob would cost you 5% – 6% real estate commission. He helps you coordinate things like property listings, settlements, inspections, virtual tours, and virtual staging.
👉 Our take: We recommend Rob because of his expertise in the real estate market. Rob has helped hundreds of individuals and families buy/sell their properties.
Buying or Selling with Rob has the following advantages.
Street Savvy on Value: Rob and his team are familiar with the local market. They will present you with a unique analysis of the value of your home.
Finding the Right Buyer: The agent will contact their personal contacts as well as the network of Fonville Morisey agents to find a potential buyer.
Real Estate Market Reports: You get customized market reports to examine the most recent inventory, pricing, and home sales trends in your area.
Home Mortgages Calculator and Tools: Their simple mortgage calculators allow you to determine your asset value.
In our research, we could find any red flags associated with Rob. However, he offers his services only in the areas of Alamance, Chatham, Durham, Franklin, Granville, Harnett, Johnston, Orange, Person, Vance, and Wake.
Rob implements a comprehensive digital strategy to market your home. Your home features on major websites like Zillow, Realtor.com, and more.
If you are a buyer, Rob will help you with a comparable sales analysis. This will help you make a competitive offer. He will even help you with conducting inspections, coordinating necessary repairs, and getting final appraisals.
4. Linda Trevor, Linda Trevor & Co. of Compass

Queen
Linda Trevor has been a licensed REALTOR since 1998. She is a full-time broker-associate with Compass.
Selling or buying with Linda would cost you 5% – 6% real estate commission. She handles every aspect of your sale, including marketing, holding open houses, negotiating, and closing.
👉 Our Take: We recommend Linda for her excellent communication skills and North Carolina real estate market knowledge. She is known for her professionalism and attention to detail.
Linda Trevor & Co. of Compass consistently ranked among the top ten teams in the Triangle. Buying or selling in with her has the following advantages.
Home Evaluation: You receive a comprehensive real estate market analysis based on comparable home sales in your area. This helps you to price your home competitively.
Mortgage Center: You get all the help with mortgages if you buy with Linda.
Achievements
Triangle Business Journal's Top 10 Teams
RealTrends #1 NC Medium Team in Volume
Top Producers Council
Certified Residential Specialist (CRS)
Certified Luxury Home Marketing Specialist (CLHMS)
Raleigh Regional Association of REALTORS® President 2011
In our research, we could not find any red flags associated with Linda.
Linda Trevor has 5 out of 5 stars from 747 reviews on Zillow.
Linda and her team specialize in the areas of residential sales, relocation, and investment properties in the Greater Raleigh area. Her team ranks among the Top 1% of REALTOR for volume sold nationwide.
Linda is a thorough professional. Her agents go above and beyond to ensure that buyers and sellers have a positive real estate experience.
5. John Vesco, RE/MAX Homestead

Queen
John Vesco, one of the top realtors in North Carolina is associated with RE/MAX Homestead.
As compared to other REALTORS who charge 5% – 6%, John sells houses at 4.5% commission.
👉 Our Take: We recommend John for his expertise in negotiation and pricing strategies. Customers have praised his excellent communication skills and attention to detail.
John has 11 NAR designations from the National Association of REALTORS for education and training. You have the following advantages if you sell with John. 
Market Report: John Vesco offers you a free Market Report. This report includes your area's average listing price, price reductions, and new listings. Both buyers and sellers can benefit from this report.
Technology: Using RE/MAX's advanced tools, John Vesco has the upper hand in real estate transaction
Achievements
He has been on the REAL Trends' top one-half of 1 % of all Realtors in the United States for the last 6 years in a row.
Included in the REAL Trends' Best Agent list in 2016/2017/2017.
Certified Residential Specialist
Certified Pricing Strategy Advisor
In our research, we found no red flags associated with John Vesco.
However, he offers his services in limited areas of North Carolina – Havelock, Morehead City, New Bern, Newport
John Vesco has a rating of 5 out of 5 stars from 140 reviews on Zillow.
John is an experienced Realtor. In terms of annual closed sales volume, he has continuously been ranked in the top 1% of Realtors.
According to reviews of his past customers, John is attentive and understands your needs. He is known for his excellent communication skills.
6. Nick Phillips, Landmark Sotheby's International Realty

Queen
A REALTOR and owner of Landmark Sotheby's International Realty, Nick Phillips is a successful businessman.
You need to pay a 5%-6% commission if you buy or sell with Nick. 

Nick specializes in waterfront, beach, and lifestyle properties. H

e has established a reputation for consistently selling the region's most luxurious residences.
👉 Our Take: We recommend Nick for his expertise in luxury properties. His team comprises local experts who understand the complexities of marketing coastal real estate in North Carolina.
Nick specializes in luxury and lifestyle real estate in Southeastern North Carolina. Selling or buying with him has certain advantages.
Local Expert: Nick is a local expert. He understands the intricacies of marketing North Carolina's coastal real estate.
Brand Value: A well-known brand is a significant advantage in today's increasingly online and global marketplace. Your property attracts the attention of potential buyers.
Marketing Exposure: Through Sotheby's International Realty marketing platform, Nick and his team provide personalized marketing strategies for sellers. They have a strong digital and print strategy to showcase homes to highly qualified homebuyers.
In our research, we could not find any deal breakers associated with Nick.
Nick Pillips Team has 5 out of 5 stars from 6 reviews on Zillow.
Nick and his team are highly experienced and proven leaders in the process of luxury real estate marketing. Through Sotheby's International Realty, they have access to the best tools and resources to sell homes with ease.
Sotheby's 3D virtual reality tours, high-definition videography, and high-resolution photography attract prospective buyers. Your home benefits from the worldwide recognition that Sotheby offers.
7. Trent Corbin, The Red Bud Group – Keller Williams South Park

Queen
Trent Corbin has worked in the real estate industry in Charlotte, North Carolina, since 2009.
Selling or buying with Trent would cost you 5% – 6% real estate commission. He is known for his expertise in commercial and residential properties, mortgage services, foreclosures, luxury properties, and more. 
👉 Our Take: We recommend Trent Corbin for his professionalism and responsiveness. Whether you are a first-time homebuyer or an experienced real estate investor, Trent will assist you in making an informed, educated decision for the best possible outcome.
Trent Corbin has a team of experienced real estate agents. With their backgrounds and experiences, they tailor their services according to your needs.
Customized Marketing Plan: They provide a customized marketing plan unique to each seller. They post your home on the local MLS as well as syndicated sites, new listing sheets, and real estate publications to get it in front of buyers.
The Best Deal: As offers begin to come in, they assist you in the negotiating process to ensure that you get the greatest price with clear closing terms.
Mortgage calculator: Their mortgage calculator can help you determine how much home you can afford. Once you know what your budget is, you can start browsing available homes in your price range.
Home Finder Search Tool: It saves your searches and notifies you when homes in your price range and preferred neighborhoods become available.
In our research, we did not find any red flags associated with Trent.
However, he offers his services only in limited areas of North Carolina – Charlotte and Ashville.
Trent Corbin and his team have 5 out of 5 stars from 1,396 reviews on Zillow.
Trent provides his customers with a comprehensive market analysis. This helps you make an informed decision. He makes himself available around the clock to answer your queries.
For home buyers, their mortgage calculator will assist you in determining how much house you can afford. Once you've determined your budget, you can begin looking for available homes in your price range.
What are Real Estate Agents?
Realtor Agents are real estate professionals adhering to the code of ethics laid down by the National Association of REALTORS (NAR), America's largest real estate association.
REALTORS can be commercial brokers, real estate agents, appraisers, property managers, and counselors working in the real estate sector.
» NAR Code of Ethics: A REALTOR's pledge to business integrity and fair dealing.
What is the Average Real Estate Agent Commission in North Carolina?
The average Realtor commission is typically between 5% – 6%. However, this fee is negotiable and varies state-wide.
With increasing competition and better alternatives, Realtor agents are willing to lower their commissions and provide concessions to the home seller.
» How to Negotiate Real Estate Commissions: Pro tips on how to negotiate agent commissions and save thousands!
Who Pays Real Estate Agent Fees in North Carolina?
The seller typically pays the REALTOR fees. Although the seller is responsible for paying these fees, they can always negotiate with the buyer on this.
In simple terms, it can be said that REALTOR fees are a part of the sale price of a home.
Do Closing Costs include REALTOR Fees?
Yes! Realtor fees are a major part of closing costs. Closing costs, also known as "settlement costs," are the final expenses to complete the real estate transaction.
1. Home Selling
A sizeable chunk of the seller's closing costs, comprising 5%–6% of the sales price, is made up of REALTOR commissions. It is important to note that the seller pays a commission to both the listing agent and the buyer's agent.
The commissions can vary according to the type of service you want to opt for selling your home.
Flat Fee MLS: Sell your home with an average fee of $399 and save thousands in commissions. Get the best possible exposure for your home by listing it on the MLS.
Discount Real Estate Brokers: The average fee these low-commission brokers charge is $5,000 or 1.5% of the sale price. They provide services at reduced rates thereby making them a top choice for sellers.
⚡Seller Closing Costs in North Carolina: Find out what closing costs you pay as a seller in North Carolina.
2. Home Buying
Buyer closing costs do not usually include the REALTOR fees. However, this fee is already included in the price the buyer pays for their home.
⚡Buyer Closing Costs in North Carolina: Find what closing costs you pay as a buyer in North Carolina.
REALTORS vs. Agents vs. Brokers
Real Estate Agents: Agents are licensed professionals who represent buyers or sellers in real estate transactions. They must work with a broker or a brokerage.
Real Estate Broker: Brokers are agents with experience and a license, allowed after completing additional coursework. They can either start their own brokerage or work independently as agents.
REALTOR®: REALTORs are agents or brokers that are members of NAR and follow NAR's code of ethics. Their modes of operation and responsibilities include that of agents and/or brokers.
How to Find Top Real Estate Agents in North Carolina?
Home sellers and buyers can find a top real estate agent with proper research. If you wish to sell or buy a single-family home or a condo, it is essential to find a REALTOR who specializes in that type of sale.
Here's how you can find a Realtor for your home selling/buying needs:
Find Licensed Realtors: Look for agents who are members of the NAR. Select Realtors with lower commission rates and check whether they provide virtual or full services.
Interview Realtors: Interview short-listed Realtors and convey your requirements. Find out their specialization, and whether they offer cutting-edge technology and online services.
Review and Finalize: Check reviews on trusted websites like Google, Yelp, Trustpilot, etc. Finalize the one that best understands your real estate goals.
Best Realtors Near Me
Can You List Your Home on the MLS Without a REALTOR?
No. Only licensed real estate agents have access to the MLS. There is no way to list on the MLS without an agent.
You can just opt for a Flat Fee MLS listing service. With a Flat-Fee MLS listing, you pay a small fee instead of a full listing agent commission. A Flat Fee MLS listing is the fastest way to get listed on the MLS and hit the market.
With high-tech services like Houzeo real estate, you can get listed faster than a traditional full-service Realtor. And save thousands!
» How to Get Access to MLS: Here's how to list on MLS without a REALTOR!
Alternatives to Realtors in North Carolina
Realtors are the best option for first-time home sellers. But if saving money is your goal, there are several other options.
Final Word
Having a good REALTOR® when selling or buying a house can make the process a cakewalk. Their guidance can help you get the best price for your property or find your dream home.
However, the average REALTOR commission of 6% reduces your profits substantially. Additionally, seller closing costs are quite high.
Although there is no escaping the closing costs, opting for Flat Fee Realtor can help you save 3% listing agent commission.
Facts About North Carolina Real Estate Market
| | |
| --- | --- |
| Median Sales Price | $328,168 (+19.6% year over year)[1] |
| Median Home Value: | $302,153[2] |
| Average home value | $302,153[3] |
| Active listings in North Carolina | 15,019[4] |
| FSBO Home Sales | 7%[5] |
Frequently Asked Questions
How much do Realtors get paid in NC?
The average salary for a realtor is $96,235 per year in North Carolina.
Can you negotiate realtor fees in NC?
Realtors are more likely to negotiate their commission rate if they believe they will be able to sell your home quickly and for a high price.
Do you need a realtor in NC?
North Carolina is a dual agency state, which means that if both the seller and the buyer choose to use an agent, both can benefit from the services of that agent. You are not required to work with the agent who is representing the seller.
Also Read
Recommended for Buyers
Related: housezo, houszeo, houzzeo, hozeo