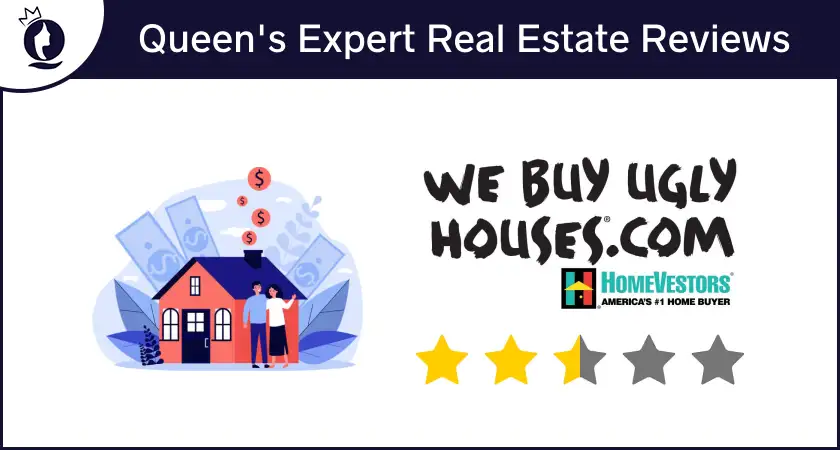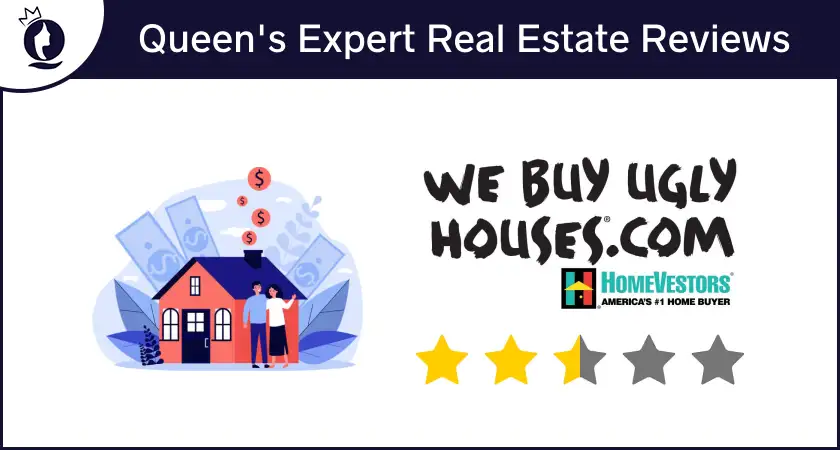 Cash house buyers like We Buy Ugly Houses purchase ugly homes for sale and pay the seller in cash. However, they won't offer close to what you would get by selling traditionally or at fair market value.
To determine if We Buy Ugly Houses is a suitable cash home buyer for your distressed home, let's look at We Buy Ugly Houses reviews.
KEY TAKEAWAYS
We Buy Ugly Houses is a brand of the Dallas-based company called HomeVestors of America, Inc. It operates in 47 states with 1,100 locations.
This legitimate cash buyer caters to desperate home sellers and offers 50% to 70% of their properties' fair market value. However, they lack consistent service quality.
Beware of Scams: Shady companies will try to scam you with fake cash offers, and make home selling miserable for you. Do appropriate research before signing any documents.
What is We Buy Ugly Houses?
We Buy Ugly Houses operates like other companies that buy houses for cash and makes discounted all-cash offers on distressed properties. Depending on the condition of the property, they will pay 50%-70% of its fair market value.
These companies cater to sellers in need of cash and buy homes facing foreclosures, distressed properties, homes with structural issues, etc. After fixing up the property, they resell or rent it.
As legitimate entities, We Buy Ugly Houses operates under the HomeVestors brand.
👉 It is vital to know that real estate investors are always searching for properties in Multiple Listing Services. List on MLS to increase visibility, and enhance your chances of getting a better cash offer.
Is We Buy Ugly Houses Legit?
Yes, We Buy Ugly Houses is a legit cash home buyer in America. The trademark belongs to a Dallas-based company called HomeVestors of America, Inc., a real estate brand that offers cash even to worn-out, neglected, and unwanted homes.
As per the company, HomeVestors and We Buy Ugly Houses franchisees have purchased over 100,000 homes nationwide. By negotiating with a We Buy Ugly Houses franchise owner, you are selling your home to an independent contractor.
FACT: Service quality differs in independently operated franchisees of We Buy Ugly Houses and you should always research the company before deciding to sell your house. Avoid business with illegitimate franchisees of We Buy Ugly Houses!
We Buy Ugly Houses Coverage
We Buy Ugly Houses covers over 1,100 locations in 47 states, with multiple locations in many cities or counties. These locations are independently operated franchisees trained by the HomeVestors brand.
What Kind of Properties Does We Buy Ugly Houses Buy?
Essentially, an ugly house is an investment opportunity for ugly house buyers. The company defines "ugly" houses as properties with:
Structural issues
Pending foreclosures
Homeowners going through a divorce or retirement
Bad mortgage financing
Liquidating assets to pay bills
Downsizing
Inherited houses
Floodplain or weather-prone areas
High-crime neighborhoods
How Does We Buy Ugly Houses Work?
When you sell your house for cash, it works faster than the conventional selling method. With cash for houses, you skip tasks such as repairs, home staging, house visits, and showings and get cash for your house immediately.
When you sell with We Buy Ugly Houses, you follow these steps:
Step 1- Submit information about your house
You can request an offer from the local We Buy Ugly Houses franchisee over the phone or online by submitting information about your house like location, square footage, features, etc.
Step 2- Schedule a home inspection
We Buy Ugly Houses will view and inspect the property, often within 24 hours. After inspecting the property, an agent from the company will make a non-negotiable cash offer. This offer is usually a "take it or leave it" deal.
Step 3- Accept the cash offer
If you decide to accept the cash offer, you'll sign a purchase agreement and choose a closing date. Cash house buyers like We Buy Ugly Houses offer much more flexibility on closing dates than traditional buyers.
Step 4- Receive cash
Once you finalize the deal, you can get cash in hand in as little as two to five weeks.
Selling to We Buy Ugly Houses vs. Selling With a Realtor
The final sale price is the primary difference between selling to We Buy Ugly Houses and selling on the open market with the help of a realtor.
Ugly house buyers never pay fair market value— a trade-off that some home sellers are willing to make for a predictable all-cash sale with no contingencies.
Listing your home on the market might cost you some money for repairs and agent commissions, but you'll also introduce competition into the mix, resulting in a higher sale price.
| | We Buy Ugly Houses | Real Estate Agent |
| --- | --- | --- |
| Fees | No fees | 6% Commission (3% Listing Agent Commission, 3% Buyer Agent Commission) |
| Closing costs | They pay closing costs | You incur some closing costs (1% – 3%) |
| Sales Price | Sale price less than fair market price value (~ 50% lesser) | Maximum possible value on the open market |
| Negotiations | No room for negotiations | Can negotiate with the buyer |
| Home repairs | No repairs involved | Prep and ready the house before listing |
Buying Ugly Homes Franchisees
We Buy Ugly Houses franchise is a low-cost opportunity for investors interested in building wealth. It is a relatively unique franchise opportunity that includes onboarding and training of the franchisees. These franchisees use We Buy Ugly Houses' proprietary software to evaluate homes for purchase and estimate repairs.
Furthermore, they help franchisees identify investors and home buyers in their neighborhoods through mass advertising and direct selling campaigns.
FACT: Each franchisee has been trained by the parent company so they work without any guidance. Your experience may vary based on which franchisee you get to do business with.
How to Find a Legitimate Franchisee?
Not every "We Buy Ugly Houses for cash" flyer is legitimate. Before you sign any documents and sell with them, research the company to find out if it's truly a We Buy Ugly Houses franchise.
Check if the company has—
| | |
| --- | --- |
| A Website | The company's name and logo are available online, and its digital presence is strong. This ensures you don't deal with someone operating out of the dark and losing your property. |
| Displays contact information | Legitimate companies always list their contact information up-front so customers can connect with them anytime. It would be great if they had a customer support team, so you know you're not dealing with someone operating out of a garage. |
| Lists on multiple business listing sites | Business websites like Google, LinkedIn, BBB, etc., can help you verify if the company is truly a legitimate one. When they list their business on multiple business websites, customers get social proof of the company's existence. |
| Has positive customer reviews | Even if the company passes the above phases, check for any positive customer reviews. This is the company you could potentially sell your house to, so you want to ensure they deliver an exceptional customer experience. |
We Buy Ugly Houses: How Much do They Pay?
Every franchisee is independent, but We Buy Ugly Houses offers as little as 50% of a house's market price. The company adheres to the well-known 70% rule in house flipping.
As per the 70% rule, a buyer should not pay more than 70% of a house's after-repair value (ARV) minus the cost of repairs and renovations to turn a profit.
According to one source, We Buy Ugly Houses franchisees aim to pay only 55-65% of a home's after-repair value (ARV). Therefore, although the company's analysis of your home's value may be accurate, you will still receive a discounted offer.
We Buy Ugly Houses Customer Reviews
We Buy Ugly Houses reviews from customers create two narratives. A seller who solely wants to unload a property ends up relatively satisfied, whereas a seller who focuses more on a profitable deal often complains. With 65 mixed customer reviews across Google, Yelp, and Reddit, We Buy Ugly Houses has a 2.5 out of 5-star rating. 
Positive We Buy Ugly Houses Reviews
✅ National Brand
We Buy Ugly Houses/HomeVestors is a trusted brand known nationwide. Their network includes real estate professionals, investors, local real estate experts, brokers, etc.
When you deal with a legitimate We Buy Ugly Houses franchise, the home sale will be hassle-free and genuine, unlike "cash for houses" scammers.
✅ Quick Closing and Flexible Moving
Home sellers like getting a quick offer and closing in a few weeks, making the home-selling journey hassle-free and smooth. That's precisely how your experience would be if you go with We Buy Ugly Houses.
A representative will inspect your property within a day or two of first contact and often make a cash offer on the spot. Once you accept the offer, you can close within two weeks. The process is much faster than the conventional sale process, which takes at least two months in the best-case scenario.
✅ No Commissions, All-Cash Deals
When you sell to a cash house buyer, you skip the traditional process of home selling via a realtor and paying unwanted hefty commissions. In exchange for your distressed property, you get an all-cash offer deal and don't have to pay any real estate commissions.
Negative We Buy Ugly Houses Reviews
⛔️ Lowball Offers
Getting an offer that seemed way too low is a common theme in many We Buy Ugly Houses reviews. So is feeling rushed to finalize the sale and close all legalities.
⛔️ No Room for Negotiations
Selling to a cash house buyer is ideal for closing fast, but there is often little to no room for negotiating the cash offer. Typically, you will receive a cash offer worth 50% to 70% of the fair market value.
We buy houses for cash companies will make a reasonably fair "take it or leave it" cash offer after considering the re-selling price of the property.
⛔️ Controversial Tactics
Some customers complained that franchisees use high-pressure tactics to push sellers into accepting extremely low offers. While this probably isn't HomeVestors' company policy, there are many examples of individual franchisees using unsavory and borderline unethical tactics.
We Buy Ugly Houses Reviews: Is It a Rip-off?
We Buy Ugly Houses lets motivated sellers unload their property fast for cash. However, you must ask yourself why you need to sell your home immediately. If your property can be refurbished in a bit and marketed on the appropriate channels, would you require a quick sale or make it happen and then sell the property?
Should you choose to sell fast or sell smart? You'll save a lot more if you are methodical about home selling. With a flat fee company like Houzeo, you can list your house on the MLS in under 60 minutes and save on the 3% listing agent's commission!
We Buy Ugly Houses Scams
Legitimate cash buyers operate as independent contractors under the HomeVestors-owned We Buy Ugly Houses brand.
With fast, all-cash offers, the company caters to the desperate; it creates a ripe market for exploitation. And scams have proliferated as We Buy Ugly Houses has progressed.
A good rule of thumb is that the money should only move in one direction during a home sale — that is, to you, the seller. A buyer asking you to pay "processing fees" or anything else is a sign that they are probably ripping you off.
Research the buyer to avoid being ripped off. Ask for past clients, reviews, and references. If they don't seem legit, look for another We Buy Ugly Houses buyer. You can also consider looking at other iBuyers like We Buy Houses, Opendoor, etc. An excellent way to avoid scams is to be vigilant through every step.
Wholesaling
In a common scam, a cash buyer will make an offer on your home, sign a contract agreeing to that price, and then stall while trying to sell that contract to another investor at a profit.
This method is a legitimate way to do business, known as "wholesaling." However, one should not do it under the hood. If you sell to a cash buyer, make sure there is a clause in the sales contract stating that they're not allowed to "reassign" the contract. Otherwise, you can find yourself stuck in a deal that's yet to go down.
Ponzi Scheme
In one well-publicized instance, a We Buy Ugly Houses franchise in Colorado ran a Ponzi scheme, buying properties for below market value and then reselling them at a profit to pay off previous investors and sellers.
The perpetrator—who, to be fair, committed some of her $14.5 million fraud while working for a company that was not affiliated with We Buy Ugly Houses—was eventually sentenced to 8 years in federal prison.
🕱 Steer Clear of Shady Cash Buyers
Illegitimate cash buyers make you sign a "reassign" contract and you lose the right to sell your house! Avoid such scammers and market your property to the biggest pool of cash house buyers on the MLS.
Alternatives to We Buy Ugly Houses in 2023
If you want a frictionless house sale, and don't fancy lucrative profits from it, then We Buy Ugly Houses is a viable option. There are alternatives to selling a house with a cash buyer.
Selling on the Open Market
There is a chance to yield the highest sale price when you list on the open market. However, the downside is that the process will be slightly slower than "we buy houses for cash" companies.
Local real estate agents price homes reasonably and want to get maximum value for their client's houses. Local sales data and housing market trends help them arrive at a competitive listing price for the house.
Even if you decide that you only want a cash offer on the house, you have a couple of options:
Sell your home as is, with the help of an agent, and attract real estate investors who are hunting for homes on the MLS.
Working with an agent connected to house flippers and landlords looking for new deals.
iBuyer Companies
iBuyers aka instant buyers are institutional house flippers, and these companies have created a level-playing field with full cash offers and technologically advanced platforms. You get a reasonably fair cash offer instantly and you can close within a matter of a few days.
The coverage of iBuyers is limited, so not all homeowners can avail of their cash deals.
👉 iBuyer Reviews: Who's the Best iBuyer in 2023?
Is We Buy Ugly Houses Worth it?
To conclude, We Buy Ugly Houses offers and services come with their advantages and drawbacks. Finding which one suits your needs best is the way to decide whether or not to sell to cash buyers like We Buy Ugly Houses.
With its cash offers, all-cash deals, quick closing, and flexible moving, We Buy Ugly Houses is worth a shot.
However, while selling to a cash buyer, you have no option to compare the offer received with other offers. We Buy Ugly Houses offer is final and non-negotiable.
On the other hand, when you sell a home traditionally, multiple buyers will be interested in your property and bring in competitive offers.
To sell your home for top dollar and save on the listing agent's commission, you can work with a Flat Fee MLS service like Houzeo.
Frequently Asked Questions
1. Does We Buy Ugly Houses pay market value?
Nearly. We Buy Ugly Houses targets desperate home sellers who urgently want cash for houses. They want to resell these properties and maximize their profits, so typically, they offer 50% to 70% of the fair market value. The offer is decided after looking at the location, how distressed the property is, repair and re-selling costs, etc.
2. Who owns We Buy Ugly Houses®?
HomeVestors is the owner of the We Buy Ugly Houses® brand and has a national network of investors operating as independent franchisee owners with licenses.