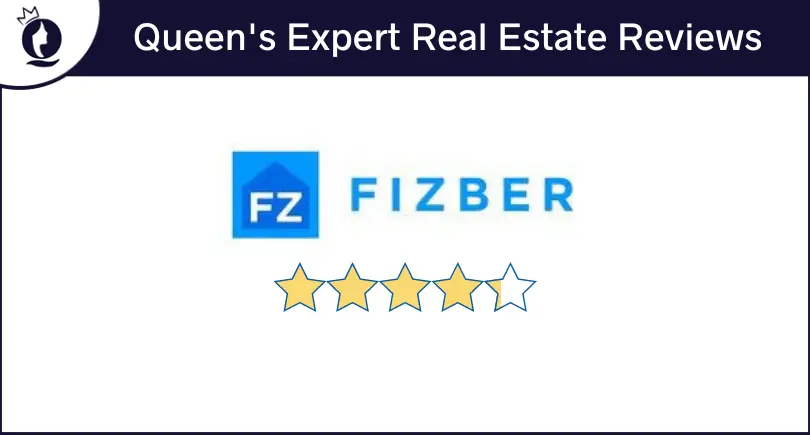 Fizber is a real estate company based in California that provides For Sale By Owner services to home sellers. It specializes in off-market listings and allows you to sell your property through their website.
However, they do not provide many essential services that you may need during the home-selling process. Their technology is also outdated and does not offer features to make the process easy.
With other FSBO platforms like Houzeo, you get stellar technology, and 5-star customer support while saving a top dollar on listing agent's commission. With their innovative approach, selling a home will become a seamless experience for you.
Key Takeaways
Pros: You can list your home on the Fizber's website for free.
Cons: Their free listing does not provide exposure on any other platform. Moreover, their Digital Boost package does not include MLS listing.
Our Take: We do not recommend Fizber to inexperienced sellers. Instead, you can go for better alternatives like Houzeo. With Houzeo, you get stellar technology and 5-star customer support, all while saving top dollar on the listing agent's commission.
So, let's delve into Fizber reviews and their pros and cons to see if they are the best choice for you.
What is Fizber?
Fizber is a real estate company that allows home sellers to list their properties on MLS and other websites. Sellers can sell their properties directly to buyers without involving a real estate agent. This eliminates the need for a real estate agent and allows you to save on real estate commissions.
Fizber offers different listing packages to meet your requirements. For instance, they can connect you with an agent to help with the closing process and disclosures. But these services may have an extra fee.
Fizber has partnered with Redfin and Zillow to expand the exposure of your listings. This means that your property listings will be syndicated and displayed on these websites.
However, if you prioritize maximum savings, top-notch customer service, and advanced technology, you might consider exploring an alternative option like Houzeo. Houzeo offers various tools and resources, providing better exposure at a lower cost.

How Does Fizber Work?
Fizber offers a user-friendly platform to assist you throughout the selling process. However, if you're not familiar with For Sale By Owner approach, you might find the process overwhelming.
To start the process, you need to create an account by selecting the MLS package. Then enter your details and make the payment.
Fizber Packages
Fizber offers you a free listing service that allows you to list your home on Fizber's website without any cost. This package does not include MLS listing or any other services you might need in your home selling process.
Apart from the free listing, Fizber offers you the following packages:
Digital Boost – $95
In this package, you can get your property Fizber and Redfin. You will also get an open house manager tool where you can announce open houses. However, this package does not list your house on MLS.
MLS Boost – $295
This package provides you with an MLS listing for six months with six photos. Your listing also gets syndicated to Zillow, Trulia, and Realtor.com.
Premium MLS Boost – $395
In this package, you can list your home on the MLS for twelve months with unlimited photos. This package also syndicates your listing to Zillow, Trulia, and Realtor.com.
Add-on Services
The following add-on services are available to sellers who purchase the MLS Boost package:
Online showing scheduler – $59
Virtual tour to MLS – $40
Open house advertisement – $25
Additional Charges
Success fee: You need to pay a 0.5% success fee at closing in the states of Wyoming, North Dakota, South Dakota, and Colorado.
Legal documentation: Fizber also offers legal forms for a charge ranging from $15 to $50.
Fizber Reviews
Fizber scores 4.1 out of 5 on Trustpilot reviews based on 98 reviews and 1.3 out of 5 on BBB based on 12 reviews. Let's take a look at some of them.
✅ Virginia was happy with Fizber's customer service.
⛔ Jeff highlighted that he did not get a single lead from the platform.
Fizber Pros and Cons
Fizber is eliminating traditional ways of selling and purchasing homes. The company is helping home sellers and buyers by simplifying real estate transactions.
However, you need to evaluate the pros and cons before you make the decision.
👍 Pros
Extensive Network: Fizber collaborates with agents throughout the state who can represent you during transactions for a nominal additional fee. These agents specialize in selling homes efficiently and are equipped to expedite the process.
Marketing and Advertising Tools: Fizber uses extensive marketing materials to provide exposure to your property and help you sell faster.
100% Money-back Guarantee: They offer full refunds for any flat fee MLS packages for up to 30 days.
👎 Cons
Lack of Management: Many Fizber reviews highlighted their lack of management in the free listing.
Hidden Charges: None of the packages indicate or include the price for additional agent support. This could result in extra expenses, at closing.
Privacy Violation: There have been instances where the company has shared customers' contact information without their consent. These instances have been highlighted by their customers in the reviews.
Alternatives to Fizber
Houzeo.com: Houzeo offers a compelling combination of significant savings, advanced technology, top-notch customer support, and extensive listing exposure. As a fully online MLS listing website, Houzeo has garnered thousands of customer reviews. It provides coverage in 47 states across the US, offering a near-nationwide reach.
Beycome: Beycome stands out with its technology-driven approach that allows you to complete the entire listing process online. Additionally, they provide free access to all necessary legal forms and disclosures without any additional charges.
Should You Sell Your House With Fizber?
Fizber is a suitable platform for home sellers who have a good understanding of real estate transactions and prefer to sell their properties on their own. However, Fizber's lack of exposure, privacy violations, and outdated technology are not worth the savings.
Instead, you can list your house with Houzeo. They offer more savings, better services, and stellar customer support. Houzeo's technology-smart platform includes features like the ability to manage listings, schedule showings, counter an offer, and request the highest and best offer.
Frequently Asked Questions About Fizber
Is Fizber legit?
Yes. Fizber is a legit Flat Fee MLS listing website providing 1 free and 3 flat fee packages to home sellers. However, some of their packages does not include MLS listing.
Does Fizber charge a closing fee?
Yes, Fizber charges a success fee at closing in Colorado, North Dakota, South Dakota, and Wyoming.
Related: fizber tax estimator, fizber.com, fizber com,fizber com reviews, reviews on you,fixber,fizber for sale by owner,fizber login, fizber mls, fizber pricing, housezo, houszeo, houzzeo, hozeo, fizber.com reviews, is fizber legit, fizber mls, what is fizber, fizber, fizber com, fizber listings, fizber.com, fizber redfin, fizber property tax, best for sale by owner, best for sale by owner mls listing service, best for sale by owner websites, best for sale by owner sites, best for sale by owner website, best for sale by owner websites, best fsbo site, best fsbo websites, best mls listing service for sale by owner, best place to find for sale by owner homes