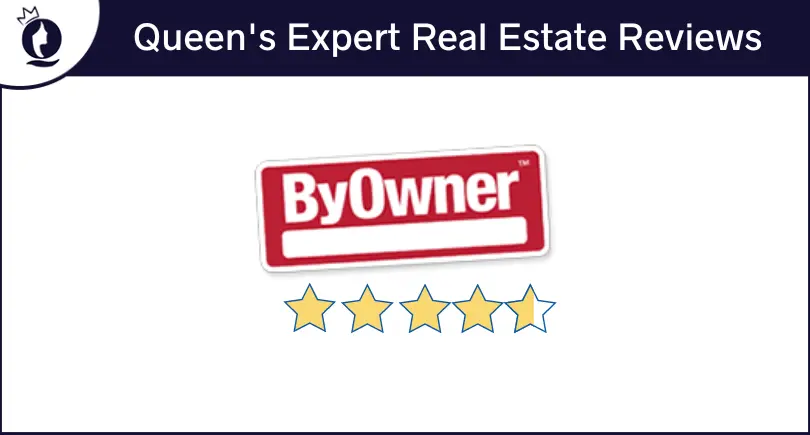 ByOwner.com is an FSBO website that provides Flat Fee MLS service to sellers. They also allow buyers/renters to find homes of their preference through their user-friendly interface.
However, ByOwner.com lacks many essential services vital to your home selling process. Their professional services are only available in a few states.
With other FSBO platforms like Houzeo, you get stellar technology, and 5-star customer support while saving a top dollar on the listing agent's commission. With their innovative approach, selling a home will become a seamless experience for you.
Should I List With ByOwner.com?
Pros: ByOwner's customer service has strong reviews.
Cons: It has limited packages for sellers to choose from. One of its packages, i.e., the full-service package, is available in restricted areas and is expensive.
Our Take: It is more feasible for experienced sellers but not meant for the novice. Inexperienced sellers would have to avail the full-service package, which is costly and restricted to certain cities only.
So, let's delve into ByOwner.com reviews and their pros and cons to see if they are the best choice for you.
What is ByOwner.com?
ByOwner claims to revolutionize real estate transactions by removing broker agents & listing agents from the transaction process for the sellers. Their program gives you the same amount of exposure as a "traditional" real estate agent.
With ByOwner you pay for a fixed amount instead of a 6% commission. Their listing period is of 6-months and you can edit your advertisement at your convenience.
While Flat Fee MLS is revolutionizing, there are businesses that have better websites/apps, additional services, and more proficient teams, all for the same or lesser fees.
💸 Skip Listing Agent Commission
Save the entire Listing Agent commission by selling on Houzeo's high-tech website.
START YOUR MLS LISTING NOW
Is ByOwner.com Legit?
Yes, ByOwner.com is a legitimate company based in Florida.
Company License
States with License: Florida, Michigan, Alabama, Georgia, Illinois, Indiana, New Jersey, North Carolina, South Carolina, Tennessee, Virginia, Louisiana, Texas, and Wisconsin. They also go as far as providing their license number on their site.
Service Limitation: As they have licenses in limited states, thus it affects their package structure.
Packages
Flat Fee MLS package: This package is available nationwide. Here the sellers only get help with MLS listing through their network of licensed brokers spread across the USA. They provide guidance and other stuff that could help sellers in their journey.
MLS & More!: This package consists of a full-fledged selling service, which caters to people from only limited regions of the USA, wherever they have a license.
How Does ByOwner Work?
Home sellers can register through ByOwner, choose the services they need, fill in their information, and pay an upfront fee. They offer services in 3-different packages which are listed below:
1. $499 Package (Only MLS):
Highlights
This package is provided throughout the USA
It is recommended for experienced sellers only
Services
Only MLS service is available
You can add up to 50 photos
The listing period is of 6 months
Listing gets syndicated to Zillow, Trulia, and other real estate websites
You get sellers' guides, real estate forms, contract forms, brochures, and yard signs
Disclaimer
As they are licensed to carry out business in limited states, thus they depend on their network of licensed brokers to do the MLS listings for people residing in regions where they are not licensed.
2. $1995 Package (MLS and More!):
Highlights:
This package is provided in only limited regions where they have a license
It is recommended for inexperienced sellers but is too expensive
Services:
$499 package services
ByOwner listing and Social Media Marketing
Agent Consultation for pricing & advertising
Professional Photography
Home Show Coordination and Contract Negotiations
Competitive Market Analysis and Neighborhood Pricing Analysis
Closing Co-ordination (title search & attorney)
3. $39 Package (FSBO Listing):
Highlights:
Provided throughout the USA
Recommended for experienced FSBO sellers
Services:
List on only ByOwner.com, to find potential sellers or renters
There will be a 7 days trial period
They also list commercial properties and raw land (but they don't provide MLS services for commercial properties).
ByOwner Rentals & Buying Experience:
Filters: Exposes buyers/renters to a variety of homes. The user interface is smooth, it has multiple filters to make home searching easier.
No guidance: ByOwner doesn't help buyers/renters with negotiations, or any tips to pay fair value and ensure that their preferred homes are free of defects.
⏰ Blast Past Paperwork with Houzeo.com
Houzeo's high-tech website is 100% online, and you can list your house on the MLS in 48 business hours.
START YOUR MLS LISTING NOW
Is ByOwner.com a Cheaper Alternative to Traditional Agents?
Yes, because a 6% commission would mean more than $15,000, whereas services of ByOwners are priced at a fixed fee depending on the package you avail.
Although even with the MLS, you might still have to pay a 1.1% commission to the buyer's agent. You can also opt out of paying the buyer's commission, but finding buyers would become more difficult & time-consuming that way.
Houzeo's Gold package of $379 for an instance, equips sellers with all sorts of features to compare & counter offers, manage showings, and make unlimited changes to their listings.
📜 Find Better Packages for Less than $499!
Save money, time and efforts by listing your home on the MLS with Houzeo seamlessly
START YOUR MLS LISTING NOW
How Does ByOwner Make Money?
ByOwner can only make money from home sellers. They charge sellers a fixed fee depending on the package chosen by them.
However, a news source claims that ByOwner will charge a 1% commission from sellers if there's no buyer in the picture. Whereas, if they find a buyer from another company, they share 20% of the commission with the buyer and keep 80% with them.
💸 Don't Pay For Listing Agent Commission
Save the entire Listing Agent commission by selling on Houzeo's high-tech website.
START YOUR MLS LISTING NOW
How Good is ByOwner.com?
They have a smooth user interface for buyers & renters, and their team of brokers is equally strong, which is why many people have praised them for clear communication and responsiveness.
ByOwner Pros & Cons
| | |
| --- | --- |
| ✅ Pros | ❌ Cons |
| Professionalism | Displaying Houses of Non-Consenting Individuals |
| Responsive & Responsible Agents | Poor Customer Support Team to Handle Customer Issues |
| A smooth User Interface to Narrow Down Search Results | Flawed Advertisement Templates & Inaccurate Info |
ByOwner.com Reviews
ByOwner has a rating of 4.6 stars against 26 reviews on Google. While most reviews are positive, some ByOwner reviews are conflicting in terms of customer service. Let's have a look at some of them.
ByOwner.com Positive Customer Reviews
✅ Professionalism
One user claims to have received 3 offers on their home in a very short span of time, along with enough time to move out, In this case, the agent was good, but you should always look for their past experience in selling your kind of property, their accomplishments, and their personality before taking a call.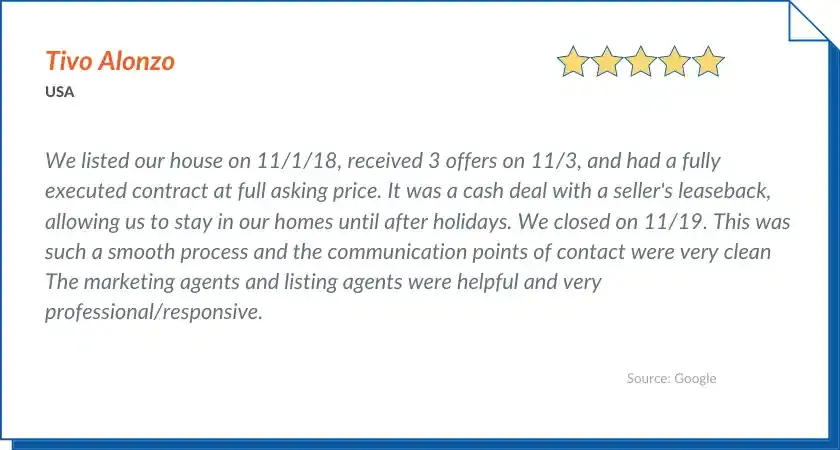 ✅ Responsive & Responsible Agents
Some customers highlighted that the ByOwner agents are knowledgeable and competent. They take you through every process in detail after understanding your requirements.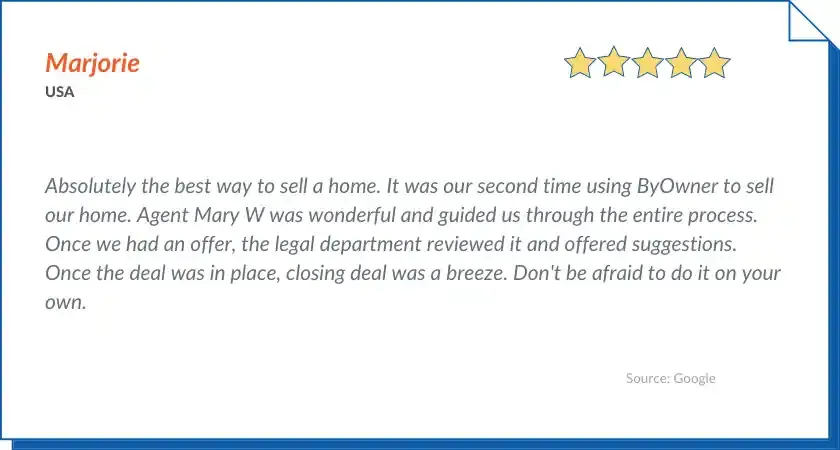 ByOwner.com Negative Customer Reviews
⛔ Lack of Guidance
Some customers felt that the ByOwner agents were absent during the crucial steps of the home-selling process.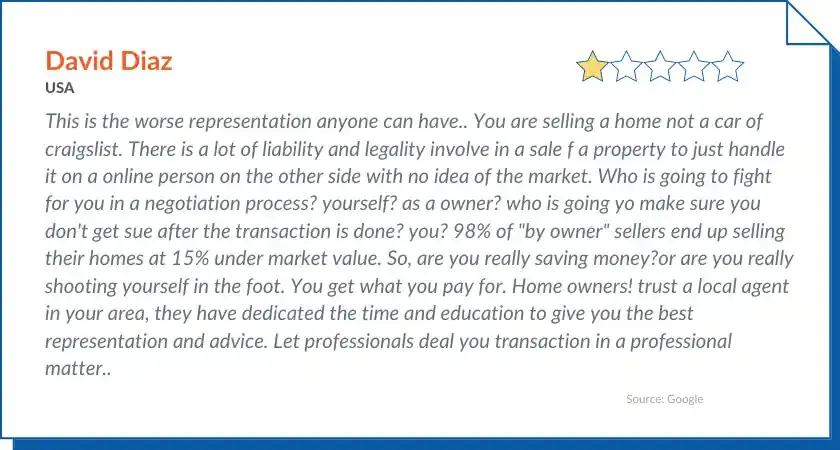 ⛔ Lengthy Process
Some users also considered their steps to be too long & complicated to follow.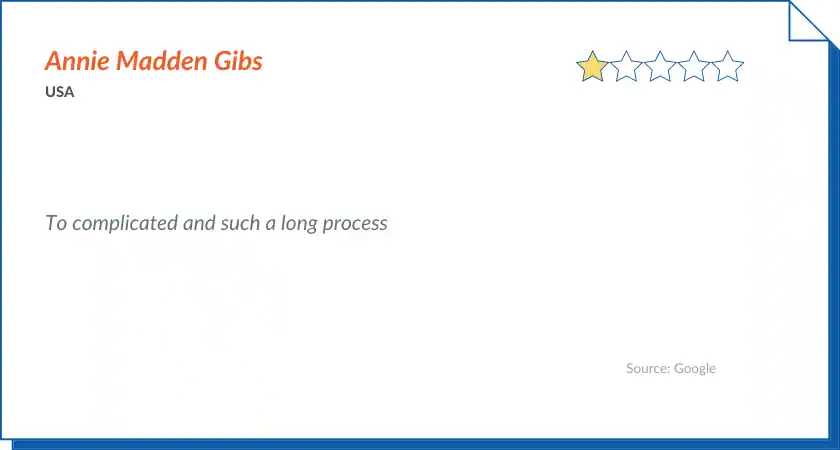 💰 Avoid Commissions!
With Houzeo's cutting-edge technology, you can list your house on the MLS for a flat rate and avail 5-star customer service while doing the 100% online listing paperwork. Save thousands in realtor fees and get a top dollar rate with Houzeo.com
START LISTING
Alternatives to ByOwner
1. Houzeo

2. Beycome
Beycome offers 3 FSBO packages. Prices may vary state-wise.
Basic Package – $99: This is a basic listing service for experienced sellers. You get services like a local MLS listing, unlimited updates, an open house scheduler, etc.
Enhanced Package – $399: This plan includes everything from the basic package plus added features like professional photography, promotional items, yard signs, etc.
Concierge Service – $599+ 1%: This plan is essentially a full-service virtual package. Services include negotiation and paperwork assistance and full marketing support.
👑 The Queen's Take: Beycome has a user-friendly interface and cost-saving potential. However, their customer reviews paint a mixed picture, with both positive and negative experiences.
👉 Beycome Pros and Cons: Beycome's pros and cons unveiled!
Beycome has a few drawbacks that you should be aware of.
Expensive Add-Ons: A $99 listing is almost always too good to be true. Many costs add up during the closing stage which can completely derail a successful sale.
Spam: Beycome is known to spam customers to upsell their Title service.
Limited Coverage: Beycome does not offer nationwide coverage. Currently, Beycome is available only in 10 states.
3. Homecoin
Homecoin offers a single Flat Fee plan which requires many upgrades.
Flat Fee MLS Listing – $95: This is a basic MLS listing plan with a 12-month listing term.
Here is what you will pay for the additional services:
Listing Changes: $5 per change
Lockbox: $125
Photography: Varies
Sign Post: $99
FSBO Listing: Free
👑 The Queen's Take: Homecoin offers access to your local MLS for $95. A la carte services, on the other hand, are somewhat expensive. Often, these services, like the yard sign and the lockbox, cost much less.
👉 What Is Homecoin: Read to find out more about the company.
Homecoin can be useful for experienced home sellers.
Affordable Package: Experienced home sellers who don't require any broker assistance can opt for Homecoin's $95 listing plan.
Online Paperwork: You can complete all the required paperwork online for a quick listing.
Homecoin has several shortcomings!
Expensive Add-Ons: The $95 plan may seem like a steal deal but in reality, it is a honeytrap. Once you opt for the cheap plan you will quickly realize that it is only a minimal listing option. For everything else, you must pay extra!
Limited Listing Changes: Homecoin provides only 10 MLS listing changes. Every additional change costs $5. This might be an issue if your home does not sell quickly.
Subpar Tech: Although Homecoin claims to be 100% online the tech is pretty basic. The dashboard is clunky and does not auto-populate your listing data.
Homecoin.com has a 4.6 out of 5 stars rating from 50+ sellers on Google.
» Homecoin Reviews: Read this to find out more about Homecoin.
Why is Houzeo Better than ByOwner.com?
Houzeo.com significantly increases your exposure by listing your home on the MLS. You will get unmatched options for selling your house. Houzeo's advanced technology makes the FSBO paperwork and listig management make process quick and efficient.
Houzeo.com offers you the best combination of maximum savings, no hidden fees, and 5-star customer support.
| Parameter | ByOwner.com | Houzeo |
| --- | --- | --- |
| Listing Fee | $499 - $1,995 | $349 + 1% at closing |
| Number of Packages | 3 (2 Flat Fee MLS + 1 Simple Listing) | 4 MLS Packages |
| Coverage | 14 states + Coverage through brokers | 47 states + Washington D.C. |
| Simplicity and Ease of use | ✅ | ✅ |
| 100% Online | ❌ | ✅ |
| 5-Star Customer Support | ❌ | ✅ |
| Offers Directly to Sellers | ❌ | ✅ |
| Mobile App | ❌ | ✅ |
🛡️ Don't Pay Any Commission!
With Houzeo's cutting-edge technology, you can list your house on the MLS for a flat rate and avail 5-star customer service while doing the 100% online listing paperwork. Save thousands in realtor fees and get a top dollar rate with Houzeo.com
START YOUR MLS LISTING NOW
Other Options You Should Consider
1. Sell to iBuyers
iBuyers make an offer on your property within 24-48 hours and can close within 7 days or more. Most iBuyers like Opendoor and Offerpad are also known to offer the Fair Market Value (FMV) for your property.
Selling to an iBuyer has certain significant drawbacks. These include:
👉 Our Take: We recommend iBuyers if your house meets the iBuyer company's eligibility criteria.
Limited coverage, restricted to metro and urban areas
Strict eligibility criteria without exceptions
Non-negotiable offers
5% service fee
2% – 8% repair costs
» iBuyer Reviews: Check out rankings, pros, cons & alternatives of top iBuyers in America
2. Sell to "Cash for Houses" Companies
Unlike iBuyers, "cash for houses" companies help you sell your house as-is fast. They can even close within 7 days or any date you choose. "Cash for houses" companies also make cash offers for homes outside metro areas or in difficult-to-sell locations.
Here's why traditional cash home buyers could be a bad option for you than an iBuyer:
They make lowball offers and offer only 50% – 70% of market value.
Their offers are non-negotiable
👉 Our Take: We recommend selling to a cash home buyer if you are selling a distressed house "as-is" without looking for the best price.
» "Cash for Houses" Companies: Check out America's biggest cash home buyer companies in 2023
3. Sell FSBO With Flat Fee MLS Services
Listing with a Flat Fee MLS service gets your house on the market within just 24-48 hours. Selling For Sale By Owner has increased substantially in the past few years, with 77% of FSBO homes being sold in less than 2 weeks.
Flat Fee MLS is one of the best ways to sell your house fast, and it has 4 major benefits:
MLS is the fastest way to hit the market, plus your listing is syndicated to Zillow, Realtor.com, etc.
Your listing gets maximum exposure.
You can negotiate all offers.
You skip paying commission or service fees.
👉 Our Take: We recommend Flat Fee MLS companies for most home sellers. They are fast, and you will save thousands in commissions.
» Websites for sale by owner: Check out the rankings for America's best FSBO websites
Frequently Asked Questions about ByOwner
Should I opt for ByOwner or Zillow?
Zillow offers better services for FSBO. On the other hand, ByOwner.com offers 2 packages for MLS listing which is no longer offered by Zillow. You can check out other platforms like Houzeo for affordable MLS listing and better services.
How much can you save with ByOwner?
With ByOwner, you can save on listing agent commission that is 3% of the sale price for a flat fee. But there are other options available that offer more savings and better services.
Are there alternatives to working with a full-service real estate agent?
Yes, you can go for the For Sale By Owner approach. With FSBO companies, you will save top dollar while having better control over your sale.
Is ByOwner worth the money in 2023?
No. There are many companies that offer better services and hefty savings. Hence, working with Byowner.com doesn't seem worth it.
Related: byowner.com reviews, reviews byowner.com, byowner com, byowner com rent, byowner com reviews, byowner.com rentals, byowner.com rent, byowner com reviews, byowner.com florida, byowners, best for sale by owner site, we buy homes for cash,