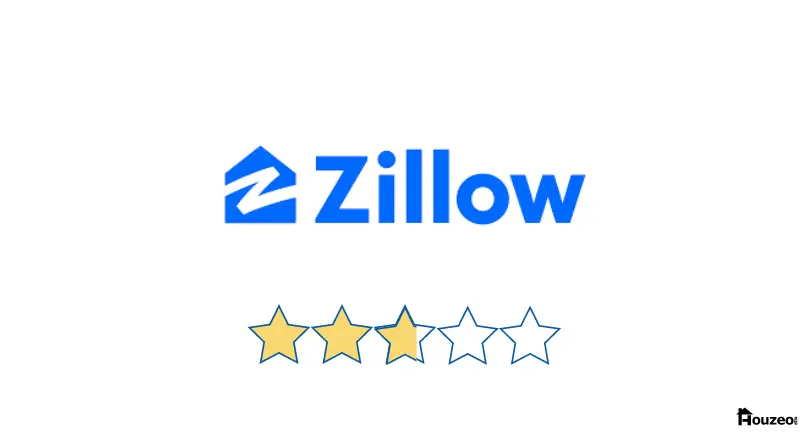 Zillow is the largest real estate marketplace and we'll look at Zillow reviews in this blog. With millions of users visiting Zillow, it is the biggest real estate database. However, listing FSBO on Zillow may not be as great as the MLS.
Houzeo lets you list your home on the MLS for a small flat fee. You get access to all the tools available to a real estate agent. Moreover, Houzeo will automatically assign your local MLS.
What is Zillow?
Zillow is the largest real estate marketplace in the United States and has more than 40 million unique users every month. As the most experienced real estate website, Zillow provides its users with an on-demand experience for selling, buying, renting, or financing with a seamless end-to-end service.
Listing your house on Zillow for sale by owner (FSBO) can be a great way to get your home in front of potential buyers, but you should know what you're getting yourself into. Selling your home as owner can save on realtor commissions, but it is a difficult, time-consuming process.
Most homes listed on Zillow's website come directly from the multiple listing service (MLS), a database where local realtors advertise the properties they're selling.
👉 FSBO Websites: Check out America's Best Websites For Sale By Owner (FSBO) Websites in 2023
What is For Sale By Owner (FSBO) Website?
A For Sale By Owner (FSBO) website refers to a method of listing a property for sale. When a house has an FSBO listing, it means the owner is selling the property without the help of a listing agent or broker. This helps the owner save on hefty realtor commissions.
Is Zillow Legit?
Yes, Zillow is a legitimate company founded in 2006 with the goal to reimagine real estate and make it more transparent and accessible to everyone.
Zillow Coverage
Zillow covers 90% of the USA housing market and sellers can browse homes across almost the entire country.
How does Zillow Work?
Houses listed on Zillow's website come directly from the multiple listing service (MLS), a database where local realtors advertise the properties they're selling. But, if you're listing FSBO and aren't putting your house on the MLS, you can post it on Zillow manually.
💡 FACT: Zillow offers very little for FSBO sellers. When buyers look for homes on Zillow, they only see properties listed by an agent by default. This gives limited exposure to properties listed by owner.
Why List Your Property on Zillow?
Using Zillow's FSBO listing has its own perks and drawbacks you need to highly consider. Before deciding to utilize the platform, you need to compare and weigh the possible factors.
Benefits of Zillow (FSBO) Listings
Get maximum exposure. Zillow has an average of 160 million monthly online visitors. Nearly 64% of the buyers (and leads) can be found on Zillow's platforms, and it was reported that 80% of homes were sold only during March of 2019. This means your home has solid online exposure to thousands of potential buyers in your location.
Have full marketing control. As a For Sale by Owner in the market, you have complete creative control over every aspect of selling your property. You'll have responsibility for setting your own selling price, creating a Zillow listing, and negotiating with the buyer.
Save a huge fortune. Other than reaching more audiences online, Zillow helps you save money on agent commission fees or even on a flat fee. What's more, it's free to post your property on Zillow's platform. And you'll also receive updates on e-mails about new listings and other real estate-related advice once you signed in.
👉 How to Sell a House by Owner: Here's All You NEED to Know
Downsides of Zillow (FSBO) Listings
It gives a negative assumption for buyer's agents. Listing your home as FSBO on Zillow can mean you're not ready to negotiate with a fair buyer's agent commission. It also indicates that there is more legwork and fusses to take care of before closing the house.
Meet buyers with unclear intentions of buying your home. You're going to accommodate people who inquire a lot and want to visit your house, but with no interest to purchase your home at all. Thus, the whole rigmarole just wasted your time and effort when you could have done something else fruitful. Many Zillow reviews mention this issue.
Expect a lower sales price. Although you save on the agent's listing commission, the downside is you're getting below the fair market value of your home. FSBO could mean losing a big chunk of money than choosing a full-rated standard agent.
👉 Real Estate Commissions: Will Real Estate Commissions Keep Falling in 2023?
Listing on Zillow
How to list on MLS through Zillow FSBO
If you do decide to move forward, here's how to publish your FSBO listing for free on Zillow:
Create a Zillow profile and/or log in.
Find your home by looking up your address on Zillow —there's a possibility it already exists in the company's database.
In the "Public" view, click "More" → and "List For Sale By Owner." If you haven't claimed this property as your own, you'll be prompted to do so before continuing to the next step.
On the FSBO Listing page, update property details with a comprehensive listing description, and beautiful photos, and set a listing price. Don't forget to add your contact details!
When you're done, click "Post For Sale By Owner" and submit your listing for Zillow's review.
Before publishing your listing, Zillow will verify the information you provided— to check if you actually own the property. This can take anywhere between 24 hours to 72 hours.
Is Zillow Free?
Don't worry, you can list your property as an FSBO on Zillow for free! You read it right. Since Zillow has already marked its name in the industry, they mostly charge no fee for "for sale by owners" to list a rental on Trulia, HotPads, and more. From listing your property to getting listing updates, you don't need to spend a dime.
However, free of charge doesn't mean zero catch. Zillow still makes a profit out of advertising real estate. Let's see how they're doing it.
How Does Zillow Make Its Profit?
As the leading real estate marketplace in the U.S., Zillow owns a lot of online real estate platforms such as Trulia, Hotpads, RealEstate, and real estate-related services like Premier Agents, and Zestimates, to name a few. The company essentially gains its profit from advertising space to agents, mortgage lenders, contractors, and other businesses that want to reach its targeted consumers.
All those user details—home buyer and seller lead—are sold to designated Premier Agents. Since most of these featured or recommended local agents on listings paid a considerable amount to be shown first. So, once you use Zillow's listing, you are being targeted as an eligible lead to hundreds of real estate agents.
In a nutshell, Zillow's source of profit primarily revolves around ad sales, Premier Agent Services. With over a hundred million monthly online visitors, and a great number of real estate professionals and tools they can offer, listing your home on Zillow can be a good start.
👉 Selling a House Without A Realtor: Know more about the Paperwork for Selling a House Without A Realtor
Zillow Reviews
We'll look at some Zillow reviews in this section. Customers aren't very happy about Zillow's offerings for FSBO sellers, and Zillow has a 2.71 out of 5 rating on Sitejabber based on 744 reviews.
Zillow Pros and Cons
✅ Popular home-buying website
Posting for sale by owner on Zillow is a great way to advertise your home to as many buyers as possible because Zillow attracts 220 million visits per month. This is because home listings from Redfin, Realtor.com, and all local MLS' are syndicated on Zillow, which garners even more visitors.
For a lot of home buyers browsing houses online, Zillow is the foremost choice. Zillow is the most popular home-buying app, and its umbrella of companies (including Trulia), collectively attracts ~220 million unique visitors. Check out Ron's experience in one of these Zillow reviews.
✅ You do not have to pay Zillow for sale by owner fees
Zillow doesn't charge listing fees, so you can post your home for free, even when you're selling it yourself. That's a HUGE advantage over other popular FSBO websites, especially considering how many buyers use Zillow to browse homes. For example, FSBO.com, which has a fraction of Zillow's users, charges $99.95 just to list your house on its website.
That said, since it's free to list on Zillow, you may have a difficult time getting help when you run into problems. Many Zillow reviews complained that FSBO sellers couldn't avail of customer support service.
⛔️ No visibility for FSBO homes on Zillow
Zillow is one of the best places to advertise FSBO real estate (for sale by owner) properties, but the company's decision to hide FSBO listings will offer minimal or no visibility for your property. Past sellers have complained about this in many Zillow reviews.
Buyers' agents are always looking for homes with a competitive commission fee. You will certainly have difficulty finding a buyer through Zillow if you list your home with zero buyer's agent commission on Zillow.
⛔️ Cold calls from listing agents
Since selling a home yourself is more difficult than some sellers realize, real estate agents view FSBO listings as a great potential source of new customers.
Many realtors cold call FSBO sellers regularly, hoping that they're frustrated that their home hasn't sold and are ready to hire an agent.
So, while your for sale by owner listing may not get as much attention from buyers, you'll likely get LOTS of unwanted phone calls from realtors, as mentioned in several Zillow reviews.

Zillow Alternatives
Zillow vs iBuyers
An iBuyer is a company that buys homes almost instantly by relying on technology to determine a market-based cash offer. iBuyers are instant buyers who buy homes for cash. The "i" in iBuyer means "instant" because most iBuyers make an offer on your home in 24–48 hours. They typically close in two weeks or less.
Selling to an iBuyer lets you skip the hassle and uncertainty of listing with a real estate agent and negotiating deals. The trade-off for a quick, convenient sale is that iBuyers don't usually pay as much.
👉 Cash Buyers: Check out America's best "We Buy Houses for Cash" Companies
Zillow vs Flat Fee MLS Companies
A flat fee MLS listing service will list your home on the MLS at a flat rate. The Multiple Listing Service (MLS) is an online regional database of homes for sale by owner. An MLS advertises these properties to local real estate agents. The MLS listings get syndicated to real estate websites like Zillow, Realtor.com, and Redfin.
With a Flat-Fee MLS "entry-only" listing, you are essentially your own agent. You enjoy immense control over how you portray your house, how you deal with buyer's agents, and which offers you accept. Flat-Fee MLS listings are typically the fastest way to get listed.
If you're a home seller, getting your house on the MLS will increase visibility and more exposure means attracting potential buyers.
👉 Flat Fee MLS Companies: Check out America's Best Flat Fee MLS Companies (2023 Updates)
Zillow vs Houzeo
Houzeo is the most advanced FSBO platform bringing tools to users that only real estate agents can access! With a 100% digitized process, Houzeo has harnessed cutting-edge technology to create a seamless home-selling experience for homeowners.
Zillow allows you to list your property on their local repository and gets you an online audience. They have over 60 million unique visitors every month. Houzeo allows you to list on the MLS, and with a competitive buyer agent commission, you can sell your home at a top-dollar rate. Houzeo even lets you manage offers and plan home showings, all in a mobile app!
👉 Houzeo Reviews: All You NEED to Know
Other Options You Should Consider
1. Sell to iBuyers
iBuyers make an offer on your property within 24-48 hours and can close within 7 days or more. Most iBuyers like Opendoor and Offerpad are also known to offer the Fair Market Value (FMV) for your property.
Selling to an iBuyer has certain significant drawbacks. These include:
Limited coverage, restricted to metro and urban areas
Strict eligibility criteria without exceptions
Non-negotiable offers
5% service fee
2% – 8% repair costs
⭐ Our Take: We recommend iBuyers if your house meets the iBuyer company's eligibility criteria.
👉 iBuyer Reviews: Check out rankings, pros, cons & alternatives of top iBuyers in America
2. Sell to "We Buy Homes for Cash" Companies
Unlike iBuyers, "We buy homes for cash" companies help you sell your house as-is fast. They can even close within 7 days or any date you choose. "We buy homes for cash" companies also make cash offers for homes outside metro areas or in difficult-to-sell locations.
Here's why traditional cash home buyers could be a bad option for you than an iBuyer:
They make lowball offers and offer only 50% – 70% of market value.
Their offers are non-negotiable
⭐ Our Take: We recommend selling to a cash home buyer if you are selling a distressed house "as-is" without looking for the best price.
👉 "We Buy Homes for Cash" Companies: Check out America's biggest cash home buyer companies in 2023
"We Buy Homes for Cash" Companies Near You
Bottom line: Should You List Your Home FSBO on Zillow?
Well, listing your home FSBO on Zillow essentially means giving more exposure to the property. But without an MLS, you are likely to be disappointed. As an FSBO seller, you should invest in thorough research and be methodical about your home-selling approach.
If you are an owner wanting to sell your home as an owner without any hassle and worries about the paperwork, you should consider listing your home on Houzeo. All listings from Houzeo are syndicated to Zillow, Trulia, and Realtor.com, so not only do you list on the MLS but also get maximum exposure from the other platforms.
Listing FSBO on Zillow will only reap benefits if you are prepared about the home sale and ready to tackle the listing agents who'll spam you to get your home listed on your behalf. By being methodical and making smart decisions, you can sell your home fast and save thousands of dollars!
Frequently Asked Questions
Is Zillow a trustworthy site?
Yes, Zillow is a trustworthy site. It offers home sellers a platform to advertise their property for sale and has more than 40 million unique users every month.
How can you list for sale by owner on Zillow?
Create a Zillow account or Sign in on your existing one. Hover over the Sell tab and then on the Selling Options select Post For Sale By Owner option. Input your property home address and zip code, then click continue. And on your For Sale By Owner Listing page, fill in the details of your set price, home facts, and contact information. Don't forget to upload appealing photos. Before your listing will go live, wait up to 72 hours for the verification process.
Why choose Zillow?
Zillow has an exceptional number of 160 million monthly visitors on its platform. Nearly 64% of the buyers are on Zillow's search engine sites (Trulia, Hotpads, RealEstate, etc.) which means there's a big chance your listed home can be sold on the platform in no time. However, it still boils down to you—as a seller—on how you prioritize your costing and marketing. You can also choose Houzeo's MLS Listing to get listed on the MLS with the basic package starting at just $99—sell your home with fast listing and real savings!
Is Zillow free?
Yes, most of Zillow's tools and online listing are free for FSBO home sellers.
Is listing my property on Zillow as FSBO enough?
Technically, no. Since most homebuyers who hire agents look for a property via MLS listing. Not all properties are listed on Zillow, some of them are on the MLS database which is only accessible to licensed real estate agents. If you're only looking to market your home for free as FSBO, Zillow can be a great start. But listing it on MLS could give you more chances to sell it with fair market value. Or you can try Houzeo's MLS Listing on selling your house as FSBO. Log in to Houzeo and save 100% commission on agents.
What is the best for sale by owner site?
These are the leading best for sale by owner websites that can help you: 1. Houzeo.com (The Most Advance FSBO Platform); 2. Zillow, 3. ForSaleByOwner.com, 4. FSBO.com, 5. Owners.com, 6. Redfin, 7. Fizber.com, 8. HomeFinder.com, 9. Trulia. And according to our assessment and comparative, Houzeo gets an outstanding score on buyer exposure, agent exposure, buyer agent commission, control over the sale, speed of execution, and the price.
Can I list my home on Zillow without an agent?
Yes, you can list your house on Zillow as a For Sale By Owner (FSBO) to save on the agent's commission. All you have to do is to create a Zillow account. Find your home address and complete some details. Click Claim Your Listing from the drop-down menu and unlock the Owner Dashboard—and don't forget to put yourself as the listing agent.
How much does Zillow charge for sale by owner?
Zillow asks zero charge for FSBO listing and their other real estate-related services. Listing a rental on Trulia, HotPads, and RealEstate is free! From getting listing updates to listing an FSBO property, all of it is free of charge. Even its mobile app and Zestimate service let users search and estimate their property without a fee.
Is Zillow safe?
Scams are always part of either online or offline businesses. Zillow tries to achieve a safe platform. But the company is not always a reliable real estate search engine platform, and to be safe, you should be cautious of giving private details or info or transact any payments to a party you personally haven't met or known. It's your sole responsibility to safeguard your privacy and report to the authorities if there's a fraudulent or illegal activity.
Related: housezo, houszeo, houzzeo, hozeo, sell your home yourself websites, best site to sell property, homes for sale by owner near me, where can i list my home for sale by owner, best sites to sell home, home sale by owner, where to list for sale by owner, homes sale ownerhomesforsalebyowner, sale property, where to list home for sale by owner, sell home online, best place to list for sale by owner, best place to list home for sale by owner, best fsbo sites, list land for sale by owner for free