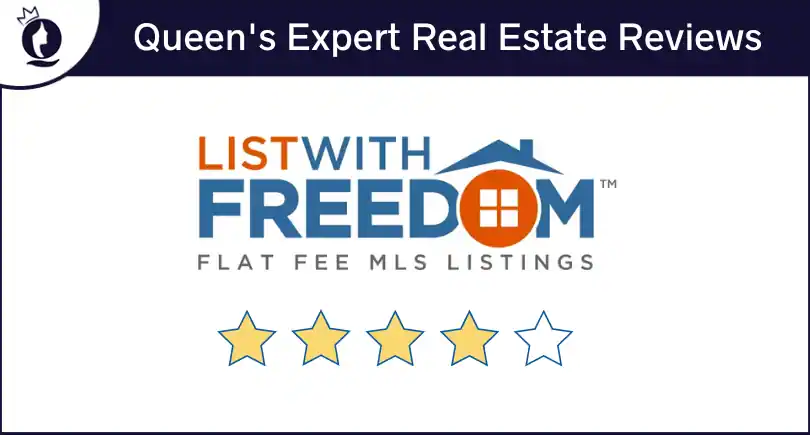 Flat Fee MLS services have grown in popularity with home sellers since the U.S. Department of Justice promoted their advantages. ListWithFreedom.com is one of the oldest Flat Fee MLS services based in Florida.
But ListWithFreedom isn't as technologically adept as some of the other Flat Fee companies like Houzeo. Not only does Houzeo automatically assign your local MLS, but listing your home is fast and easy. You can even do this on the go with the Houzeo mobile app.
Should I List With ListWithFreedom?
Pros: ListWithFreedom has been in business for several years.
Cons: ListWithFreedom charges high hidden fees. Specifically, they charge between 0.1% to 0.25% at closing, in addition to the flat fee you pay to list. This closing fee is not disclosed upfront on the pricing page.
Our Take: For most home sellers, we recommend Houzeo over ListWithFreedom. Houzeo offers better packages, cutting-edge technology, and stellar customer service.
What is ListWithFreedom.com?
Since its inception in 2005, ListWithFreedom.com, Inc. has established itself as one of the fastest-growing listing companies in the United States. This company lists your property on the MLS for a flat fee. It does not include the regular buyer's agent commission, which is often between 2% and 3%.
The primary goal of ListWithFreedom.com is to sell your home in the shortest amount of time possible. They do this by advertising and marketing your home to potential buyers directly on Zillow, Realtor.com, Homefinder, Frontdoor, Facebook, Realestate.com, and Homes.com.
Bear in mind, that they only list your home on the MLS and provide no pricing or negotiation assistance whatsoever. As a result, if you're a first-time seller, List with Freedom might not be the greatest solution for you.
Listwithfreedom.com Locations
Listwithfreedom.com is serviceable in most states and counties except for a select few. They are licensed as a real estate brokerage in Florida, Alabama, and Tennessee. They partner with a flat fee or discount real estate brokers in other areas for listing services.
Listwithfreedom.com covers the following states in the USA:
| | |
| --- | --- |
| Regions | States |
| Northeast | Connecticut, Maine, Massachusetts, New Hampshire, New Jersey, New York, Pennsylvania, Rhode Island, Vermont |
| Midwest | Illinois, Indiana, Iowa, Kansas, Michigan, Minnesota, Missouri, Ohio, South Dakota, Wisconsin, Nebraska, North Dakota |
| South | Alabama, Delaware, Florida, Georgia, Kentucky, Louisiana, Maryland, Mississippi, North Carolina, Oklahoma, South Carolina, Tennessee, Texas, Virginia, West Virginia, Arkansas, District of Columbia |
| West | Arizona, California, Idaho, Montana, Nevada, New Mexico, Oregon, Utah, Washington, Wyoming |
How Does Listwithfreedom.com Work?
List with Freedom acts as an MLS listing broker that reduces your listing commission to a small upfront flat fee. They do, however, take a fraction of the buyer's agent fee. Let's elaborate on the process.
| | |
| --- | --- |
| Sr. No. | Steps |
| 1. | You pick an MLS listing package according to your varying listing terms and needs. |
| 2. | Fill out online forms that detail your property. |
| 3. | For maximum security, all forms will be filled out and signed online, even by the agents. |
| 4. | Upload photos that will be syndicated with other websites like Zillow, Realtor.com, etc. |
| 5. | And voila! Your property is listed on the MLS. |
What You Should Know Before Listing With Listwithfreedom.com
List with Freedom offers affordable Flat Fee MLS packages but does not provide any hands-on help.
With Houzeo, you can save money and get more hands-on support! The basic and premium packages of Houzeo offer more features than other real estate platforms. Using a digital document and a user-friendly interface simplifies and speeds up the process.
1. Only a listing service
They are strictly a listing service. They do not provide any assistance with interpreting purchase offers, buyer negotiations, seller's disclosures, transactions, or settlements.
Many alternative listing services, such as Houzeo, offer contract and pricing advice as well as negotiation assistance, particularly for first-time sellers.
2. Hidden Charges
Not all hidden fees at closing are disclosed upfront. This is primarily for those sellers who sell through a buyer's agent. Listwithfreedom. com, the listing broker, deducts 0.25 percent of this commission as a "compliance fee." According to Listwithfreedom.com, the buyer's agent pays for this out of their compensation. But the agent fee is paid by the seller, so it's essentially a hidden cost for the home seller.
👉 Closing Costs for Sellers: Know what your closing costs cover and ways you can lower them
3. Hidden Commission
List With Freedom takes an extra 0.25% of your buyer's agent commission, according to past lists with freedom reviews. This is in addition to the above-mentioned compliance cost. This might be limited to a few states.

How Much Does Listwithfreedom.com Really Cost?
List with Freedom offers packages starting at $149, but because they also include their commission, the buyer's agent commission can add up quickly. To eliminate the agency commission, we recommend contacting the buyers directly.
There are three plans to choose from. They can be partly customized, and services like showing assistance and open houses can be added to lower-priced plans as well.
1. Gold Plan: $149
Enjoy the benefits of the silver plan plus 6 photos.
2. Platinum Plan: $195
Their most popular option, everything from their gold plan is included, and you can post up to 25 photos
3. Platinum+ Plan: $295
The listing term doubles with an online showing scheduler, no restrictions on the number of photos, and you can post a virtual tour, making it ideal for those difficult-to-sell homes.
Furthermore, if your main intention is getting bang for the buck, investing a bit more to get the platinum plan will make the most sense.
Additional Charges You Should Know About
Although List with Freedom provides great initial information on its website, consumers have mixed opinions about the service. However, several List with Freedom reviews claim that the company misrepresented its capabilities and charged an additional 0.1% fee.
1. Refund Policy
Is there a refund policy for List with Freedom real estate? Yes, but only if you did not sign the listing agreement within 14 days. They do, however, charge a non-refundable application fee of $50.
2. GAMLS
If you list via the GAMLS, a Georgia MLS, you will be charged an additional $25 as a termination fee.
Selling With Listwithfreedom.com
According to many reviews of List With Freedom, the selling a house process can be quite puzzling. They offer no assistance other than listing on the local MLS. Although they claim to save you thousands of dollars in agent support, hiring a broker will provide you with more hands-on assistance.
If you are comfortable with the process and merely require minimal showing assistance and syndicated listings, List with Freedom real estate is one of the better solutions available.
👉 How to Sell My House Fast: Find out how you can sell your house fast while maximizing your net proceeds
Pros and Cons
List With Freedom has a 3.9 out of 5-star rating based on 121 reviews on Google.
✅ Positive Listwithfreedom Reviews
Inexpensive pricing plans: The range of MLS listing plans start at $85.
Unlimited listing charges: On all packages, you can make an unlimited number of modifications to your listings.
Buyer leads forwarded to you: All buyer leads are directly forwarded to you with no agent involvement.
Quick listing: The MLS listing procedure is fast, and listings are quickly syndicated to other real estate websites.
❌ Negative Listwithfreedom Reviews
No pricing and buyer negotiation assistance: They only provide listing services. You will need agent assistance for buyer negotiations and pricing.
Hidden fees of 0.25% commission: A compliance fee is collected from the buyer agent commission.
Hidden commission of 0.1% in some states: As stated in many lists with freedom reviews, they charge an additional 0.1% fee in some states.
Cancellation refund: You will receive the refund only if the listing agreement is not signed.
Additional fees: A non-refundable application fee of $50 is not mentioned upfront.
Only for experienced sellers: It has a difficult user interface for a first-time seller.
List With Freedom Customer Reviews
List with Freedom reviews has a 3.9 out of 5 rating on Google. Some Listwithfreedom reviews are conflicting in terms of customer service. The customer support of List with Freedom is rated as helpful by some Trustpilot reviews, while others do not.
✅ List with Freedom made the process of selling a home easier!
✅ List with Freedom provides great assistance and gives the selling broker several exposure!
❌ Customers are not well served by List with Freedom.
❌ They explained the sluggishness of Listwithfreedom and their lack of concern for customer satisfaction.
Alternatives to ListWithFreedom.com Inc
1. Listwithfreedom.com vs. Houzeo.com
Houzeo is one of the most popular FSBO websites in the US, offering superior flat fee MLS listing services. The entire process, from listing your home to closing, is simple and completely online. Plus, there's more. They don't charge any hidden fees or a commission on listings.
You can modify your packages to meet your specific requirements. Despite providing frictionless listing services, Listwithfreedom charges a 0.25 percent hidden fee. They do have some additional benefits, such as unlimited listing revisions, but their interface is tough to use.
2. Listwithfreedom.com vs. Traditional agents
The primary distinction between the two is their role in the sales process. Listwithfreedom.com acts as your broker, listing your property on the MLS. Their sole responsibility is to keep your listing up to date. A traditional agent interprets a purchase offer, completes your disclosures, negotiates on your behalf, and assists with the settlement
Simply said, listwithfreedom.com might not be the best place to start if you're a first-time seller.
Other Options You Should Consider
1. Sell to iBuyers
iBuyers make an offer on your property within 24-48 hours and can close within 7 days or more. Most iBuyers like Opendoor and Offerpad are also known to offer the Fair Market Value (FMV) for your property.
Selling to an iBuyer has certain significant drawbacks. These include:
Limited coverage, restricted to metro and urban areas
Strict eligibility criteria without exceptions
Non-negotiable offers
5% service fee
2% – 8% repair costs
⭐ Our Take: We recommend iBuyers if your house meets the iBuyer company's eligibility criteria.
👉 iBuyer Reviews: Check out rankings, pros, cons & alternatives of top iBuyers in America
2. Sell to "We Buy Homes for Cash" Companies
Unlike iBuyers, "We buy homes for cash" companies help you sell your house as-is fast. They can even close within 7 days or any date you choose. "We buy homes for cash" companies also make cash offers for homes outside metro areas or in difficult-to-sell locations.
Here's why traditional cash home buyers could be a bad option for you than an iBuyer:
They make lowball offers and offer only 50% – 70% of market value.
Their offers are non-negotiable
⭐ Our Take: We recommend selling to a cash home buyer if you are selling a distressed house "as-is" without looking for the best price.
👉 "We Buy Homes for Cash" Companies: Check out America's biggest cash home buyer companies in 2023
3. Sell FSBO With Flat Fee MLS Services
Listing with a Flat Fee MLS service gets your house on the market within just 24-48 hours. Selling For Sale By Owner has increased substantially in the past few years, with 77% of FSBO homes being sold in less than 2 weeks.
Flat Fee MLS is one of the best ways to sell your house fast, and it has 4 major benefits:
MLS is the fastest way to hit the market, plus your listing is syndicated to Zillow, Realtor.com, etc.
Your listing gets maximum exposure.
You can negotiate all offers.
You skip paying commission or service fees.
⭐ Our Take: We recommend Flat Fee MLS companies for most home sellers. They are fast, and you will save thousands in commissions.
👉 For Sale By Owner Websites: Check out the rankings for America's best FSBO websites
Bottomline: Should You List with Listwithfreedom.com?
There has been a seismic shift in the US housing market, with a large influx of sellers bypassing traditional real estate agents and selling through MLS listing companies. You can save thousands of dollars on real estate agent commissions if you list on Listwithfreedom.com. However, you will be paying a higher buyer agent commission than other listing companies.
That is why we suggest you look into some other companies offering flat fee MLS listing services. Many other brokers, such as Houzeo, have an upfront flat fee and offer additional benefits of 100% online transactions. Houzeo also has a powerful dashboard that is ideal for beginners and complete seller assistance to get you the best price for your home.
Frequently Asked Questions about Listwithfreedom.com
1. Does List with Freedom have hidden fees?
Yes. They deduct 0.25% of the buyer agent commission as a compliance fee. In addition, many List with freedom reviews online state that they charge an additional 0.1% commission in some states.
2. Is List With Freedom legit?
Yes, Listwithfreedom.com Inc is a legitimate listing company in the United States serviceable in most US states. Unlike the traditional selling route, List With Freedom lists your property on the MLS for an upfront fee. In Florida, Alabama, and Tennessee, Listwithfreedom is a licensed real estate brokerage. In other areas, it partners with flat fee brokers for listing services.
Related: listwithfreedom reviews, listing with freedom, list with freedom real estate, list for freedom, ralph harvey list with freedom, list with freedom reviews bbb, list freedom, list with freedom phone number, listwith freedom, ralph m harvey listwithfreedom.com, list with freedom ralph harvey, listwithfreedom com, listwithfreedom com inc, listwithfreedom.com, listing with freedom, listwithfreedom com, listwithfreedom com inc, list with freedom ralph harvey