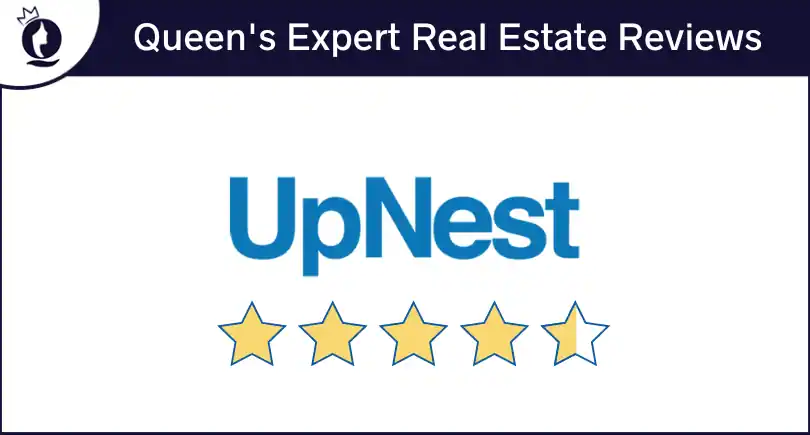 UpNest is an innovative real agent marketplace that connects home sellers and buyers with local full-service agents, and we'll look at UpNest reviews today.
There's no direct cost to using UpNest, but the savings are marginal. Some listing agents will discount their commissions, but you will still have to pay both commissions – almost 5%.
If you want max savings, strong technology, and superb customer service, check out Houzeo.com. Houzeo uses cutting-edge technology to give you all the tools agents have to offer. You get the same exposure but for half the commission, saving you thousands of dollars!
What is UpNest?
UpNest connects you with agents in your area using technology and market data. Agents compete to earn your business and start your real estate journey.
You get custom quotes from multiple real estate agents near you for comparing fees, expertise, and specialties at a glance. The process takes at least 24 hours, but since you have to interview several agents, it can take upwards of a week.

Once you fill in your basic details, you receive proposals from local agents. UpNest doesn't allow agents to view another agent's proposal, which works similarly to a blind auction or blink match. That incentivizes agents to reduce their commissions to attract home buyers and sellers.
UpNest's network is reliable and quick, but savings aren't guaranteed since there are no pre-negotiated commissions or buyer rebates on your behalf.
» For Sale By Owner Websites: Find out America's Best For Sale By Owner Websites
At a Glance: Houzeo vs. UpNest
Houzeo has created a 100% online platform using cutting-edge technology that has reduced manual efforts substantially. With UpNest, you only get matched with a potential agent. The remaining process stays offline.
Both Houzeo and UpNest are still better alternatives than the traditional home selling model, where you pay the full 6% commission fees.
| | | |
| --- | --- | --- |
| PRICE COMPARISON | HOUZEO | UPNEST |
| Flat Fee Package1 | $379+ | 2.5% to 3.0% |
| Recommended Buyer Agent Commission | 2.5% | 2.5% to 3.0% |
Let's take a look at other features of Houzeo and UpNest
| | | |
| --- | --- | --- |
| FEATURE COMPARISON | HOUZEO | UPNEST |
| Nationwide coverage | ✅ | ✅ |
| 100% online process | ✅ | ❌ |
| Mobile App | ✅ | ❌ |
| Offers sent directly to you2 | ✅ | ❌ |
| Counter an offer3 | ✅ | ❌ |
| Request the highest & best offer3 | ✅ | ❌ |
| Showing management4 | ✅ | ❌ |
| Fast listing changes | ✅ | ❌ |
| Buyer property search feature | ✅ | ❌ |
Notes:
1 Houzeo's tech-centric broker partners charge just the upfront flat fee, and no commission for all DIY plans (except in minimum service states)
2 Offers typically are routed to the brokers. Houzeo's Offers Platform allows your broker to present the offer to you instantly
3 Houzeo Offers Platform allows sellers to Counter an Offer and Request Highest & Best Offers Online
4 Houzeo Showings is available both on Houzeo's website and on the Houzeo mobile app


Is UpNest Legit?
Yes, UpNest is a legitimate business with over 17K real estate agents and professionals under its hood. Although it operates as a brokerage in California, with BRE License #01928572, UpNest doesn't represent any consumer in any state.
Simon Ru founded UpNest after his work at a real estate company, Less Than 6 Percent. After launching in 2013, the company has built an impressive portfolio in the highly competitive American real estate industry. The company has offices in the San Francisco Bay Area and Indianapolis.
Is UpNest Free?
Nothing is free. UpNest claims it is free. But, it is a paid service. If you are a buyer or seller, the payment is indirectly made by you.
Yes, many Upnest reviews mention this twist. The partner agent UpNest will connect you with will pay UpNest 30% of their commission. You pay that commission from your proceeds if you are a home seller. And if you are a home buyer, you are paying for that commission in the price of the home.
UpNest for Sellers
If you decide to sell via an UpNest agent, you will incur the realtor's commission, exactly how you would have incurred it finding an agent on your own.
UpNest agents decide their commission fees. It is usually 5-6% of the sale price and split equally between your listing agent and your buyer's agent. This is where UpNest's primary motivation, "Agents Compete, You Win." comes in. Realtors offer compelling commission rates and compete against each other for your business.
UpNest for Buyers
UpNest agents offer commission rebates for buyers, also known as "home-buyers rebate." The real estate agent applies a percentage of their commission earnings on the deal with the buyer. This portion of earnings is shared with the buyer in the form of credits so that they can be spent in limited ways, say, buyer's closing costs.
The agent proposals don't explicitly mention the buyer rebate rates. The rebate percentage should be clarified early on to avoid conflicts or confusion later in the process.
💸 Learn More: America's Best Low Commission Real Estate Companies (2023 Updates)
How Does UpNest Work?
UpNest is essentially a matchmaker — You sign up with basic information about sales or purchases and get recommendations for the best real estate agents in your area. Signing up is free. There's no return on wasted time and effort.
| # | Step | Description |
| --- | --- | --- |
| 1. | Enter your preferences | Give UpNest details about location, property type, estimated value, and timelines. |
| 2. | Access Customer Dashboard | In this customer dashboard, you have the option to compare agents. Most users get instant proposals, while others may take hours or even days. |
| 3. | Your UpNest Advisor | You'll connect with an UpNest advisor who breaks the ice with you about your agent preferences and explains what the UpNest journey looks like. |
| 4. | Final Decision | After comparing received proposals, you can interview these agents and sign with whoever offers you a better deal. If you don't like any matches, you can request more or walk away from UpNest. |
When matching agents with customers, UpNest analyzes thousands of agents' performance data. After the analysis, UpNest offers the best selection for its users. The agent matching process is automated. The instant proposals lack human oversight.
This is where the UpNest advisor comes in. They look at initial matches and may send new ones based on what you need. They check in periodically to keep things running smoothly.
How Does UpNest Make Money?
UpNest takes a share of that agent's commission for every successful home sale or purchase. Also called a referral fee, this is how all agent-matching services make money.
UpNest's home loan services are also an asset for the company. However, it is better to conduct independent research about different financing options before signing up with UpNest's loan services simply because you like your UpNest agent.
Why Do Agents Work With Agent-Matching Services like UpNest?
Attracting new business is a big task, and real estate agents put a lot of time, effort, and money into this endeavor. Not every deal closes successfully, so the is no certainty of getting any real estate commission.
Signing up with an agent-matching service like UpNest shares new prospects to the agents at no upfront cost. There is no need to spend on marketing. Joining the UpNest agent network and paying referral fees is convenient for realtors.
All in all, UpNest creates a lead-generating engine for agents to save on marketing time and efforts by agreeing to a referral fee paid when they close deals via UpNest.
UpNest Reviews
UpNest scores 4.3 out of 5, with commendable reviews. We assume this is because of an intuitive customer dashboard and highly-specialized agent network. However, folks have raised concerns about inconsistent and marginal savings compared to similar services in the market.
UpNest Pros and Cons
✅ No Obligation Service
UpNest delivers agent-matching services at zero commitment. Within 24 hours timeline after signing up, UpNest will then send you multiple agents you can choose from. You also receive commission quotes in your area and can compare the rates, services, and reviews from the said referred agents.
You can check the agent's proposal and other details without having an obligation to hire any of the referred agents. If you want to continue hiring or find another option, it's your decision. If nothing fits, you can simply walk away.
✅ High-Quality Agent Network
UpNest partners with thousands of top agents from leading national brokerages and boutique agencies across the U.S. They don't charge agents advertising or membership fees to join their network, so all agent matches remain unbiased, based on your criteria and preferences.
UpNest's selective nature in recruiting partner agents is a key factor in having highly qualified realtors and specialists in the industry. Screening and evaluation of partner agents are enforced rigorously. UpNest agents must meet performance criteria, such as:
Current real estate license
Having three years' industry experience
Being in the top 5% in terms of sales in the local area
Minimum six transactions in the past 12 months
✅ User-Friendly Customer Dashboard
UpNest's customer dashboard is intuitive and makes it easy to compare agent matches. While selecting an agent for selling your home, you'll have to evaluate important information like:
Commission rates
Total sales in your area
Customer reviews
Years of experience
Services offered by agents, such as home staging, landscaping, etc.
The proposals you receive from agents are comprehensive, and every little detail helps in streamlining the agent shopping process. This single-screen facilitates comparison shopping and lets you can evaluate the matched agents based on different criteria.
The user-friendly customer dashboard also features options to contact the matched agents, or your UpNest Advisor, simply with a click, unlike others like Ideal Agent, who provide this information via phone or text.
⛔ Marginal or Zero Savings
UpNest was created with the hope of transparently matching agents while keeping the process simple. But, systems are meant to fail and evolve. Although UpNest's marketplace model should've created huge savings, past sellers claimed nothing is guaranteed.
This could be because the commission rates aren't pre-negotiated. The lowest listing fee is ~2%, compared to 2.5-3%. Agents compete for your property, so they feel incentivized to offer low commission rates. However, agents submit proposals without prior knowledge about other agents' rates, so they can't lower their rates too much, to avoid losses.
While UpNest's model is innovative, the negotiation ultimately relies on you since they pre-negotiate rates and commissions. In other words, you may end up paying more commission, or rebate rates won't go low as you expected. This is a huge downside considering you're here for a better deal.
Since nothing is guaranteed, savings can be thousands of dollars or effectively zero.
» Discount Real Estate Brokers: Learn More About America's Top Real Estate Brokers in 2023
⛔ Inconsistent Customer Service
Spotty customer service is unattractive, and UpNest is yet to tighten the harness on their support team. From the Upnest reviews we've seen, it's evident that some representatives are extremely helpful and knowledgeable, while others struggle to answer simple questions.
Say you run into an issue with your UpNest agent and facing a contract dispute; you would want your UpNest Advisor to come in and clear the air. The complexity of real estate makes it essential to ensure that your customer service teams are above their game.
Also, UpNest Advisors don't own licenses, so they aren't equipped with unlimited real estate industry knowledge. With limited support hours and website chatbots that don't respond promptly, UpNest has a negligent customer service process.
UpNest Buyer and Seller Reviews
The Better Business Bureau gives UpNest a 4.65 average from their 46 customer reviews. Some UpNest reviews laud fast connection with real estate agents and even found the realtor the best fit for them. Others were not happy with the commission negotiations and complained about the mediocre services they received.
UpNest and Other Alternatives
UpNest vs. Houzeo
Houzeo is a great alternative for selling or buying a home. It's considered America's #1 For Sale by Owner and Flat Fee MLS platform, making the home-selling process seamless and easier. UpNest offers limited agents, while Houzeo gives you the freedom to choose your own agent and enjoy your custom-made package services.
Most of the documents and paperwork are automated and digitized to remove the burden of filling more and more papers. UpNest has speedy referrals and its own agents, and Houzeo has real savings with no hidden costs at all. You can list your home for sale by owner starting at only $199, the basic package. If the buyer has no agent, you don't have to pay any commission.
» Houzeo Reviews: The Reviews You NEED to See
UpNest vs. Redfin
Unlike UpNest, which refers to their own agent, Redfin is more like a support team in which they guide you throughout the process. Redfin is a real estate brokerage platform that offers a local support team and agents who will work with you from finding homes to closing the deal. It provides discounted fees for its available services. They'll help refer you to several professionals—home appraisals, real estate attorneys, etc.— to get your property fixed, upgraded, or landscaped properly.
Redfin provides services similar to a traditional full-service realtor yet with a low-cost commission. The downside with choosing Redfin is you can't work with your agent on a personal level. A group of individuals will assist you, so they can't personalize your experience. Redfin seems only to have agents in some states and is not currently available in Louisiana, Alaska, Montana, North Dakota, South Dakota, and Wyoming.
In a nutshell, Redfin works like a traditional realtor. But with its own Redfin agents and support team. In which case, other people may find it displeasing. People get the feeling that they're not part of the overall process.
» Redfin Reviews: Is it TRULY 1% Commission Fee?
Bottomline: Should You Choose UpNest?
There seems to have no upfront cost or fee for using their service. But, no. UpNest charges a referral fee. This fee is for their agents. If you're selling with UpNest, you have to pay the commission fee for your agent and the buyer's agent. In terms of cost savings, there's no assurance you'll save money since most of the pricing and fee depend entirely on the agents.
If you're looking for guaranteed savings, Houzeo makes it possible for you. Our basic and premium package provides more value than other real estate platforms. With a user-friendly interface and digitized listing paperwork, the process becomes seamless, faster, and easier for home sellers.
Other Options You Should Consider
1. Sell to iBuyers
iBuyers make an offer on your property within 24-48 hours and can close within 7 days or more. Most iBuyers like Opendoor and Offerpad are also known to offer the Fair Market Value (FMV) for your property.
Selling to an iBuyer has certain significant drawbacks. These include:
Limited coverage, restricted to metro and urban areas
Strict eligibility criteria without exceptions
Non-negotiable offers
5% service fee
2% – 8% repair costs
👉 Our Take: We recommend iBuyers if your house meets the iBuyer company's eligibility criteria.
» iBuyer Reviews: Check out rankings, pros, cons & alternatives of top iBuyers in America.
2. Sell to "Cash for Homes" Companies
Unlike iBuyers, "cash for homes" companies help you sell your house as-is fast. They can even close within 7 days or any date you choose. "Cash for homes" companies also make cash offers for homes outside metro areas or in difficult-to-sell locations.
Here's why traditional cash home buyers could be a bad option for you than an iBuyer:
They make lowball offers and offer only 50% – 70% of market value.
Their offers are non-negotiable
👉 Our Take: We recommend selling to a cash home buyer if you are selling a distressed house "as-is" without looking for the best price.
» "Cash for Homes" Companies: Check out America's biggest cash home buyer companies in 2023.
3. Sell FSBO With Flat Fee MLS Services
List on MLS with a Flat Fee MLS service to get your house on the market within just 24-48 hours. Selling For Sale By Owner has increased substantially in the past few years, with 77% of FSBO homes being sold in less than 2 weeks.
Flat Fee MLS is one of the best ways to sell your house fast, and it has 4 major benefits:
MLS is the fastest way to hit the market, plus your listing is syndicated to Zillow, Realtor.com, etc.
Your listing gets maximum exposure.
You can negotiate all offers.
You skip paying commission or service fees.
👉 Our Take: We recommend Flat Fee MLS companies for most home sellers. They are fast, and you will save thousands in commissions.
» For Sale By Owner Websites: Check out the rankings for America's best FSBO websites
Frequently Asked Questions about UpNest
1. Does UpNest charge a fee?
Not directly. Although UpNest claims it is free for home buyers and sellers, however, for every successful sale or purchase done via the platform, UpNest receives a hefty 30% referral fee. This is calculated based on the commission that the UpNest agent receives from the buyer or the seller.
Related: upnest review, upnest real estate, upnest agent reviews, upnest buyer reviews, upnest com reviews, upnest agent login, upnest for agents, up nest, upnest com, upnest login