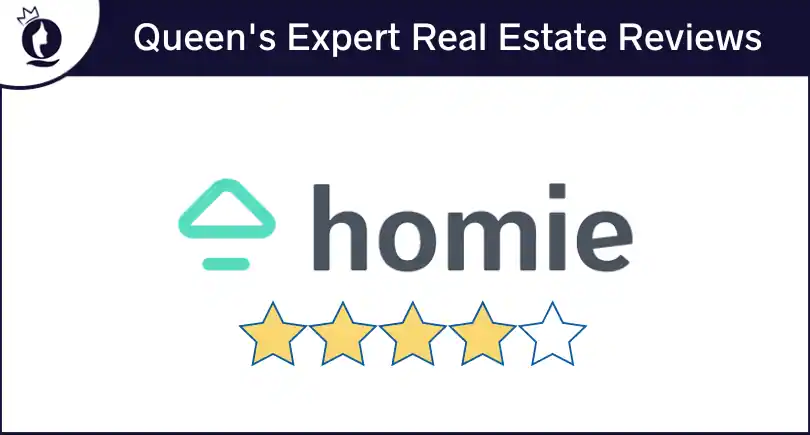 Homie Real Estate advertises enormous savings for home sellers and commission rebates for buyers with a flat listing fee of $3,500 instead of a 2-3% listing agent commission. As a low-commission company, Homie has garnered a 4.3 rating out of 5 stars with operations in five states across the country.
However, many Homie real estate reviews have highlighted their unpredictable service quality and limited coverage. If you're looking for a flat fee company with 5-star customer support and near-nationwide coverage, Houzeo is a good alternative.
Houzeo will automatically assign your local MLS giving you maximum exposure to buyers and buyer agents. Your listing will also be on all major platforms, including Zillow, Redfin, Realtor.com, and Trulia.
Key Takeaways
Pros: Low flat fees compared to traditional agent commission, simple online platform.
Cons: Limited agent support, unpredictable service quality, limited coverage.
Bottomline: We do not recommend Homie Realty for home sellers if you want to save on commissions. You will save more money and get listed faster with Houzeo MLS Listing.
What is Homie Real Estate?
Homie is Utah's largest real estate brokerage, with flat listing fees for sellers and commission rebates for buyers. Launched in 2015, they have helped customers with discounted listing fees and saving on a 3% realtor commission.
Homie real estate uses technology to cater to the needs of sellers and buyers while offering their services at a standard rate. Deloitte ranked Homie as North America's fastest-growing tech startup in 2021.
Is Homie.com Legitimate?
Yes. Homie Inc. is a low-commission broker, and Homie.com is a legitimate real estate company. Although they offer better rates than other discount brokers, past customer reviews mention the lack of hands-on support can be a hiccup.
Homie services include MLS listing, MLS Aggregator, staging, professional real estate photos, 3D images—and other usual traditional services. They promise to keep home-selling or buying a fast and easy process with a combination of cutting-edge technology and expert agents.
Where Does Homie Realty Operate?
Homie Realty launched in Utah and operates in Arizona, Idaho, Nevada, and Colorado.
How Does Homie Work?
As a typical discount broker, Homie Real Estate makes money by offering listing services for home sellers at a discounted rate and large commission rebates for buyers. Homie offers fewer services than a full-service real estate agent, so it can easily offset its discounted rates.
There is no in-person or onsite support during the home sale process; everything is handled remotely so Homie's smaller team of agents can handle more transactions seamlessly. Other ways of income generation are Homie's add-on services like mortgage, title, and insurance.
How Much Does Homie Cost?
Homie Homes will list your property for a flat $3,500 listing fee, saving you the 2-3% listing agent commission. You also get support for various home selling activities like marketing, home staging, etc.
| Service | Homie Fees | Houzeo Fees |
| --- | --- | --- |
| Listing Agent Commission | $3,500 | $299 |
| Buyer's Agent Commission | 2.5% – 3% | 2.5% |
| Total Commission | 5% – 5.5% | 2.5% |

Selling With Homie
When you sell your property with Homie, you'll get the same services as working with a traditional full-service agent. You'll be assisted with the home listing, pricing, marketing a home, showings, offers, negotiations, real estate photography or photos, paperwork, etc. All this happens when you get an in-house, salaried agent from Homie for a flat listing fee.
The buyer's agent commission can be negotiated or vary by property or market. Typically, sellers have to offer a 2.5-3% commission fee. But in the Home-2-Homie deal, you'll get thousands of savings via a flat fee when you sell a property to a Homie buyer. You can only pay a flat buyer fee of $1,300 in Utah or $2,000 in Las Vegas and Phoenix.
Does Homie Have Additional Fees?
Home sellers will pay $3,500 when selling a house via Homie, no matter the price of your house. Sellers choose Homie because of its one-time, flat fee compared to paying a 3% fee to a traditional realtor.
You should know that the buyer agent's commission is paid by the seller, so effectively, you pay $3,500 and 2.5% to 3% of the home sale price to the buyer agent. We recommend offering a competitive buyer agent commission to incentivize buyer agents to show your house.
There are no additional fees when transacting with Homie.
How Good are Homie Agents?
Homie employs agents on a monthly salary so sellers and buyers get all the support they need. Homie agents have licensed real estate professionals and experts in their industry.
However, Homie agents don't visit your house and don't provide in-person support. This lack of personal touch makes it awkward for home sellers to ask questions or seek personalized advice about their properties.
Traditional realtors team up with you to get a top dollar rate as they have direct incentives tied to the house sale. In the case of a salaried Homie agent, there isn't enough motivation because agents get paid even if your house isn't sold.
Homie advertises that their agents have the most expertise, but the opposite is true! The more customers they handle, the less attention they'll be able to provide.
Buying With Homie
When buying homes for sale with Homie, you'll receive services that come with a traditional realtor. However, you'll be handed over to a team of experts who will assist you throughout the transaction.
This team consists of professionals such as real estate agents, tour agents, mortgage coaches, etc. Throughout the process, Homie also offers insurance broker and mortgage services.
The most significant disadvantage of buying with Homie is preparing the offer. With Homie's online tool, you can create an offer, seek support from an agent if needed, get the offer reviewed, and submit it to the seller.
This is a considerable risk. As pointed out in Homie reviews, real estate paperwork can be tricky, and any incorrect information can lead to issues.
Homie Buyer Rebate
Also termed as Homie Buyer Refund, you'll have a rebate of 1-1.5% of the home price—when you purchase a home (applicable only to a non-homie Home). Some parameters to qualify for the rebate include:
Mortgaging only via Homie Loans, which is Homie's sister company
Using Homie Title for closing services
Requesting a homeowners policy quote from Homie Insurance.
If you fail to do any of these, you'll be ineligible for the rebate.
Essentially, there are too many strings attached to Homie's buyer rebate, and other companies in this space don't have such restrictions either. It's better to compare options and find a platform that supports all your requirements.
Homie Cash
Homie Loans announced Homie Cash™, a program allowing buyers to make all-cash offers to increase their chances of winning the perfect home. Homie Cash™ levels the field by allowing buyers that don't have hundreds of thousands of dollars in their bank accounts to become cash buyers and compete against investors and iBuyers like Opendoor, Offerpad, etc.
As a buyer, you must understand that you still need a traditional mortgage to repay Homie Loans. This means you have two closing costs and spend more than necessary on one transaction!
Homie-to-Homie
You'll be ineligible for a buyer refund if you purchase a property from a Homie seller. This is called a Homie-2-Homie deal, where a Homie buyer buys a home from a Homie seller. The seller doesn't have to pay the usual buyer's agent commission and only pays a flat fee, depending on the state. But for the buyer, this only means you're automatically disqualified from a refund.
Other Homie Services
Homie Loans
Homie Loans target first-time buyers or users trying to refinance a home. They also offer a "Lowest Price Guarantee" and guarantees to beat any competitor's locked loan rate. The agreement says they will pay "the amount of $500 towards your appraisal costs of the competitor."
Homie will give you the $500 back if you find a better rate.
The Homie Loans in-house mortgage broker service helps buyers shop rates, apply for mortgages, refinance their current mortgage, and get pre-qualified or pre-approved. Of course, you don't have to buy with Homie to avail of the Homie Loans.
You need to apply online for your loan, upload the essential documents, and sign online with your signature.
Homie Title
Homie Title offers settlement services to home buyers and sellers. Items like title insurance are taken care of here. Homie's platform guides customers throughout the process, making it more convenient than a conventional title company.
Homie Insurance
Homie Insurance is the company's in-house insurance broker. It offers quotes for homeowners and auto insurance policies from nationally-recognized brands like Travelers and MetLife.
Provider Marketplace
As part of simplifying the home-buying and selling experience, Homie introduced Service Provider Marketplace, which has a database of local vendors, home cleaners, and services from home staging to pest control. These are the list of companies that you may want to avail or hire for staging your home.
All you have to do is search for a service and click on your preferred provider. These listings have an overview, contact details, websites, and availability. Although convenient, this feature doesn't guarantee reliability and quality—there's not even any customer review or feedback. You have to do your independent research before hiring anyone from the marketplace.
Homie Real Estate Reviews
Homie garners an aggregate rating of 4.3 stars out of 5, with over 1,000 reviews across Google, Facebook, and Zillow. Let's look at Homie's customer reviews and find out how well the product serves the audience.
Positive Homie Customer Reviews
✅ According to many reviews, Homie offers its clients incredible customer service and professional work.
✅ By providing a simple and easy online platform for its users, Homie simplifies the application process from the beginning.
Negative Homie Customer Reviews
❌ Buyers were unsatisfied with Homie and complained their agents lacked knowledge about the buying process and the types of loans needed.
❌ In addition, Homie's reviews state they lack communication skills, making the process quite difficult for many buyers.
Homie Pros and Cons
Pros
✅ Low Flat Fee, Huge Savings
Traditionally, you incur a 6% commission when selling a house. Homie's flat fees for sellers and buyers let you do the same without losing substantial equity. The listing fee is due when your home sells. Satisfied customers consistently admire the cheap listing fees, just like this seller from Homie Google reviews:
✅ Simple, Online Platform
Homie's online platform is intuitive and simple. Everything has been digitized, and the platform makes it simple to upload and sign documents pertaining to the sale of the house. All the tricky real estate paperwork is online, and Homie's in-house legal team will support you if the need arises, and positive Homie reviews reflect this perceptive.
Cons
❌ Limited Agent Support
A common sentiment in Homie reviews is that they underdeliver what they promised. The company's salaried agents juggle more than 10x customers, making it hard for them to support everyone.
You may receive little to no support when selling a house with Homie. In fact, the staff isn't available onsite and handles all the queries remotely.
❌ Unpredictable Service Quality
Although Homie has deployed different teams to make the journey of home sellers and buyers easier, some clients may not get the necessary attention and support that's available with a traditional realtor. Homies' service quality is unpredictable because their agents handle large volumes of customers. Marketed as "experienced" agents, you may get stuck with a newcomer who can fail to offer personal guidance.
Trading off service quality for discounted rates isn't ideal. Home selling is an overwhelming experience, so the tools you select must be equipped to support you. As the above Homie reviews show, a lack of timely support can make or break the deal. Houzeo's customer support team empowers home sellers and buyers, ensuring they can contact them at any time.
Houzeo staff is available at every step of the way, and having a 100% online platform has facilitated us to assist instantaneously.
Homie Alternatives
Homie vs. Realtors
The key difference between the two business models is how Homie and the traditional agents earn their living. Homie's agents usually earn through their salary and bonuses based on their client's feedback. Although these may sound good for them, agents also tend to abuse and don't work hard to fully satisfy their clients— why do your best if you'll get paid anyway?
Working with a traditional agent is like teaming up with a business partner. You both want what's best for your home. But buying and selling with Homie may seem questionable since their commitment level depends on the price you pay.
👉 Discount Real Estate Brokers: We've ranked the top discount brokers in America.
Homie vs. Houzeo
Houzeo is not your ordinary flat fee MLS and FSBO service provider. It's one of the most advanced For Sale by Owner websites available. Once you've decided to list your home, the overall process runs smoothly—all essential documents and listing paperwork, all online! What's more, there are no hidden costs at closing and no listing agent commission.
A standard flat fee MLS charges a listing fee and then leaves you at the market alone. But at Houzeo, packages are tailored to suit your home-selling needs, from basic to full service. You'll be listed on big online platforms like Realtor.com, Zillow, Trulia, and 100s more other websites.
Besides, Homie's flat listing fee of $3,500 may seem not appealing compared to Houzeo's pricing package—only $199 to start listing. If you're looking for the most advanced Flat Fee MLS/FSBO platform that offers limitless leverage and cutting-edge technology, visit Houzeo and list your home.
👉 Houzeo Reviews: All You Need to Know About Houzeo.
Homie vs. Redfin
Homie real estate has salaried agents working for them, just like Redfin. Both act more like support teams to guide you throughout the process. Redfin is a real estate brokerage platform that offers a local support team and agents who will work with you from finding homes to closing the deal.
When you close the deal, you pay Redfin a 1.5% commission. In contrast, Homie only asks for a flat rate of $3,500, no matter the price of your house. Redfin's agents provide onsite assistance, but Homie agents only support remotely, and there is no hand-holding as seen in several Homie reviews.
In terms of coverage, Redfin covers 100+ markets in several states, whereas Homie has limited coverage in 5 states.
👉 Redfin Reviews: Is it TRULY a 1% Commission Fee?
Homie vs. UpNest
UpNest is an agent matching service and offers free services for sellers and buyers looking to sell or buy homes. Upon closing the deal, the agent will pay a 30% referral fee to UpNest. Although it is a non-obligatory agent-matching service, it is clear that you as a buyer or seller, pay UpNest in the end.
Homie Realty lacks in providing personalized support since their in-house agents juggle more than 10x customers, whereas UpNest agents provide in-person support and hand-holding throughout the process.
If you sign up with UpNest and don't sell or buy a house, you pay nothing. However, with Homie, you must pay the flat listing fee when selling the house. Whether the house sells or not doesn't matter.
👉 UpNest Reviews: Is this Agent Matching Service Worth Your Time?
Other Options You Should Consider
1. Sell to iBuyers
iBuyers make an offer on your property within 24-48 hours and can close within 7 days or more. Most iBuyers like Opendoor and Offerpad are also known to offer the Fair Market Value (FMV) for your property.
Selling to an iBuyer has certain significant drawbacks. These include:
Limited coverage, restricted to metro and urban areas
Strict eligibility criteria without exceptions
Non-negotiable offers
5% service fee
2% – 8% repair costs
⭐ Our Take: We recommend iBuyers if your house meets the iBuyer company's eligibility criteria.
👉 iBuyer Reviews: Check out rankings, pros, cons & alternatives of top iBuyers in America
2. Sell to "We Buy Homes for Cash" Companies
Unlike iBuyers, "We buy homes for cash" companies help you sell your house as-is fast. They can even close within 7 days or any date you choose. "We buy homes for cash" companies also make cash offers for homes outside metro areas or in difficult-to-sell locations.
Here's why traditional cash home buyers could be a bad option for you than an iBuyer:
They make lowball offers and offer only 50% – 70% of market value.
Their offers are non-negotiable
⭐ Our Take: We recommend selling to a cash home buyer if you are selling a distressed house "as-is" without looking for the best price.
👉 "We Buy Homes for Cash" Companies: Check out America's biggest cash home buyer companies in 2023
3. Sell FSBO With Flat Fee MLS Services
List on MLS with a Flat Fee MLS service to get your house on the market within 24-48 hours. Selling For Sale By Owner has increased substantially in the past few years, with 77% of FSBO homes being sold in less than 2 weeks.
Flat Fee MLS is one of the best ways to sell your house fast, and it has four major benefits:
MLS is the fastest way to hit the market, plus your listing is syndicated to Zillow, Realtor.com, etc.
Your listing gets maximum exposure.
You can negotiate all offers.
You skip paying commission or service fees.
⭐ Our Take: We recommend Flat Fee MLS companies for most home sellers. They are fast, and you will save thousands in commissions.
👉 For Sale By Owner Websites: Check out the rankings for America's best FSBO websites
Will Homie Save Your Money?
Homie is disrupting the real estate marketplace with its technology-backed platform, but the risks outweigh the benefits. For a flat fee of $3,500, trading off service quality harms sellers, as seen in Homie reviews.
If you want to save money and are comfortable handling online paperwork, choose a flat-fee MLS company like Houzeo that'll provide better rates and personalized support than Homie. Homie can save you a few cents, but selling a house with limited support from Homie agents is no different from selling a house by owner.
Frequently Asked Questions
1. Is Homie worth it?
No, Homie real estate is not worth it. For a flat fee of $3,500, trading off service quality is harmful for home sellers, as seen in Homie reviews. If you want to save money and are comfortable handling online paperwork, you can choose a flat fee MLS company that'll provide better rates and personalized support compared to Homie.
2. What is Homie Cash?
Homie Cash is a program that allows buyers to make all-cash offers to improve their chances of buying their perfect home.
Related: why homie is bad, homie.com reviews, homie homes for sale, homie commission, homie com, homie realestate, homie cash reviews, homie cash offer, homie listings, homies real estate, what is homie cash, homie closing costs, homie com reviews, how much does homie pay agents, housezo, houszeo, houzzeo, hozeo, homie brokerage, homie comments, homie property, homie-work, how does homie cash work, homie real estate agents, homie home buying, homie company, homie house selling, homie mortgage rates, homie houses for sale, homir, homiw, homierealestate