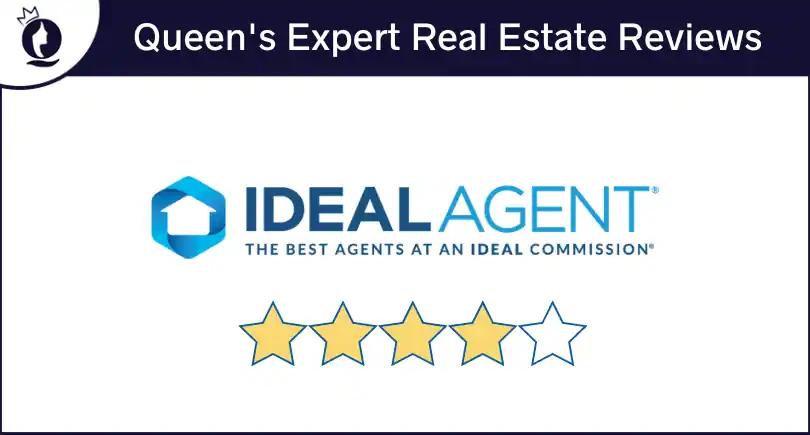 Ideal Agent is a non-obligatory agent matching service connecting buyers and sellers with local agents. The company offers savings by allowing you to pay a 2% listing agent commission instead of a conventional 3%.
However, with Ideal Agent, you do not have the option to choose your agent. The agent will get in touch with you. You can conduct an interview and ask for other options. However, it might take up to two weeks to find an ideal agent.
Instead of waiting for an agent to start the listing, you can list your property the FSBO way. Flat fee companies like Houzeo allow you to list your property within 48 hours while saving a top dollar on the agent's commission. Houzeo's 5-star customer support guides you throughout the process, making your home-selling experience a breeze.
Should I List With Ideal Agent?
Pros: Ideal Agent's customer service has strong reviews
Cons: Ideal Agent is expensive. You will be paying a total commission of 4.5% to 5%, a 2% listing agent commission and a 2.5% buyer agent commission. Ideal Agent is also very low on tech.
Our Take: Ideal Agent's 2% listing agent commission is too high. This includes the 25% referral fee to Ideal Agent. Using Houzeo will help you save thousands by eliminating this entire commission.
Let's look at Ideal Agent reviews to understand how they work and why it might not be the best idea to sell your house in 2023.
What is Ideal Agent?
Ideal Agent is an agent matching service that connects home sellers and buyers with licensed real estate agents in their locality. The company claims to be one of the leading agent matching companies dealing with high-quality agents from the top 1% of sales contributors in their local markets.
Ideal Agent pre-negotiates commission so that sellers can avail of discounted rates. While other agent matching services like UpNest or HomeLight charge you 2.5 to 3%, Ideal Agent charges the home sellers a 2% commission as their listing fee. If you feel the agent isn't a good match, you can always feel free to walk away and explore other options.
» Discount Real Estate Brokers: Check out America's Top Real Estate Discount Brokers in 2023

Is Ideal Agent Legit?
Yes, Ideal Agent is a legitimate company based out of Florida. All agent matching services, including Ideal Agent must be licensed to carry on such services and collect money from agents who they work with. This is essentially how Ideal Agent makes money.
The agent matching company works with only 450 agents across the country and claims that entry to their agent network is "by invite only", making it an exclusive niche of ideal agents.
How Does Ideal Agent Work?
Agent matching service is pretty simple and easy for home sellers. Typically there are 4 steps involved, as listed:
STEP 1- Fill out required details about your house
Agent matching companies like Ideal Agent prefer to collect basic information about the house through an online form, and this information becomes a lead for them. This information contains:
Property details and description
Contact details of the homeowner
How fast the homeowner wants to sell
STEP 2- Ideal Agent stores your information as a lead
The information you share will be stored as a lead in Ideal Agent's database and match the homeowner with a prospective agent based on the zip code and availability.
STEP 3- Interview prospective ideal agents
After connecting an ideal agent with a homeowner, the website is pretty much useless. The platform doesn't even have an agent's dashboard where you can see details about the agent. The prospective agent will get in touch to understand your requirements and initiate the listing paperwork.
As a homeowner, you can interview the agent and determine if you want to work with them. If you don't like the agent, you can request another option. Finding your Ideal Agent could take up to two weeks, and the house isn't even listed yet!
STEP 4- Sign the Listing Agreement
Finally, you're ready to sign the listing agreement and let the real estate agent take things ahead. Once this agreement is signed, your house gets listed on the MLS, and the next phase of your home selling begins.
👉 IMPORTANT: Getting verified by the Ideal Agent Concierge to find an appropriate match for your "Ideal Agent" can take up to two weeks.
Ideal Agent for Sellers
Real estate agents would be your first choice if you're a first-time seller. Working with local agents can reap higher benefits. They know the local laws, can negotiate the deals as per the local market standards, have strong local connections, and guide you throughout the process.
Agent Matching: Ideal Agent matches home sellers with one real estate agent, and this agent then guides the seller through their journey. Agents are assigned from the top 1% of real estate agents who have closed deals in the seller's locality.
Pre-negotiated Commissions: Since Ideal Agent has pre-negotiated the commission with the agents, sellers can focus on other activities pertaining to a house sale.
Dedicated Concierge: The real estate agent assigned by Ideal Agent will understand the home seller's requirements and prepare all the documents necessary for the house sale. They support the seller with other activities like home showings, negotiating offers, etc.
» Pro Tip: The typical realtor commission varies from 5% to 6% of a home's final closing cost – which is split equally between the buyer's agent and seller's agent. Sellers pay commission for both agents. You can save more if you list your house on the MLS with a Flat Fee MLS company like Houzeo.

Ideal Agent for Buyers
Ideal Agent offers no significant benefits for home buyers. You can hire an agent, but there is no dedicated form on their website for buyers. You need to contact their customer service to set up a call with the concierge. Post the formalities; the agent will then get in touch with you to understand your needs.
Despite being a hit for home sellers, Ideal Agent isn't a buyer-focused platform. The advertising clearly promotes its "Smart Seller" system. The lack of high-quality services for buyers is one of the biggest cons of this agent matching service.
» Pro Tip: Ideal Agent is primarily for sellers; the quality of agents for home buyers may be questionable here. Another way to buy your dream house without any hassles of constant calling could be through Flat Fee MLS websites. You save on the 3% listing agent's commission by investing just a few dollars.
» Buy a House Without a Realtor: Read Our in-depth Guide
Is Ideal Agent Really Free?
No. Even if they market it as a "free agent matching service," Ideal Agent charges a 25% referral fee from the real estate agents who complete a transaction via their website.
Since you pay the agent, the agent, these fees are essentially going from your pocket.
How Much Does Ideal Agent Cost?
Ideal Agent isn't free. They take a 25% commission of the total sale amount from the agent as a "referral fee."
This is how most agent-matching services make money.
Ideal Agent pre-negotiates the seller agent's commission to 2% or $3,000 on a house valued under $150,000.
However, the seller will still have to pay a commission to the buyer's agent. So, if you're calculating the total commission, the seller will pay:
Listing Fee + 2.5% Buyer Agent's Commission
While these numbers look good, you can save twice as high with For Sale By Owner websites. These FSBO websites have eliminated listing agents from the picture and helped you get more control over the sale.
How Good are Ideal Agents?
As previously said, Ideal Agent claims to establish a high bar when it comes to recruiting agents. For example, all agents of Ideal Agent must be NAR members with great Zillow reviews. They must have a number of transactions and be in the top 1% of their local market's sales.
Ideal Agent Reviews
Based on 450+ Ideal Agent reviews on Google, this agent matching service has a 4.8-star rating on popular apps like Yelp and Trustpilot. These reviews are a blend of positive home selling or buying experience and disconcerting customer service.
Let's take a look at a few Ideal Estate reviews of customers:
✅ Qualified Agents
Ideal Agent claims to have the top 1% of agents as a part of their network. Perhaps an exception, Tanya Rhodey makes the cut as an utmost professional.
Only because an agent meets numerical criteria, it is not necessary they will deliver quality service to you. Take into consideration their past experience in selling your kind of property, their accomplishments, and their personality before taking a call.
✅ Dedicated & Helpful Concierge
The Ideal Agent concierge is knowledgeable and competent. They take you through every process in detail after understanding your requirements. Ideal Agent provides you with a dedicated concierge and this is one of their biggest advantages. Because your concierge will know your situation in and out, they will give you the right solution to every hurdle.
⛔ Limited Savings
Mark was promised 2% by Ideal Agent, but the Realtor charged 4.5%. This likely includes both the listing agent and buyer agent commission, but even then it is very high. And if the Realtor represented both sides, it's extremely high!
Lisa had a similar experience. These Ideal Estate reviews clarify that the claim of discounted commissions and maximum savings is highly questionable.
⛔ Inconsistent Match Algorithm and Poor Service
According to the National Association of Realtors, 88% of home buyers and sellers use a real estate agent to make a smooth and uninterrupted transaction. However, does this method save you more money or drain your pockets? Elizabeth has a strong opinion about working with Ideal Agent:
Ideal Agent Reviews on BBB
Several Ideal Agent reviews on BBB and Trustpilot report a similar inconsistent experience to that of Elizabeth and Lisa. Because they weren't "local experts", several customers were dissatisfied with their experience. It also shows the lack of quality assurance in services offered by the Ideal agents.
Buying or selling a house is one of the major financial decisions you would be making. You may as well compare a couple of websites and companies before making a final call. Research is the key ingredient to finding the best option that's financially sound and safe.
⛔ Offline, Manual Process
Control over their sale is the #2 priority of home sellers in 2021. Saving money on commissions is still the #1 priority. Houzeo has digitized change requests, so you can request changes online yourself. Agreements are automatically generated based on the change you request, and you sign them instantly. No waiting on your agent to create an agreement for you.
With Ideal Agent, you'll have to call your Ideal agent, who'll then generate a contract when they get to it. They'll then ask you to sign it. Once you sign, they can make the listing edits again when they get to it. This offline, manual process increases the turnaround time and further adds more days on the market.
Alternatives to Ideal Agent in 2023
Based on Ideal Agent reviews and complaints, below are the following alternatives worth considering.
1. Houzeo.com

Queen
2. HomeLight

Queen
HomeLight is an agent matching service, free for home sellers. They offer both full and limited service plans.
Free Agent Matching: Your real estate commission varies depending on the agent you are assigned. In some cases, the traditional 5%-6% commission may still apply.
» HomeLight Reviews: Check out the customer reviews for HomeLight on Sitejabber.
HomeLight has a network of the best real estate agents, and brokers. They help to create tailored guides and resources in the process of selling a house.
Good Agent Coverage: They have a good number of agents as per their coverage area.
Estimators and Calculators: HomeLight offers home value estimator, best time to sell calculator, agent commissions calculator, and net proceeds calculator.
In our research, we came across a few red flags of HomeLight.
Inconsistent Agent Quality: The agents you are matched with may not work at your convenience. Even the listing speed will be based on the agent selected.
HomeLight offers decent agent-matching services. However, you may be matched with a listing agent who charges 3% commission, meaning zero savings for you. Their agents handle multiple clients at a time time. This could lead to miscommunication and lack of personalised services.
Should I Work With an Ideal Agent?
Ideal Agent has seemingly genuine advantages that come with challenging and disappointing drawbacks. So, you should think twice before choosing this agent matching service to sell your house.
If you're someone who can compromise on quality and have lesser savings, Ideal Agent could be ideal for you. However, if you want to save on commissions and sell your house for a top-dollar rate, you can be smart about your sale.
Flat Fee MLS platforms like Houzeo let you list on the open market even if you aren't a licensed broker. When you list on the MLS via Houzeo, you get a personalized dashboard, 100% online platform, and timely customer service—at a flat rate.
And, you can do this all on your mobile too! Get your house listed today!
Frequently Asked Questions about Ideal Agent
1. Does Ideal Agent provide more than one agent match option?
No, Ideal Agent only provides one agent match per listing. It is a take it or leave it deal.