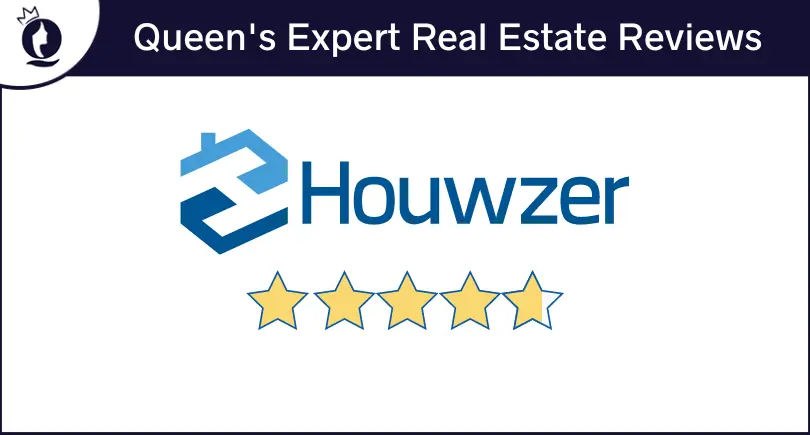 Houwzer is a discount real estate brokerage firm that provides services at lower commissions compared to traditional agents. Houwzer charges 1% at closing instead of the standard 3%. it also offers enticing buyer rebates.
However, it is important to note that these savings may be accompanied by delays, mistakes, and unprofessionalism.
With flat fee companies like Houzeo, you don't face such issues. Houzeo's agents guide you at every step and help you with complex real estate procedures. Their 5-star customer support and stellar technology will make your home-selling experience a breeze!
Key Takeaways
Pros: Houwzer offers savings by charging 1% listing agent commission at closing instead of 3%.
Cons: Their agents are salaried and handle a higher volume of clients than typical realtors. Hence, you might receive limited personal assistance.
Our Take: Houwzer may not be a suitable choice for home sellers. Instead, consider using Houzeo.com, a technology-driven platform that offers better guidance and greater savings.
What is Houwzer?
Houwzer is a real estate brokerage company with a unique business model. However, their agents are salaried and do not get any commission at closing. As a result, they may not assist you in getting the best price for your property.
Houwzer provides an online platform to make communication easier. However, their small team might not be able to assist you instantly.
Moreover, their coverage is limited to Florida, Pennsylvania, Maryland, New Jersey, and Washington D.C. This is a dealbreaker for people living in other parts of the country.
How Does Houwzer Work?
You can register with Houwzer from their website. Based on the services you require, they will ask you a few questions.
Sellers need to fill in their property details and contact information. They can also specify if they need a home evaluation or want to buy a house with Houwzer as well.
On the other hand, buyers need to specify their house preferences and add their contact information to sign in with Houwzer.
You can also finance or refinance your home with Houwzer. For that, they will ask property details, your credit score, employment status, and other personal details.
Houwzer Services
Houwzer offers an array of services to both sellers and buyers. They also provide mortgage advice and title insurance. Their offerings also include special savings through their bundle service.
For Sellers
Houwzer charges a 1% listing agent commission to home sellers and offers some standard services. These services include an MLS listing, professional photography, negotiation assistance, contract consultation, direct mail advertising, closing coordination, etc.
For Buyers
Houwzer assigns a buyer agent to home buyers. This agent helps the buyer at every step of the process including home tours, negotiations, paperwork, etc.
Other Services
Houwzer also offers mortgage advice and title insurance services. If you buy a house with Houwzer and avail of any of these services, you can get a rebate of $2,000. However, if you use both of these services, you will get a rebate of $2,500.
Houwzer Reviews
Houwzer Real Estate has secured a 4 out of 5-star rating on Yelp based on 44 reviews and a 4.8 out of 5-star rating on Google based on 382 reviews.
The company has got many positive reviews that highlight savings. On the other hand, Houwzer's complaints revolve around their poor customer service and lack of personalized support.
✅ Brenda expressed her satisfaction with Houwzer's services and the level of customer support they provide.
✅ Kevin was delighted with the savings and expressed his trust in the company's reliability.
❌ Kristi emphasized the inefficiency of their agents as a notable aspect of her experience.
❌ Tanya shed light on the company's lack of personalized assistance,
Houwzer Pros and Cons
While Houwzer is primarily focused on assisting homeowners to save on real estate agent commissions, it is crucial to carefully evaluate the pros and cons before making a decision.
👍 Pros
Huowzer offers the following benefits to Home Sellers:
Commission Saving: Sellers can save up to 2% on the listing agent's commission.
Buyer Rebate: Houwzer offers compelling savings if buyers avail of their mortgage advice and title insurance services.
Houwzeer's Dashboard: You can use this dashboard to track the progress of your listing.
👎 Cons
Working with Houwzer comes with the following potential drawbacks:
Lack of Personal Assistance: Houwzer agents handle multiple clients at a time. This leads to less individual support provided to you.
Limited Coverage: Houwzer only operates in 5 states. Hence, Americans from other parts of the country can't use their services.
Potential Miscommunication: You interact with multiple agents at various stages of the home-selling process which can lead to

miscommunications and delays.
Alternatives to Houwzer.com
Houzeo.com: Houzeo offers a compelling combination of significant savings, advanced technology, top-notch customer support, and extensive listing exposure. As a fully online MLS listing website, Houzeo has garnered thousands of customer reviews. It provides coverage in 47 states across the US, offering a near-nationwide reach.
Redfin: Redfin charges a 1% commission and provides better services. However, their reviews raise issues about their agents' lack of direction and support.

Is Houwzer Worth It?
While Houwzer can appear as a convenient choice for saving on the listing agent's commission, it's important to consider the associated drawbacks. Houwzer's lack of personal assistance, risk of miscommunication, and limited coverage may make the home-selling process overwhelming for you.
If you want to save on listing agent commission we recommend Houzeo. It is a top choice for home sellers who want expert's guidance at every step of the process.
Frequently Asked Questions About Houwzer
1. Is Houwzer Legit?
Yes. Houwzer is a reputable firm providing real estate services for over 8 years. The company was founded by Mike Maher and Kevin Baird in Philadelphia and offers services in Florida, Pennsylvania, Maryland, New Jersey, and Washington D.C.
2. Is Houwzer worth the money in 2023?
No. Many real estate companies provide better value for money. FSBO companies like Houzeo, for instance, offer better services and comprehensive support for a nominal fee.
Related: houzer real estate, houwzer real estate agent, houwser, howser real estate, houser real estate, houwzer vs redfin, howzer real estate, houwzer realtor, howzer realty, houwzer homes for sale, houwzer com, houzer real estate reviews, houwzer real estate reviews, houwzer llc, houwzer Baltimore, houwzer realty, Houswer, houzer com, houwzer salaried realtors, houwzer locations, houzer home sales, houwzer salaried agents, houwzer reviews dc, houwzer mortgage reviews, houwzer google reviews, houwzer dc reviews, google houwzer reviews, houwzer zillow reviews, reviews of houwzer, houwzer.com review, houwzer bad reviews, houwzer vs redfin, houzer realty, houwzer listings, customer reviews for houwzer real estate