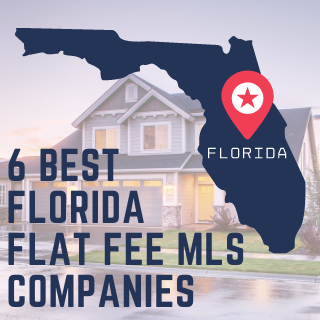 Rankings: Best Flat Fee MLS Services in Florida
Flat Fee MLS is a Game Changer for Home Sellers
Looking to sell your home? You're not alone – the real estate market is busier than it's been in almost a decade. And in this hot market, if you follow some simple tips to sell your home by owner, you don't really need to pay the hefty agent commissions. It's your money. You keep it.
So, what's the best way to sell your home?
You can take three approaches here: 
Option 1: Hire a full-service agent and pay a 5-6% commission
Option 2: Do a pure For Sale By Owner and get little to no exposure to buyers
Option 3: BEST OPTION – Sell it yourself as a For Sale By Owner with a Flat fee MLS option which includes end-to-end marketing exposure and saves on commission
🧐 Top 3 Priorities For HomeSellers
Sellers Want the Most Profit in a Sale: According to the Zillow Group's Consumer Housing Trends Report survey, for over 50% of sellers, getting maximum returns was the most important consideration.
Sellers Want Control in their Transaction: Over 40% of younger sellers desire more control over the transaction.
Sellers Want to Save Time: The 3rd important finding was that time is an important consideration for home sellers.
Based on home seller priorities, we can confidently recommend you choose the Flat Fee MLS route when selling your home. Homes values in Florida, especially in the high-profile cities like Miami, Tampa, Orlando, Naples, etc., have seen a tremendous appreciation. Zillow estimates that there has been a 20.1% home value appreciation in just the last year in Florida. At this rate, flat fee MLS provides tremendous savings!
💰 Incredible Technology, Incredible Savings 
Houzeo's technology makes FSBO easy by giving you access to tools only agents have
Does a Flat Fee MLS Listing Work?
Yes. 88% buyers purchase a property through a buyer's agent, and these agents are vital in getting you top dollar for your property sale. So, if your house is not listed on the MLS, you are turning your back on 88% of customers already.
In fact, Flat Fee MLS came into existence when the United States Department of Justice passed a settlement that allowed real estate consumers to save money when selling their houses!
 How Much does flat fee mls cost?
There are 2 types of costs associated with a Flat Fee MLS listing
Upfront Flat Fee: This is what you'll pay to get on the MLS
Hidden Charges:

 Brokers will reel you in with a $99 listing! Buyer beware – that's just the start. You'll be paying $500+ in hidden fees. A $50 yard sign will be sold you to for $135. Some brokers will charge you hidden fees at closing, but you'll only find out about these when you're ready to close. That's way too late to do anything about it.
>> Houzeo discloses all its fees upfront on the Florida Pricing page <<
6 Best Flat Fee MLS Services in Florida
Why Houzeo is #1?
How Much Can I Save?
Avg. Rating
Locations
Why Houzeo is #1?
No hidden fees to Houzeo or the listing agent
Maximum MLS exposure
100% automated process on the web and the new Houzeo mobile app
Quick listing – Listed within 8 business hours with Houzeo Concierge
Counteroffer feature
Affordable full-service packages
How Much Can I Save?
On a home valued at $600, 000, you can save up to $18,000 right away in listing agent commissions. If you find an unrepresented buyer, then you save another $18,000. That's $36,000 in potential savings!
Avg. Rating
Houzeo has a 4.9 out of 5 rating (1,458 total reviews) on popular review sites
Locations
Houzeo covers all major MLS' in Florida
Introducing the Houzeo Mobile App!
View your listing

Review and compare offers
Counter an offer
NEW! Buyers can now search your property and save it in "Favorites"
Houzeo is the "Most Advanced For Sale By Owner Website". Here's why:
No Hidden Fees: Houzeo transparently discloses its Flat Fee MLS Florida pricing on its pricing page. You'll pay no additional fees to the listing agent or to Houzeo
Maximum Exposure:

 

An MLS listing via Houzeo gets syndicated to Zillow, Trulia, Realtor.com, Redfin, and a hundred more! Since Houzeo provides maximum exposure on your listing.
Reach Local Agents & Offer them a Commission: Over 90% of buyers are represented by agents. This means almost all inquiries to your property will be from buyers represented by agents. Via Houzeo, you can offer a fair commission to the buyer's agent and invite top dollar offers for your property.
Fast Listing & Changes:

 

Complete your listing in an hour or less, all online. With Houzeo Concierge, you'll be listed in 8 business hours if all your documents are in order! Email support@houzeo.com or call us to get your listing expedited for free. This feature is available in most major MLS' in Florida.

Online Offers – On the Web or Houzeo Mobile App: Review & compare offers online on the web or the mobile app. You can even counter an offer.
Low Prices:

 

Most For Sale By Owner websites like Zillow and Trulia aren't really free. They provide your leads to local agents, who'll call and cost you time. Houzeo doesn't sell your leads. All buyers via Houzeo.com are routed directly to you. Check out our pricing for Florida Flat Fee MLS.
Why Doug Addeo?
How Much Can I Save?
Avg. Rating
Locations
Why Doug Addeo?
Multiple Flat Fee MLS packages to choose from
They create an FSBO website for your property to maximize its exposure
How Much Can I Save?
You save the entire Listing Agent commission as you choose their Flat Fee MLS Florida packages
Avg. Rating
Locations
Doug Addeo covers only the Florida region
Flat Fee Group is a Flat Fee MLS listing service that was founded in 2003, and currently serves across the United States.
Its main aim is to connect independent and flat-fee real estate brokerages with the sellers. Similar to Houzeo, Flat Fee Group allows the home sellers to list their property on the local MLS without the need of a traditional agent.
Flat Fee Group has a network of brokers from each locality, the company itself doesn't perform any services or list properties, but instead refers the listing out to a cooperating broker in the $179 that allows you to list your property on the MLS but you don't get any other services like personalized support, professional photography, combination lockboxes, digital contracts, and much more.
The prices of the packages vary according to the services included in them.
Why List With Freedom?
How Much Can I Save?
Avg. Rating
Locations
Why List With Freedom?
Excellent for savvy home sellers who just want the basic package, and are fully aware of all Florida requirements
How Much Can I Save?
If your property is listed and you need to cancel the service then they do not provide you any refunds, which in a sense seems like a cancellation penalty and can cut down your savings. 0.10% of the commissions is collected by the company from the buyer agent's commission, seems like another hidden fee!
Note that Houzeo doesn't charge a cancellation fee. Where an MLS charges a cancellation, Houzeo will pay the broker that fee out of their pocket, because a cancellation is essentially our failure to help you sell your property, and where possible, we don't want you to pay a fee at failure
Avg. Rating
Locations
MLS Flat Fee Listings are available in all counties of: Alabama, Arkansas, Connecticut, District of Columbia, Delaware, Florida, Georgia, Iowa, Illinois, Indiana, Kansas, Kentucky, Louisiana, Massachusetts, Maryland, Maine, Missouri, Mississippi, North Carolina, Nebraska, New Hampshire, New Jersey, New Mexico, New York, Ohio, Oklahoma, Pennsylvania, Rhode Island, South Carolina, South Dakota, Tennessee, Texas, Virginia, Vermont, Wisconsin, West Virginia .
List with Freedom is a Flat Fee MLS listing service in Florida that is excellent for those home sellers who are experienced in home selling. We think their company is great, but the hidden fees will kill your experience.
Why Flat Fee MLS Realty?
How Much Can I Save?
Avg. Rating
Locations
Why Flat Fee MLS Realty?
Flat fee packages, as well as commission-based packages, are available to choose from
Good customer service
No cancellation fees
How Much Can I Save?
Their hidden charges include $350 buyer agent charge coming from the commission that the seller pays the buyer agent and another $325 if you don't use their title company. This can significantly affect your savings.
Avg. Rating
Locations
Stephen Hachey, the owner and broker at Flat Fee MLS Realty, has been in the real estate industry for over 20 years. His experience as a real estate broker and attorney has proved invaluable to his home sellers, as many positive reviews about the company have pointed out.
The company is known for its quick customer service and affordable packages. Hachey provides personalized support to inexperienced home sellers which adds more value to the customers. Sometimes they even run season specials, such events not just attract more customers but also save them money.
However, some of the cons that were found in their reviews were that they do not serve in some areas of the Florida state. Also, they only deal in single-family homes, condos, and townhomes.
Their hidden charges include $350 buyer agent charge coming from the commission that the seller pays the buyer agent and another $325 if you don't use their title company.
If you've never sold a home before, Flat Fee MLS Realty is your best option in Florida. You'll get more support and the expertise of a local broker, which isn't the case with most other companies.
Why Homecoin?
How Much Can I Save?
Avg. Rating
Locations
Why Homecoin?
Because you got lured in with the cheap listing.
To sell a home in Florida, you at least need to fill out some basic disclosures. Homecoin will reel you in with a $95 listing, but you'll have to pay $$$ for those disclosures
How Much Can I Save?
Compared to other Flat Fee MLS options, you won't be saving much
Avg. Rating
Homecoin has 0 reviews on TrustPilot, albiet on Yelp, they have strong reviews
Locations
Covers most of California
Homecoin's biggest attraction is the $95 listing. But when you sign up, you're faced with a very clunky online dashboard which makes listing your home a chore that can take hours.
Additionally, to access basic disclosures mandatory in the state, you'll be paying at least $450, but as high as $2,999.
Why Beycome?
How Much Can I Save?
Avg. Rating
Locations
Why Beycome?
You get your own seller dashboard to list, upload, and manage your home listing
They provide home value estimates with each package
With their $299 package, you can share your listing on popular classified sites like Craigslist, Oodle, and Listanza
How Much Can I Save?
With their Flat Fee MLS Florida packages of $99 and $299 you can save thousands of dollars in listing agent commissions, however their $499 package will cost you 1% of sale price due at closing (subject to a minimum commission of $999)
Avg. Rating
Locations
Available in Florida, Minnesota, Georgia, Rhode Island, California, South Carolina, North Carolina and Alabama.
Beycome was established in 2016 and is headquartered in Miami, Florida. 
Their selling dashboard offers you advanced features like managing your listing, organizing offers, and showing schedules. Beycome is a technologically-advanced company and makes it easy for home sellers to list their home on the MLS Florida as an FSBO, however, do they really offer any savings?
Their $99 and $299 packages can save you the listing agent commission but their $499 package will cost you *1% of sale price due at closing (subject to a minimum commission of $999). This can significantly affect your savings.
With their 90-day money-back guarantee, you can cancel your purchase if you don't sell or receive at least two offers in that timeframe.
Florida is a hot market currently and homes are moving nearly 46% faster in 2021 than in 2020 and in March, the average time on the market was only 8 days!
And not just that, houses are selling quickly with minimal price reduction. The statewide sales-price-to-list-price ratio was 102.2 percent in March 2021. If it's above 100%, the home sold for more than the list price. If it's less than 100%, the home sold for less than the list price.
Source: www.noradarealestate.com
On an average, you can expect to pay $200-$400 for a Flat Fee MLS listing service in Florida, but that's only an average price. On the lower side, you can buy an MLS listing package for $100 and on the higher side, a comprehensive MLS listing service package can cost as much as $1,300.
Each package comes with multitude of features like enabling more photographs, a-la-carte services and some even offer help with paperwork. You can buy as per your requirements.
Flat Fee MLS is legal all over the United States, including in Florida. In fact, the US DOJ just updated their bulletin highlighting the benefits of Flat Fee MLS for For Sale By Owner home sellers.
Typical stipulated time to list is 2 business days after you've completed all your tasks accurately and the broker doesn't have any questions for you. But for most MLS' in California, your listing can be up in 4 to 8 business hours (Central Time). To avail of this expedited listing, email support@houzeo.com with the subject line "Please Expedite My Listing: <add your property address>". Do this only after you've complete all the tasks your broker has assigned to you. Make sure all sellers have signed the required documents. Note that listings can be expedited in most major MLS' but not all MLS' are covered under this policy. Call us at (844) 448-0047 if you have questions about whether your MLS is covered.