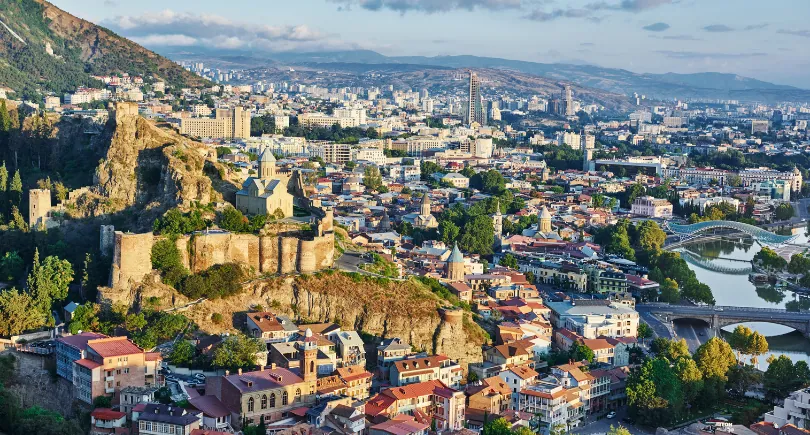 The Georgia housing market is finally cooling off. Mortgage rates have shot up. They are expected to remain elevated through 2024.
If you're a home seller, you're nervous to sell now with dropping prices. You also don't want to sell your low-interest mortgage home and buy another home at the current interest rates.
Should you sell now before home prices plummet? Or wait for rates to fall? Unless you want to learn how to sell a house by owner in Georgia, you're looking for a REALTOR to help.
If you're a home buyer, you don't know whether you can even afford a home. Prices are still high. And interest rates have added hundreds of dollars to your mortgage payments. Is now the best time to buy a house in Georgia? Or wait?
A great REALTOR can help you navigate these choppy waters and make the right decision. And once you decide, they can be the pro you rely on to help you buy or sell.
Some REALTORS will save you thousands with technology. Others will help you sell your luxury property for top dollar, and still, others can show you how to stop foreclosure in Georgia.
With our rankings of the 7 best REALTORS in Georgia, you can find the right one for a smooth and hassle-free real estate transaction.
Reviews: 7 Best Realtors in Georgia
1. Dan Demers
Dan offers flat fee broker services in 10 states: Alabama, Arizona, Delaware, Georgia, Maine, New York, North Carolina, Pennsylvania, South Carolina, and Tennessee. He has represented thousands of home sellers.
Dan is great at communicating. He is prompt in responding to queries. Sellers have been able to close fast with Dan.

2. Kendall Butler
Kendall Butler is a licensed Realtor in Georgia and is the co-founder of F.L.I Properties. She has an overall experience of 18 years in the real estate market.
Her specialization lies in relocation, construction homes, lake home sales, investment properties, and property management.
3. Tonya Jones
Tonya Jones is a Realtor licensed in Georgia. She provides real estate services via Berkshire Hathaway Home Services – Georgia Properties.
She provides services like re-location, buying/selling of properties, personal home tours, market reports, investment in real-estate etc. throughout Georgia.
4. Natalie Poteete
Natalie Poteete is a Realtor based in Augusta, Georgia. She works in affiliation with RE/MAX Reinvented Real Estate Team.
She is known for her extensive marketing knowledge. Natalie specializes in Marketing, Military Relocation, Foreclosures, Luxury Properties and Property Management.
5. Justin Bolin
Justin Bolin is a Realtor based in Augusta, Georgia. He has been serving the Georgia real estate market for over 18 years via VanderMorgan Realty.
Justin has helped over 1300 families and individuals buy or sell their homes since 2005. He specializes in first-time home buyers, distressed properties and investments.
6. Aaron Duncan
Aaron Duncan is a Realtor based in Hinesville, Georgia. He offers real estate services via Weichert Realty and uses the latest information, tools, and resources to make sure his customers get the best services.
He specializes in military relocation, commercial real estate, property management and rentals.
7. Kim Mixon
Kim Mixon is a REALTOR based in Columbus, GA. She is the founder of the Kim Mixon Team.
Kim is a local expert and also offers home staging assistance. She is known for providing stellar customer support.
What are Realtor Agents?
Realtor Agents are real estate professionals adhering to the code of ethics laid down by the National Association of REALTORS (NAR), America's largest real estate association.
REALTORS can be commercial brokers, real estate agents, appraisers, property managers, and counselors working in the real estate sector.
» NAR Code of Ethics: A REALTOR's pledge to business integrity and fair dealing.
What is the Average Realtor Commission in Georgia?
The average Realtor commission is typically between 5% – 6%. However, this fee is negotiable and varies state-wide.
With increasing competition and better alternatives, Realtor agents are willing to lower their commissions and provide concessions to the home seller.
» How to Negotiate Real Estate Commissions: Pro tips on how to negotiate agent commissions and save thousands!
Who Pays Realtor Fees in Georgia?
The seller typically pays the REALTOR fees. Although the seller is responsible for paying these fees, they can always negotiate with the buyer on this.
In simple terms, it can be said that REALTOR fees are a part of the sale price of a home.
Do Closing Costs include Realtor Fees?
Yes! Realtor fees are a major part of closing costs. Closing costs, also known as "settlement costs," are the final expenses to complete the real estate transaction.
1. Home Selling
A sizeable chunk of the seller's closing costs, comprising 5%–6% of the sales price, is made up of REALTOR commissions. It is important to note that the seller pays a commission to both the listing agent and the buyer's agent.
The commissions can vary according to the type of service you want to opt for selling your home.
Flat Fee MLS: Sell your home with an average fee of $399 and save thousands in commissions. Get the best possible exposure for your home by listing it on the MLS.
Discount Real Estate Brokers: The average fee these low-commission brokers charge is $5,000 or 1.5% of the sale price. They provide services at reduced rates thereby making them a top choice for sellers.
⚡Seller Closing Costs in Georgia: Find out what closing costs you pay as a seller in Georgia.
2. Home Buying
Buyer closing costs do not usually include the REALTOR fees. However, this fee is already included in the price the buyer pays for their home.
⚡Buyer Closing Costs in Georgia: Find what closing costs you pay as a buyer in Georgia.
Realtors vs. Agents vs. Brokers
Real Estate Agents: Agents are licensed professionals who represent buyers or sellers in real estate transactions. They must work with a broker or a brokerage.
Real Estate Broker: Brokers are agents with experience and a license, allowed after completing additional coursework. They can either start their own brokerage or work independently as agents.
REALTOR®: REALTORs are agents or brokers that are members of NAR and follow NAR's code of ethics. Their modes of operation and responsibilities include that of agents and/or brokers.
How to Find Realtors in Georgia?
Home sellers and buyers can find a top real estate agent in Georgia with proper research. If you wish to sell or buy a single-family home or a condo, it is essential to find a REALTOR who specializes in that type of sale.
Here's how you can find a Realtor for your home selling/buying needs:
Find Licensed Realtors: Look for agents who are members of the NAR. Select Realtors with lower commission rates and check whether they provide virtual or full services.
Interview Realtors: Interview short-listed Realtors and convey your requirements. Find out their specialization, and whether they offer cutting-edge technology and online services.
Review and Finalize: Check reviews on trusted websites like Google, Yelp, Trustpilot, etc. Finalize the one that best understands your real estate goals.
Can You List Your Home on the MLS Without a REALTOR?
No. Only licensed real estate agents have access to the MLS. There is no way to list on the MLS without an agent.
You can just opt for a Flat Fee MLS listing service. With a Flat-Fee MLS listing, you pay a small fee instead of a full listing agent commission. A Flat Fee MLS listing is the fastest way to get listed on the MLS and hit the market.
With high-tech services like Houzeo real estate, you can get listed faster than a traditional full-service Realtor. And save thousands!
» How to Get Access to MLS: Here's how to list on MLS without a REALTOR!
Alternatives to Realtors in Georgia
Realtors are the best option for first-time home sellers. But if saving money is your goal, there are several other options.
List with Houzeo
Get your home listed today and Houzeo will walk you through the entire process to show your property at its best. Fast listing. No hidden fees.
Final Word
Having a good REALTOR® when selling or buying a house can make the process a cakewalk. Their guidance can help you get the best price for your property or find your dream home.
However, the average REALTOR commission of 6% reduces your profits substantially. Additionally, seller closing costs are quite high.
Although there is no escaping the closing costs, opting for Flat Fee Realtor can help you save 3% listing agent commission.
Frequently Asked Questions
Related: realtor Georgia, realtor ga, realtor in Georgia, realtors Georgia, realtor commission Georgia, ga realtors, Georgia licensed realtors, top realtors Georgia, licensed realtors in Georgia, realtor commission in Georgia, best realtor in Georgia, Georgia real estate agents, realtor percentage in Georgia, realtors in naplesGeorgia, average realtor commission Georgia, who pays realtor commission in Georgia, how much is the realtor commission in Georgia, realtor fees Georgia, Georgia realtors, Georgia realtors, best Georgia realtors, Georgiarealtor, ga real estate, top Georgia realtors, top realtor in Georgia, housezo, houszeo,