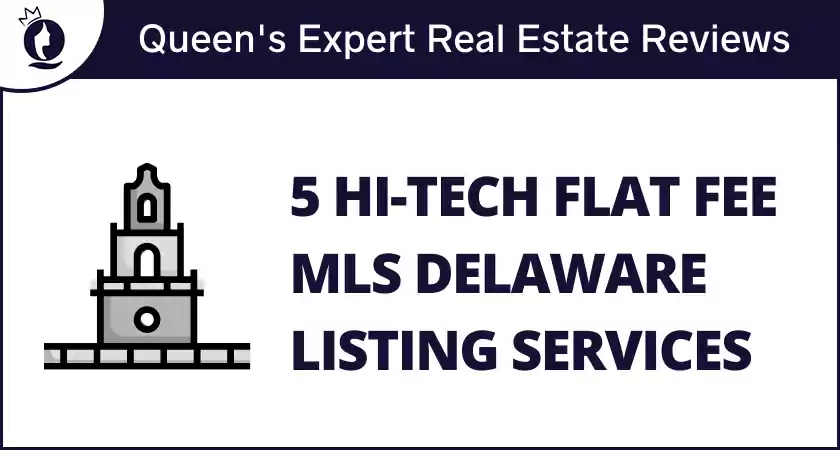 A total count of four counties is there in Delaware, where the median estimated values for homes vary from $2,250,000- $10,000 (depending upon the locality. Thanks to Flat Fee MLS Delaware Listing Services, 19,847 properties have been sold in Delaware.
In this guide, we'll cover:
Rankings: Flat Fee MLS Companies
How Much Does Flat Fee MLS Listing Cost?
There are two types of costs related to a Fixed Fee MLS listing:
Initial Flat Fee: You'll have to pay an upfront fee to list your home on MLS. Usually, the initial price ranges between $300 and $500.
Closing Costs: Once a home seller strikes a deal and closes it, they have to pay a part of their equity on home inspection fee, title and home insurance fees, seller and buyer agent commissions, and home warranty as a closing cost of their property.
Reviews: Flat Fee MLS Delaware Companies
1. Houzeo
2. FSBO.com
FSBO.com offers 2 packages for FSBO home sellers.
Basic Package – $99: This is a basic listing plan where your property is listed on FSBO.com and Redfin for 6 months.
MLS Package – $399: The package includes a listing term of 6 months with up to 20 photos.
Here is what you will pay for the additional services:
Classic FSBO.com Yard Sign w/ Stand: $60
Directional Arrow – For Sale By Owner: $12
Open House Directional Arrow: $12
Sign Riders: $12
⚔️ Most $99 plans are clickbait! Proceed with caution.
FSBO.com can be useful for experienced home sellers.
Multiple Listing Categories: You get to highlight your listing in a special section dedicated to foreclosure, pre-foreclosure, tax lien, or bankruptcy.
User‑Friendly Interface: FSBO.com has a simple website that is easy to navigate. It has a basic interface that enables you to create your listing by adding relevant information.
In our research, we found some red flags with FSBO.com.
Not Fully Online: The company shares your information with a local broker who lists your property. There is no online automation therefore you must complete all the paperwork manually.
No DIY Resources: FSBO.com does not provide any resources to simplify your listing experience.
Unreliable Broker Quality: You are not aware of which local broker will do your listing. FSBO.com has mixed reviews online saying it has good services in some places only.
Extra Fees for Listing Photos: If you want to add more than 20 photos to your listing you have to pay extra fees of $50 to $60.
Costly Customization: For add-on services like e-lockbox rental and showing service you have to pay $150 and $75 respectively. These services are costly compared to other Flat Fee MLS service providers.
FSBO.com is available in all 50 states. You can list your home on FSBO and save on the listing agent commission.
However, you should be aware that a la carte fees might go to a maximum of $335! For example, you will have to pay an extra fee of $75 and $150 if you want to use the CSS showing service and e-lockbox rental.
👑 The Queen recommends the $399 MLS package. The package offers maximum exposure through an MLS listing. Moreover, your listing gets syndicated to websites like Zillow, Realtor.com, Redfin, and many more.
3. Simple Choice Realty
Simple Choice Realty offers only 1 Flat Fee MLS package.
MLS Package – $399: The package includes a listing period of 6 months with 25+ photos. It also has a yard sign and state disclosures. Your listing gets syndicated to Realtor.com, Zillow & Trulia, and more.
Here is what you will pay for the additional services:
12-month listing: $99
Upgraded Customized Sign: $125
Combination Lockbox: $50
Electronic Supra Lockboxes (in some areas): $100
Realtor.com Weekly Report: $25
Expedited Listing (same-day MLS listing): $50
Simple Choice Realty offers its services in Delaware, Pennsylvania, Maryland, and New Jersey.
Great Exposure: The listing gets syndicated on popular websites like Zillow, Trulia and Realtor.com, and more.
Listing Changes for Extra Fee: You can make changes for free to your listing.
State Disclosures: With Simple Choice Realty you get all the vital listing disclosures.
Buyer Lead Forwarding: All the buyer leads are directly forwarded to you.
Open House Ads: You get to add 2 open house ads on the MLS for free.
There are no deal breakers with Simple Choice Realty. Chris Carr has a solid reputation within the broker community.
You should know that add-on services can increase your overall spending. If you're choosing their MLS package we suggest you budget for these.
»Simple Choice Realty: Check Simple Choice Realty Zillow's reviews by customers.
👑 Simple Choice offers a single flat fee MLS package that covers all the basic requirements of a home seller. You can customize the package as per your needs for an additional charge.
4. Save On MLS
SaveOnMLS offers only one Flat Fee Package for home sellers.
Flat Fee Package- $399: The package includes a listing term of 6 months with 0% Listing Commission and no hidden fees. Your listing gets syndicated to Realtor.com, Home Advisor, Yahoo Real Estate, and ChicagoTribune.com. You also get a yard sign and required papers upon request.
SaveOnMLS has a few potential benefits for DE home sellers.
No Hidden Fees: Apart from the 'one-time flat fee' there are no other hidden costs involved.
Yard Sign: You get a yard sign which is included in the $399 package.
Direct Connect with Buyers: Listing agents and buyers can contact you directly to request showings.
There are a few negatives of listing with SaveOnMLS
Low on Tech: SaveOnMLS has a basic website. It does not offer a seller dashboard or mobile app. With Houzeo you get an easy-to-use mobile app that makes your selling process simple and effective.
Suboptimal Tech: There is no e-sign feature on their website. You have to do all the paperwork manually.
No Customer Reviews: There are no good reviews available on trustworthy websites like Google or Yelp.
👑 SaveOnMLS offers only one flat fee package. There are other websites like Houzeo that offer better options.
5. I Sold My House
iSoldMyHouse provides 2 packages:
Get Listed – $299+: The package includes a listing term of 6 months with 6-10 photos.
Get Sold – $399+: The package includes a listing term of 6 months with 25 photos.
Coverage in 8 States: iSoldMyHouse, through its affiliate Get Listed Realty, offers its services in Connecticut, Georgia, New Hampshire, New York, Maine, Massachusetts, Rhode Island, and Vermont. In the remaining 42 states and Washington D.C., iSoldMyHouse sells your information as a lead to local brokers.
iSoldMyHouse.com is a good choice in the 8 states where it offers services.
Experienced Broker: The owner of iSoldMyHouse, Kris Lippi is an experienced real estate broker. Kris is one of the few brokers with great expertise in For Sale By Owner MLS listings.
Robust Customer Support: iSoldMyHouse has good reviews on trusted websites like Google and BBB.
There are a few negatives with iSoldMyHouse.com
Leads Sold to Local Brokers in 42 States and DC: iSoldMyHouse.com offers services in 8 states. In the remaining 42 states + DC, it sells your information to a local broker. Then, a local broker will contact you to list your property. You don't get any listing assistance or customer care support in these 42 states + DC.
Slow Listing & Time to Make Changes High: In the 42 states + DC where it does not provide its services, it sells your information to a local broker. Due to this your listing on the MLS and other FSBO paperwork gets delayed.
Not 100% Online: iSoldMyHouse is low on tech. You have to review offers and manage inspections manually. It also does not offer a mobile app.
👑 We recommend iSoldMyHouse.com in the 8 states it covers. We suggest you buy the "Get Sold" plan if you reside in one of these states. Getting more than 6 photos is crucial because it helps to sell your house.
6. Flat Fee Group
Flat Fee Group provides 3-4 packages that vary as per state.
Common Services: Your listing gets activated within 48 hrs with a listing term of 6 to 12 months. In the full-service package, you get broker assistance which is expensive.
Flat Fee Group is available in all the states.
Package Customization: You can get your package customized for a small additional fee.
State Disclosures: You get all the necessary contracts, forms, disclosures, and addenda you need from Flat Fee Group.
Great Exposure: Flat Fee Group will list your home on sites like Zillow, Trulia, Realtor.com.
Flat Fee Group has certain red flags which can make your experience terrible.
Not 100% Online: Flat Fee Group is not fully online. Therefore, the process becomes manual and time-consuming. You'll be on your own to provide tours and interact with potential buyers.
Extra Fees: The closing costs can vary significantly as per your state and the listing package you choose. You will have to budget for these costs if you do not want to be caught off-guard.
The Flat Fee Group was established in 2003 and has since expanded to service clients all over the U.S. by connecting independent flat-fee real estate brokerages with sellers.
The pricing and variety of packages offered by Flat Fee Group.com may appeal to those looking to sell a property for a flat fee. However, not every seller will have the same experience because it works with different flat-fee brokerages.
In Georgia, options range from $299 to $995!
👑 The Queen says that Flat Fee Group operates on the agent referral system. There are several flat-fee brokerages that it works with, and no two sellers will have the same experience.
Hidden Fees charged by Flat Fee MLS Delaware Listing Services
Some companies are not upfront about their fees. These hidden costs could go up to thousands of dollars and significantly impact your savings. They might say that they take a fixed price but might charge you a commission percentage at closing.
Other hidden fees that companies might not mention are:
cancellation fees
listing changes charge
seller disclosure charges
expensive yard signs
lockbox charges
closing coordination fees
printing charges
attorney fees
Delaware Housing Market Trends
In 2022, the median value for transactions over the last 12 months is $311,186.
There are currently 1,025 properties for sale in Delaware. The current home value ranges in price from $1,250 to $6,900,000.

The total count of properties in the state is 389,040, and the percentage of properties for sale is 45.3%.
While some of these services are mentioned in their a-la-carte services, you might need to consider going with a realtor if you still need a lot of support for selling your house.
💡 Queen's Counsel: Everything you need to know about Flat Fee MLS Louisiana Services
Final Note
You can expect to pay $99-$445 for a Flat rate MLS listing Delaware service, but that's only an average price. On the lower side, you can buy an MLS listing package for $99, and on the higher side, a comprehensive MLS listing service package can cost as much as $1000.
This guide has covered the entire fixed fee MLS companies in Delaware. You may choose as per your feasibility and requirement.
» Want to learn more? Read these exclusive Houzeo reviews to find out why it is one of the best For Sale By Owner Websites in America.
Frequently Asked Questions
What Are the Top Flat Fee MLS Delaware Companies?
These are the best Flat Fee MLS Companies In Delaware that are reliable and credible:
Houzeo
Simple Choice Realty
Save On MLS
Flat Fee Realty
Flat Fee Group
FSBO
I Sold My House
Is Flat Fee MLS Legal In Delaware?
Flat Fee MLS is legal all over the United States, including in Daleware. In fact, the US DOJ just updated their bulletin highlighting the benefits of Flat Fee MLS for For Sale By Owner home sellers.
What is the average real estate commission in Delaware?
According to a survey, the average real estate commission in Delaware is 5.7%.
What are the steps to get my home ready for sale?
(1) Declutter and depersonalize your property.
(2) Make necessary repairs.
(3) Repaint interior walls.
(4) Organize closets and drawers.
(5) Make every surface shine
(6) Eliminate bad odors.
(7) Clean up the landscaping outside.
(8) Make the front door inviting.
What to know when selling a house by owner?
1) You need to understand the risks and benefits of selling a house by owner, 2) You should get your home ready and get important repairs done, 3) Pricing a home competitively and as per market standards is important, 4) Market your home holistically, 5) Use showing management tool for buyers, 6) Negotiate offers based on market standards and your requirement, and 7) Have deep understanding of closing documents and costs.
Related: benefits of for sale by owner, homes for sale by owner websites