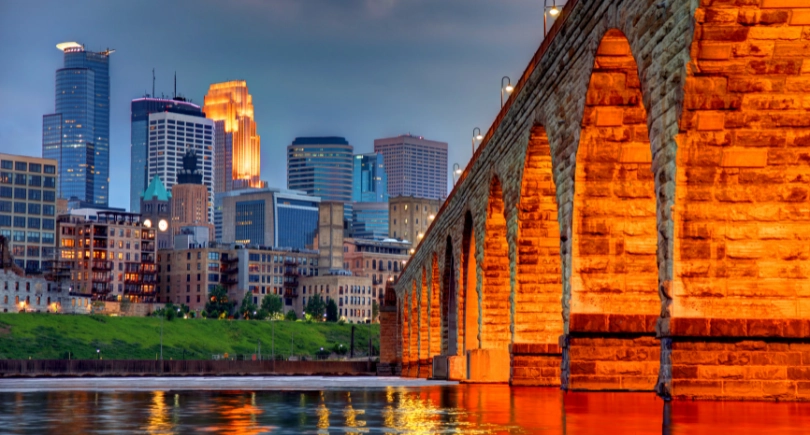 If you are selling your home in Minnesota, the service of a Flat Fee MLS company is your best choice for maximum saving and exposure.
A Minnesota Realtor will charge you a 5%- 6% commission fee at closing. Say, your home costs around $500,000. A cool $25,000 will end up in the agent's pocket. Whether selling a condo in Rochester or a family home in Edina, you can save on hefty agent commissions with Flat Fee MLS Listing companies in the North Star State.
Benefits of Flat Fee MLS Services
Save Thousands of Dollars: Start your listing journey at just $349 and save on Realtor commission costs.
Cancel Anytime: With a traditional Realtor, you must sign a year-long contract. You are stuck with them even if you end up despising their work ethics.
No Hidden Costs: The traditional real estate market is stained with high hidden costs. A genuine Flat Fee platform like Houzeo will disclose all costs upfront.
Quick Listing: A Flat Fee MLS service can get you listed in 24-48 hours. Tech-Sites like Houzeo give you 100% online services, saving precious time and energy!
Rankings: 7 Minnesota Flat Fee MLS Listing Services
Reviews: 7 Minnesota Flat Fee MLS Listing Services
1. Houzeo

Queen
📌 Houzeo Minnesota Pricing: In Minnesota, Houzeo's Bronze package costs $99, the Silver package costs $379, and the Gold package costs $379+0.5% at closing. The full-service Platinum package costs $349+1% at closing!

2. Savvy Avenue, LLC

Queen
Savvy Avenue offers 3 Flat Fee plans for FSBO sellers.
Basic Package – $199: This plan includes a listing term of 6 months with 6 photos.  You can make unlimited changes to your listing. Buyer inquiries are forwarded to you.
Extended Package – $399: This includes all services from the Basic package plus 25 photos. You also get a ShowingTime appointment, seller's property disclosure statement forms, 24*7 listing management, and a virtual tour.
Premium Package – $499: This plan has all services from the Extended package. You also get a listing term of 12 months with max photos and social media marketing tools.
Minnesota sellers looking for local expertise can opt for Savvy Avenue.
Local Broker: Moe Mossa is the Managing Broker and has over 17 years of experience in Minnesota. FSBO sellers looking for local market expertise are in good hands with Moe.
Market Analysis Report: A market analysis report is based on recently sold listings in your local area. It can help you price your house competitively. This improves your chances of cracking the best deal.
👉 Moe Mossa: Check out Moe's vendor page on Houzeo!
In our research, we found no red flags with Savvy Avenue. Moe Mossa has built a stellar reputation within the broker community and knows the Minnesota area well. However, we recommend you analyze Savvy Avenue plans carefully before selecting as you cannot customize later.
We recommend the Premium Plan priced at $499 for most experienced FSBO sellers. It includes everything you need for a quick and easy listing. However, if you are looking for a cheaper basic plan opt for Houzeo's Bronze plan.
3. Beycome

Queen
Beycome offers 3 FSBO packages. Prices may vary state-wise.
Basic Package – $99: This is a basic listing service for experienced sellers. You get services like a local MLS listing, unlimited updates, an open house scheduler, etc.
Enhanced Package – $399: This plan includes everything from the basic package plus added features like professional photography, promotional items, yard signs, etc.
Concierge Service – $599+ 1%: This plan is essentially a full-service virtual package. Services include negotiation and paperwork assistance and full marketing support.
👑 The Queen's Take: Beycome has a user-friendly interface and cost-saving potential. However, their customer reviews paint a mixed picture, with both positive and negative experiences.
👉 Beycome Pros and Cons: Beycome's pros and cons unveiled!
Beycome has a few drawbacks that you should be aware of.
Expensive Add-Ons: A $99 listing is almost always too good to be true. Many costs add up during the closing stage which can completely derail a successful sale.
Spam: Beycome is known to spam customers to upsell their Title service.
Limited Coverage: Beycome does not offer nationwide coverage. Currently, Beycome is available only in 10 states.
4. I Sold My House

Queen
iSoldMyHouse provides 2 packages:
Get Listed – $299+: The package includes a listing term of 6 months with 6-10 photos.
Get Sold – $399+: The package includes a listing term of 6 months with 25 photos.
iSoldMyHouse.com is a good choice in the 8 states where it offers services.
Experienced Broker: The owner of iSoldMyHouse, Kris Lippi is an experienced real estate broker. Kris is one of the few brokers with great expertise in For Sale By Owner MLS listings.
Robust Customer Support: iSoldMyHouse has good reviews on trusted websites like Google and BBB.
There are a few negatives with iSoldMyHouse.com
Leads Sold to Local Brokers in 42 States and DC: iSoldMyHouse.com offers services in 8 states. In the remaining 42 states + DC, it sells your information to a local broker. Then, a local broker will contact you to list your property. You don't get any listing assistance or customer care support in these 42 states + DC.
Slow Listing & Time to Make Changes High: In the 42 states + DC where it does not provide its services, it sells your information to a local broker. Due to this your listing on the MLS and other FSBO paperwork gets delayed.
Not 100% Online: iSoldMyHouse is low on tech. You have to review offers and manage inspections manually. It also does not offer a mobile app.
Limited Coverage: I Sold My House currently serves in only 8 states. You will have to check if their packages are available in your area.
👉 iSoldMyHouse Review: Read a detailed review for iSoldMyHouse before investing.
We recommend iSoldMyHouse.com in the 8 states it covers. We suggest you buy the "Get Sold" plan if you reside in one of these states. Getting more than 6 photos is crucial because it helps to sell your house.
5. 123 Flat Fee MLS

Queen
123 Flat Fee Minnesota offers FBSO sellers 2 Flat Fee plans.
Showcase Plan – $399: In this plan, you can upload max photos on the MLS for 12 months. You get a printable flyer, a Showing Time service, and a property valuation report.
Premium Plan – $599: This is an upgraded showcase plan. You also get limited real estate coaching, CMA reports, pricing, and review contract assistance.
👉 123 Flat Fee Minnesota offers professional photography services for an additional fee. The services cost between $150-$425.
123 Flat Fee Minnesota can be a good choice for new FSBO sellers.
RPR Report: An RPR valuation report determines property value based on characteristics, improvements, and market conditions. It can help you price your home competitively. This tool is only available to Realtors.
Industry Veterans: 123 Flat Fee Minnesota has been active in the real estate space for over 30 years.
123 Flat Fee Minnesota has 2 major drawbacks.
No Contact With Buyers: There is no buyer features available on the website. Your potential buyer must connect with you via their agent. This means you must pay 1%-3% buyer agent commission.
Limited Coverage: The company has limited coverage in Minnesota. You can miss out on potential deals!
123 Flat Fee MLS can be a decent choice for Minnesota FSBO sellers. However, you must spend ample time listing and doing the grunt work yourself!
6. Real Estate Corners

Queen
Real Estate Corners has 1 FSBO seller plan with an a la carte menu.
For Sale By Owner Package – $299: In this plan, you get a 6-month listing term with 24 photos on the MLS. Listing changes and cancellations are free! A broker will support you throughout the process. However, you must pay 2.5-3% selling agent commission if the buyer is procured by the agent.
Here are a few services from the al carte menu.
Extend the listing for 12 months: $200
Yard sign: $120
Market analysis report: $50
Transaction facilitation: 0.5% of offering price – $2000
👉 Full-Service Plan: The full-service plan on offer is priced at $600 plus $2,900 at closing.
Real Estate Corner is a good choice for sellers who want someone close to home.
Veteran Broker: The main broker at Real Estate Corners is Kal Mansour. He has over 2 decades of experience as a Realtor serving the greater Minneapolis area. Past clients have praised Kal for his efficiency and professionalism. However, most of his reviews come from his Full-Representation services.
Extensive À La Carte Menu: Real Estate Corner lets you curate your FSBO plan according to your needs. You can add services as per your requirement and see the prices upfront on their website.
👉 Customer Reviews: Real Estate Corners is rated 5 out of 5 stars (33 total reviews) on Google.
There are a few drawbacks to Real Estate Corners' services.
Costly Add-Ons: The extensive a la carte menu can be a boon for experienced FSBO sellers who know exactly what they need. However, if you are not careful and keep adding services to your plan, you will pay way more than anticipated at closing.
Broker Availability: Any assistance that you may require from Kal will be subject to his availability. This can delay your response to a potential buyer and risk losing the deal.
We recommend the FSBO plan for experienced sellers. The extensive a la carte menu will help you curate the perfect plan for yourself. However, if you are new to real estate, or a budget-conscious seller, you should opt for Houzeo's Gold plan instead.
7. Homecoin

Queen
Homecoin offers a single Flat Fee plan which requires many upgrades.
Flat Fee MLS Listing – $95: This is a basic MLS listing plan with a 12-month listing term.
Here is what you will pay for the additional services:
Listing Changes: $5 per change
Lockbox: $125
Photography: Varies
Sign Post: $99
FSBO Listing: Free
👑 The Queen's Take: Homecoin offers access to your local MLS for $95. A la carte services, on the other hand, are somewhat expensive. Often, these services, like the yard sign and the lockbox, cost much less.
👉 What Is Homecoin: Read to find out more about the company.
Homecoin can be useful for experienced home sellers.
Affordable Package: Experienced home sellers who don't require any broker assistance can opt for Homecoin's $95 listing plan.
Online Paperwork: You can complete all the required paperwork online for a quick listing.
Homecoin has several shortcomings!
Expensive Add-Ons: The $95 plan may seem like a steal deal but in reality, it is a honeytrap. Once you opt for the cheap plan you will quickly realize that it is only a minimal listing option. For everything else, you must pay extra!
Limited Listing Changes: Homecoin provides only 10 MLS listing changes. Every additional change costs $5. This might be an issue if your home does not sell quickly.
Subpar Tech: Although Homecoin claims to be 100% online the tech is pretty basic. The dashboard is clunky and does not auto-populate your listing data.
Homecoin.com has a 4.6 out of 5 stars rating from 50+ sellers on Google.
» Homecoin Reviews: Read this to find out more about Homecoin.
Best Flat Fee MLS Listing Service Minnesota Near Me
Flat Fee MLS Minneapolis: According to Houzeo, 'the median sale price in Minnesota was up 2.0% in February 2023 Y-O-Y, but the number of homes sold dropped 37.9%'. Sellers have been forced to reduce their listing prices as homes are staying longer on the market. Use the services of a Flat Fee MLS company to save on 6% agent fees.
How to List Without a Realtor in Minnesota?
Technically, only licensed real estate agents can list a property on the MLS. But with today's technology, selling a house is easier than ever! To sell without a realtor you can opt for a Flat Fee MLS service and skip the heavy agent commissions.
List with a tech-backed Flat Fee Platform like Houzeo in 4 easy steps.
Visit Houzeo to Register
Enter your property info
Purchase your preferred listing plan
Complete the listing paperwork
👉 Houzeo is 100% online! Watch the video for more details.
How Much Do Minnesota MLS Listings Cost?
On average, you can expect to pay $200-$800 for a Flat Fee MLS listing service in MN.
Flat Fee MLS Listing services allow FSBO sellers to list their property without paying the listing agent commission. You also have the option to choose from an à la carte menu of services as per your needs.
We have listed a few upgrades most FFM sites provide for an additional fee.
Yard Sign: $49- $150
Additional Photos: $50
Lockbox: $50- $250
Broker Assistance: 0.25%- 0.75% at closing
MN Seller Closing Costs and Seller Disclosure
Closing Costs: The closing costs in Minnesota are approximately 1%-3.5% of the total home value. This does not include agent fees. Agent fees will add another 6% to your overall expenditure.
Typical Seller's Closing Costs in Minnesota include some of the following:-
Attorney's Fee: $290-$300 per hour
Title Insurance: $1,000
Home Inspection Fee: $350
Real Estate Broker Commission- 4%-6% Listing Agent Fee + 2%-3% Buyer's Agent Fee
Seller's Disclosure: A Minnesota home seller is required by law to disclose any defects and restrictions pertaining to their property. This includes everything from pest infestation to pending legal matters. You must disclose these issues before the closing to avoid disputes with your buyer.
Typical Seller's Disclosure in Minnesota includes some of the following:-
Underground Storage Tanks
Individual Sewage Treatment Systems
Radon Gas Disclosure
Methamphetamine Production
Careful, Hidden Fees Ahead!
It is not all rainbows and unicorns with a flat fee MLS listing platform. Some of these services list the price as low as $99. This usually means you will be bombarded with hidden costs (not mentioned on the pricing page) during your closing process.
👉 Houzeo Minnesota Listing: Houzeo discloses all prices upfront so there are no surprises at closing!
Alternatives To Minnesota Flat Fee MLS Companies
We recommend flat fee services that offer a full-service upgrade for most Minnesota home sellers. But if you like keeping your options open, here are a few alternatives to Flat Rate MLS companies.
Discount Realtors in Minnesota: Discount real estate brokers typically charge between 0.5%- 2% commission at closing. You get the services of a traditional broker for a discounted commission.
Cash Home Buyers: Companies that buy houses for cash in Minnesota will pay you upfront within 24- 48 hours. However, most cash buyers pay an average of 12% less than your expected home sale price.
Sell to iBuyers: iBuyers like Opendoor and Offerpad buy hundreds of homes in Edina and other Minnesota Cities. This can be a good option if you are trying to sell your home fast in Minnesota.
Realtors in Minnesota: Minnesota Realtors will charge around 5% – 6% commission from the seller. However, you get assistance from the list to close.
The Final Verdict
Selling your home will probably be one of the biggest financial decisions of your life. You must pay the listing agent and buyer agent's commission as the seller. Flat Fee real estate brokers will help you save thousands in listing agent commissions.
We recommend Houzeo for most FSBO sellers in Minnesota. Houzeo's user-friendly dashboard, combined with IntelliList Listing Management will help you navigate the tough real estate space with ease.
» Houzeo Reviews: Check out what FSBO sellers have to say about listing with Houzeo.com
Frequently Asked Questions
What are the Top Flat Fee MLS services In Minnesota?
Houzeo has been the leading Flat Fee MLS site in Minnesota, followed by Beycome, I Sold My House, Savvy Avenue LLC, and 123 Flat Fee Minnesota.
Is Flat Fee Legal in Minnesota?
Yes. Flat Fee MLS is legal all over the United States, including in Minnesota.
What is the difference between Flat Fee MLS and Traditional Agent?
A traditional broker commission model is usually 6% on closing, which is going to cost more for you as home seller. A Flat Fee MLS on the other hand, asks you a flat fee instead.
How much do Flat Fee services cost in Minnesota?
Flat Fee services in Minnesota can cost you around $99-$599.
Is the MLS the same as Zillow?
Various MLS is a part of the Zillow Partnership Platform. Licensed real estate agents in Minnesota have access to MLS Listing whereas few websites such as Zillow public websites have the access.
What is for sale by owner contract?
Related Keywords: flat feee mls minnesota, mls mn, mls minnesota, mls listing mn, flat fee real estate brokers, flat rate realtors, low cost real estate listing, flat rate realtors near me, mlsmn, fixed fee real estate agents, mls listings in minnesota, mls online mn, sale by owner websites, sites for sale by owner