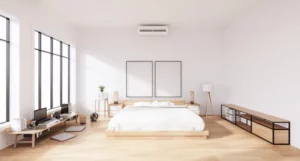 Buying a home is the biggest and the most important financial transaction in a person's life. If you are selling your house ensure potential buyers visualize their future in your house. A professional home stager helps you achieve this.
A staged home can attract offers of 1% to 5% more than the asking price. Hire a home staging company to make your property more appealing to potential buyers.
Here is the list of the best home staging companies in Alaska.
Rankings: 3 Best Alaska Home Staging Companies
Reviews: 3 Best Alaska Home Staging Companies
1. Barion Design Inc.

2. Meridith Baer Home
3. Stuccco
What are Home Staging Services?
Home staging companies or home staging services help you prepare your home for a potential buyer. They are real estate professionals who help you set the stage for attracting home buyers.
Professional home staging largely involves cleaning, rearranging, or renting furniture, and other aesthetic tactics to make your home visually appealing.
» What is Home Staging: What it means and is it worth it?
How Much Does a Home Staging Company Cost in Alaska?
It depends on the staging company you choose. Some home staging Alaska companies charge a percentage of the sale value. Whereas, some charge a flat rate based on the area and staging required.
As per Homeadvisor's data, home sellers spend $755 – $2,844 on home staging. However, this cost varies largely depending on the location and the number of rooms you want to stage.
Also, home staging costs vary depending on the type of property. For instance, a low-end small house will cost much lesser than a high-end luxury property.
» How Much Does Home Staging Cost: Read to know more
Top Home Staging Tips
Here are the top home staging tips you cannot miss:
Make a Remarkable First Impression: Add a fresh coat of paint to your front door or fix a minor dent. Place plants on either side of the front door. Also, trim the lawn and keep the outside windows clean.
Paint Your House Neutral: Neutral colors appeal to most people. They make the rooms look spacious and more ventilated.
Get rid of Unnecessary Furniture: If your living room or the bedrooms are cluttered with bulky furniture, put them in storage. Too many small furniture pieces will also degrade the overall look. Strike a perfect balance and rent furniture if necessary.
Remove Personal Photographs: Ensure you remove all the personal and family pictures while staging your house. Allow buyers to imagine their future in the house. Instead, keep coffee table books, magazines, or candles on the side tables.
» Home Staging Tips: Pro tactics to stage your house for sale
Is a Home Staging Company Worth the Cost?
Yes, hiring a home staging company is completely worth the cost. According to RESA, homes staged sold for $40,000 over the list price in 2021. Also, staged homes sell 9 days faster.
» Home Staging Companies: Discover the best.
Final Verdict
Home staging companies are an effective way of marketing your property for sale. Home staging can be in-person involving a professional home stager. They rearrange or rent or buy new furniture, improve the landscape, repaint the walls, and more.
Virtual home staging is a technologically advanced option to stage your house. It has a lower turnaround time and costs significantly less than in-person staging services. Attach realistically rendered photos to make your MLS listing attractive. A good staging service is definitely worth the investment because they result in a faster home sale at a higher price.
Frequently Asked Questions
Resources for Selling Your Alaska House
Real Estate Photography Alaska:

Discover the best photography ideas for your home.

Alaska Real Estate Photographers: Check out our rankings for the top Alaska real estate photographers.
Top Realtor in Alaska: Realtors are real estate professionals associated with NAR. Check out our rankings of the top Realtors in Alaska.
Real Estate Agents Low Commission:

If you want to save on commission but still need constant guidance and support, go for a low-commission Realtor. We have ranked the top discount brokers in Alaska.

Best Flat Fee MLS Alaska: Flat Fee MLS companies get you on the MLS for a small flat fee saving you thousands in commissions. Check out our rankings for the best Flat Fee MLS companies in Alaska.
Also Read
Also Read
Related: home staging Alaska, Alaska home staging companies, home staging Alaska price, , home staging Alaska, Alaska home staging, best home staging companies Alaska, home staging companies, Alaska professional home staging, Alaska vacant home staging, housezo, houszeo, houzzeo, hozeo