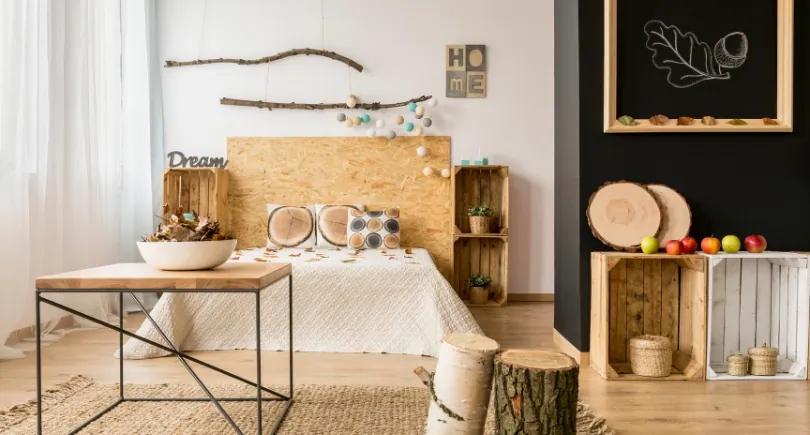 Buying a home is the biggest and the most important financial transaction in a person's life. If you are selling your house ensure potential buyers visualize their future in your house. A professional home stager helps you achieve this.
A staged home can attract offers of 1% to 5% more than the asking price. Hire a home staging company to make your property more appealing to potential buyers. Here is the list of the best home staging companies in Georgia.
Rankings: 3 Best Georgia Home Staging Companies
| | | | |
| --- | --- | --- | --- |
| Rank | Staging Company | Staging Fee | Best For |
| #1 | Meridith Baer Home | $15,000 – $20,000 | Staging super luxurious properties |
| #2 | Stuccco | $29 per photo | Affordable virtual staging |
| #3 | Showhomes | Varies as per the location | In-person staging |
Reviews: 3 Best Georgia Home Staging Companies
1. Meridith Baer Home

Queen
Why We Chose It: Meridith Baer Home has been in the home staging business for over 25 years. Homes staged by the company sell faster and above the asking price, sometimes up to seven figures above the listing price.
💲 Pricing: $15,000 – $20,000 per staging
👍 What We Like: 
They stage all properties –  luxury homes, estates, highrise condos and lofts cottages, etc.
Meridith Baer Home stages 150 homes per month
They maintain 300,000 square feet of warehouse space filled with decor items
The company offers home staging services nationwide
👎 What We Dislike:
A lot more expensive than a regular home staging service
Some customers have complained about the furniture made available to them
👉 Our Take: Meridith Baer Home is best suited for homeowners selling super luxury properties in hot markets like Hamptons or Los Angeles. We do not recommend the company for average-priced homes.
Meridith Baer (founder of the company)

 has been in the business for over 25 years
Homes staged by them sell for up to seven digits higher than the asking price
The company maintains an abundant stock of decore items in their warehouse
Meridith Baer Home is rated 4 stars on the popular review site Yelp.
Meridith Baer Home offers home staging services nationwide.

2. Stuccco

Queen
Why We Chose It: Stuccco offers affordable virtual home staging services with a 24-hour delivery time. They offer several packages for individual home sellers and real estate agents.
💲 Pricing: $29 per photo. Stuccco offers other virtual staging options ranging between $15 and $39. They offer photo enhancement for $1.5/photo.
👍 What We Like:
Stuccco virtually stages all types of properties
Photos are delivered within 24 hours
Free, unlimited revisions for up to 60 days
Your property gets displayed on Stuccco's Property Page
You can give additional design instructions while choosing a design
👎 What We Dislike:
Only real estate agents have access to the lead capture feature
The video slideshow tool is available only for real estate agents
👉 Our Take: Stuccco is an excellent virtual staging option for all types of sellers. Opt for their services if you are running short on time and want to list your property asap.
» Virtual Staging: Everything You Need to Know
Affordable virtual staging packages
Low turnaround time (within 24 hours)
Free and unlimited revisions for up to 60 days
Free Property Page on Stuccco's website
Customizable plans for real estate professionals
We could not find a substantial number of customer reviews on credible review sites for Stuccco.
Stuccco offers virtual home staging services nationwide.
3. Showhomes

Queen
Why We Chose It: Showhomes is the largest home staging franchise network and has been in the business since 1986. They have staged over 35,000 homes across various states. Apart from staging, they offer home upgrades and home managers.
💲 Pricing: Varies depending on the location
👍 What We Like:
Offers

 vacant staging, owner-occupied staging, home upgrades, home managers, etc.
Over 35 years of experience
The staging fee can be paid at the closing
👎 What We Dislike:
Inconsistent experience due to franchise model
The staging fee varies based on the location
Limited coverage
👉 Our Take: Showhomes can be a very good choice for home sellers looking for in-person staging services. However, the Showhomes franchise is available in select counties of 16 states only.
Over 3 decades of staging experience
Home manager option available
Offer short-term rental styling
Can stage your house within 48 hours in case of tight deadlines
The franchise model might lead to a non-uniform customer experience
Limited coverage
Showhomes' Raleigh franchise is rated 5 stars on Google reviews. Check your local Showhomes franchise ratings before choosing their staging services. 
As of November 2022, Showhomes has partial coverage in 16 states:
California, Colorado, Oregon, Texas, Oklahoma, Missouri, Alabama, Florida, South Carolina, North Carolina, Virginia, Pennsylvania, Illinois, Michigan, Minnesota
What are Home Staging Services?
Home staging companies or home staging services help you prepare your home for a potential buyer. They are real estate professionals who help you set the stage for attracting home buyers.
Professional home staging largely involves cleaning, rearranging, or renting furniture, and other aesthetic tactics to make your home visually appealing.
» Home Staging Ideas: What it means and is it worth it?
How Much Does a Home Staging Company Cost in Georgia?
It depends on the staging company you choose. Some home staging Georgia companies charge a percentage of the sale value. Whereas, some charge a flat rate based on the area and staging required.
As per Homeadvisor's data, home sellers spend $755 – $2,844 on home staging. However, this cost varies largely depending on the location and the number of rooms you want to stage.
Also, home staging costs vary depending on the type of property. For instance, a low-end small house will cost much lesser than a high-end luxury property.
» How Much Does Home Staging Cost: Read to know more
Top Home Staging Tips
Here are the top home staging tips you cannot miss:
Make a Remarkable First Impression: Add a fresh coat of paint to your front door or fix a minor dent. Place plants on either side of the front door. Also, trim the lawn and keep the outside windows clean.
Paint Your House Neutral: Neutral colors appeal to most people. They make the rooms look spacious and more ventilated.
Get rid of Unnecessary Furniture: If your living room or the bedrooms are cluttered with bulky furniture, put them in storage. Too many small furniture pieces will also degrade the overall look. Strike a perfect balance and rent furniture if necessary.
Remove Personal Photographs: Ensure you remove all the personal and family pictures while staging your house. Allow buyers to imagine their future in the house. Instead, keep coffee table books, magazines, or candles on the side tables.
» Home Staging Tips: Pro tactics to stage your house for sale
Is a Home Staging Company Worth the Cost?
Yes, hiring a home staging company is completely worth the cost. According to RESA, homes staged sold for $40,000 over the list price in 2021. Also, staged homes sell 9 days faster.
» Home Staging Companies: Discover the best.
Resources for Selling Your Georgia House
Final Verdict
Home staging companies are an effective way of marketing your property for sale. Home staging can be in-person involving a professional home stager. They rearrange or rent or buy new furniture, improve the landscape, repaint the walls, and more.
Virtual home staging is a technologically advanced option to stage your house. It has a lower turnaround time and costs significantly less than in-person staging services. Attach realistically rendered photos to make your MLS listing attractive. A good staging service is definitely worth the investment because they result in a faster home sale at a higher price.
Frequently Asked Questions
1. How much does it cost to stage a house in Georgia?
Home staging costs around $600 to $2000 that also includes service fees, rental furniture and staging fees.
Also Read
Also Read
Related: home staging Georgia, Georgia home staging companies, home staging Georgia price, home staging Georgia, Georgia home staging, best home staging companies Georgia, home staging companies, Georgia professional home staging, Georgia vacant home staging, housezo, houszeo, houzzeo, hozeo