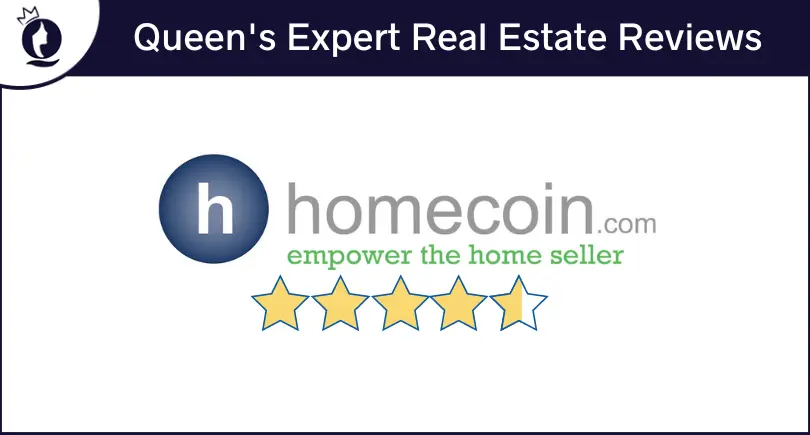 Homecoin allows you to list your property on the MLS for $95. However, additional services can significantly increase your overall cost.
(0 Reviews)
Write a review
Pros
MLS listing gets live in 24 hours
Free cancellation policy
Cons
Expensive add-ons
Limited coverage
Outdated technology
Homecoin is a Flat Fee MLS service. They have gained recognition for offering an MLS listing at a low cost of $95. However, it's important to note that this price comes with expensive add-ons.
Essential services such as yard signs, showing assistance, and contract reviews are at an additional cost. Therefore, sellers spend significantly more than the initial $95 advertised by Homecoin.
Moreover, Homecoin's technology is outdated. As a result, sellers have to handle tasks like comparing offers manually.
✍️ Queen's Take: We do not recommend Homecoin to new sellers. The company's $95 package seems affordable but offers expensive additional services. Instead, list with Houzeo.com.
What is Homecoin?
Homecoin offers For Sale By Owner services to sellers. The company offers a $95 flat fee package to list your property on the MLS. They also provide online tools for editing the MLS listings without a real estate agent. 
With Homecoin, sellers can pay for the services they need. Although this can save sellers money, it isn't easy in practice. All the essential services you may need to sell your house by owner can cost you around $3,400.
Despite their downside, we still prefer Homecoin over an agent with a 3% listing commission. However, compared to the best flat-fee MLS services, Homecoin seems overpriced.
KEEP THESE FACTORS IN MIND
Legit: Yes. Apaus, Inc. DBA Homecoin is a legitimate brokerage founded by Jonathan Minerick in California. This real estate company has made around 1,065 sales in the last 12 months.
Coverage: Homecoin offers its services in just 19 states. However, they plan to expand to Louisiana, Massachusetts, and Oregon by August 2023.
Reviews: Homecoin has a 4.6 out of 5-star rating on Google based on 57 reviews. Check Homecoin reviews to learn more.
How Does Homecoin Work?
To list your property with Homecoin, follow these steps:
Create Your Account: Begin by registering as an FSBO home seller on their website.
Select Plan and Add-ons: Select the $95 package for MLS listing and the desired services you require. Each additional service you choose will increase the total amount payable from the initial $95 flat fee.
Property Details: Submit information about your home, such as its location, square footage, features, etc.
Make the Payment: Pay for the package to list your house on MLS.
👉 Note: Homecoin's tech lacks essential features like scheduling and offer management. Therefore, it takes a lot of manual effort to compare offers and provide showing instructions.
Pros and Cons
Before listing your home with Homecoin, here are their pros and cons:
✅ Pros of Using Homecoin
A Flat Fee MLS company offers certain advantages over traditional home sellers. See how Homecoin matches up to these expectations.
Upfront Fee: Homecoin provides access to the MLS for a flat fee of $95. This lets you save money that would otherwise be spent on agent commissions.
Quick Listing: Homecoin ensures prompt listing of your house, typically within 24 hours of submitting your property details.
Free Cancellation: Homecoin allows you to cancel your listing without incurring any additional charges.
❌ Cons of Using Homecoin
A few disadvantages of Homecoin include:
Expensive Add-ons: Homecoin's individually priced services, which are crucial for home sellers, often come with a significant price tag. Comparable services like yard signs and lockboxes are available at lower costs elsewhere.
Limited Free Listing Changes: Homecoin sets a limit of 10 MLS listing changes. Each additional change incurs a fee of $5.
Limited Coverage: Homecoin operates in 19 states across America. As a result, homeowners residing outside their coverage area cannot access their services.
No Feature for Buyers to Directly Make Offers on Properties: Homecoin does not allow buyers directly to make offers. Therefore, sellers rely on the buyers that agents bring in.
Outdated Tech: Homecoin uses outdated technology like agent lockboxes to manage showings. They pose a security risk and are inefficient. Furthermore, they don't provide a platform for comparing and managing offers.
Homecoin's Pricing
Homecoin primarily focuses on providing real estate services tailored to sellers. In addition to their MLS listing, they also offer add-ons based on your needs.
Flat Fee MLS Listing – $95
For $95, Homecoin grants access to the local MLS, allowing you to list your property for one year. This package allows you to upload 25+ photos on the MLS.
Homecoin offers services like a comparable sales report, home-value report, open house kit, and FSBO listing for free. The company also provides 10 free listing changes. However, any changes beyond this limit will incur a fee of $5 per change.
🚨 Free Services Cost Money: Homecoin website offers free yard signs as a perk with the purchase of a sign post, but in some cities, the sign costs around $69.
Additional Services
Homecoin's paid services include:
Lockbox: Homecoin rents Supra lockboxes for $125. You can track agent entries to your property this way. However, you only receive 3- free entry reports, and each additional one carries a $5 fee.
Pro Photography: Homecoin provides real estate photography services in certain areas. DSLR photos for MLS listings are available within 24 hours and can cost over $99.
Real Estate Forms Help: Homecoin offers two packages for paperwork assistance: Standard Package ($400-$450) and Premium Seller Package ($3,000). Both include services like negotiations, agent communication, and offer review.
Sign Post: Homecoin provides signpost installation and removal services for $99. The seller must remove the signpost and arrange for its shipment back after six months or upon escrow closure.
Queen's Take
| What I Like 👍 | What I Don't Like 👎 |
| --- | --- |
| ✅ $95 upfront fee | ❌ Overpriced add-ons |
| ✅ Free FSBO listing | ❌ Limited number of listing changes |
| ✅ Quick listing | ❌ Limited coverage |
| | ❌Extra cost for paperwork support |
Homecoin Reviews
Homecoin has garnered positive reviews on various platforms. The company has a 4.6 out of 5-star rating on Google from 57 reviews and a 4.8-star rating on Yelp based on 105 reviews.
Many reviews for Homecoin highlight the affordability of their Flat Fee MLS packages. However, a few complaints specific to Homecoin.com mention inconsistent experiences with their customer support.
Homecoin Positive Reviews
✅ Randolph was pleased to save money on commissions. He was able to choose the services needed from Homecoin's add-ons.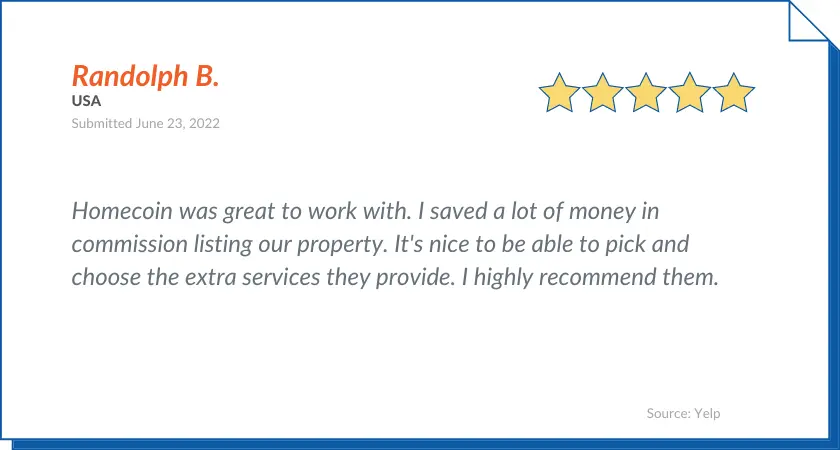 ✅ With Homecoin, Cindy found prompt customer service and commission savings.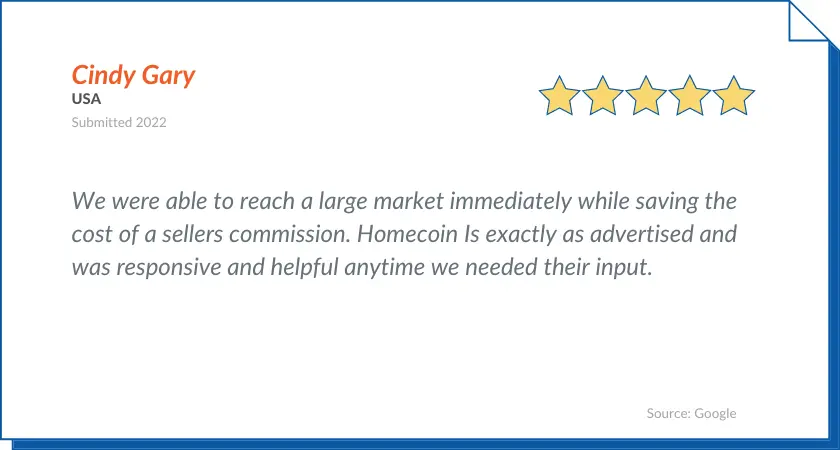 Homecoin Negative Reviews
❌ According to John, sellers should have prior experience with listing forms to take advantage of this service. Furthermore, he mentioned the importance of having an agent review the property listing.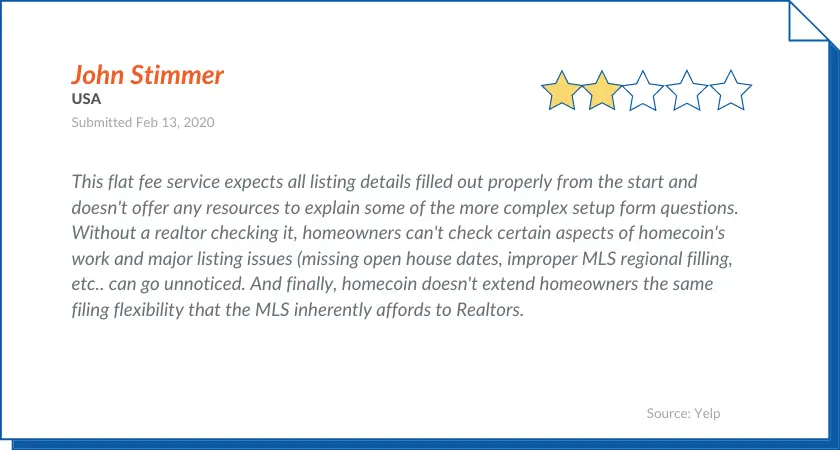 ❌ Stephanie was unhappy with Homecoin's call-forwarding feature. According to her, they received no calls or showings from potential buyers.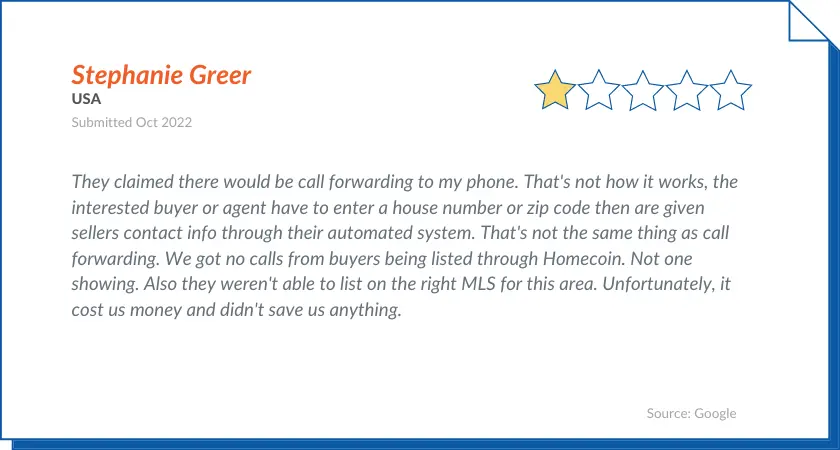 Homecoin Alternatives
If Homecoin's basic services didn't meet your expectations, here are three alternative companies worth considering:
1. Houzeo
When selling your house, Houzeo offers a comprehensive set of tools to guide you through every step of the process. Houzeo's packages offer several additional services that you may need to sell your home by owner.
2. Fizber
Fizber is an effective option for FSBO listing. They allow you to list your property on their online directory for free and offer an MLS package for $295.
3. ForSaleByOwner.com
You can sell your home without an agent using ForSaleByOwner.com. You can list your home for free on their website.
ForSaleByOwner.com does not offer MLS listings. However, they provide a full-service option with Rocket Homes that charges a 5-6% real estate commission.
Other Flat Fee MLS Companies Near You
Is Homecoin Worth It?
We do not recommend Homecoin as a preferred option for first-time sellers. The $95 flat fee seems appealing. However, the additional services come at a substantial cost.
Moreover, Homecoin's limited coverage restricts the accessibility of their MLS access package. Instead, we highly recommend considering Houzeo as the top choice for a For Sale By Owner listing service.
Houzeo provides excellent support and guidance throughout the entire selling process. Houzeo's Silver Package is a comprehensive and affordable option for sellers.
» Houzeo Reviews: Find out why over 3,500 home sellers have rated Houzeo 4.9 stars out of 5 on Google Reviews and Trustpilot!

Frequently Asked Questions About Homecoin Reviews
1. Is Homecoin legit?
Apaus, Inc., operating as homecoin.com, holds a brokerage license in 11 states. Founded by Jonathan Minerick and headquartered in California, this real estate firm has facilitated approximately 1,065 sales within the past year. Know more about Homecoin.
2. Where does Homecoin operate?
Homecoin offers its services in just 19 states. However, they plan to expand to Louisiana, Massachusetts, and Oregon in August 2023. Know more about Homecoin.
3. Is Flat Fee MLS worth it?
Yes Flat Fee MLS listings are worth it. MLS services like Houzeo make the For Sale By Owner (FSBO) process easier for you. They also save you thousands of dollars otherwise spent as a listing commission. Check out Houzeo reviews.
Related: homecoin reviews, homecoin, homecoin.com complaints, home coin, homecoin.com, what is homecoin, houzeo reviews, homecoin reviews, homecoin.com complaints, home coin, homecoin.com, homecoin com, homecoin listings, flat fee MLS listing reviews, flat fee MLS reviews, mls flat fee listing, homecoin com reviews, homecoin.com reviews, review homecoin, flat fee MLS listing service reviews,