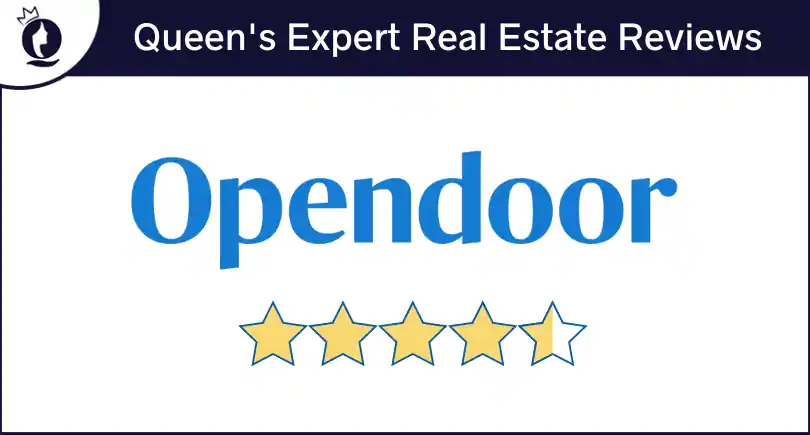 An iBuyer or instant buyer like Opendoor is a real estate company that uses technology and cash to buy and resell homes quickly, and Opendoor reviews mention how it's a legitimate way to earn fast cash on your house sale. Today, we'll look at the largest iBuyer in the housing market, Opendoor, and how it has pioneered iBuying since 2014.
» In this blog, we'll cover:
What is Opendoor?
Opendoor is one of the best instant buyers that offers cash offers on homes. In case you're looking forward to a quick and easy transaction, selling your home to an iBuyer is a great option.
With a presence in 45 markets, Opendoor charges a 5% service fee, plus deductions for repairs and closing fees, for a quick sale. Opendoor allows you to request an offer by entering the address of your home, a photo, and a few basic details about its size and condition.
If your property meets their criteria, they'll make you an offer based on their home pricing formula and feedback from area experts. Opendoor often delivers their offer within 24 hours. It is best for sellers whose property doesn't need many repairs and are in Opendoor's coverage.
» Opendoor Reviews: Everything You NEED to Know Before Selling to Opendoor
Free, no-obligation offer
Close in as little as 14 days, or longer if you need it
Available in 45 markets and continuing to expand
No control over repair costs
The company has no standards to govern how transactions are conducted.
Strict criteria for purchasing homes (no structural damage, no homes pre-1930, etc.)
Customer reviews of Opendoor are mostly positive, with an average rating of 4.4 /5 (out of 2,670 reviews) on reviews.io
Opendoor is currently available in 45 major markets in AL, AZ, CA, CO, FL, GA, ID, IN, MN, MO, NV, NC, OH, OK, OR, SC, SD, TN, TX, UT, VA.
Opendoor is the best instant Buyer (iBuyer) in 2022, providing instant cash offers on houses. Selling to an iBuyer is a great choice if you are looking for a fast, convenient sale. Opendoor buys houses for cash and resells them on the open market.
Is Opendoor Legit?
Yes, Opendoor is legit. After pioneering iBuying in 2014, Opendoor is the largest iBuyer with a presence in 45 markets. Opendoor services also include financing via home loans and have scaled services to offer trade-in and buying.
Opendoor is a modern, tech-savvy company with a national reach. The company can afford to extend the fairest cash offers since it can make up in volume what it may otherwise pass in individual transactions.
How does Opendoor Work?
Opendoor purchases homes at a large scale and resells them on an open market after flipping. The carrying and resale costs are represented by their service charge. Every day Opendoor owns a home costs money. They offer more services apart from buying houses for cash. Money in taxes, marketing, utilities, and other expenses until Opendoor gets a buyer.
Here's how selling to Opendoor works:
Selling Your Home to Opendoor
| # | Step | Description |
| --- | --- | --- |
| 1. | Request an offer | Submit your address and basic information, including property condition and characteristics in Opendoor's estimate or mobile app for free. Opendoor will make a preliminary offer for your home by researching and evaluating the housing market. You have no obligation to accept this offer. |
| 2. | Virtual home tour | If you accept, Opendoor will evaluate the condition of your property by scheduling a free home assessment. The inspection takes 10-15 minutes usually. A company representative can virtually complete the assessment over live video with the homeowner, or the homeowner can take pictures and shoot a video with their camera or smartphone. The virtual walkthrough is a preliminary filter to pass your property in the next phase, inspection. |
| 3. | Schedule an inspection | Opendoor will also send an estimator to evaluate the exterior of your house. Roughly 24 to 48 hours after these assessments, Opendoor will submit a finalized offer for the home. If you disagree with the final assessment results, you can cancel the deal anytime before closing without penalty. |
| 4. | Close the sale | If you want to sell to Opendoor, you can move at your speed to close. Sellers can close in 14-60 days. Before closing, you will have to upload information to an online dashboard to ensure your home is in the same condition as when the assessment took place. Then, a few days after closing, you will receive the proceeds from the home's sale. |
With a presence in 45 markets, Opendoor is currently the largest iBuyer in the country. For a quick sale, a service fee of 5%, in addition to repair costs and closing costs, is charged by Opendoor.
Realtors charge a 6% commission fee, with much higher offers than Opendoor and more control over the sale. However, when selling on the open market, you need to be patient about the process. If you are tech-savvy and methodical about home selling as an owner, you can list on the MLS with Houzeo.
🔍 Explore More: Companies that Buy Houses for CASH (2022 Updates)
What Types of Homes does Opendoor Buy?
Say you are a homeowner with little time and want instant cash. Selling to an iBuyer is the best choice for you. Opendoor has some eligibility standards that your home must adhere to. This is how they ensure the sustainability of their business model.
Opendoor Homes for Sale
Opendoor doesn't purchase mobile or prefabricated houses, homes owned by banks, or those located in flood zones. They are very particular about the homes they purchase to qualify. Here are Opendoor's eligibility criteria:
Home types: Single-family homes, Townhomes, Duplexes (certain markets), Condos (certain markets)
Ownership and occupancy: Only buy from sellers who have clear ownership. Homes should be owner-occupied
Valuation: $100K to $600K, and can go as high as $1.4M
Year built: After 1930, but this varies based on the market
Max lot size: 2 acres, but they can buy homes with 1 acre or 1.5 acres in certain markets
Home locations: Homes within Opendoor's coverage
Solar panel and solar leases: Usually buy homes where solar panels are owned outright or the solar lease is pre-paid
How Much does Opendoor Cost?
Opendoor Fees
Opendoor will take 5% of your home's sale price, which is lower than the traditional realtor commission of 6%. However, some closing costs and repair deductions could increase the total fees to 7% – 10%.
Opendoor Fees Breakdown
| | |
| --- | --- |
| Service Fee | 5% |
| Closing Costs | 1-3% |
| Repair Costs | 1-2% |
| Total Fees | 7-10% |
Let's say that Opendoor inspected your home, and has a cash offer of $400,000 for you. If you go ahead with selling your home to Opendoor, your selling costs including the service fee will be $28,000-$40,000. You don't have to pay this fee, it is deducted from the proceeds of your home sale.
Opendoor vs FSBO
If you choose a realtor to sell your home, you'll be paying around 3% listing agent commission, another 3% buyer agent commission, seller concessions would cost another 1–3%, along with 1–3% for closing costs. This works out to about 8–12% . With Opendoor it comes to about 7–10%
When you choose FSBO, you can list your home with a Flat Fee MLS broker, and save on the 3% listing agent commission imminently, at a standard, one-time fee. With a competitive buyer agent commission like 2%-2.5%, your home should sell within a matter of days. In contrast to getting one non-negotiable offer from an iBuyer, you also get multiple offers for your home when selling on the open market.
Selling to Opendoor for a quick, reliable offer makes sense. With a real estate agent, you get the relevant expertise and marketing tactics to sell your home at a top dollar.
We've listed the best For Sale By Owner websites in 2022 for your perusal.
At a Glance: Houzeo vs Opendoor
With cutting-edge technology and design thinking, Houzeo has created a seamless listing experience for homeowners wanting to sell by themselves. You save on a 3% listing agent commission at just a flat fee. If you choose an iBuyer like Opendoor, you are essentially saying goodbye to these savings.
Selling to Opendoor
When selling to Opendoor, a home seller has a typical process. It's simple.
Request an offer on their website by providing the following details about your home :
Address
Picture
Property size
Condition
Opendoor evaluates the property and determines if it qualifies. They will make an offer based on their own formula and by taking inputs from local pricing experts.
Usually, Opendoor makes an offer within 24 hours.
The entire process is easy, quick, and convenient for both parties. You should understand that not all homes get an offer. The company sends an offer if your property meets its purchase criteria.
Opendoor Purchase Criteria
Opendoor's guidelines for home eligibility may vary state-wise.
Home Types
Single-family homes, townhouses, duplexes, condominiums.

*They do not buy pre-fabricated or mobile homes.
Value
Values between $100,000 and $600,000 (up to $1.4 million in hot housing markets)
Lot size
Lots no larger than 1–2 acres
Occupancy
Owner-occupied
Year built
1930
🔍 Explore More: Know How For Sale By Owner (FSBO) Works in 2022
Does Opendoor Pay a Fair Price?
Opendoor typically offers you less money than you would make selling your home on the market. They are not lowballing sellers, but to sustain their business model, they will share an offer so that your home is valued fair enough to the profit they would make when they resell it on the open market.
So, can you negotiate price with opendoor? Yes, Opendoor does negotiate on offers. These counteroffer negotiations are usually done over email.
Pros and Cons of Selling to Opendoor
✅ Seamless Experience
Working with Opendoor is a seamless experience. You typically receive an offer in 24 hours. Closing on the home happens within a matter of weeks. There is no need for agent-related services or home prepping. The home selling process is convenient.
Sellers have appreciated Opendoor's quick and convenient home selling experience in many Opendoor reviews.
✅ No Home Prepping
Several Opendoor reviews laud the company's business model for its simplicity around home assessments. The first tour is a virtual walk-through, a quick assessment of the property to view features, location, and qualify for the next round of home selling.
✅ Flexible Closing Date
Opendoor allows homeowners to close the sale within 14 to 60 days, and many sellers found this a privilege over traditional realtors who insist on closing dates as per their convenience.
🔍 Explore More: Top Discount Real Estate Brokers in 2021 Reviewed. Find out who's #1!
⚠️ Limited Accessibility
Opendoor currently operates in 45 markets, and only prefers homes that it can access easily. Opendoor has to make necessary repairs before reselling homes. They maintain the property as well. Several factors like the location of the property, features like lawns, backyards, fireplaces, etc., and the proximity of the property to local community centers, schools, hospitals, etc. are considered.
⛔ Lower Sale Price
Because of its fast cash, there are often complaints about how Opendoor didn't negotiate fairly on the property and quoted a lowball offer. Opendoor pays a fair market price. It is a nuanced subject. Opendoor offers 50-70% of the market price of your home, considering the maintenance and repair costs.
⛔ Home Eligibility
Opendoor usually buys single-family homes, duplexes, condos, and townhomes for $100,000–600,000 only. There are exceptions in some markets, but if your home doesn't meet these criteria, Opendoor likely won't purchase it.
🔍 Explore More: Will Real Estate Commissions Keep Falling in 2022?
Buying from Opendoor
1. Buying Your Home from Opendoor
Opendoor lists the houses owned by them on their website where interested buyers can view the property and request details. If you're buying from Opendoor, you can expect this typical process:
| # | Step | Description |
| --- | --- | --- |
| 1. | Browse and tour homes | You can use the Opendoor app to find a home or find it online. The mobile app allows you to take a quick, private tour |
| 2. | Submit an offer | You submit your offer to Opendoor. Make sure you review the trends of the local housing market before submitting an offer. You can either have your agent submit the offer or submit it yourself. Opendoor responds in 24-48 hours |
| 3. | Create documents | If they accept your offer, a purchase agreement can be drafted by your agent. Depending on which state you are in, you sign and go escrow or need an attorney to come in |
| 4. | Pay the Earnest Deposit | After you sign the purchase agreement, you make the earnest money deposit. This deposit is non-refundable |
| 5. | Schedule inspection | In the inspection, you can assess the property, and conduct evaluations for determining the value of the home, identifying loose structures or areas for repair, etc. |
| 6. | Negotiate to close | If the property needs maintenance or repairs, you can negotiate the costs during the closing, and send a revised offer |
| 7. | Close the sale | Close the sale in 14-45 days |
2. Buying Any Home on the Market
In some markets, Opendoor allows buying any home for sale — even if they don't own it.
After submitting an offer on Opendoor's website or the app, you will be matched with an Opendoor partner agent, who will review your offer and then submit it for you. If your offer is accepted, the purchase agreement will be drafted, and you and the seller will have to sign. Finally, your Opendoor partner agent will help you through the escrow process and closing on the house.
Whether you buy from Opendoor or not, the company's cash-backed offer program can help buyers in specific locations purchase a new home with cash. This can provide a leg up in hot housing markets. You don't have to pay any extra fees to utilize the cash-backed offer, and it comes without appraisal, financing, or home sale contingencies.
🔍 Explore: Can You Buy A House Without a Realtor?
Can You Negotiate With Opendoor?
Yes, to an extent. You can state how Opendoor overlooked details in your property during the evaluation. Closing costs, which are 1% typically, can be negotiated as well.
Pros and Cons of Buying from Opendoor
✅ Self-managed Tours
Opendoor has created a seamless buying experience for home buyers with showings management. You can view any listing at your own time with the Opendoor mobile app. No more waiting on the agents' schedule to see a home. Past buyers have mentioned this as a convenient feature.
✅ Flexible Closing Date
Opendoor allows buyers to choose a flexible closing date to close on their homes. Nobody's moving in when Opendoor buys a home, so the closing date is up to the buyer!
⚠️ Negotiating Offers
Opendoor's offer is the final offer. The offer you make on the house and what Opendoor wants can differ. While there may be room for negotiations, it is unlike when you work with a realtor or flat fee broker who cares how much money you save. If you're buying from Opendoor, it's likely you are a ticket in their customer service team's project and communicating via emails.
⛔ Repair Quality
Homes purchased from Opendoor aren't owner-occupied before they're sold, so the seller, Opendoor might not be as tuned in to all of the repairs that are needed as someone who is living in the home.
Opendoor's 1% Cash Back
After you close, a rebate of up to 1% of the purchase price is offered in some markets.
🔍 Explore: Selling Without a Realtor? Here's All You Need to Know About the Paperwork.
Other Opendoor Services
Opendoor Complete
Also called Opendoor Trade-in, this service helps you avoid paying two mortgages at a 5% fee. As opposed to other home trade-in programs, Opendoor buys your home from you directly.
When you use Opendoor Complete to trade in, you are required to use one of their agents. The availability of this service is limited to the markets where buyers' agents are available with Opendoor.
Opendoor's 90-Day Buyback
Designed as a guarantee to promote buyers, Opendoor also offers a 90-day buyback guarantee for a 3% fee. So, if you're not happy with your purchase, you can back out within three months.
Opendoor Home Loans
When buying homes, users often require mortgages and financing. In select markets, Opendoor offers to finance homebuyers. Opendoor Home Loans allow you to use Opendoor's cash to make a competitive offer without any lender fees.
You can qualify for an Opendoor Home Loan even if you choose not to buy a home from them or make use of their agent services, learn more here.
Where are Opendoor services available?
Opendoor currently buys homes in 45 markets across the country, including Atlanta, Phoenix, Los Angeles, and Houston. It is important to know that each one of Opendoor's services are not available in every market.
Check out the full list of markets along with the services available here.
Opendoor Reviews
Customer reviews reflect using Opendoor is easy and people have benefitted largely from the simplicity. Opendoor has a 4.3/5 rating across 3000+ reviews on Reviews.io, Yelp, and Better Business Bureau.
Customers have a legal right to have access to company reviews, but Yelp hid Opendoor reviews.
A few Opendoor reviews report lowkey offers and last-minute cancellations on the closing day.
Because offers are almost non-negotiable, sellers are disappointed when Opendoor doesn't quote appropriately.
Is Opendoor Worth It?
With its fair offers, extremely low fees and ease of operation, Opendoor is worth a shot if you're planning to sell a home. Offers are generally in line with fair market value. In fact, in early 2021, Opendoor paid a median of 107.7% of a house's estimated value.
There are certain disadvantages of selling to an iBuyer. While selling to an iBuyer, you have no option to compare the offer received with another offer. Opendoor's offer is final.
In contrast, when you sell a home traditionally, chances are that multiple buyers will be interested in your property. They will bring in competitive offers. If you want to sell your home at a top-dollar rate while saving on the listing agent's commission, you can work with a flat fee MLS service like Houzeo.
No matter how hot the market is, it all comes down to being smart about selling your house. With a technologically advanced platform like Houzeo and thorough research about selling FSBO as an owner, you can save thousands of dollars on your property!
Related: opendoor, opendoor customer reviews, selling to Opendoor, for sale by owner, listing on the MLS, opendoor listing fees, opendoor closing costs, opendoor for buyers, opendoor trade-in, opendoor mobile app, opendoor hidden fees, opendoor reviews for buying, opendoor reviews for selling, opendoor cashback, opendoor negotiations, opendoor recommendations, opendoor, opendoors, open door real estate, open door, protperty trust, opendoor homes, opendoor.com, house under, contract meaning, open door homes, open door realty, opendoor com, buying a home better business bureau pdf, open door technology, opendoor brokerage, opendoor real estate, opendoor app, mortgage fell through on closing day, open door home,opendoor capital,opendor, open doors real estate, what is open door, does opendoor do repairs, how does opendoor work, is home advisor legit, online house offer, open door brokerage, open door com, open door.com, opendoor fees, sell your home yourself websites, best websites for fsbo, real estate websites