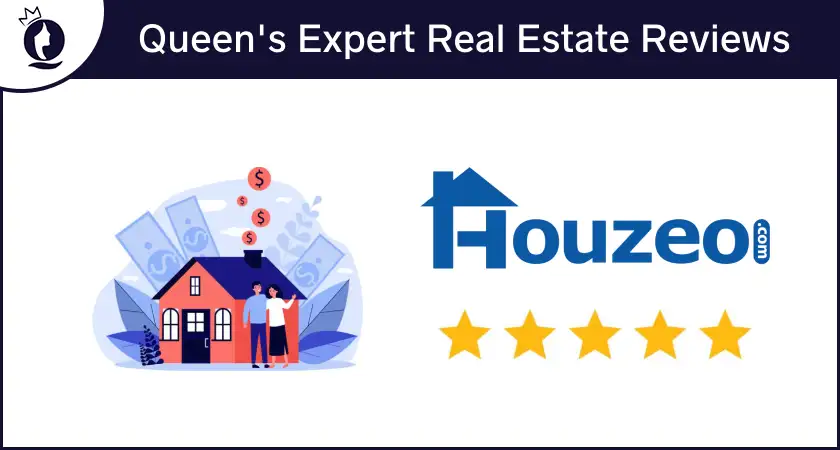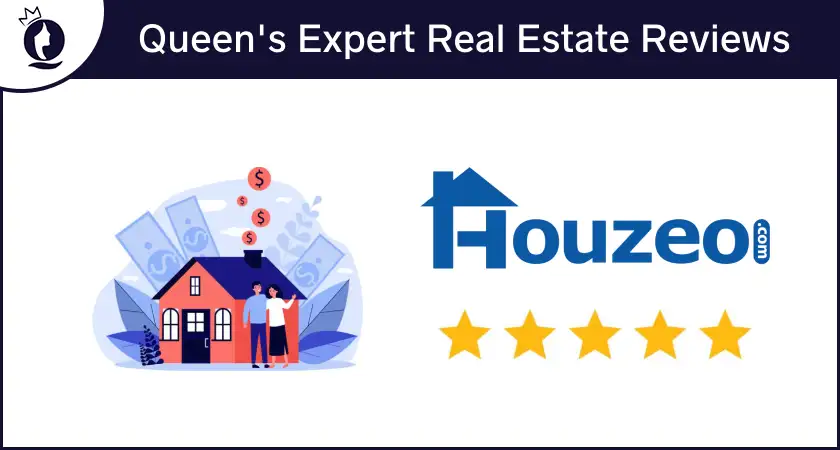 » Jump To: What is Houzeo? | Is Houzeo Good? | What Services Does Houzeo Provide? | Houzeo Listing Plans | Tech Stack | Houzeo Reviews | Cancellation & Refund Policy | Bottom Line | FAQs
Houzeo offers affordable Flat Fee MLS Listings starting from $229. The company advertises nationwide coverage, cutting-edge technology, and excellent customer rating. Read Houzeo reviews to know if it is the best Flat Fee MLS company for you.
Key Takeaways
Houzeo has an overall 4.9-star rating across major review sites.
Houzeo offers affordable Flat Fee MLS Packages to home sellers.
Houzeo's Gold Package is the most popular plan among FSBO home sellers.
Opt for Houzeo's Platinum Package if you require broker assistance.
What is Houzeo?
Houzeo is a Flat Fee MLS (FFM) Listing Company that can help you sell your home For Sale By Owner (FSBO). The company offers an MLS listing for a flat fee across 50 states, saving home sellers 3% listing commission.
With 2,000+ Houzeo reviews across major review sites, the company is among the leading FFM companies in the US.
Is Houzeo Legit?
Yes, Houzeo is a legitimate company. The company was established in 2017 with its head office in New York. Houzeo's Flat Fee MLS services are available in all states across the US.
» Is Houzeo Legit: Check out our Detailed Analysis on Houzeo.com.
Is Houzeo Good?
Yes, Houzeo is a good Flat Fee MLS Listing Service for home sellers.
Houzeo gives home sellers access to tools typically used by real estate agents. This allows you to manage your home-selling journey without paying a 3% listing commission.
In our experience, Houzeo's user-friendly dashboard, combined with IntelliList Listing Management enables easy listing and quick listing upgrades. As per customer stories, even Gen Xers, and Boomers find home selling a breeze due to Houzeo's technology.
During our research, we came across first-time FSBO home sellers using Houzeo's MLS listing service. And they found Houzeo easy and convenient. One of the reasons is the user-friendly interface and easy-to-use website.
How Does Houzeo Work?
Houzeo works on a Flat Fee MLS listing model. This method provides MLS exposure to home sellers who wish to sell their homes FSBO. You get to list your home for a small flat fee, saving you thousands in listing commissions.
What is Flat Fee MLS?
The US Department of Justice legalized Flat Fee MLS Listing in 2005. Brokerages that offer Flat Fee MLS Listing services list your house on MLS for a small fee.
Most Flat Fee MLS packages offer an MLS listing only. Therefore they are also known as "entry-only" listings. To avail of other services like a lockbox, yard sign, or contract review, you have to pay extra.
» What is Flat Fee MLS: Read to Know More About Flat Fee MLS.
Houzeo MLS Packages
Houzeo offers four Flat Fee MLS packages to home sellers. Unlike other FFM companies, that have a one-size-fits-all listing package, Houzeo has segregated plans based on the types of sellers.
| Packages | Listing Fee | Best For |
| --- | --- | --- |
| Bronze | $299+ | Selling a land/lot |
| Silver | $349+ | Sellers who only want an MLS listing |
| Gold | $399+ | Experienced FSBO Sellers |
| Platinum | $999+ | Sellers who need broker assistance |
These are generic prices mentioned on Houzeo's pricing page. Check out your state's pricing page to know the exact Houzeo fees.
Bronze Package
Houzeo's Bronze Package starts from $229 and you get the following:
3-month MLS listing with 6 photos
Syndication to Zillow, Trulia, Realtor.com, Redfin & more
Custom yard sign for $49
Additionally, you get access to Houzeo's seller dashboard and IntelliList Listing Management. Both of which allow easy listing and fast listing changes.
Houzeo's Bronze Package doesn't include the company's other tech products. This includes Houzeo Showings, Houzeo Offers, and more. Also, you will have to pay $25 per listing change. So, you might want to get your listing right the first time. We recommend the Bronze Package if you're selling a plot of land.
Silver Package
Silver Package in most states starts from $349, and includes the following:
6-month MLS listing with 24 photos
Syndication to Zillow, Trulia, Realtor.com, Redfin & more
Unlimited listing changes
Custom yard sign for $49
Silver Package offers access to the seller dashboard and IntelliList Listing Management. The highlight of the Silver Package is a longer listing period and unlimited listing changes. Other popular options like Congress Realty, offer a maximum of 10 free listing changes.
We recommend Silver Package for relatively newer FSBO home sellers. Your property will get good exposure with 24 photos and 6 months of listing duration.
In our experience, Houzeo offers disclosure forms with their Silver Package. However, the company does not mention it on its pricing page.
Gold Package
Houzeo's Gold Package is their most popular FFM listing plan. It starts from $399, and includes the following:
6-month MLS listing with maximum photos
Syndication to Zillow, Trulia, Realtor.com, Redfin & more
Unlimited listing changes
Custom yard sign for $49
Federal and state disclosures
Access to Houzeo Showings and Houzeo Offers
With Gold Package, you get access to all the Houzeo technology. With Houzeo Showings and Houzeo Offers, you can manage showings, make counter offers, and handle multiple offers, all online.
Gold Package is ideal for experienced FSBO sellers. As they do not need broker assistance and can manage their home-selling journey themselves.
Platinum Package
Platinum Package is the virtual full-service plan that starts from $999 and includes the following:
12-month MLS listing with maximum photos
Syndication to Zillow, Trulia, Realtor.com, Redfin & more
Unlimited listing changes
Free custom yard sign
Federal and state disclosures
Access to Houzeo Showings and Houzeo Offers
Broker Assistance
With Platinum Package, home sellers get access to a virtual full-service broker to assist them in the home sale. The virtual broker offers contract review, pricing assistance, and consultation during the sale.
We recommend the Platinum Package for first-time FSBO home sellers who may require broker assistance at some point.
Note: In some states, you have to pay some additional costs at closing. This additional closing cost varies across states. For instance, sellers in Virginia have to pay an additional 0.75% at closing. Visit your respective state's pricing page to know the exact listing prices.
Are Houzeo's Listing Plans Overpriced?
No. As per our research, Houzeo's listing plans are competitive.
Most services charge a low upfront fee but have several hidden costs at closing. You might end up paying thousands at closing.
✍️ Pro Tip: Occasionally, you get Houzeo Coupon Codes that help you get discounts on their listing packages.
Houzeo Hidden Fees
No. We didn't come across any Houzeo hidden fees during our research. The company discloses all costs upfront on the state-specific Flat Fee MLS pages. Plus, none of the Houzeo complaints we came across mentioned hidden fees.
» Houzeo Hidden Fees: The Truth Behind $349 Listing Fee.
Houzeo Tech Stack
In order to make an FSBO home seller's job easy, Houzeo provides them with tech tools. These tools allow you to manage your home selling journey yourself, without a listing agent.
Here's what Houzeo's tech stack includes:
Houzeo Mobile App
Apart from the website, home sellers can use the Houzeo Mobile App to list their homes. You can also access Houzeo Showings and Houzeo Offers through their mobile app. Additionally, you can schedule showings and handle multiple offers on the go.
IntelliList Listing Management
This system guides you through the initial paperwork, setting buyer agent commissions, and uploading property photos. IntelliList Listing Management assigns you the paperwork based on your location.
The IntelliList Listing system allows easy listing and auto-populates the data. This saves you several hours of filling out the paperwork manually.
Houzeo DigiTransact
Digital Transaction Management sets several milestones for you to achieve during the home selling process. The system notifies you when you need to take any action to reach a milestone.
Plus, the other parties involved, e.g. the buyer agent, lender, etc., also receive alerts about upcoming or pending tasks. Currently, the feature is available for all home sellers irrespective of the listing package you purchase.
Houzeo Showings
The feature has a similar function to that of the agent's showing management tool. With Houzeo Showings, you get to view the verification status of a buyer or a buyer agent. You can give listing information access to specific buyers and buyers agents.
Houzeo Offers
Houzeo Offers provides an interactive dashboard to compare multiple offers at once. You can also request the highest and best offer, where Houzeo will choose the best buyer among the offers you get. Here, Houzeo will choose the best buyer among the offers you get.
Closing Cost Calculator
Houzeo provides both sellers and buyers with an advanced closing costs calculator. You can get closing cost estimations based on your location, sale/purchase price, and mortgage or down payment.
Buyer Lead Management
You can manage all buyer leads on one platform, with Houzeo's Lead Management. Typically, a real estate agent gathers all the buyer lead information before passing them to you. With Houzeo Lead Management, you can do it yourself.
Buyer Search Page
Houzeo advertises all its listings under the "Homes For Sale" section. Interested buyers can access these listings, and make an offer directly. You may even receive offers from unrepresented buyers, saving you thousands in buyer agent commissions.
Houzeo Reviews
Houzeo's Google reviews and Trustpilot reviews are mostly positive. There are no Houzeo Better Business Bureau (BBB) reviews yet. Similarly, we could not find Houzeo.com reviews on Yelp.
We've curated some reviews based on the Houzeo pros and cons:
✅ Best for FSBO Sellers
FSBO sellers generally praise Houzeo for sale by owner services. Houzeo is a popular choice, especially among first-time home sellers.
Here's a Houzeo review of a first-time home seller: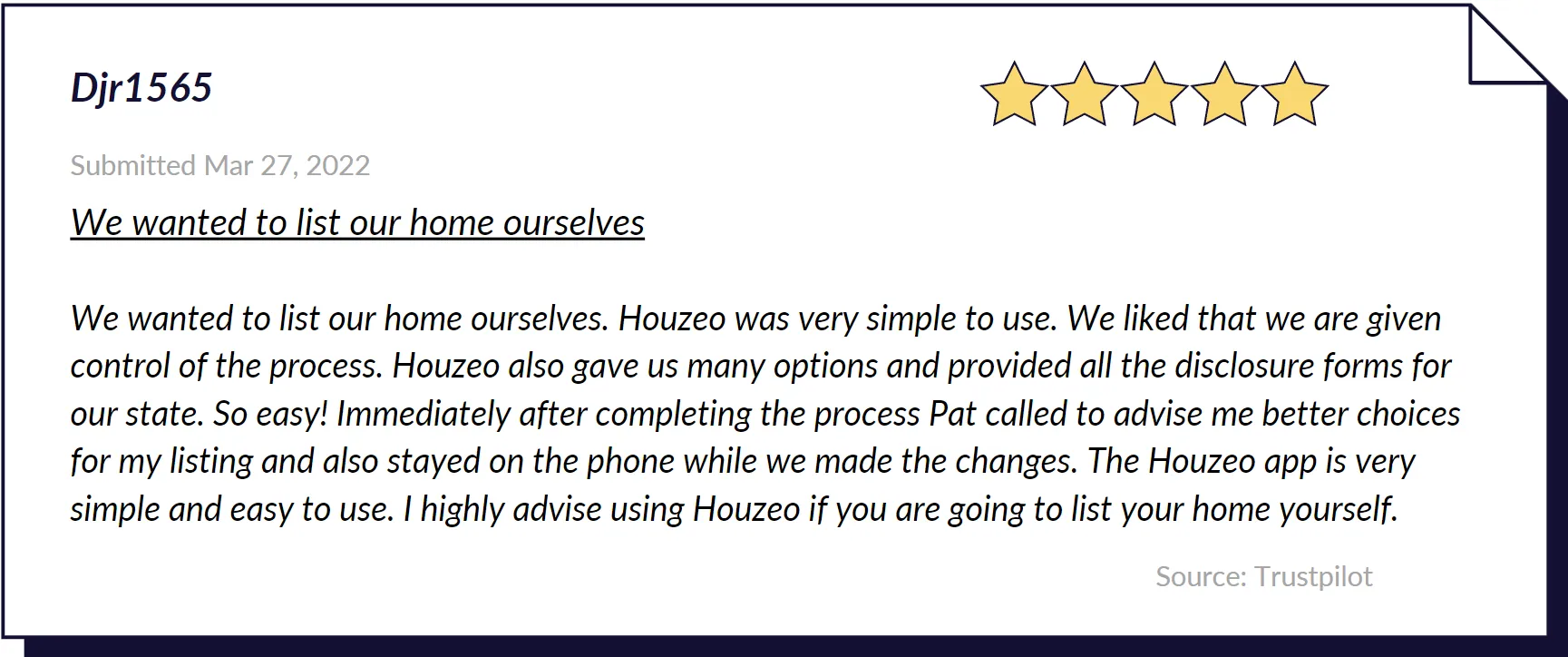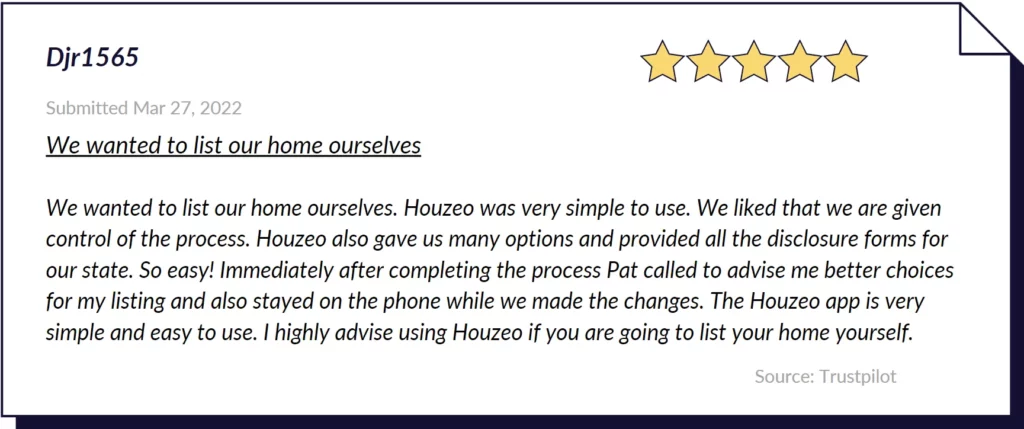 In our experience, Houzeo's seller dashboard makes the listing process easy for new independent home sellers. For instance, home sellers have to complete a certain number of tasks assigned to them. All listing-related paperwork, including disclosure forms, gets assigned to sellers as per their state.
In case, you get stuck at some point, you can reach out to Houzeo representatives. In our experience, Houzeo representatives respond in less than 2 minutes.
Here's what experienced FSBO sellers have to say about Houzeo:


Experienced FSBO sellers appreciate customer support's personalized calls. In our experience, Houzeo Concierge calls home sellers to inform them about their listing going live. Houzeo representatives also educate home sellers about further steps. This typically includes requesting listing changes and the process thereof.
✅ Excellent Customer Service
Almost every review of Houzeo mentions helpful, responsive, and very knowledgeable customer service. This can be a big advantage for you if you need help when selling your house without a realtor.


You can call Houzeo representatives directly through the Houzeo customer service phone number. Or you can chat online through the website chat box. In our experience, you will get a response immediately.
To chat online we had to provide some basic information—this included name, phone number, address, email address, etc. The company did not bombard us with newsletters, PR emails, or phone calls. At no point did the company representatives force us to buy their products. This shows Houzeo's genuine commitment to solving customer problems.
✅ Affordable Prices, Huge Savings
With Houzeo, home sellers only have to pay the buyer agent commission. This means they save 50% of the real estate commissions. Here is a customer review we came across where the seller saved $45,000 by listing with Houzeo.

Due to Houzeo's affordable Flat Fee MLS listing packages, home sellers across the states have saved thousands in commissions. You only have to pay a small flat fee instead of a 3% listing agent commission.
Say you sell your home for $900,000 in Florida. You would spend $27,000 in listing commission. However, with Houzeo you can get on the MLS for $349 only! Even if you opt for their most expensive Flat Fee MLS Florida package, you would still save $25,800!
» Customer Stories: See What Home Sellers Have to Say
✅ 100% Online FSBO Paperwork
Paperwork for selling a house without a realtor is one of the biggest challenges FSBO sellers face. Here's a customer review appreciating Houzeo technology and the concierge for simplifying the paperwork for them: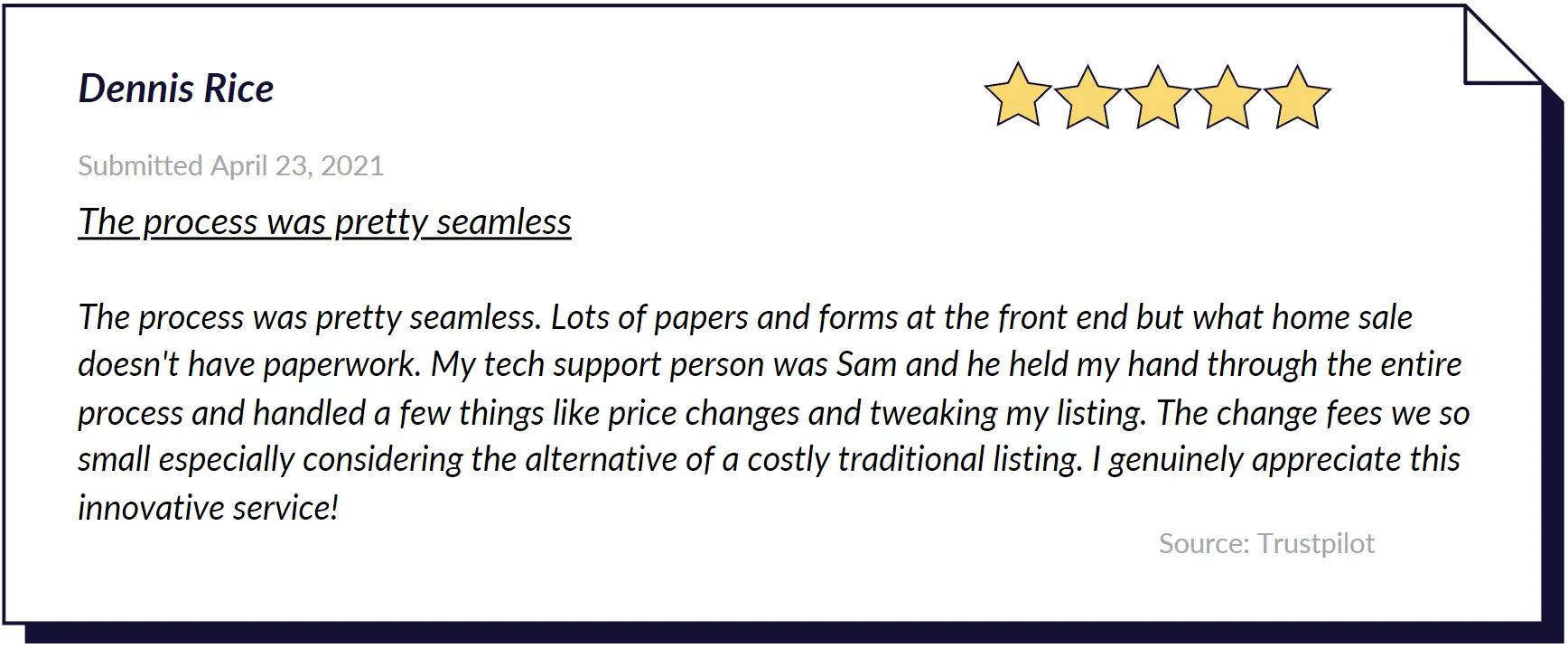 Houzeo assigns all the listing paperwork, e.g. listing agreement, and seller's disclosure to sellers. As mentioned earlier, Houzeo's IntelliList Listing Management system auto-populates a lot of seller information.
In case, you get stuck at some point, you can reach out to Houzeo Concierge. A Houzeo representative is assigned to home sellers who help them throughout the listing process.
✅ Easy to Use, Smooth Interface
Several customers choose Houzeo because of its powerful seller dashboard. Here is one such customer who discovered how Houzeo's dashboard and interface simplify MLS listing.

Houzeo's interface and listing system are accessible and easy to use. Houzeo fills out as much of your listing as possible. The dashboard gives a Zillow estimate of the property.
After selecting an MLS plan, Houzeo assigns tasks for home sellers to complete. This includes filling out MLS contracts & forms, and disclosures. Upon completion, your home is listed on the MLS within 24 hours.
✅ Easy Listing & Fast Listing Changes
Apart from quick listing, Houzeo allows home sellers to make easy listing changes. Here is a customer review of a seller who decided to drop the price and modify the property description. He was able to update his listing within an hour.

With Houzeo corp, home sellers can make several changes to their listings. This includes changing the listing price, photos, MLS listing status, and more.
Home sellers have to raise a change request on the dashboard. Houzeo automatically generates an amendment contract. The amendment contract is needed to make changes to your MLS listing. Upon signing the contract, your change request is submitted and changes go live within 1-2 business days.
Houzeo Complaints
However good the services of a company may be, there are always some drawbacks you may face. Houzeo complaints majorly involve technical glitches and a lack of dedication from some listing agents.
❌ Houzeo Complaints Related to Listing Brokers
We came across two Houzeo complaints, where users had a good experience with Houzeo but were unhappy with the listing agent.
One such user appreciated Houzeo's task manager and document uploader. But they complained about the listing agent's inconsistent availability during the process.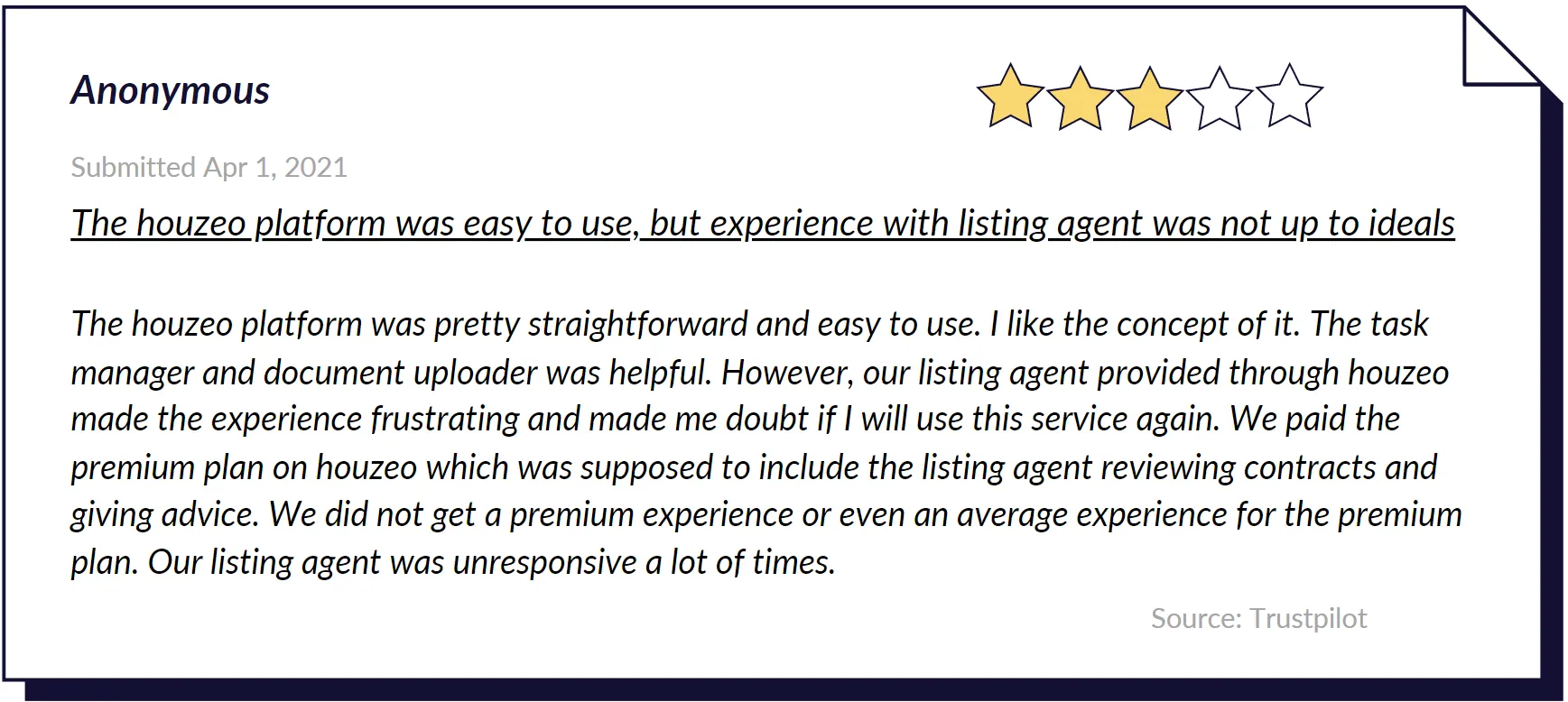 ✅ Houzeo's Reply
The company replied promptly on the same day. The company's customer support team diligently escalated the matter to the Customer Success Manager.

The Customer Success Manager replied to the above Houzeo complaint to ensure such an experience is not repeated. A prompt reply asking for a follow-up shows the company's commitment to improving the user experience.
❌ Slow to Respond
During our research, we came across a customer review that went against popular observation. According to a home seller, Houzeo's support team responds quickly "initially". But during the contract review and reviewing offers, they were extremely slow.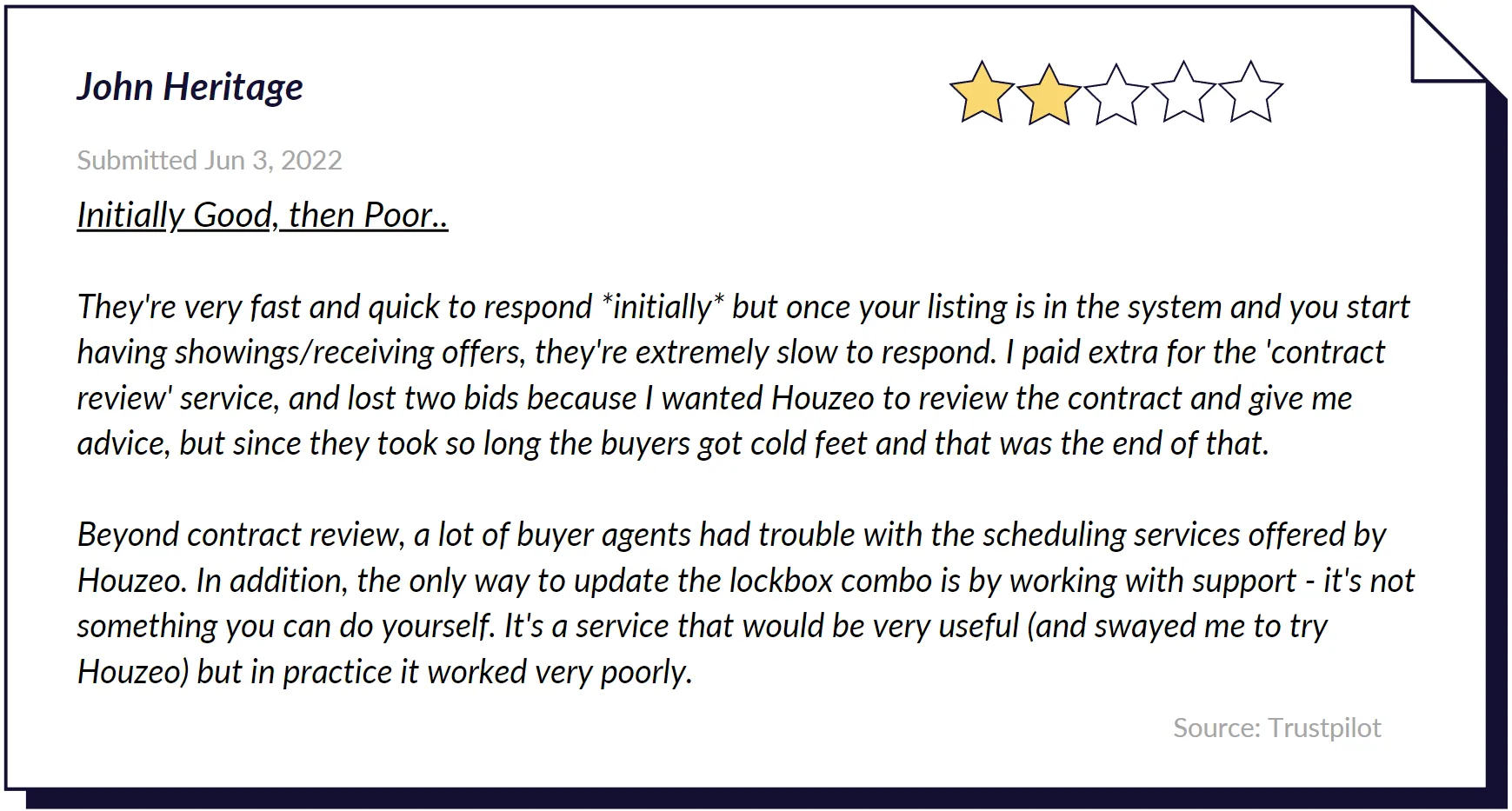 As per the above Houzeo complaint, the home seller had paid extra for the "Contract Review" service. According to him, Houzeo took a long time in reviewing and advising. This led to a significant delay, turning away two potential buyers.
However, in our experience, Houzeo's customer support team responds quickly. Also, the company itself doesn't review the contract. They assign a licensed real estate broker for contract review. So, the delay was probably from the broker's end and not from Houzeo.
Houzeo Cancellation & Refund Policy
What is Houzeo's Refund Policy?
Houzeo's refund policy is straightforward and hassle-free.
Home sellers can request a refund if they are not satisfied with Houzeo's services. Houzeo offers a complete refund after deducting a $50 non-refundable deposit. Home sellers have to fulfill the following criteria to claim a refund:
It has been less than 14 days since the seller placed an order, and
The seller has not signed the listing agreement, and
The seller's listing is not live on the MLS, and
No draft listing has been assigned to the seller
As per Houzeo's refund policy, sellers do not get refunds for optional upgrades. This includes yard sign, lockbox, ShowingTime, Contract to Close Assistance Package, etc.
Customer testimonials show that Houzeo's refund policy is liberal.
✅ Houzeo's Refund Policy is Quick and Hasslefree
As discovered by a user, their refund request was processed promptly and in a hassle-free manner.

✅ Houzeo Handles Refund Requests Professionally
Users appreciate Houzeo's customer service for handling refund and cancellation requests professionally.

» Houzeo's Refund Policy: Read in Detail
What is Houzeo's Cancellation Policy?
As per Houzeo's cancellation policy, the company charges no termination fee. You can cancel your listing for free, even before the listing expiration date.
For homes listed on the Georgia MLS (GAMLS), sellers have to pay a $25 termination fee.
» Houzeo's Cancellation Policy: Read in Detail
How Much is the Houzeo's Success Fee?
As of 2023, Houzeo charges no success fee.
Houzeo Pros and Cons
| ✅ Houzeo Pros | ❌ Houzeo Cons |
| --- | --- |
| 4.9 star customer rating | Limited coverage and automation in 4 states |
| Excellent customer service | Does not list rentals on the MLS |
| Powerful, and user-friendly seller dashboard | |
| Easy and fast MLS listings with Houzeo tools | |
| 100% online paperwork | |
Houzeo Alternatives
Comparing and researching multiple services before a listing is important. Here are some alternatives to Houzeo you can consider before listing your home.
Houzeo vs Homecoin
Homecoin's key attraction is its $95 listing plan. This plan provides you with a clumsy interface for the online listing, substantially degrading your user experience. For the $95 listing plan, you have to pay $450 to $2,999 for several a la carte services.
Lastly, Homecoin does not give you nationwide coverage like Houzeo. Homecoin's services are available in 10 select states only.
» Homecoin Reviews: Is $95 Listing Fee too Good to be True?
Houzeo vs Beycome
Just like Houzeo, Beycome gives you virtual tools to manage your property transaction. With Beycome, you get to choose from 3 different packages, however, each plan's coverage is limited only to select states.
Beycome's basic $99 package helps to list your home on the MLS and is available in just 9 states. With Beycome's $399 'Enhanced Package,' you get several additional features. These include a personalized yard sign, a professional photography session, a virtual tour video, and more. This package is available in only 7 states.
The $599 package is a concierge service package. Here, you pay 1% at closing to Beycome, with a minimum limit of $999. You get Beycome's full-service plan in select 6 states only.
» Beycome Reviews: Pros, Cons, and Alternatives
Houzeo vs Zillow
Houses that are listed on the MLS are syndicated directly to Zillow. Even if you don't list on the MLS, you can still post your listing on Zillow.com manually.
An important drawback here is that FSBO property listings on Zillow receive very limited exposure. This happens because Zillow separates FSBO listings from the ones syndicated via the MLS. With Houzeo, your property will be listed on the MLS, plus get syndicated to Zillow under the MLS property listings.
» Zillow Reviews: Here's Why Zillow FSBO Listings are not Worthit.
Houzeo vs Traditional Agent
Traditional agents come with a 6% commission. In order to compete, most real estate services charge a low commission or a flat fee. Hence, paying the full 6% commission today can be a fool's move.
By using Houzeo, you can manage your transaction just as easily while saving 3% on the listing agent's commission. Plus, you can upgrade to the 'Contract to Close' package if at any time you need assistance.
Bottom Line: Should You List with Houzeo?
Yes, we recommend Houzeo for most home sellers. We could hardly find any reason for recommending against using Houzeo. The company has an excellent customer rating of 4.9 out of 5 stars. Plus, the majority of Houzeo.com reviews on the internet are positive, with hardly any negative ones.
Houzeo's coverage is throughout the 50 states, a feat achieved by only a handful of other services. Compared to them, Houzeo has the most positive reviews online. That's why we recommend listing with Houzeo and navigating your real estate transaction.
Frequently Asked Questions about Houzeo
1. Is Houzeo legitimate?
Yes. Houzeo was established in 2017 and is owned by Amit Dhameja. The company's head office is located in New York, and its services are available in all 50 states across the US.
2. Is Houzeo free?
Houzeo offers a free listing for home sellers, where your property listing is advertised on Houzeo's website, but not on the MLS. In order to list on the MLS, you need to purchase one of Houzeo's MLS listing plans.
3. Is Houzeo available nationwide?
Yes. Operating in over 200+ markets, Houzeo offers nationwide coverage to home sellers.
4. What is Houzeo login?
When you register as a home seller or buyer with Houzeo, you are assigned a unique account, and that is your 'Houzeo Login'. You can find your Houzeo login here.
5. Who owns Houzeo?
Houzeo is owned by Amit Dhameja, with its offices headquartered in New York and Charlotte.
Related: for sale by owner websites, for sale by owner listing on the mls, for sale by owner sites, for sale by owner website reviews, houzeo reviews, fsbo reviews, fsbo.com reviews, fizber.com reviews, forsalebyowner, forsalebyowner reviews, forsalebyowner.com reviews, for sale by owner property listings, for sale by owner websites like craigslist, for sale by owner free listing, homes for sale by owner websites, for sale by owner websites free, for sale by owner house websites, houzeo cancellation policy, houzeo listings, houzeo.com reviews, houzeo login, houzeo corp, houzeo.com, houzeo for sale by owner, houzeo coupon code, houzeo hidden fees, houzeo success fee, houzzeo, houszeo, housezo, houzeo vs fsbo, houzeo complaints, houzeo com, houzeo reddit, houzeo google reviews, houzeo reviews reddit, houzeo fees, houzeo better business bureau, houzeo reviews yelp houzeo bbb, houzeo funding, site:www.houzeo.com, home sale by owner websites, for sale by owner free listing sites, real estate websites