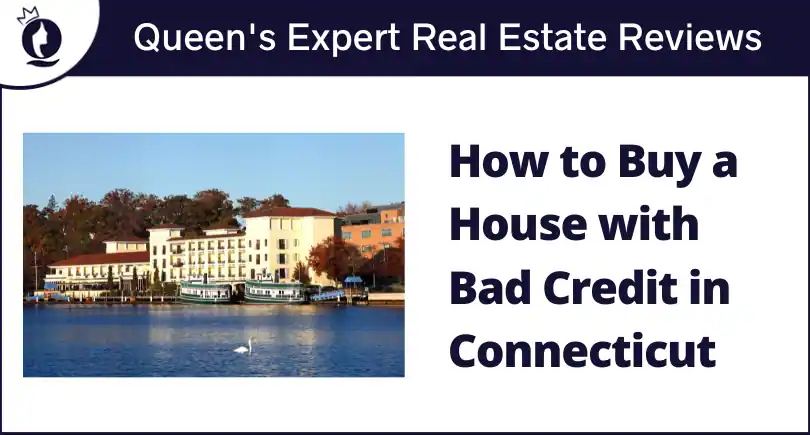 Purchasing a home is a significant milestone for many families in Connecticut. Owning a house represents stability, security, and the fulfillment of long-held dreams.
However, buying a house can be challenging, especially if you have a less-than-ideal credit score.
Having bad credit may present you with possible obstacles. But, there are also ways you can buy a house with bad credit.
What is a Credit Score?
A credit score is a numerical representation of an individual's creditworthiness. Typically used by lenders, credit scores assess the risk of lending money or extending credit to an individual.
The credit scoring model in the US is the FICO Score. Developed by the Fair Isaac Corporation, FICO Scores range from 300 to 850 with higher scores indicating better creditworthiness.
The score is determined by various financial factors. These include payment history, credit utilization, length of credit history, types of credit, and new credit applications.

What is a Bad Credit Score in Connecticut?
A bad credit score generally refers to a score that falls below a certain threshold. However, this threshold may vary depending on the lender or credit reporting agency.
Generally, a bad credit score falls below 580 and is considered poor or very poor. With a bad credit score, individuals may face difficulties in obtaining credit, securing favorable loan terms, or even being approved for rental housing throughout Connecticut.
Here's how the credit scores categories usually fall in CT:
| Credit Category | Credit Scores |
| --- | --- |
| Exceptional Credit | 850 – 800 |
| Very Good Credit | 799 – 740 |
| Good Credit | 739 – 670 |
| Fair Credit | 669 – 580 |
| Bad Credit | 579 – 300 |
What is the Minimum Credit Score to Buy a House in Connecticut?
Few mortgage lenders have a minimum credit score of 500, while others have set it to 580.
For example, FHA has set the minimum score to 500. Fair Credit Score: 580-669. Poor Credit Score: 300-579. The minimum score varies among lenders.
It doesn't matter that you have taken a loan with bad credit, as many lenders care more about if you will pay them every month.
» What Credit Score is Needed to Buy a House: Find out the credit score required to buy a house in 2023!
Not buying? Want to sell your home?
Can I Buy a House in Connecticut with Bad Credit?
Yes, you can buy a house with a bad credit score in Connecticut. Mortgage lenders care about bad credit, but they care more about your ability to pay back your loan. Several federal and state programs help you procure a loan, regardless of your credit.
Not to mention, you can adopt a few other strategies to improve your chances of qualifying for a mortgage with bad credit. They are:
Investigate Government Mortgage Programs: Programs like FHA, VA, and USDA typically have a much lower credit score to buy a house.
Work on Improving Your Credit: You can also pursue some strategies to improve your credit history. This includes disputing incorrect credit report entries and making payments on time.
Get a Co-signer: You can also ask a relative or a friend to co-sign your mortgage application with you.
Bring More Cash to the Table: All lenders care about is your ability to pay back your loan. If you show liquid assets, that may alleviate their concerns in approving your mortgage application.
» How to Buy a House in Connecticut: Everything you need to know about buying a house in Connecticut.
Types of Loans for Connecticut Borrowers to Buy a House With Bad Credit
A low credit score may not rule out homeownership. Explore alternative loan options that can help you secure financing. Here are some home loans for bad credit:
| | |
| --- | --- |
| Types of Loans | Minimum Credit Score |
| USDA Loans | None |
| VA Loans | None |
| Conventional Loans | 620 |
| FHA Loans | 580 – 500 |
How to Get a Mortgage in Connecticut with a Bad Credit Score?
Getting a mortgage with a bad credit score in Connecticut can cost you more. So it might seem appealing to continue paying rent. Here are some tips for getting a mortgage with bad credit:
Research: Different lenders offer different interest rates. Hence you must research and inquire about multiple lenders. Compare multiple quotes and choose the one that saves thousands of dollars over a 30-year mortgage.
Other Lenders: Banks are not the only ones that lend money. There are financial institutions and credit unions that could lend money to you. You can look around to find one which offers you the best deal.
Identify Red Flags: You must be aware of any red flags from potential spammers that guarantee a loan without checking your credit score.
Co-sign Your Mortgage: If your credit score is bad, you can ask your family member or friend with a better score to be the co-signer. If the co-signer is willing to take the debt, that can boost your application.
Down Payment Assistance: You can check for down payment assistance to get you through down payment schemes. There are over 2000 assistance programs available all over the country.
No Big Changes in Your Finances: Don't make any changes in your credit line. This can push down your credit score. You can also try to avoid big purchases or getting a new credit card while applying for a mortgage.
How to Check Your Credit Score in Connecticut?
You should check your credit score and monitor your credit report regularly. It can help you stay informed about your financial standing. Based on the report, you can take the necessary steps to improve your creditworthiness if needed.
Here are some ways how you can check your credit score:
Check your bank statement: Check with your bank or look at your credit card or loan statements. Usually, you find your loan score online after logging into your bank account. If not, you might need to opt for a service to receive your scores.
Free score service: Many companies offer free credit score checking. However, check their terms and conditions before signing up.
Bureau or credit provider: You can also check your score through major credit providers or lenders. Other paid providers are also available.
Bottomline
You can improve your credit scores by altering your spending habits, even a few small changes can go a long way. However, having a bad score does not mean you cannot own a house in Connecticut; all you need is qualifying credit.
So, take your time to assess all your options while applying for a home loan in Connecticut with a bad credit score.
» Home Appraisers: Find out all there is to know about Home Appraisals.
Frequently Asked Questions
1. Can I buy a house with bad credit in Connecticut?
Yes, you can buy a house in Connecticut with bad credit. You can opt amongst different types of loans and mortgage lenders that accept applications from first-time home buyers in Connecticut with low credit scores.
2. What is a good credit score in Connecticut?
Usually, credit scores from 670 to 739 in Connecticut are considered good. Furthermore, a credit score between 580 to 669 are considered fair; 740 to 799 are considered very good, and 800 and up are considered excellent.
Also Read
Additional Resources
Related:
loan bad credit ct, how to get a loan with bad credit in ct, loans for people with bad credit in ct, get a loan in ct with bad credit, home loans in connecticut for bad credit, bad credit home loans connecticut, lending for bad credit, where can I get a loan with bad credit in connecticut, what is a bad credit score in connecticut, need a loan in connecticut with bad credit, housezo, houszeo, hozeo, houzzeo, homecoin reviews, get a cash offer