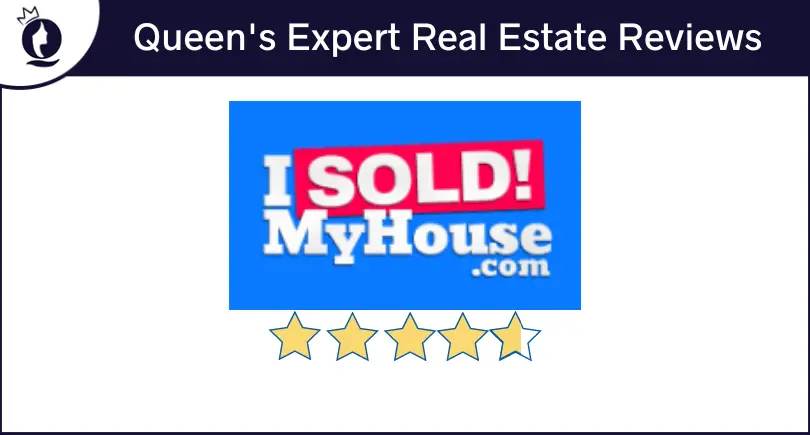 Isoldmyhouse.com is a real estate website that assists sellers in listing their properties on the MLS for a flat fee. It works with cash buyers and discount brokers to serve a variety of sellers.
However, ISoldMyHouse.com lacks package customization. With flat fee companies like Houzeo, you get multiple packages to choose from. Houzeo provides four packages with additional services, ensuring a seamless home-selling experience.
Key Takeaways
Pros: ISoldMyHouse.com gets your home listed on the MLS within one business day.
Cons: With ISoldMyHouse.com the success of FSBO marketing falls solely on the home seller, which can be challenging for first-time sellers.
Our Take: ISoldMyHouse.com may not be suitable for inexperienced home sellers. Instead, consider using Houzeo.com, a tech platform that offers better services and more savings.
Let's delve into ISoldMyHouze.com reviews and their pros and cons to see if they are the ideal choice for you.
What is ISoldMyHouse.com?
ISoldMyHouse.com provides flat-fee MLS services, offering cost-effective real-estate transactions. With ISoldMyHouse.com, you can list your home on the local MLS and popular websites like Zillow, Redfin, and Realtor.com within 24 hours.
How Does ISoldMyHouse.com Work?
You need to create an account to work with ISoldMyHouse.com. You need to select the services you want, give personal and property information, and pay a one-time flat cost.
Your home will get listed on the MLS within one business day. However, you will not get professional support or guidance from a realtor.
ISoldMyHouse.com Services
With ISoldMyHouse.com, you can either go for a Flat Fee MLS listing, work with a discounted agent, or sell to a cash buyer.
Flat Fee MLS Listing
ISoldMyHouse.com provides two MLS Listing Plans: Get Listed and Get Sold.
1. Get Listed
This plan costs $299 and lists your home for 6 months with up to 10 photos. This plan includes an FSBO listing on ISoldMyHouse.com, Zillow, Trulia, Realtor.com, etc. You can add the following features to this package:
Featured listing on ISoldMyHouse.com – $25/month
Lockbox facility – $50
Custom printed yard sign – $75
2. Get Sold
The Get Sold package costs $399 and includes the same services as the Get Listed plan. The only difference is that it allows you to upload up to 25 photos for your listing, providing added value for those with larger homes.
Work with Discounted Local Agent
ISoldMyHouse.com has established partnerships with local realtors throughout the USA. To receive a recommendation, you can fill out a form on their website. Once paired with a local partner agent, you can avail of their services at a discounted commission rate.
When working with an ISoldMyHouse.com partner agent, you can expect to pay a listing commission of 1% to 2% along with the buyer agent fee. In the case of an unrepresented buyer, you will only be required to pay a 3% commission to your partner agent.
Sell to a Cash Buyer
ISoldMyHouse.com has formed a partnership with cash home buyers. If you prefer to avoid the complexities of the home-selling process, you can reach out to them to get a no-obligation cash offer for your property.
Typically, expect to receive an offer within 48 hours. However, cash buyers do not buy mobile homes.
ISoldMyHouse.com Additional Fees
In certain US states, brokers are subject to strict "minimum service" laws that require them to facilitate transactions between home sellers and buyers. Therefore, ISoldMyHouse.com will charge an additional fee in the following states.
| | |
| --- | --- |
| US States | Additional Fees at Closing |
| Indiana | $299 |
| Iowa | 0.5% of the purchase price |
| Nebraska | 0.5% of the purchase price |
| Kentucky | $299 |
| Colorado | 0.5% of the purchase price + $250 |
| Missouri (Metro Atlanta and Chattanooga) | $500 |
ISoldMyHouse.com Reviews
ISoldMyHouse.com has received a 4.7 out of 5-star rating on Better Business Bureau based on 27 reviews. While many ISoldMyHouse.com reviews are positive, some are conflicting in terms of their customer service.
✅ Charles was happy to have complete control over his listing.
✅ Jeff found their website straightforward and helpful.
❌ Carol had a frustrating experience with their unresponsive realtor.
❌ Jim and Peg M. pointed out the subpar customer support provided by ISoldMyHouse.com.
ISoldMyHouse.com: Pros and Cons
ISoldMyHouse.com helps home sellers and buyers by simplifying real estate transactions. However, to make an informed decision, Let's assess pros and cons of ISoldMyHouse.com.
✅ Pros
Listing Exposure: Your listing gets exposure on websites like Zillow, Trulia, and Realtor.com.
Save on Commission: If you go For Sale By Owner way, you can save 3% on listing agent commission.
Better Control Over Listing: The buyers will contact you directly, so you have better control over your sale.
User-Friendly Website: ISoldMyHouse.com has a simple and easy-to-use website.
❌ Cons
Lack of Guidance: With ISoldMyHouse.com's FSBO packages, you will lack guidance and self-help resources.
No Refund: Once you have listed your property, you cannot claim any refund from ISoldMyHouse.com.
Alternatives to ISoldMyHouse.com
Houzeo.com: Houzeo offers a compelling combination of significant savings, advanced technology, top-notch customer support, and extensive listing exposure. As a fully online MLS listing website, Houzeo has garnered thousands of customer reviews. It provides coverage in 47 states across the US, offering a near-nationwide reach.

Homecoin: Homecoin is a technology-focused, Flat-Fee MLS platform based in San Diego, California. They attract home sellers with their "affordable" FSBO listing option. However, some users have found their online dashboard to be cumbersome. This may make handling complex FSBO listing paperwork more challenging.
Is ISoldMyHouse.com Worth It?
For first-time home sellers, we do not recommend ISoldMyHouse.com. Their FSBO packages are expensive and lack services that are vital to the home-selling process. If you require additional services, they will refer Get LISTED Realty to you, which may result in substantial agent commission fees.
Instead, we recommend considering Houzeo as the top choice for a For Sale By Owner MLS listing service. Houzeo provides excellent support and guidance throughout the entire real estate process.
Frequently Asked Questions About Fizber
Is ISoldMyHouse.com legit?
Yes, Is ISoldMyHouse.com is a reputable company that has been in operation since 1997. It provides two FSBO packages to help home sellers list their property on the MLS.
Which is the best FSBO company?
There are various FSBO companies out there that provide good services. Houzeo, Redfin, and Homie are among the leading companies in this space, offering reliable and quality service.
Related: ISoldMyHouse.com, ISoldMyHouse com, i sold my house com, isoldmyhouse, isoldmyhouse.com reviews, isoldmyhouse com reviews, isoldmyhouse reviews, isoldmyhouse com fees, i sold my house reviews, i sold my house, i sold my home, sell my home reviews, best place to sell my house, buy my house website, www.isoldmyhouse.com search, isoldmyhouse, how can i sale my house by owner, isoldmyhouse com listings, get listed realty, what is a flat fee listing, what is flat fee real estate, get listed realty LLC, kris lippi get listed realty, get listed realtyx
isoldmyhouse.com reviews, isoldmyhouse com reviews, isoldmyhouse, i sold my house com reviews, isoldmyhouse com, isoldmyhouse com fees, i sold my house com, i sold my house, houzeo, houzeo reviews, houzeo.com, list with freedom reviews, isoldmyhouse, i sold my house com, isoldmyhouse com, isoldmyhouse.com reviews, i sold my house reviews, isoldmyhouse.com reviews, isoldmyhouse, i sold my house reviews, houzeo pros and cons, i sold my house, i sold my house.com, soldmyhouse, isoldmyhouse.com, i sold my house com, i sold my house. com, mls my home reviews, sold com reviews, isoldmyhouse.com listings, sell my house.com, get listed realty, my property for sale reviews, isoldmyhouse reviews, houzeo reviews, house cash buyers