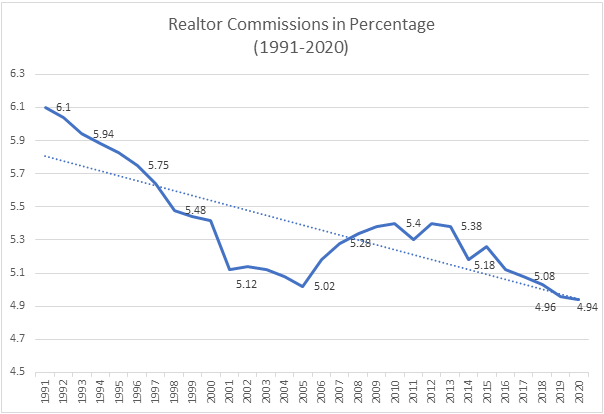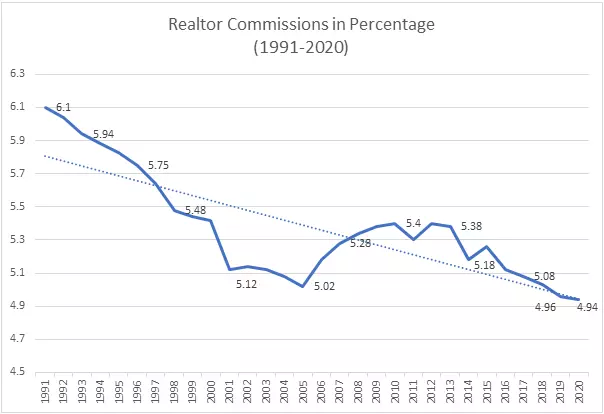 Average real estate agent commission fell again in 2020, a trend that's been continuing since 1990s. Per data from Real Trends, a reputed Colorado-based real estate research firm, in 2020, the realtor commissions touched a new low of 4.94%, down from 4.96% in 2019 and 5.03% in 2018. 2020 was a seller's market, and that surely contributed to it, but there are significant underlying fundamentals that indicate these commissions will continue to fall. test
One of the reasons why the realtor commissions stayed below 5% for the second consecutive year is that 2020 was a strong seller's market where many sellers were swamped with multiple offers over their listing price. However, real estate commissions have been falling since the early 90s due to technological advancements in the real estate domain, various anti-trust lawsuits against the National Association of Realtors (NAR), an increasing number of realtors, and the introduction of new-age real estate companies like  Flat Fee MLS companies.
We will discuss this and a few other factors at length in this article
Why 6% and What Do You Get for 6%?
There are no significant records that establish the genesis of the 6%, however, the general understanding is that the idea of a 6% real estate agent commission originated during the 1940s when the National Association of Real Estate Boards (NAREB), now called the National Association of Realtors (NAR), established 6% as a standard rate. The NAREB also established the first "Multiple Listing Service", a real estate database that was owned and accessed only by local agents who contributed property listings to a shared repository of available houses in a given market. As the industry progressed, many more MLSs sprung up across the US, and listings were contributed in the form of a book.

Since local agents were the only ones who could access these MLSs, it allowed the agents to control the information about properties for sale and devise rules and regulations for how the real estate market functioned. Along with that, they also set up a way to earn commissions from the home sale: the seller would pay the commission, and the listing agent would stipulate to buyers' agents what their cut would be if their client bought the house.
In 1950, the U.S. Supreme Court ruled that the 6% commission standard constituted an illegal price-fixing. After that, there was no official rate, but the 6% commission lived on through unwritten practices. The 6% commission is typically split evenly between the listing agent and the buyer's agent. For their half of the commission, the listing agent helps a home seller list their property on the MLS, assists in pricing the property, arranges and hosts open houses, handles negotiations, and assists with the other tasks required to close on the transaction. The buyer agent, for their half of the commission check, shows their clients various properties, arranges paperwork, and negotiates on their client's behalf.
Why Are the Commissions Falling Now?
Except for a blip in 2005 through 2010, real estate agent commissions have been steadily declining over the past three decades. "The continued decline in commission rates seems to reflect both rising housing prices, especially in higher-income urban areas, and an increase in consumer willingness to ask about these rates," says Stephen Brobeck, a former executive director and current senior fellow at the Consumer Federation of America. Multiple other factors have contributed to this decline of real estate commissions.
Reasons for Decline
Reason #1: The unsustainability of Basic Fundamentals
1A. 6% Commission is Absurdly High in Relation to the Home Price
When the NAR, the governing body of realtors, was established in 1908, the prices of the properties were a fraction of what they are today. According to a global study done by the Federal Reserve Bank of Dallas the median US home values between 1890 to 1910 were between $40,000-$60,000, this was the time when the 6% commission was decided.
The 6% commission was considerable back then. Home prices shot up significantly in the 1990s, a trend that continues today in most markets, except for a brief pullback post the subprime mortgage crisis in 2008. As the median home values rose in the United States, the 6% commissions started burning holes in the home sellers' pockets. To put that in perspective, on $298, 900 – median US home value in July 2021 – a 6% commission rate will take away $17, 900 from the home seller's proceeds.
1B. 6% Commission is Even Higher in Relation to the Home Equity
According to CoreLogic, the average US homeowner equity in Q1 2021 was approximately 174,000. That's significantly lower than the average home price of $298,000. Furthermore, if it weren't for rising home prices, the average equity would have been significantly lower given the popularity of the FHA and VA loans that require very little down payment. The 6% commissions for these homeowners can be even more substantial. Technically, if a homeowner purchased a $500,000 property using an FHA mortgage at 3.5% down ($17,500) and paid 2% in closing costs ($10,000), the home would cost them $510,000. If they then decided to sell and their home hadn't appreciated, they would owe about 6% in real estate commissions and 2% in estimated closing costs. They would then gross $460,000 after deducting this 8%. That hypothetical home seller would still owe their bank $492,500, leaving them about $32,500 underwater on their sale. These are unsustainable economics.
1C. US Real Estate Commissions are Among the Highest in Developed Nations
In most developed countries, according to a survey by the discount brokerage Surefield, commissions range between 1% and 4%. Commissions in Canada are at 3% & in the UK an average home seller pays about 1.5%. Buyers in these countries depend much more on online portals to find their desired home and seller's agents can represent both parties.
1D. It's Easy to Become a Real Estate Agent
Getting a real estate agent's license is relatively easy and, in most states, you don't even need a bachelor's degree to become a real estate agent. There are over 2 million active real estate agents in the US. According to the NAR, 55% of them do not have a bachelor's degree.
The number of Realtors® registered with the NAR crossed 1.45 million in 2020 and is still increasing. US home sales numbered 6.5 million in 2021 and that means each agent gets approximately 4 to 8 transactions per year. As the realtors keep on rising in numbers, the average commissions keep falling, since the supply far exceeds demand.
Reason #2:
Technological Advancements and Disintermediation
Tremendous disintermediation has transpired in the past two decades and a lot of middlemen have become obsolete. Robinhood has made stock brokers obsolete. Financial advisors used to charge 3%-7% for their asset and wealth management services. They are lowering their fees to stay in business. Hotels.com, Airbnb, and other travel sites have disintermediated travel agents. Real estate, though, has remained resilient, as has the concept of 6% commissions.
This has been changing only recently, with internet-based disruptors finally tackling real estate. According to NAR's report, 97% of home buyers used the internet to search for homes. And Zillow reports that younger generations are likely to try selling their homes For Sale By Owner (FSBO).
With the introduction of tech-centric services like Houzeo.com, iBuyers like Opendoor.com and Zillow Offers, and discount real estate brokers a lot of home sellers have the option to list their homes as "for sale by owner" and list on the MLS themselves using the aforementioned companies.
Homebuyers have the option to directly visit real estate websites and search for homes as per their needs: number of bedrooms, carpet area, single home or multi-storied, swimming pool, and much more. Some websites like Houzeo.com list owner information on the listings. This gives the buyers the ability to contact the seller directly without going through an agent.
Reason #3:
The Industry's Anti-Competitive Practices are Under Scrutiny
Every incumbent wants to protect their turf. The real estate industry is no different. The National Association of Realtors has implemented rules that make it hard for both buyers and sellers to participate in a transaction without an agent, thereby protecting the 3% commission for the Listing Agent and the 3% commission for the Buyer's Agent.
The most consequential tool in real estate that limits competition is called the Multiple Listing Service (MLS). It's a database containing almost all local property listings. And it's a database accessible only to licensed agents. The MLS restricts competition in several ways:
How the MLS Locks in the 3% Listing Agent Commission: Several small but impactful rules make Listing Agents extremely critical stakeholders.
Only Agents Can List on the MLS: This means that every home seller who wants to be on the MLS needs to hire an agent to get listed, practically locking in the 3% Listing Agent commission.
MLS Imposes Exorbitant Fines on Minor Delays and Issues Making Business Models other than Full Service Not Feasible: $7,500 for a delayed listing, $5,000 for sharing access, $1,500 for a delayed listing status update. These are the staggering amount of fines imposed on participating MLS members if they don't comply by the rules. If you are a Flat Fee MLS broker offering access to the MLS for a few hundred dollars, a seller action can expose you to severe risk of fines (e.g. Miami MLS 2021 Fine Schedule). How can an agent then provide a non-full-service business model to a home seller and come out ahead?
Minimum Service Laws Support Only Full-Service Models: The U.S. government has stated that laws requiring brokers to provide a minimum level of services are anti-competitive and limit consumer choice. Still, only 12 states do not require the broker to provide minimum service or allow their waivers. In the remaining states, the brokers are required to provide certain services, like presenting offers or negotiating, whether the seller wants that service or not. This too works against sellers getting a non-full service option, essentially making unbundled services illegal in some states.
Input to the MLS is Not Automated: Hundreds of third-party sites can take MLS feeds and display listings on their websites. That isn't true of inputs to the MLS. Every listing in the MLS has to be entered manually by member agents. This limits digitization and automation of listing input, thereby limiting the impact technology can have.
How the MLS Locks in the 3% Buyer Agent Commission: The MLS is also successful in preventing competition and locking the Buyer's Agents' 3% commission.
Seller Contact Information is Not Allowed in Public Remarks Fields: If a buyer needs to reach a seller, even if they found the property listing on a public facing website like Zillow.com or Redfin.com, they will be directed to a Buyer's Agent and not the seller directly. Seller contact information is not allowed in "Property Remarks" or any other publicly available field for the buyer to directly contact the seller.
Buyer Agent Commission is Not Displayed Publicly: How much the buyer agent is being compensated is an important data point for any buyer. If they know that number, they can negotiate better terms and rebates ahead of time. But this information is not available to the home buyer via any website. It's stored in the agent-only section of the MLS listing. Buyers are typically just told they won't be paying for the agent's services, or worse, that the service is free.
Listings with Low Buyer Agent Commission can be Filtered Out: This is one of the observations in the recent U.S. Department of Justice (DOJ) suit against the NAR. When building a list of properties to show to their buyer, a buyer's agent can filter out properties that offer a low buyer agent commission. The filtered-out properties could be a perfect fit for the buyer, but this feature directly prioritizes the agent's financial interest over the buyer they are representing and hurts listings with lower commissions.
Without access to the MLS, almost every home seller loses out on significant exposure, and almost the entire US Residential Real Estate industry is predicated on the MLS. If you're a home seller, you need to be on the MLS to get top dollar for your listing. And the MLS is controlled by agents, with policies that protect the full-service offering and a 6% commission.
NAR has been under constant scrutiny and various lawsuits have been filed against them over the years. In 2005, the Department of Justice sued NAR for obstructing competition's benefits and discouraging discounts to the customers. The case was settled in 2008 and challenged the prevailing notion of "fixed commissions" and opened up the door for internet-based discount brokers.
According to the landmark settlement, NAR was forced to repeal its anti-competitive policies and allow the internet-based real estate brokers to compete with traditional brokers. The Department said the settlement will enhance competition in the real estate brokerage industry, resulting in more choice, better service, and lower commission rates for consumers.
Following is an extract taken from the archives of the Department of Justice:
"Under the terms of the settlement, NAR will repeal its anti-competitive policies and require affiliated multiple listing services (MLSs) to repeal their rules that were based on these policies. NAR will enact a new policy that guarantees that Internet-based brokerage companies will not be treated differently than traditional brokers. Under the new policy, brokers participating in a NAR-affiliated MLS will not be permitted to withhold their listings from brokers who serve their customers through virtual office websites (VOWs).
In addition, brokers will be able to use VOWs to educate consumers, make referrals, and conduct brokerage services. Such brokers will not be excluded from MLS membership based on their business model. NAR will report to the Department any allegations of noncompliance. NAR also has agreed to adopt antitrust compliance training programs that will instruct local Associations of Realtors about the antitrust laws generally and about the requirements of the proposed settlement specifically."
This settlement opened the door for a lot of internet based real estate companies, like Redfin.com, especially when catering to the home sellers. Recently the Department of Justice withdrew from the settlement with the NAR in a different case to allow a broader investigation of NAR's other rules and conduct. This recent case can impact the buyer agent side of the equation.
The department concluded that the settlement is not adequate to protect the department's rights to investigate NAR's other rules and code of conduct, that could impact competition in the real estate market and may harm home sellers and home buyers.
"The proposed settlement will not sufficiently protect the Antitrust Division's ability to pursue future claims against NAR," said Acting Assistant Attorney General Richard A. Powers of the Justice Department's Antitrust Division. "Real estate is central to the American economy and consumers pay billions of dollars in real estate commissions every year. We cannot be bound by a settlement that prevents our ability to protect competition in a market that profoundly affects Americans' financial well-being."
Will Commissions continue to Fall?
Empirical data suggests that this drop in commissions is going to sustain, and you can expect to see an even further decline in realtor commissions in the coming years. Multiple lawsuits filed against the NAR have damped their monopolistic behavior. Shifting demographics mean the internet is going to play a more central role in real estate transactions. And rising home prices make the eye-popping commission checks even more noticeable. All this will surely lead to more options to save money for the home buyers and sellers and shift consumers away from relying on an agent to buy or sell their homes.
Many top real estate websites allow home buyers to search for homes with extreme convenience, and they can directly contact the seller to make an offer without having to go through agents. Also, many new companies with a flat-fee model, a discounted fee model, or a direct-purchase model are coming up and consumers are appreciating their business model and services. Flat Fee MLS Companies like Houzeo are gaining more traction, discount brokers like Redfin are attracting a lot of customers with their discounted fee structure, and iBuyers like Offerpad, Knock, and Opendoor are favorites among busy home sellers who do not want to indulge in the prolonged home selling process.
Why are Real Estate Agent Commissions Declining
6% real estate agent commission is as American as apple pie. But commissions have been declining steadily for the past thirty years. They hit an all-time low of 4.94% in 2020.
Related: Houzeo reviews, houzeo review, sale by owner websites, sites for sale by owner