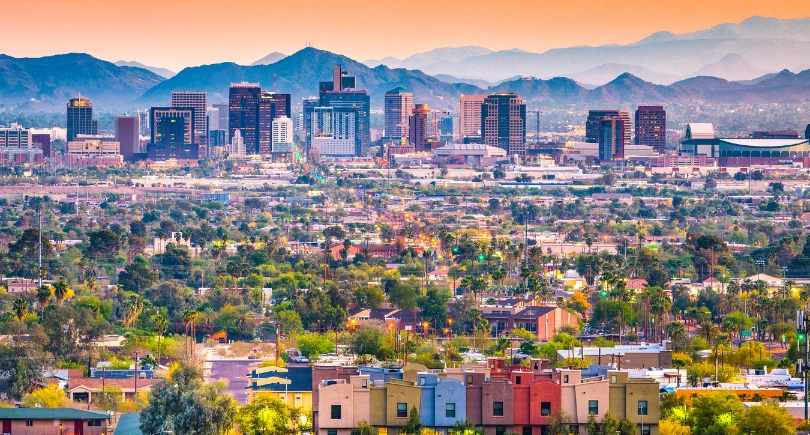 If you're selling your house in Arizona, you need to list it on the MLS. The MLS is the most powerful tool to sell and buy homes in Arizona.
Only real estate agents have access to the MLS. But as a home seller, you don't have to pay thousands in listing commission to an agent to list and sell your home. There are 4 options how you can list on MLS:
Home prices in Arizona are rising but are expected to reduce further as the year progresses. So, if you want to sell your house in Arizona, now is the time!
MLS is Key for Sellers 💯
Most homes in the Arizona sell via the MLS. The MLS gives you unparalleled exposure to both buyer agents and buyers.
Homes on MLS sold for 17% more than non-MLS listed homes, according to a Bright MLS study. MLS homes also sold faster.
MLS listings get syndicated to Zillow, Trulia, Realtor.com, Redfin, and hundreds of other websites giving your property critical exposure.
There are 600+ MLS' in the U.S. It is critical you list on your local MLS. This ensures your listing is viewable to your local buyer agents.
What is the MLS in Real Estate?
Multiple Listing Service (MLS) is a database that enables real estate agents and brokers to list and view homes for sale. An MLS listing includes all the information about your property, such as its price, description, and photos.

The homes listed on MLS are syndicated to various online real estate websites. This amplifies the exposure your property gets.
Only licensed real estate agents have access to the MLS. Consequently, only real estate agents can create MLS listings.
» List with Houzeo in Arizona: List on MLS by owner with Houzeo.com without a real estate agent license.
Benefits of Listing a Home on MLS
Listed below are some of the benefits of listing on the MLS in Arizona:
Get Maximum Exposure: When you list on MLS, your listing gets syndicated to hundreds of real estate websites such as Zillow, Trulia, Redfin, and Realtor.com. This boosts your property's visibility to potential buyers.
Market to Buyer Agents: According to NAR, 86% of home buyers purchased their homes through a buyer agent last year. Listing on MLS is the most effective way to market your property to potential buyers.
Incentivize the Buyer Agent: As mentioned above, buyer agents are involved in most real estate transactions. The MLS allows you to incentivize buyer agents with a competitive commission.
You Can Sell Faster: Homes listed on MLS are sold 17% faster than those that were not listed on MLS.
What is a Flat Fee MLS listing?
A flat fee MLS listing service will list your house on the Arizona MLS at a flat rate. Unlike hiring RE agents, you can skip paying a hefty sum as a commission with a flat fee MLS service.
There are two types of flat fee services:
MLS Entry-Only Services: They only list your home on Arizona MLS for you. Some might also syndicate it to other websites like Zillow and Trulia.
MLS Packages: They provide additional services, besides listing on the MLS, like photography, yard signs, and showings.
Rankings: 5 Best Flat Fee MLS Services to List on MLS Yourself in Arizona:
Reviews: 5 Best Flat Fee MLS Companies in Arizona
1. Houzeo

Queen
2. Congress Realty

Queen
Congress Realty Offers 3 Flat Fee MLS packages and one full-service Package.
Basic Package – $299: Includes a listing term of 6 months, 4 photos and state forms & disclosures, and up to 5 free listing changes.
Plus Package – $399: Includes the same services as the basic package with 10 free listing changes. In addition, automated phone leads are forwarded to you.
Premium Package – $499: Includes all services of the Plus Package with unlimited free listing changes, and open house postings.
Full-Service Package – $399+0.5% Commission: This Package comes with the assistance of an agent to help you with negotiations, contract review, and closing. They charge 0.5% at closing.
Congress Realty is an excellent Flat Fee MLS option for sellers looking to sell their homes fast.
Very Experienced & Highly Rated Broker:

 Jared Andrew English is one of the most capable brokers in the business. Whether you are buying or selling a home, Andrew provides excellent representation.

Excellent Customer Service:

Congress Realty's Andrew and his team are among the fastest and most accessible brokers in the industry.
👉  Jared English Congress Realty: Jared English and Congress Realty have an "Excellent" of 4.9 stars out of 5 from 155 Houzeo home sellers. Check out his profile on Houzeo's vendor page!
In our research, we found no red flags with Congress Realty. The broker community holds Jared Andrew English in high regard.
However, Congress Realty boasts several upgrades. These can pile up quickly at the time of closing! 
We recommend the Premium Package as the best value for your money. You get unlimited changes with the Premium package. The cheaper plan requires you to purchase upgrades separately.
3. Flat List

Queen
FlatList.com offers 1 Flat Fee MLS Package.
$299 Package:

 The flat fee MLS package from FlatList.com costs $299. The services provided vary by state. The package offers a 6-month listing period with 25 photographs, free listing adjustments, and open home posts on their website.
FlatList.com remains a reliable Flat Fee MLS service provider in the four states it operates.
Syndication to Other Websites: Your listing will appear on Realtor.com, Zillow, and Trulia. 
Disclosure Forms:

 You will receive all necessary disclosure documents and HOA addendums. The company also provides access to counteroffer forms as an extra service.

Unlimited Listing Modifications:

 You can modify your listing as often as you like for free.
Our study revealed some issues with Flat.List.com that were deal breakers.
Single Flat Fee Package:

 They only provide a single flat fee package, which is inflexible to meet the seller's requirements. Additionally, they don't offer a la carte services, making it hard for sellers to choose the features they need.

Manual Listing Process:

There is a manual listing method. To list your property on the MLS, you must "download, print, and scan" the required documentation, making the listing procedure delayed.

Limited Coverage in 4 states:

FlatList offers real estate services in the states of Arizona, Hawaii, Oregon, and Washington. 

If you own a home outside of these states, FlatList.com may recommend brokers for your MLS listing.
We recommend FlatList.com services as a great choice. However, Flat List offers limited services. They offer a single MLS package that cannot be customized as per the seller's demands.
4. List With Freedom

Queen
ListWithFreedom gives you a choice of 3 Flat Fee plans.
Gold Package – $149: This basic plan offers a 6-month listing term with 6 photos. For an extra price, you may add an online showing service, an open house, and a virtual tour
Platinum Package – $195: This is simply the basic plan rebranded with 25 photos instead of 6 on the MLS.
Platinum Plus – $295: In this plan, you get all the upgrades from the basic plan plus the basic listing service.
👑 The Queen's Take: List With Freedom's packages are affordable. However, additional services like showings and open houses come with extra charges. Often, these services cost much less.
👉 Pros and Cons of List With Freedom: Check out the pros and cons of List With Freedom.
Listwithfreedom is one of the oldest Flat Fee platforms in the USA!
Quick Listing: Listwithfreedom makes sense for experienced home sellers on a tight budget. The listing is completely done online. Your listing will be live within 24-48 hours!
Unlimited Listing Changes: Unlimited changes allow you to create the best possible listing to attract potential buyers.
Listwithfreedom has certain drawbacks that can derail a smooth sale.
Hidden Fees: The word 'deceptive' has come up a few times in Listwithfreedom customer reviews. The pricing page does not mention the 0.1% – 0.25% commission cost upfront.
Not for First-time Sellers: Listwithfreedom does not offer much assistance when actually required. New home sellers can find it difficult without the guidance of experienced real estate professionals.
List With Freedom has a 4.1 out of 5 stars rating of 1,800+ reviews on Trustpilot.
» ListWithFreedom Reviews: Is List With Freedom worth it? Read our blog to find out.
5. Flat Fee Realty

Queen
Flat Fee Realty provides a single MLS package with varying costs as per the state.
Common Features: A listing term of 6 months with 6 photos is service included in the flat fee package. Your properties get syndicated to Realtor.com, Trulia, and Zillow. Free listing enhancements and state disclosures come as well.
👉 Additional Costs: Any changes you wish to make to your listing photos must be purchased separately. For $50, you can add up to 25 photos.
Flat Fee Realty is a great flat fee MLS substitute where it provides direct services.
Changes Made Simple: 

You can freely adjust your status and price with Flat Fee Realty. They enable correcting any minor problems found after the listing becomes live.

Market Exposure: 

Real estate listings appear on Zillow, Trulia, and Realtor.com. You can advertise your home on all the major websites you choose to reach the ideal purchasers.

Free Disclosures: 

Similar to taxes, documentation is a crucial selling point. For all states, Flat Fee Realty provides free disclosures.
In our analysis, Flat Fee Realty has some significant red flags.
Non-customizable Packages: 

The listing bundle offered by Flat Fee Realty does not allow any modification. The package's one-size-fits-all design restricts the possibilities you can choose from.

0.25% Commission at Closing:

At closing, Flat Fee Realty takes a commission of 0.25%. They claim the buyer agent is responsible for paying this, but the seller pays the entire commission. 
Flat Fee Realty is an excellent choice if having a budget-friendly strategy is important to you. They do, however, charge more for optional enhancements like extra photographs.
💡 Cheapest Ways to List on MLS: Paying 3% of the purchase price as real estate commission can become an unwelcomed expense if you are an experienced seller. We recommend opting for a Flat Fee MLS Package for listing For Sale By Owner on MLS.
How to List Your House on MLS in Arizona?
You can list your house on Arizona MLS using several methods, using a full service realtor or a Flat Fee MLS service. However, the steps to listing on the MLS are the same.
Here we can look through the basic steps of "how to list on the MLS".
Do Your Research: There are several ways to access the MLS, hiring a real estate agent is just one of them. You should know all your options before proceeding.
Find What Suits You Best: Most companies offer a range of Flat Fee MLS listing packages, differing in features according to the seller's experience, the listing term, and MLS coverage.
Get Professional Photographs: 87% of buyers rely on photographs to make a decision. Accordingly, getting professionally clicked photos of your house can help you sell your house faster.
Create a Listing: While creating a listing for your local MLS, go with a catchy headline, comprehensive description, and attractive photographs.
Get listed on MLS: After finalizing these all prospects, forward the same to the listing agent and get your property listed on the MLS.
How Much Does it Cost to List on MLS in Arizona
The cost of listing on the Arizona MLS depends on the method you use. You can pick a full service agent or a flat fee MLS service.
A full service agent will require you to pay a seller agent commission of 2-3%. A flat fee MLS service will get you listed at a flat rate.
However, beware of hidden charges and fees at closing. Some sites may not be upfront about these costs.
Alternatives to Listing on MLS By Owner in Arizona
There are alternative ways to List on the MLS By Owner, and they are as follows.
Going Completely FSBO: 'For Sale By Owner' refers to selling real estate without the assistance of a real estate agent or broker. Many For Sale By Owner MLS listing services like Houzeo, Zillow, Craigslist, and ForSaleByOwner.com offer free listings on their respective websites.
Discount Real Estate Brokers: A discount real estate broker offers all the services that a traditional real estate agent does for a fraction of the cost. They typically sell your house for a 1% commission compared to the 2.5% to 3% charged by a traditional real estate agent charges.
» Creative Ways to Market an FSBO House: Find out 18 Creative Ways to Market a House For Sale By Owner Homes.
How to List on MLS via Houzeo.com in Arizona?
List your home on MLS via Houzeo.com in 4 simple steps!
Start Your FREE Listing: On your browser, go to Houzeo.com and click on "Start Free Listing" at the top right corner.
Add Information About the Property & Photos: Register, and on your Houzeo dashboard click "Sell a Property". Provide your property information, select a buyer agent commission, and upload photos.
Choose a Listing Plan: Houzeo offers 4 MLS listing packages. We recommend the GOLD package as it will give you access to all of Houzeo's technologically advanced features, like listing management, scheduling showings, and offer and lead management.
Complete the Listing Documents: Listing docs will be automatically assigned to you based on your listing agent, property type, and local MLS. Completing the listing paperwork will take about 20 to 30 minutes.
If everything is in order, your listing will be live on your local MLS within 24-48 hours!
Level up Your Listing Game with Houzeo!
Choose Houzeo to get the best market exposure and powerful tools to navigate the MLS journey.
START YOUR MLS LISTING NOW
Final Word
Listing in the MLS in Arizona is a great way to boost the sale of your property. However, it can be expensive as access to MLS is restricted to real estate agents.
Even if you are new to selling, listing on MLS for sale by owner with a Flat Fee MLS broker like Houzeo can gain you profit.
» Houzeo Reviews: Check out what FSBO sellers have to say about listing with Houzeo.com
Frequently Asked Questions about Listing on MLS
1. Is Flat Fee MLS legal in Arizona?
Flat Fee MLS is legal all over the United States. In fact, the US Department of Justice just updated their bulletin highlighting the benefits of Flat Fee MLS for For Sale By Owner home sellers.
2. Are Flat Fee Realtors good in Arizona?
Some home sellers assume that since flat-fee realtors are working for lower fees they might not provide you with good services but there are thousands of home sellers who've already tried these flat-fee realtors and they have saved thousands of dollar with the best services!
3. Can I request to add open houses easily?
4. How much money can I actually save?
You can save up to 100% of the real estate commissions! With the Flat Fee MLS listing on Houzeo, you save the 3% listing agent commission. You're obligated to pay the buyer's agent the commission you offered if they're represented by an agent, but if you procure a buyer with no agent involved, you can save even that!
» Houzeo Hidden Fees: Read further to know how much more you can save!
5. How to sell your house in 2023?
If you want to sell your home in 2023, you must follow these tips:
1. List on MLS.
2. Offer a competitive buyer's agent commission.
3. Set a competitive pricing for your house.
4. Use professional photography.
» List on America's #1 FSBO Site and save thousands of commission.
6. Do I need to sign a contract to list my home in Arizona?
Yes, but these contracts for Flat Fee MLS listings are generally "entry-only". That means they're limited to the agent entering your listing into the MLS. And they can be canceled/terminated anytime with no penalty!
7. Can you list rentals on the MLS in Arizona?
Yes, you can list rentals on the MLS. Listing rentals on the MLS can boost your visibility and give you a competitive edge. Accordingly, you can close the rental transaction faster.
Related: flat fee MLS in Arizona, Selling a home without a Arizona realtor, how to list on Arizona mls, MLS free listing, MLS how to list, how to create an MLS listing, put home on MLS, how to list a property on MLS in AZ, how to add listing to MLS, how to post on MLS, can anyone list on Arizona MLS, list house on MLS, sell home MLS, list house on AZ MLS, how to get your home on MLS, listing home on MLS, how to get your home in the MLS, What is MLS?,selling a house without a Realtor, fsbo AZ MLS listing, how to get a Arizona mls listing without a realtor.