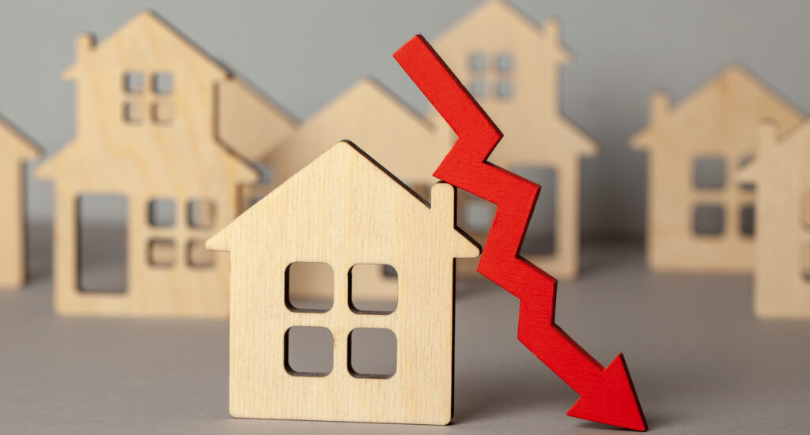 The housing market in the United States is undergoing a significant shift. The median sale price declined 3.3% year on year in May 2023, the number of homes sold fell by 15.8%.
With mortgage rates at a 20-year high of 6.79%, homes are staying on the market for longer as buyers struggle to find affordable housing.
Now that the housing market is under threat from rising mortgage rates and the possibility of a recession, buyers and homeowners are asking an old question: when will the housing market crash?
What is Housing Market?
A real estate housing market, also known as a real estate market, is a network of buyers and sellers who are looking to buy and sell real estate.
The real estate market in 2023 is cooling.
» Is the Real Estate Housing Market Slowing? Yes! Learn about the housing market during a recession.
Housing Market Trends
1. Median Home Prices
The median home price over a given time period is the middle sale price among all homes ranked from highest to lowest in terms of market value.
» Current Housing Market Trend 2023: In May 2023, median home prices were down by 3.3% compared to the last year.
2. Inventory
The number of unsold residential and commercial real estate units is referred to as inventory or homes for sale.
» Current Housing Market Trend 2023: The supply of homes remains historically low, according to Lawrence Yun, NAR Chief Economist and Senior Vice President of Research. In May 2023, the inventory of unsold existing homes stood at 2.6 months.
3. Homes Sold
The total number of homes sold during the time period.
» Current Housing Market Trend 2023: According to the Redfin data, the total number of homes sold this year was at an all-time low of 15.8% compared to the last year.
4. Median Days on the Market
The average number of days a property is on the market in a given geography over a given time period.
» Current Housing Market Trend 2023: The median days on the market was 31 days, up by 14 days Y-O-Y.
5. Mortgage Interest Rates
Mortgage lenders charge interest rates. Depending on the mortgage lender, it can be fixed or variable.
» Current Housing Market Trend 2023: The national average 30-year fixed rate mortgage rate is at 6.79%.

Factors Affecting US Housing Market
Several parameters affect the real estate housing market prices. They are broadly categorized into 4 key segments.
1. Mortgage Interest Rates
Mortgage Interest rates significantly impact the current housing market. These rates have priced many buyers out of the market as they're at record highs in more than 20 years by 7.08%.
Interest rates and home prices share an inverse relationship.
Once the interest rate decreases, the mortgage cost decreases, which increases demand for real estate and raises home prices.
2. Economy
The real estate housing market varies by the overall health of the economy. Economic indicators include GDP, employment ratio, manufacturing activity, the prices of goods, etc.
3. Demographics
Demographics defines the composition of the population based on age, race, gender, income, migration patterns, and growth.
It makes it easy to determine what types of real estate properties are in demand.
Major changes in a country's demographics can have a long-term impact on current housing market trends.
4. Government Policies
Tax credits, deductions, and subsidiaries can impact the demand for real estate.
Understanding current government policies can help you predict the demand and supply and identify potentially false real estate market news.
What is a Housing Market Bubble?
A housing market bubble refers to a steep incline in prices with increasing demand and limited supply.
The demand continues to rise as more buyers jump into the market. Investors like flippers and wholesalers also show up and snag properties.
At last, home prices reach unreasonable levels, making it unaffordable for the average or even above-average buyer.
What Causes a Real Estate Bubble?
Unsustainable home prices cause a housing market bubble.
The price of any product or service is determined by the relative demand and supply. A housing market bubble is primarily caused by a number of factors.
1. Increased Economic Prosperity
It refers to the phenomenon in which people's income-to-price ratio is increasing. People's purchasing power grows as goods and services become more affordable.
2. Interest Rates on Mortgages
As mortgage rates fall, it becomes easier for homebuyers to afford a home. As a result, demand rises and prices rise as well.
3. Increased Mortgage Product Offerings
Borrowers can choose from adjustable rate mortgages (ARMs), conventional loans, fixed-rate mortgages, and government-sponsored mortgages. Potential homebuyers have plenty of mortgage options.
4. Credit Availability
As it becomes easier for buyers to obtain a loan, the demand for financing a home rises. As a result, home prices rise. When one of these variables is removed from the equation, the bubble pops.
Are We in a Housing Bubble Now?
For the past two years, home prices have been steadily rising. Inventory remains low, with only 2.6 months' supply remaining.
Mortgage interest rates have reached an all-time high, while home sales have dropped to an all-time low of 15.8% year on year.
Homebuyer interest has been gradually declining. Experts agree that a housing bubble exists.
Why Does a Housing Bubble Burst?
When demand falls and supply rises, a housing bubble forms.
When builders continue to build despite lower house demand, supply rises.
Prices and sales will inevitably fall as a result. A housing bubble can burst for a number of reasons.
1. High Increase in the Interest Rates
Rising interest rates make homeownership unaffordable for more prospective buyers. As a result, homes remain on the market for longer periods of time, forcing sellers to lower their asking prices.
Nonetheless, the housing bubble will not burst until there is a massive supply of homes on the market.
2. Economic Downturn
When the country's economy is in a slump, the high demand for houses falls. Homebuyers are hesitant to purchase a home because they have less disposable income, more layoffs, and fewer income opportunities.
3. High Credit Standards
As lenders make it more difficult to obtain a loan, home affordability suffers, reducing demand. As a result, supply expands and prices fall.
What to Do in a Housing Bubble?
If you are a homeowner in an area where home prices have begun to rise, you are probably thinking about selling your home.
You'll only be selling and entering the bubble unless you have plans to downsize, rent, or relocate to a more affordable area.
When your house sells, you'll need to buy another, which means you'll have to compete with other buyers in an overpriced market.
It is best to wait and time the market before entering into a real estate transaction.
When Will the Housing Market Crash?
Economists believe the housing market will slow but not collapse anytime soon.
Prices will fall, but not to the extent experienced by homeowners during the Great Recession.
Let's take a look at why the majority of experts believe the housing market will not crash.
5 Reasons Why the Housing Market is Unlikely to Crash
1. Low Inventory
According to May 2023 data, the inventory only has a 2.6 month supply. Because of the ongoing scarcity of inventory, many buyers are still forced to bid up prices. Furthermore, the supply-demand curve suggests that prices will not crash anytime soon.
2. Lack of Newly Constructed Housing Supply
The supply of newly built houses has not yet returned to pre-2007 levels. Furthermore, there is no way they can buy land, obtain regulatory approval, and quickly increase supply.
3. Several New Buyers
There's a strong demand for homes across various demographics. Millennials and Hispanics are in their prime buying years.
As a result, there's still a limited amount of inventory available.
Houses are in high demand across all demographics. Millennials and Hispanics are at the peak of their purchasing power.
4. Strict Lending Standards
There were numerous cases of liar loans back in 2007. Previously, lenders offered mortgages to anyone without prior credit checks or down payments.
Lenders today have high standards for borrowers, and the majority of those who obtain mortgages have excellent credit.
5. Drop in Foreclosures
The vast majority of homeowners have substantial equity in their homes. Homeowners' balance sheets are much stronger today than 15 years ago, which is a significant difference.
As a result, there is no threat of a foreclosure crisis.
Should I Buy a Home Now or Wait?
No, because interest rates are high and supply is limited, you should avoid making a transaction.
However, if your financial situation is stable, you can consider purchasing a home. In addition, according to a survey, 23% of people believe that now is a good time to buy a home.
Purchasing a home is most people's largest investment opportunity in their lifetime.
A buyer must make an informed decision based on their needs, budget, and research.
Before proceeding, buyers must calculate their monthly housing costs using a mortgage calculator.
» How to Buy a House: Own the Home That Was Made for You!
Tips for Buying a Home in a Hot Market
1. Increase Your Earning Potential
To buy or finance a home, you must be in good financial standing. Despite the economic downturn and rising mortgage rates, you must look for opportunities to boost your income.
60% of workers who changed jobs last year made more money in their new jobs, outpacing inflation.
2. Lower Your Debt
When applying for a loan, lowering your debt-to-income ratio will help you easily qualify for a mortgage preapproval.
If you have bills to pay, such as credit card balances, student loans, or asset installments, it is always better to pay them first.
Tips for Buying a Home in a Slow Market
1. Do not buy at the lowest possible price.
When the supply of properties exceeds the current demand, the real estate housing market begins to slow. As a result, sellers must reduce their asking prices.
However, you should not purchase a home simply because it is the cheapest. The need for major repairs may be concealed by the seller. These improvements may increase the home's value. A home inspector can assist the buyer in thoroughly inspecting the property.
» Best Home inspectors: Look into the best home inspectors in your area.
2. Consider the Property's Value
When the market is slow, it is a buyer's market. There is a good chance that home values will fall before they begin to rise again.
» Fair Market Value: Do you want to know what fair market value is and how it is calculated?
Should I Sell a Home Now or Wait?
10% of homeowners still believe that the time is right to sell their home.
A few sellers are still perplexed by the slow market, high inventory, falling home prices, and rising mortgage rates.
Sellers can get a great deal by capitalizing on high buyer demand.
However, sellers can benefit from selling a house if the following factors are in their favor.
1. If the Mortgage Interest Rates are Low
Mortgage rates have reached a record high of 7.08% and are expected to rise further as the Federal Reserve attempts to control inflation.
When compared to 1971 data, the current mortgage rate is approaching the long-term average of 8% 30-year mortgage rates.
Keeping this in mind, interest rates remain low, which may entice potential buyers to enter the market.
2. If You Need to Relocate
If you have a new job or have decided to retire, consider relocating to a different state. It is impossible to avoid selling. When you're ready to move, it's the best time to sell your home.
3. If You Need to Upsize or Downsize
Everyone appreciates their own space, and a growing family frequently necessitates more. Whether you've decided to upsize or downsize to live in a low-maintenance home.
A shift in family dynamics can have a big impact on your decision to sell your house.
Tips to Sell Your Home in Hot Market
1. Decide a Way to Sell For Top Dollar:
It is important to select how you want to sell your house. You can sell your house to cash buyers, iBuyer, or anyone else.
Doesn't matter if you're in a hot seller's market or a slow buyer's market. Listing on MLS is the best way to sell a house. Almost 90% of buyers are represented by a buyer agent who shares access to the local MLS.
Listings on the MLS sell 17% faster than those that are not.
» List on MLS: Save on thousands of commissions and list on MLS using Houzeo.com.
2. Make Necessary Repairs
To get the highest and best offer on your property, it is necessary to invest in repairs and renovations.
You should also try to clean and declutter your home so prospective buyers can see the living areas.
Making a strong first impression extends to your home's exterior. It is important to freshen up the curb appeal before potential buyers arrive.
» Creative Ways To Market a House For Sale: Learn how to creatively market your home.
3. Go for Home Staging
Home staging means preparing your home for sale with or without the help of a professional home stager.
Professional home staging largely involves cleaning, rearranging, or renting furniture and other aesthetic tactics to make your home visually appealing.
However, it largely depends on the location and the number of rooms you want to stage.
» How Much Does Home Staging Cost: Home staging cost depends on the location, find your local home staging cost, today!
Tips to Sell Your Home In A Slow Market
1. Price Your Home Competitively
In a slow market, inventory is usually high, and home prices keep decreasing due to lower demand. It is better to price your home competitively and get the best deal.
Research comparable house sales in the area and undercut them.
Redfin's data tells us how a typical home sells for less than the asking price. If you are going to price your home high, there are chances that you may detract potential buyers.
2. Ease the Deal
Selling a house is not an easy task in a slow market. With mortgage rates at peak, buyers are already resisting entering the market.
You must make the deal look more attractive to sell your house in a slow market.
Offer financial incentives like covering all closing costs, accepting all inspections, or providing a transferable home warranty.
3. Find a Way to Get the Best Deal
The first and foremost step is to find a medium to sell your house for top dollar. List your property on MLS for the best results.
List your property on MLS for the best results. We do not recommend listing with a full-service Realtor as they charge hefty commissions.
Realtors provide access to the MLS, but you can skip this and list on MLS via the Flat Fee MLS listing service.
» Houzeo Reviews: Houzeo is the only Flat Fee MLS service with 5-star ratings from thousands of home sellers!
Housing Market 2023
Housing Market Predictions 2023
Surged mortgage rates and plunged home sales have worried buyers and sellers about the housing market trend in 2023.
Home sales are down by 15.8% year-over-year, and National Avg. 30-year fixed mortgage rate ranges from 6% to 7.1%.
This indicates that the rate of existing home sales has slowed to its lowest level in 10 years.
Here are a few real estate housing market predictions for 2023 based on the experts' forecast.
1. Higher Mortgage Interest Rates
Experts predict that mortgage rates will continue to climb because of continued inflation, potential recession, and geopolitical tensions.
Financial market participants anticipate the Fed raising its target Fed funds rate by 175 to 200 basis points from current levels.
This will roughly average the 30-year and 15-year mortgage rates at 8.50 and 7.70, respectively.
2. Lower Home Sales
Increasing mortgage rates will surely have a major impact on home sales in 2023.
With the observed trend, higher interest rates could cause a 10% drop in home sales next year.
Home listings will no longer go out of inventory at a faster pace.
Also, the median days on the market might reach up to 35 days or more in the next year, with a current avg of 31 days.
3. Lower Home Prices
Some experts predict that due to low inventory, home prices won't drop in 2023.
While others believe that due to the higher interest rates, sellers will lower their prices to current levels.
Home values are expected to go down by 5% to 10% due to unaffordability. As the Fed attempts to control inflation by increasing mortgage rates.
4. Lower Housing Supply / Inventory
Before the 2008 housing market crash, the housing supply or inventory peaked at a 13-month supply.
We only have enough for 2.6 months' supply, of inventory.
Homeowners are unlikely to trade in their 3% mortgage for a new home with a 7% loan unless necessary. As a result, there are chances that the housing supply will remain low.
5. Lower Home Affordability
Experts believe that home affordability will not change dramatically.
Home prices may continue to fall but will not be enough to offset the higher interest rate.
As a result, the monthly mortgage payment will remain high, and homes may look less affordable.
Housing Market Predictions for the Next 5 Years
NAR Chief Economist predicts that "Mortgage rates will continue to rise in 2023, but within two years rate should return to 5.5% or 6% percent."
Yun also anticipates that over the next 5 years, home prices will elevate by 15% to 25%
Many sellers waiting for the market to turn around will likely give in and increase the inventory.
Yun predicts a balanced market in which neither buyer nor seller has a monopoly. Until housing inventory remains low.
But In the long run, the seller's market will continue.
Final Thoughts
The US real estate housing market has been red hot since the pandemic, but it is cooling fast. Prices will fall, but not to the extent homeowners experienced during the Great Recession.
The personal balance sheets of homeowners today are much stronger than they were 15 years ago.
A typical mortgage borrower has excellent credit, substantial equity, and a fixed-rate mortgage with a rate well below 5%. As a result, no foreclosure crisis is on the horizon.
Furthermore, builders remember the Great Recession well and have been cautious in their construction pace. Hence, there was an ongoing shortage of available homes for sale by 2.6 months' supply in May 2023.
Thus, if there is a high demand from buyers in your area, you can benefit from the slow market by selling your home.
Disclaimer: The views and opinions expressed herein are those of the author and do not necessarily reflect the views of Real Estate Queen Corp., its affiliates, or its employees. The information set forth herein has been obtained or derived from sources believed by the author to be reliable. However, the author does not make any representation or warranty, express or implied, as to the information's accuracy or completeness, nor does the author recommend that the attached information serve as the basis of any investment decision and it has been provided to you solely for informational purposes only and does not constitute an offer or solicitation of an offer, or any advice or recommendation.
Frequently Asked Questions
1. Is the housing market going to crash?
Economists do not believe that the real estate housing market will crash.
According to housing economists, there are five significant reasons why the market will not crash anytime soon: Low inventory, Lack of newly constructed housing supply, Several new buyers, Strict lending standards, and a Drop in foreclosures.
2. What are the most overvalued housing markets?
The top 10 most overvalued housing markets in the US are as follows: Boise, Idaho (73%); Austin, Texas (68%); Ogden, Utah (65%); Las Vegas, Nevada (61%); Atlanta, Georgia (58%); Phoenix, Arizona (58%); Provo, Utah (57%); Fort Myers, Florida (56%); Spokane, Washington (56%); and Salt Lake City, Utah (56%).
3. What are the real estate housing market 2023 predictions?
NAR Chief Economist predicts that "Mortgage rates will continue to rise in 2023, but within two years rate should return to 5.5% or 6%."
He also anticipates that over the next 5 years, home prices will elevate by 15% to 25%.
Next year, there might be a chance that it will be a buyers' housing real estate market.
Also Read:
Related: real estate housing market, real estate housing market crash, real estate housing market 2023, housing alerts real estate market cycles, real estate housing market 2023 predictions, housing real estate market, real estate housing market crash 2023, real estate housing market 2023, predictions, real estate housing market, real estate housing market analysis, mountain house real estate market, veteran real estate investor is predicting a housing market correction, house market real estate, housing market real estate, real estate housing market 2021, real estate housing market trends, cash home buyers, benefits of for sale by owner, homes for sale by owner websites, housezo, houszeo, houzzeo, hozeo