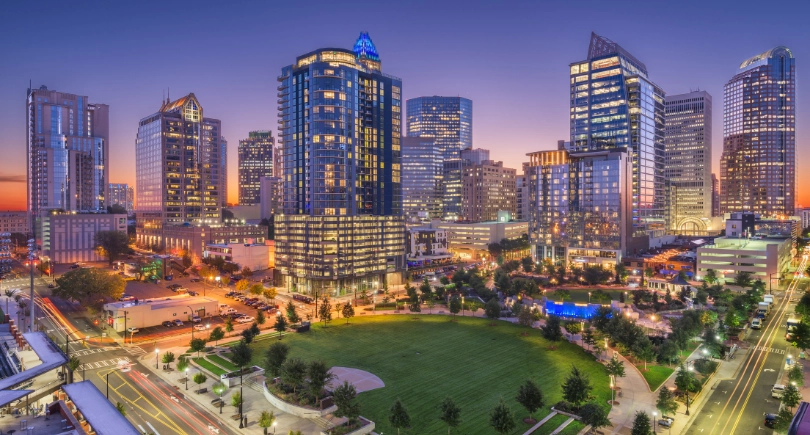 If you are selling your home in North Carolina, the service of a Flat Fee MLS company is your best choice for maximum saving and exposure.
A North Carolina Realtor will charge you a 5%- 6% commission fee at closing. Say, your home costs around $500,000. A cool $25,000 will end up in the agent's pocket. Whether selling a condo in Charlotte or a family home in Raleigh, you can save on hefty agent commissions with Flat Fee MLS Listing companies in the Old North State.
Benefits of Flat Fee MLS Services
Save Thousands of Dollars: Start your listing journey at just $349 and save on Realtor commission costs.
Cancel Anytime: With a traditional Realtor, you must sign a year-long contract. You are stuck with them even if you end up despising their work ethics.
No Hidden Costs: The traditional real estate market is stained with high hidden costs. A genuine Flat Fee platform like Houzeo will disclose all costs upfront.
Quick Listing: A Flat Fee MLS service can get you listed in 24-48 hours. Tech-Sites like Houzeo give you 100% online services, saving precious time and energy!
Rankings: 7 Flat Fee MLS North Carolina Listing Services
Reviews: 7 Flat Fee MLS Listing Companies in North Carolina
1. Houzeo

Queen's Take
📌 North Carolina Flat Fee MLS: Houzeo's Bronze package is priced at $329. The Silver package is priced at $399, and the Gold package is priced at $379 + 0.5% (Minimum $999) at closing. The full-service Platinum package costs $349 + 1% (Minimum $999) at closing.

2. United Brokers

Queen's Take
United Brokers has 3 Flat Fee MLS plans for you.
Basic Package – $99: With the basic plan you get a listing term of 3 months with up to 6 photos. Plus free status change and direct buyer leads.
Standard Package – $195: The listing term is 6 months with 16 photos on the MLS. Plus centralized showing and E-showing services.
Enhanced Package – $295: The package is an upgraded version of the standard plan. With a 12-month listing term and the maximum number of photos allowed on the MLS.
Here are a few of the upgrades you can purchase separately:-
Listing 6-Month Renewal: $100
 CVMLS (Central VA) Supra Lock-box: $100 + $100 Deposit
 Add Photos 1 to 5: $25
United Brokers can be a decent option for experienced FSBO sellers.
Budget Listing Plans: United Brokers give you a range of plans, priced between $99-$295.  They also offer a full-service plan at $775. You can choose as per your needs and budget constraints.
Veteran Broker: Steve Toop, the managing broker at United Brokers LTD has over 3 decades of experience in the real estate space. He enjoys a great reputation within the broker community.
We did not come across any major red flags with United Brokers LTD. Steve's expertise has helped a lot of FSBO sellers over the last decade.
We recommend the Enhanced plan, priced at $295. You add whatever else you need from the extensive a la carte menu.
3. List With Freedom

Queen's Take
ListWithFreedom gives you a choice of 3 Flat Fee plans.
Gold Package – $149: This basic plan offers a 6-month listing term with 6 photos. For an extra price, you may add an online showing service, an open house, and a virtual tour
Platinum Package – $195: This is simply the basic plan rebranded with 25 photos instead of 6 on the MLS.
Platinum Plus – $295: In this plan, you get all the upgrades from the basic plan plus the basic listing service.
👑 The Queen's Take: List With Freedom's packages are affordable. However, additional services like showings and open houses come with extra charges. Often, these services cost much less.
👉 Pros and Cons of List With Freedom: Check out the pros and cons of List With Freedom.
Listwithfreedom is one of the oldest Flat Fee platforms in the USA!
Quick Listing: Listwithfreedom makes sense for experienced home sellers on a tight budget. The listing is completely done online. Your listing will be live within 24-48 hours!
Unlimited Listing Changes: Unlimited changes allow you to create the best possible listing to attract potential buyers.
Listwithfreedom has certain drawbacks that can derail a smooth sale.
Hidden Fees: The word 'deceptive' has come up a few times in Listwithfreedom customer reviews. The pricing page does not mention the 0.1% – 0.25% commission cost upfront.
Not for First-time Sellers: Listwithfreedom does not offer much assistance when actually required. New home sellers can find it difficult without the guidance of experienced real estate professionals.
List With Freedom has a 4.1 out of 5 stars rating of 1,800+ reviews on Trustpilot.
» ListWithFreedom Reviews: Is List With Freedom worth it? Read our blog to find out.
4. Carolina Realty Solutions

Queen's Take
Carolina Realty Solutions provides one Flat fee MLS package and two full-service packages across North Carolina.
Flat Fee MLS Listing Program – $399: The package includes a listing term of 6 months which can be extended up to 2 years for free with 24 photos. It also includes a lockbox for realtor access, a yard sign, and showing management.
$549 + 1% Full-Service Listing: The package offers 100% seller guidance from start to finish.
2% Full-Service Listing: No upfront fee. You have to pay 2% of your home sell price at the time of closing.
There are a few advantages of listing with Carolina Realty Solutions
ShowingTime Services: With the ShowingTime app you can schedule house showings easily.
Add-on Services Available: The package offers a yard sign and lockbox for the buyer's agent.
Listing Term Extension: You can extend the listing term for up to 2 years without any additional fee.
There are a few negatives of listing with Carolina Realty Solutions.
High Commission Fee: You have to pay a 1% commission fee on closing even on the $549 package. And a 2% commission on closing if you opt for the Full-service Listing.
No Connection with the Buyer: The website of Carolina Realty Solutions does not let you contact with buyers directly. This might cause misunderstandings between you and your prospective buyer!
Limited Coverage: Carolina Realty does not cover the entire state of North Carolina. Your listing details are shared with local real estate brokers which delays your listing time.
Your property gets maximum exposure through Carolina Realty Solutions' listing on the North Carolina MLS. They provide customized services at a decent price.
We recommend the $549 Full-Service Plan 1 by Carolina Realty Solutions. Their packages are best for local sellers looking for a customized real estate service. However, You should know that Carolina Realty is not available throughout Carolina.
5. Clickit Realty

Queen's Take
Clickit Realty offers several packages, prices of which vary as per state.
Common services in the package include a listing term of 6 months. All the packages offer access to free listing changes, state disclosures and contracts, and dynamic color flyers. Professional agents are also available for a free consultation.
Clickit Realty is available in all the states of the U.S.
Great Exposure: Your property gets syndicated to websites like Zillow, Trulia, Realtor.com, HotPads.com, Yahoo Homes, and many more.
Money Return: If you want to list your property with a full-service broker, Clickit Realty refers you to a top broker and returns your money at the time of closing.
Personalized Packages: With Clickit Realty, you can customize your package for a small extra fee.
State Disclosures: You get all the necessary state disclosures, contracts, forms, and addendums.
Buyer Lead Forwarding: All buyer leads are forwarded to you. So you can directly contact the buyers/agents.
Connect with Real Estate Experts: With this service, you can connect with an agent for pricing support, advice, home upgrades needed, etc.
In our research, we found red flags with Clickit Realty.
Poor Customer Service: Previous sellers have complained about the company's bad customer service. Sellers expressed their disappointment even with the full-service plan.
Not 100% Online: Clickit Realty is not fully online. Therefore, the process becomes manual and time-consuming.
Extra Fees: The closing costs can vary significantly as per your state and the listing package you choose. You must budget for these costs if you do not want to be caught off-guard.
Clickit Realty offers its services across the US. The company has connected independent, flat-fee real estate brokerages with sellers. They are licensed in Georgia, Florida, North Carolina, South Carolina, New York, and Connecticut.
However, they work with many flat-fee brokers in other states, so not every seller will have the same experience.
👑 Before choosing a package you should research the costs as per your state.
6. Homecoin

Queen's Take
Homecoin offers a single Flat Fee plan which requires many upgrades.
Flat Fee MLS Listing – $95: This is a basic MLS listing plan with a 12-month listing term.
Here is what you will pay for the additional services:
Listing Changes: $5 per change
Lockbox: $125
Photography: Varies
Sign Post: $99
FSBO Listing: Free
👑 The Queen's Take: Homecoin offers access to your local MLS for $95. A la carte services, on the other hand, are somewhat expensive. Often, these services, like the yard sign and the lockbox, cost much less.
👉 What Is Homecoin: Read to find out more about the company.
Homecoin can be useful for experienced home sellers.
Affordable Package: Experienced home sellers who don't require any broker assistance can opt for Homecoin's $95 listing plan.
Online Paperwork: You can complete all the required paperwork online for a quick listing.
Homecoin has several shortcomings!
Expensive Add-Ons: The $95 plan may seem like a steal deal but in reality, it is a honeytrap. Once you opt for the cheap plan you will quickly realize that it is only a minimal listing option. For everything else, you must pay extra!
Limited Listing Changes: Homecoin provides only 10 MLS listing changes. Every additional change costs $5. This might be an issue if your home does not sell quickly.
Subpar Tech: Although Homecoin claims to be 100% online the tech is pretty basic. The dashboard is clunky and does not auto-populate your listing data.
Homecoin.com has a 4.6 out of 5 stars rating from 50+ sellers on Google.
» Homecoin Reviews: Read this to find out more about Homecoin.
7. FSBO.com

Queen's Take
FSBO.com offers 2 packages for FSBO home sellers.
Basic Package – $99.95: This is a basic plan where your property is listed on FSBO.com and Redfin for 6 months. You do not get MLS listing in this plan.
MLS Package – $399.95: The package includes an MLS listing term of 6 months with up to 20 photos.
Additional Services
Classic FSBO.com Yard Sign w/ Stand: $60
Directional Arrow – For Sale By Owner: $12
Open House Directional Arrow: $12
Sign Riders: $12
👑 The Queen's Take: FSBO.com offers For Sale By Owner services, saving you thousands on hefty commissions. However, they do not list you on the MLS directly. Instead, they connect you with a broker at the state level.
👉 Pros and Cons of FSBO.com: Read the benefits and drawbacks of listing with FSBO.com.
FSBO.com can be useful for experienced home sellers.
Multiple Listing Categories: You get to highlight your listing in specific sections dedicated to foreclosure, pre-foreclosure, tax lien, or bankruptcy.
User‑Friendly Interface: FSBO.com has a simple website that is easy to navigate. It has a basic interface that enables you to create your listing by adding relevant information.
In our research, we found some drawbacks of FSBO.com.
Not 100% Online:  FSBO.com lacks automation features. You have to manage your listings on your own.
No DIY Resources: FSBO.com does not provide any resources to enhance your listing experience.
Unreliable Broker Quality: FSBO.com has mixed reviews online saying it has good services in some places only.
Extra Charges for Listing Photos: If you want to add more than 20 photos to your listing you have to pay extra fees of $50 to $60.
Expensive à La Carte Services: For add-on services like e-lockbox rental and showing service you have to pay $150 and $75 respectively. These services are costly compared to other Flat-fee MLS service providers.
FSBO.com has no reviews from credible sources.
👉 FSBO.com Reviews: Read to know more about FSBO.com
Best Flat Fee MLS Listing Service North Carolina Near Me
There are over 500 regional Flat Fee MLS listing companies in the US. Here are a few in the Old North State for FSBO home sellers.
How to List Without a Realtor in North Carolina?
Technically, only licensed real estate agents can list a property on the MLS. But with today's technology, selling a house is easier than ever! To sell without a realtor you can opt for a Flat Fee MLS service and skip the heavy agent commissions.
List with a tech-backed Flat Fee Platform like Houzeo in 4 easy steps.
Visit Houzeo to Register
Enter your property info
Purchase your preferred listing plan
Complete the listing paperwork
👉 Houzeo is 100% online! Watch the video for more details.
How Much Do North Carolina MLS Listings Cost?
On average, you can expect to pay $200-$800 for a Flat Fee MLS listing service in NC.
Flat Fee MLS Listing services allow FSBO sellers to list their property without paying the listing agent commission. You also have the option to choose from an à la carte menu of services as per your needs.
We have listed a few upgrades most FFM Sites provide for an additional fee.
Yard Sign: $49- $150
Additional Photos: $50
Lockbox: $50- $250
Broker Assistance: 0.25%- 0.75% at closing
NC Seller Closing Costs and Seller Disclosure
Closing Costs: The closing costs in North Carolina are approximately 8%-10% of the total home value. This includes 6% agent fees. You can save on hefty agent costs by opting for a Flat Fee MLS listing company.
Typical Seller's Closing Costs in North Carolina include some of the following:-
Attorney's Fee: $150-$300 per hour
Escrow Fees: $200-$500
Home Inspection Fee: $350
Real Estate Broker Commission- 4%-6% Listing Agent Fee + 2%-3% Buyer's Agent Fee
Seller's Disclosure: A North Carolina home seller is required by law to disclose any defects and restrictions pertaining to their property. This includes everything from pest infestation to pending legal matters. You must disclose these issues before the closing to avoid disputes with your buyer.
Typical Seller's Disclosure in North Carolina includes some of the following:-
Residential Property and Owners' Association Disclosure Statement
NC Residential Property Disclosure Mineral Gas
Federal Disclosure of Information on Lead-Based Paint
Careful, Hidden Fees Ahead!
It is not all rainbows and unicorns with a flat fee MLS listing platform. Some of these services list the price as low as $99. This usually means you will be bombarded with hidden costs (not mentioned on the pricing page) during your closing process.
👉 Flat Fee MLS: Click to know everything about Houzeo, the best flat fee MLS.
Alternatives To North Carolina Flat Fee MLS Companies
We recommend flat fee services that offer a full-service upgrade for most North Carolina home sellers. But if you like keeping your options open, here are a few alternatives to Flat Rate MLS companies.
» Best FSBO Sites in North Carolina: We've researched and reviewed all the best For Sale By Owner sites in North Carolina. See our rankings!
The Final Verdict
Selling your home will probably be one of the biggest financial decisions of your life. As the seller, you must pay the listing agent and the buyer agent's commission. A Flat Fee listing agent will help you save thousands in seller commissions.
We recommend Houzeo for most FSBO sellers in North Carolina. Houzeo's user-friendly dashboard, combined with IntelliList Listing Management will help you navigate the tough real estate space with ease.
» Houzeo Reviews: Check out what FSBO sellers have to say about listing with Houzeo.com
Frequently Asked Questions
1. What is the difference between Flat Fee MLS and Traditional Agent?
A traditional broker commission model is usually 6% on closing, which is going to cost more for you as a home seller. A Flat Fee MLS on the other hand, asks you a flat fee instead.
2. Which is the best Flat Fee MLS in North Carolina?
The best Flat Fee MLS in North Carolina is Houzeo. Houzeo provides an unbeatable combination of max savings, 5-star customer support, and cutting-edge technology.
3. How much do Flat Fee services cost in North Carolina?
Flat Fee services in North Carolina could cost you around an average $300-$400.
4. Is Flat Fee MLS Legal?
Yes. Flat Fee MLS is legal all over the United States, including in North Carolina. In fact, the US DOJ just updated their bulletin highlighting the benefits of Flat Fee MLS for For Sale By Owner home sellers.
5. What is for sale by owner contract?
6. How to sell a house in 2023?
If you want to sell your home in 2023, you must follow these steps:
1. List on MLS.
2. Offer a competitive buyer's agent commission
3. Set a competitive pricing for your house.
4. Use professional photography.
» List on your Local NC MLS and save thousands of commission.
Related Keywords: north carolina realtors, fsbo nc, flat fee listing charlotte nc, flat fee mls raleigh nc, flat fee real estate raleigh nc, flat fee mls broker near me, multiple listing service greensboro nc, flat fee listing services, north carolina multiple listing service, north carolina mls listing,mls nc, carolina realtors mls, carolina realtors mls, mls listings nc, mls north carolina, north carolina mls real estate, mls listings North Carolina, nc mls, nc mls fees, nc mls listing, flat fee mls listing north Carolina, multiple listing service nc, list on mls flat fee, flat rate listing agent, click it realty, carolina multiple listing services, housezo, houszeo, houzzeo, hozeo.