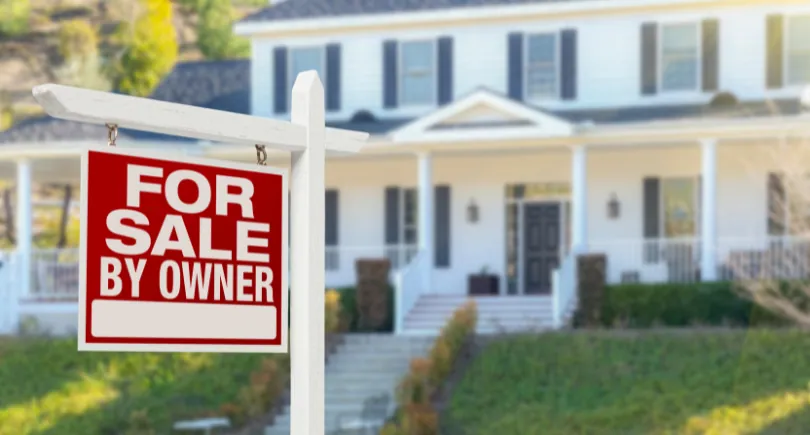 The median home in Pennsylvania sells at $243,859. At that price, you'll pay $14,632 in commissions alone if you're selling your home.
You can save at least $7,316, or half the total commission, by selling your house without a realtor. In fact, 26% of Gen X'ers and 36% of millennials list FSBO and save thousands according to Zillow.
However, selling a home by owner can be overwhelming if you are not prepared. From list to close, you need to know the tips that will help you succeed. And that's where this detailed FSBO guide comes in the picture.
Let's dive in.
Key Takeaways For FSBO Sellers
Save on Agent Commission: You can save thousands of dollars in listing commission by selling your house without a realtor. List on MLS and sell as FSBO for a flat rate.
How to Prepare to Sell Your Home Without a Realtor? You can improve the curb appeal of your Pennsylvania house to sell faster and at a competitive price.
What are the costs for FSBO? Since, you handle the entire transaction on your own there are multiple costs involved in selling without a Realtor.
What are the Other Options? For others there are alternate cost saving options for a quick and easy sale.
Can I Sell My House Without a Realtor in Pennsylvania?
Yes, you can sell a home without a realtor in Pennsylvania. This is also known as For Sale By Owner. About 77% of homeowners sell their houses without a realtor within 2 weeks.
So you execute the entire transaction without any guidance from a licensed real estate professional.

FSBO listings sell lesser than the homes represented by real estate agents, but you save agent commissions up to 3% to 4%. These commissions are paid by the seller as a part of the seller's closing costs.
Homeowners have other options like MLS listing services, discount real estate brokerages, etc. who work at lower rates.
How to Sell Your House Without a Realtor in Pennsylvania in 8 Steps?
We have created the following steps to successfully sell your home without a realtor in PA:
1. Determine How You Want to Sell Your House
Parameters you need to take care of while selling your home on your own include home selling costs, marketing strategy, and your preparation level.
As a homeowner, you have the following options for selling your house in Pennsylvania on your own:
List on the MLS: The Multiple Listing Service provides maximum exposure to your property. Houses listed on the MLS sell 17% more. By listing with a Flat Fee MLS company, you get maximum savings on agent commissions in PA.
Sell For Sale By Owner: 97% of buyers look for homes online. So, listing your house on For Sale By Owner websites in Pennsylvania will increase the exposure to your property.
Sell with a Flat Rate Realtor: Flat rate realtors will help you list your property and handle the paperwork until you close on the sale. They charge a fixed fee ranging from $349 to $5,000.
Sell to Investors: Sell to an investor if you want to off-road your property quickly. You can also opt for cash companies to close a deal in 10 to 15 days.
2. Choose the Best Time to Sell Your House
The period between June and July, i.e., late spring to summer, is the best time to sell your house in Pennsylvania. During this magic window, your home can fetch a 10% higher listing price.
Also, 21% of the houses are listed on Thursday. These houses tend to sell faster and above the asking price. However, the best time to sell a house will always depend on the housing market conditions in your area.
3. Offer a Realistic Price for Your House
Research the local real estate market to analyze similar properties in your area and price your home competitively.
Do not overprice or underprice your home. If you do, it can make the buyer feel suspicious about your house causing it to spend more days on the market.
You can also hire real estate agents to prepare a Comparative Marketing Analysis (CMA) report. This report helps to estimate the competitive value of the property.
4. Prepare Your Home for Sale
Perform the necessary repairs, decluttering, cleaning, etc., to enhance the appearance of your house. Moreover, high-quality professional photos and descriptions are essential for effective marketing.
You can also work with a professional home staging company. A staged home attracts up to 5% higher than the listing price.
When closing on a house you need to ensure the house is clean before buyers visit the house. Buyers can get turned-off by seeing a messy house.
5. List and Market Your Property
When you sell your house without a realtor you need to find ways to market your property to attract potential buyers. Here are the best ways to reach your buyers –
Install a Yard Sign: Attractive For Sale By Owner yard signs can attract the attention of buyers in the neighborhood.
Professional Photographers: You can hire a real estate photographer for good-quality photos. Professionally photographed homes sell 32% faster.
Social Media Sharing: You can create posts to share your listing on social media sites. You can include your contact details for buyers to reach out to you directly.
List on Craigslist: Craiglist is one of the biggest classified ad platforms. Listing on Craigslist can give your ad higher exposure and reach.
✍️ Pro Tip: If you secure a buyer from a yard sign, chances are you'll save on the buyer agent commission as well.
6. Negotiate Offers
The basics of what to do when you get offers will remain the same – accept, decline, or ignore the offers. We suggest you review the offers on all their merits.
Even if it's a low-ball offer, you should counter with what you would accept. Countering an offer, or calling for the highest and best offer are two advanced tactics in every real estate agent's arsenal.
To sell your house on your own, you need to learn these two tactics.
7. Draft an FSBO Contract
When you sell a house without a realtor in PA you need to make an FSBO contract. An FSBO contract is a legally binding document for both buyer and seller.
This contract is usually prepared by a real estate agent and ensured all the terms are outlined. However, if you are selling your home without a realtor you can create your own FSBO sales contract.
The FSBO contract protects the rights and interests of both the buyer and seller throughout the deal. This document is legally binding so it should be free of errors, especially when there are thousands of dollars involved.
👉 For Sale By Owner Contract: How to create a FSBO contract in Pennsylvania and what to include in it?
8. Close the Home Sale
The contractual implications while selling a home involves complex legal considerations. When you sell a home without a realtor you might need to work with a real estate attorney to close the sale easily. But, professional legal counsel comes with additional costs.
Let Buyers Complete the Due Diligence
Your property goes off-market once you accept an offer. Now the buyer can secure a mortgage to move ahead with the purchase process. The lending company verifies the buyer's finances and performs an inspection and home appraisal to evaluate the property. The property's appraised value is then sanctioned as mortgage to the buyer.
Closing Costs Involved
When selling for sale by owner, the closing costs for the seller include:
Buyer Agent Commission: It can be 3% or more of the final sale price of the house.
Attorney Fees: A real estate attorney will help you draft the FSBO contract to avoid any legal troubles. They typically charge between $150 – $500 depending on your location.
HOA Fees: The Homeowners Association also charges a transfer fee of around $100 to $400 to update records of new ownership.
👉 Seller Closing Cost Calculator: Find out how much closing cost you will be paying as a seller.
Selling a House Without a Realtor Paperwork
The paperwork for selling a house without a realtor varies from state to state. So, you can hire a local real estate agent or an attorney. Search online on local government websites for the documents required in your area.
It can be intimidating to handle the documents in a real estate transaction. But once you understand the process completely, you can bypass the challenges that may arise.
Following are the required documents for selling a house without a realtor in Pennsylvania and closing on a house.
List of Important Documents
| | |
| --- | --- |
| Professional Appraisal | A professional home appraiser evaluates the property and gives an appraised value of the house. This evaluation is crucial when a lender is involved. |
| Preliminary Title Report | A report that specifies the title history, current owner, and description of the property. |
| Pre-Inspection Report | Sellers can go for an inspection of their property even before they put it up for sale. This can help both sellers and buyers during the purchase process. |
| Home Inspection Report | A home inspection report will contain all the inspection details of the house. This may be initiated by the seller or the buyer. |
| Appraisal Report | An appraisal helps to determine the actual value of the property. The appraisal report contains the details about the property (including photos), the market price, and the process appraiser used to arrive at the said price. |
Agreements and Contracts
| | |
| --- | --- |
| Original Sales Contract | The original contract is given at the time when a house is purchased. It contains the sale price and the seller's disclosures from the previous seller. |
| Listing Agreement | A listing agreement between the buyer and the seller is also the final version of the Initial Purchase Offer (IPO). The agreement includes the sale price, earnest money deposit, terms of the contract, and other elements of the sale. |
| Final Purchase and Sales Agreement | This agreement defines the terms and conditions of the sale between a seller and a buyer. In a nutshell, it is a document that defines the ownership transfer of the real estate in return for the sale price. |
Repairs and Maintenance
| | |
| --- | --- |
| Records of Home Repair and Maintenance | Before selling a home, a seller may want to get some important repairs done. This will attract potential buyers. As a seller, having the repair receipts in place will increase the probability of selling your home. Similarly, home maintenance records, especially appliances, can help buyers expedite the selling process. |
| Receipts from Any Improvements | Receipts of any repairs or upgrades made by the seller. |
Transaction Related Costs
| | |
| --- | --- |
| Seller's Net Sheet | Contains the sum of all expenses incurred while selling a home. |
| Settlement Statement | This statement summarizes all the expenses involved in the transaction. |
Other Documents
| | |
| --- | --- |
| Payoff Amount for Your Mortgage (Mortgage Statement) | It determines how much you have yet to pay as part of the mortgage. The lender usually provides this. |
| Insurance Records | Insurance of property is a broad term and covers many risks like fire insurance, flood insurance, earthquake insurance, and more. These can be helpful and attract potential buyers. |
| HOA Documents (If Applicable) | Residents can become a part of the Homeowner's Association (HOA) which may be helpful as a community. They need to pay a maintenance charge to the association for any upgrades or management of the properties. All this information is part of the HOA documents. |
| Warranties and Manuals | A buyer will always be concerned about the condition of the home appliances before buying the house. Having the devices' warranty paperwork with the user manuals can greatly increase the chances of home sales. |
| Mandatory Disclosures | Each state has some mandatory disclosures to be disclosed by the seller. These vary across states. |
| Comparative Market Analysis (CMA) | A comparative market analysis report provides an estimate of the home's market value based on sales of similar properties in the neighborhood. |
| Contingency Removal Form | This form is required to lift any contingency restrictions that may be blocking the purchase deal. |
» Paperwork for Selling Your House Without a Realtor: Know about the paperwork for Selling a House Without a Realtor in Pennsylvania! (2023)
Costs of Selling a House Without a Realtor in Pennsylvania
Here are the expenses that are involved in selling a house without a realtor:
1. Buyer's Agent Commissions
The buyer's agent typically charges from 2.5% to 3% of the house's sale price. By offering a competitive commission to the buyer's agent, you ensure he drives more potential clients toward your house.
2. Professional Photography
Professional photos attract buyers. Real estate professional photographers in Pennsylvania charge an average of $110 – $300 per session. Moreover, drone photography, videos, and 3D tours can help you sell your house faster.
3. Home Appraisal
One of the prominent challenges that FSBO sellers face is pricing their homes. A thorough pre-listing home appraisal makes sure your home is priced correctly.
The cost of professional home appraisals varies as per the type of house. The appraisal cost of a typical single-family home ranges from $300 to $450.
4. Marketing
The cost of marketing ranges up to a few thousand dollars.
The market and the house status determine the marketing cost to attract buyers. Installing a For Sale Yard Sign and by posting a free ad on Craigslist can work for you. You may also need to pay for a free ad in the local newspaper.
Pros and Cons of Selling a House Without a Realtor in Pennsylvania
Selling a house without a realtor in PA has its own pros and cons:
✅ Pros of Selling a House Without a Realtor
Saving on Commissions
Selling your house without a Realtor can result in commission savings anywhere between 3% to 6%.
Speed to Market
FSBO websites like Houzeo will get you on the market within 24 to 48 hours or faster!

👉 Houzeo Reviews: Home Selling Made Easier!
Control Over Transaction
By interacting directly with the buyer or buyer agent, you reduce intermediaries. That makes everything simpler.
❌ Cons of Selling a House Without a Realtor
| | |
| --- | --- |
| No MLS access: | MLS access is only granted to registered PA real estate agents. You can opt for flat fee companies to list your house on the Multiple Listing Service without an agent. |
| Poor Customer Service | If you don't get help when you need it, For Sale By Owner can become a very expensive experiment very fast. Be sure to read reviews to know how an FSBO site's customer service is. |
| Low Sale Price | Selling without a realtor can get you a lower price than the fair market value of your house. |
Alternatives to Sell Your House on Your Own
If you find selling your house without a realtor overwhelming, you might think about the following alternatives to sell your home:
Sell to a Power Buyer: These are home-buying companies that leverage their own capital. These companies boost the purchasing power of homebuyers by making cash offers, bridge financing, and trade-in programs on behalf of the buyers.
Sell to a Cash Buyer: Cash buyers are individuals investors or companies. They buy your house outright without any lenders. With a cash buyer, you can sell your house fast in Pennsylvania but at a lower net profit.
Use an iBuyer: iBuyers are home-buying companies that make instant offers on houses in as is condition. They then make the necessary repairs and sell it for a profit. However, you need to ensure that your home meets their strict eligibility criteria.
» Sell Your House As Is in PA: Learn about how you can sell your house as-is and skip repairs!
Bottom Line
Understanding how to sell your house without a realtor in Pennsylvania and the paperwork involved makes the selling process easy.
The average real estate agent commission ranges from 5% – 6%. You can opt to register with FSBO websites like Houzeo if you are thinking of selling your own home without the help of a Realtor. With Houzeo, you can easily list your house on the platform and the local MLS at a low flat fee.
» Houzeo Review: Check out what FSBO sellers have to say about listing with Houzeo.com
Frequently Asked Questions
How to close on a house without a Realtor?
You can hire a real estate attorney or a local agent for closing on a house. Read more to understand how to close on your house efficiently without a realtor.
How to sell your house fast without a Realtor?
How to sell a house for cash without a Realtor?
Is it hard to sell a house by owner?
It can be overwhelming for a first time seller to manage the complex paperwork and negotiations. But a thorough research and planning can help you navigate the process smoothly.
What are the steps to selling a house without a Realtor?
Following steps should be taken when selling a house for sale by owner:
(1) Declutter and depersonalize your property.
(2) Make necessary repairs.
(3) Repaint interior walls.
(4) Organize closets and drawers.
(5) Make every surface shine.
(6) Eliminate bad odors.
(7) Clean up the landscaping outside.
(8) Make the front door inviting.
Also Read